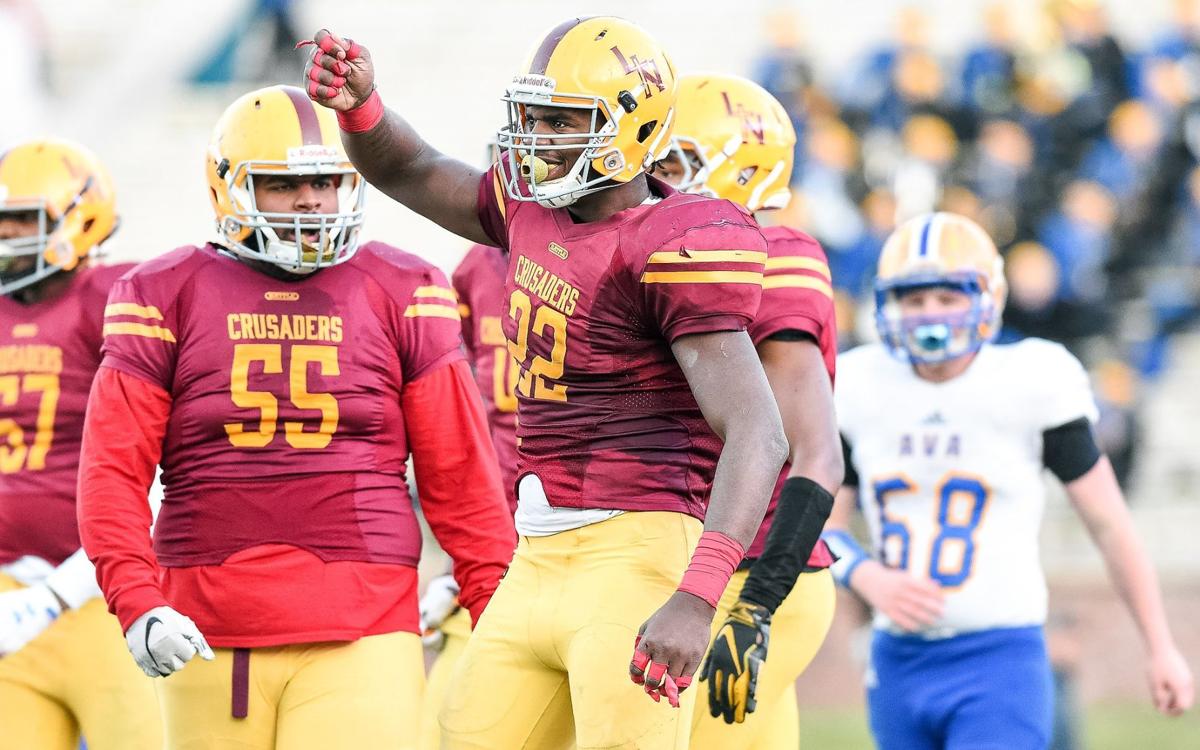 Antonio Doyle's future was in limbo.
A college recruit's junior year is crucial to their prospects. A good fall season and strong showing at national camps can catapult a player onto the radar. A less than stellar campaign can drop them down the rankings and create doubts about their abilities.
Doyle's junior season was neither. He played just four games at Hazelwood West before transferring back to Lutheran North, where his high school career began. He didn't attend any of the myriad of offseason camps that help recruiting services determine rankings and stars.
A 6-foot-4 and 230-pound outside linebacker, Doyle had little tape of his junior season and no updated outside evaluations. His talents and ceiling were something of a mystery.
Texas A&M didn't care. Over the past year the Aggies coaching staff, from head coach Jimbo Fisher on down, was relentless in its pursuit of Doyle. Their determination landed their man.
Doyle verbally committed to Texas A&M with a video on his Twitter page Monday afternoon.
Rated a consensus top-3 recruit in Missouri and a top-10 outside linebacker in the country by various recruiting outlets, Doyle picked the Aggies from a final three that included Missouri and Illinois.
Doyle, 17, had verbally committed to Mizzou in the summer but backed off that pledge in late August and reopened his recruiting. He took visits to Illinois, Oklahoma and Texas A&M.
He felt Texas A&M gave him the best chance at achieving his goals on the field. He wanted the opportunity to be in a national championship chase and the Aggies are in a place to do that in the near future.
"It played a huge role," Doyle said. "You want to compete at the highest level with the best guys. I feel good about going in with the guys I'm going in with."
According to 247sports Doyle's commitment gives Texas A&M the No. 3 recruiting class in the Southeastern Conference and the No. 5 recruiting class in the nation for 2020.
After so much uncertainty in his junior season Doyle's senior year was remarkable. He sat the first three games because of his transfer. He still made 73 tackles and was the most dominating player on the field as Lutheran North won the Class 2 state championship, its sixth overall and first in 20 years. He was selected to play in the US Army All-American Bowl on Jan. 4. He had more than 30 scholarship offers.
"He's the best defensive player in the state," Lutheran North coach Carl Reed said. "He's the best linebacker in the country. Period. He'll make an immediate impact."
Mizzou did what it could to reel Doyle back in. New coach Eliah Drinkwitz was officially hired on Dec. 10. Two days later he was at Lutheran North in Reed's office making his case.
"I like him and I think he'll do well here," Reed said of Drinkwitz.
Ultimately there was too much uncertainty around the Tigers coaching staff. The defensive coordinator and linebacker's coach positions have not been finalized. The prospect of being one of the faces of the new-look program was appealing but ultimately not enough to sway Doyle to stay home.
"It was hard to turn down Mizzou," Doyle said.
Illinois put on a full-court press for Doyle. Former Trinity coach and current Illini tight ends coach Cory Patterson was all over him and Reed. Even with all the strides Illinois made this fall it wasn't enough.
"Cory and I are close friends. If I was playing, I'd play for Cory," Reed said. "But you have to let the kid make his own decision. He wanted to play in the SEC West which is the best division in college football."
Doyle thought long and hard about the prospect of playing for Lovie Smith, one of 14 African-American NCAA Division I coaches. A defensive mind with an NFL pedigree it was a compelling case.
"It was hard to turn down Coach Lovie," Doyle said. "I had a connection with Coach Patterson and their staff."
But none could overcome Texas A&M and its overwhelming recruitment. Doyle received messages from linebackers coach Bradley Peveto every day. Reed, who talks to numerous college coaches at every level on a routine basis, said he hasn't seen anything like what Fisher and his staff did.
"It was the most thorough and comprehensive recruiting job for one of my guys," Reed said. "It was a total team effort. They were relentless from Day 1 a year ago."
Just how often did someone from Texas A&M call Reed to check in?
"I've talked to them more in the last year on the phone than I've talked with my wife on the phone," Reed said. "(Fisher) showed how bad he wanted that kid."
That constant contact made an impact on Doyle. Even when he verbally committed to Mizzou this summer Texas A&M continued to send messages to Doyle and call Reed. Doyle said the Aggies staff never knocked the Tigers. They just continued to make their case.
"They never stopped ever after I committed," Doyle said. "They kept telling me how I could help their program. That's exciting. It showed me I was an important guy to them and they wanted me."