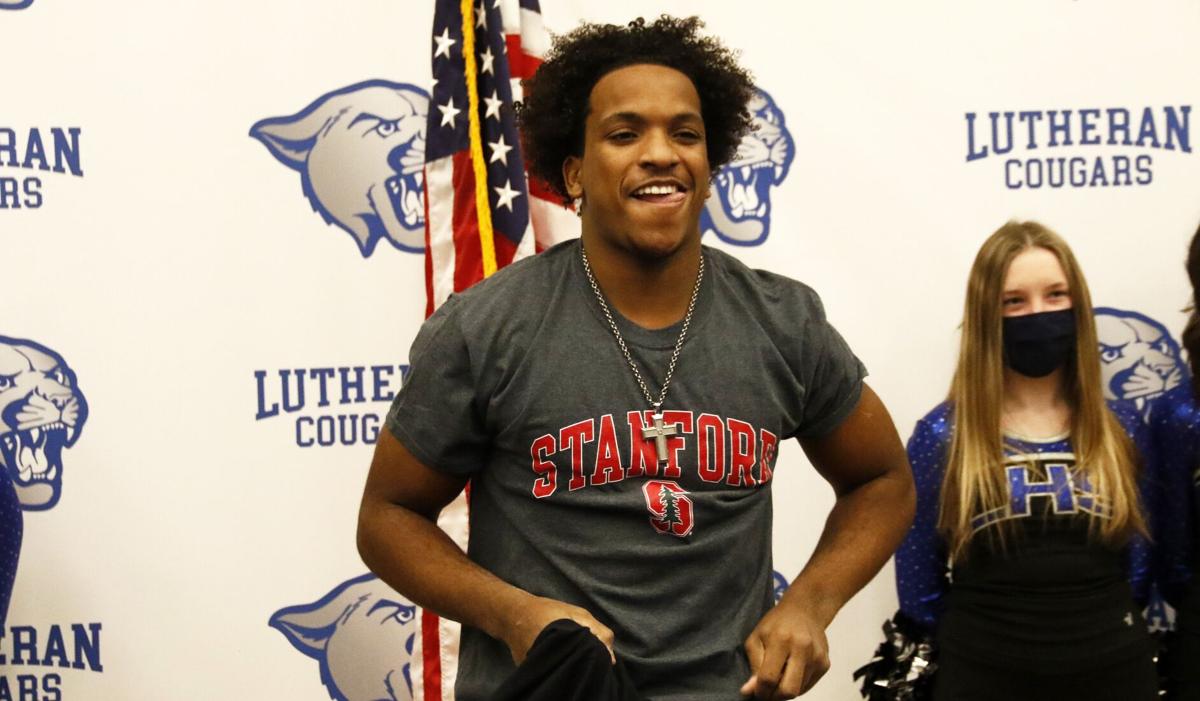 ST. PETERS — Arlen Harris Jr. kept his secret until the very end.
Concealing his college selection from all but a select few, Harris Jr. walked to the podium in the commons area at Lutheran St. Charles High and delivered a speech of gratitude.
Then he turned his back, unzipped his jacket and wheeled around, revealing a shirt that read in large block letters, "Wait for it."
"We were thinking just do a normal zip, but then we thought, 'Let's make it a little more interesting,' " Harris Jr. said.
Moments later, Harris Jr. ended the suspense, unveiling a shirt with a red 'S' and a pine tree. One of the most sought-after running backs in the country in the class of 2022, Harris Jr. made his verbal commitment to attend Stanford University in a ceremony Friday at Lutheran St. Charles High.
"When I looked for a school, I wanted to be challenged both on and off the field," Harris Jr. said. "The culture of excellence that Stanford has is just something I want to be a part of."
Harris Jr., a junior at Lutheran St. Charles, has amassed 3,636 yards rushing and scored 71 touchdowns in three seasons. As a sophomore, he averaged a first down every time he toted the ball, leading the area with an average of 10.5 yards per carry.
As a junior, he continued to develop his overall game, tying for second on the Cougars team in receptions and receiving touchdowns, including an electric 80-yard touchdown reception in the Class 2 District 2 championship game.
"I want to define that term of being a complete back — blocking better, catching better, understanding the game," Harris Jr. said. "I want to have a better edge, not just using my skill set, but using my mind to outsmart defenders."
Harris Jr., who received approximately 30 Division I scholarship offers, trimmed his list to Florida, Iowa, Michigan, Missouri, Penn State and Stanford before choosing Stanford.
He could only virtually visit the campus in Palo Alto, California, but over Zoom he spoke with head coach David Shaw, coordinators, position coaches and even former United States Secretary of State Dr. Condoleezza Rice, currently a professor of Political Science at Stanford.
"He wanted to make his decision before his senior season, and we were able to get a really good picture of what (Stanford) was like," said his father Arlen Harris Sr., who also serves as head football coach at Lutheran St. Charles. "We're not committing to a coach, we're committing to a school, and we understand what that university means."
Harris Jr., whose pets include two turtles, a bearded dragon and a fish, plans on studying animal science at Stanford.
"I've always been fascinated by animals, and to be able to care for them and learn more about them and how they work will just be awesome," Harris Jr. said.
In addition to his passion for animals, Harris Jr. loves to read and recently has immersed himself in the stories of athletes outside the game of football.
"Right now, I have this obsession with Mike Tyson and his hunger for his sport," Harris Jr. said. "I read a couple of boxing books from him and watched his interviews. It really motivated me this season." 
The season required perseverance for Harris Jr. In a five-week stretch, the Cougars played just once due to coronavirus concerns in other programs. Often, Lutheran St. Charles was already deep into a week of preparation when its game was canceled.
"(The season) brought us all a little bit of patience, taught us to enjoy the moment and brought us closer. No game was guaranteed, so we had to motivate ourselves to play for each other, even at practice, whether we had a game or not," Harris Jr. said.
Harris Jr., who admits to being an overthinker at times, felt a pang of nervousness before stepping to the podium to make his announcement, but he looked into the crowd, saw all of his teammates and took a breath.
"I just had to realize that everyone is here to support me and there's nothing to worry about. I just had to calm myself down and speak from the heart," Harris Jr. said.