HAZELWOOD — Jalen St. John wasn't going to let a downpour of sleet and the threat of snowmageddon ruin his big day.
His once-in-a-lifetime day.
A senior offensive lineman at Trinity, St. John planned to announce his college of choice Wednesday with a signing day ceremony at school surrounded by teammates, friends and his fellow students. When a winter storm was expected to roll through in the morning, Trinity called off school.
No school meant no signing ceremony. No signing ceremony meant he wouldn't be with his teammates.
"That's St. Louis weather for you," St. John said. "We all love each other, we've been rocking with each other for a long time. We'll see each other tomorrow."
Tomorrow is not a word regularly associated with national signing day, the first day senior high school football players can sign binding national letters of intent to NCAA Division I programs during the regular signing period which runs through April 1. The early signing period was Dec. 18-20.
St. John will see his teammates and friends tomorrow, but college football programs want those letters of intent yesterday.
So St. John improvised and announced his destination on Instagram from the comfort of his dining room.
The 6-foot-5 and 300-pound beast had whittled his list to Arkansas and Missouri. With his cell phone broadcasting to the world, St. John unzipped his hoodie to reveal an Arkansas polo shirt. As he pulled an Arkansas hat over his head full of twists, his mother, Krystal Dinkins, was doing her best "woo pig sooie" and rejoicing in her son's decision.
"I'm so proud of him, great choice," Dinkins said.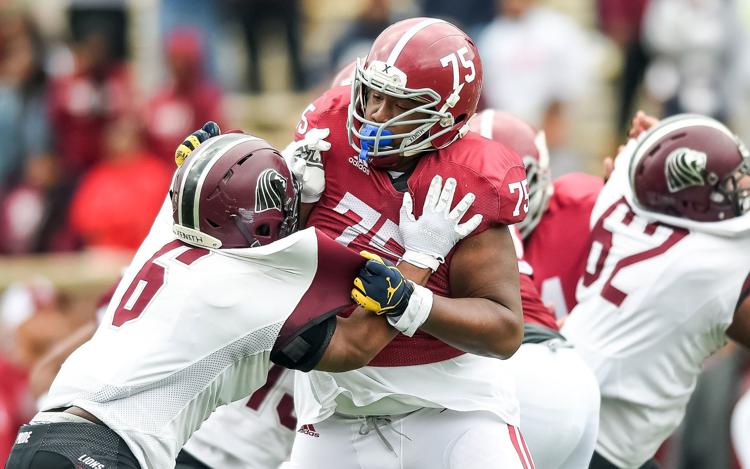 St. John had been all in on Mizzou after verbally committing in the summer. When Barry Odom was fired as head coach on the last day of November, St. John reopened his recruiting the next day.
The pieces started to fall into place for St. John to wind up at Arkansas in short order. Sam Pittman was hired as the Razorbacks head coach Dec. 8 after serving as an associate head coach and offensive line coach at Georgia. The first person Pittman hired was Brad Davis, who had been the offensive line coach at Mizzou. A few days later, Odom was tabbed as the Arkansas defensive coordinator. It didn't take long for the new staff at Arkansas to reach out to St. John and tell him they might have moved but they hadn't moved on from him. He was one of their top recruiting priorities. Rated a four-star prospect by Rivals and a top-10 recruit in Missouri, St. John was a rare upper echelon talent who did not sign during the early period in December.
They wanted him and St. John was open to seeing what the Razorbacks had to offer. He took his official visit to Arkansas on Jan. 17 and came away impressed.
"They treat you like a king down there," St. John said. "It's a lovely place. Great fans, great coaching staff and great hospitality. I love it."
St. John said he remained open to Mizzou, which he included in his final two. But he never established a relationship with new Mizzou coach Eliah Drinkwitz or his staff. When it came down to it, Arkansas had the familiar faces St. John believes will get him where he wants to go.
"I feel like Coach Davis and Coach Pittman can develop me to where I want to be at," St. John said. "When they got Coach Pittman it was a must. It was a no-brainer."
By picking Arkansas over Mizzou, St. John will now get to face his friends who were, at a time, expecting to be teammates. Both Chaminade quarterback Brady Cook and Kirkwood receiver Jairus Maclin, both of whom enrolled early at Mizzou, stayed on St. John to join the new-look Tigers. Instead they'll be on opposite sides when the Razorbacks and Tigers meet Nov. 28 at Arrowhead Stadium in Kansas City.
"It's all love, but it's like that," St. John said. "It was a big decision for me. I had to make sure I made the right decision for myself."
Class of 2020 area college signings, NCAA Divisions I and II
| First | Last | High school | Sport | University |
| --- | --- | --- | --- | --- |
| Jocelyn | Abbott | Fort Zumwalt East | softball | St. Louis U. |
| Zoe | Ahlers | Edwardsville | soccer | Evansville |
| Filip | Aleksic | MICDS | water polo | Brown |
| Sam | Altobella | Vianney | baseball | Illinois Springfield |
| Bennie | Anderson | Westminster | football | Yale |
| Trent | Anderson | Hermann | baseball | Missouri-St. Louis |
| Noah | Arinze | Webster Groves | football | Oklahoma |
| Anthony | Baker | Cardinal Ritter | football | Eastern Illinois |
| Josh | Baker | Eureka | football | Arizona |
| Griffin | Baur | MICDS | baseball | Cornell |
| Allison | Beaton | Lafayette | volleyball | Truman State |
| Nathan | Beaton | Vianney | baseball | Maryville |
| Annalise | Beck | Notre Dame | soccer | Quincy |
| Emma | Becker | North County | softball | Lindenwood |
| Rose | Behrman | Marquette | soccer | Coastal Carolina |
| Maddie | Bennett | Howell Central | track | Drury |
| Sam | Benoist | CBC | soccer | Southern Indiana |
| Luke | Bernstein | MICDS | Dayton | football |
| Ashlyn | Betz | Alton | softball | Valparaiso |
| Donavan | Bieber | Columbia | football | Northern Illinois |
| Teddy | Bielecki | Eureka | football | Truman State |
| Greg | Birkhead | Webster Groves | football | Missouri Southern |
| Faith | Bland | Metro | basketball | Texas A&M |
| Jessica | Bodmer | St. Dominic | soccer | Rockhurst |
| Ben | Borgmann | Parkway North | baseball | Central Missouri |
| Brooke | Borgmeyer | Lafayette | volleyball | Spring Hill |
| Julia | Boyet | Cor Jesu | softball | Duke |
| Davion | Bradford | Mehlville | basketball | Kansas State |
| Matt | Bray | Union | football | Missouri S&T |
| David | Bregnade | Kirkwood | football | Quincy |
| Itayvion | Brown | Lutheran North | football | Minnesota |
| Austin | Brush | St. Louis U. High | baseball | Dayton |
| Lela | Bryant | Troy | softball | Northwest Missouri |
| Alyssa | Buchheit | St. Dominic | soccer | Missouri State |
| Andrew | Buescher | Vianney | baseball | Quincy |
| Cale | Bunner | Holt | football | Southwest Baptist |
| Alicia | Burnett | Parkway North | track | Texas A&M |
| Kelsie | Burrows | Freeburg | softball | Illinois Springfield |
| Sophia | Burwitz | Belleville East | swimming | Illinois |
| Josie | Bushell | Edwardsville | swimming | Drury |
| Madison | Caito | Alton | soccer | McKendree |
| Reagan | Calcari | MICDS | field hockey | New Hampshire |
| Mackenzie | Caldwell | Troy | soceer | Missouri-Kansas City |
| Ryan | Campbell | Lafayette | basketball | Maryville |
| Caroline | Carr | MICDS | field hockey | Dartmouth |
| Lanell | Carr | De Smet | football | West Virginia |
| Caleb | Carvin | Normandy | football | Missouri Southern |
| Riley | Casey | Francis Howell | soccer | Belmont |
| Reagan | Cathcart | Francis Howell | swimming | Utah |
| CJ | Cepicky | Vianney | baseball | Missouri |
| Mihir | Chandra | Lafayette | swimming | IUPUI |
| Alexis | Chapman | Kirkwood | soccer | Lindenwood |
| Abi | Chipps | Jefferson | softball | Indiana State |
| Molly | Christopher | MICDS | field hockey | Villanova |
| Noah | Clancy | Alton | swimming | Missouri S&T |
| Maurion | Clemons | Webster Groves | football | Missouri Southern |
| Hailey | Cloud | Union | soccer | Arkansas State |
| Jerqon | Conners | Webster Groves | football | Nebraska-Kearney |
| Brady | Cook | Chaminade | football | Missouri |
| Darius | Cooper | Hazelwood West | football | Tarleton State |
| Mookie | Cooper | Pattonville | football | Ohio State |
| Emma | Cox | Granite City | swimming | Eastern Illinois |
| Jake | Cracchiolo | Oakville | football | Southwest Baptist |
| Kristian | Cross | Hazelwood Central | football | Upper Iowa |
| Lily | Dahl | Orchard Farm | soccer | Southern Indiana |
| Karleigh | Daniels | Waterloo | soccer | Lindenwood |
| Brianna | Davis | Mehlville | soccer | Missouri Western |
| Camielle | Day | Fort Zumwalt West | soccer | Missouri State |
| Austin | Dearing | Fox | football | Missouri Western |
| Kim | DeBold | Troy | softball | Maryville |
| Sean | Dillon | Lutheran South | soccer | Truman State |
| Isabella | Dixon | Mascoutah | track | Monmouth |
| Tyler | Dixon | CBC | football | Kent State |
| Drake | Downing | Waterloo | baseball | Central Missouri |
| Antonio | Doyle | Lutheran North | football | Texas A&M |
| Riley | Dubbs | CBC | soccer | Rockhurst |
| Mia | Duchars | MICDS | field hockey | Louisville |
| Madison | Eads | Troy | soccer | Southwest Baptist |
| Reese | Earleywine | Westminster | softball | Southern Mississippi |
| Levi | Ebersoldt | Jefferson | baseball | William Jewell |
| Alex | Edgar | Affton | football | Central Missouri |
| Alexis | Edgar | Francis Howell | track | SIU Edwardsville |
| Jonathan | Edwards | Parkway North | football | Indiana State |
| Carson | Elwood | Fox | football | Northwest Missouri |
| Luke | Engelmeyer | Westminster | baseball | Maryville |
| Gracie | English | Belleville East | soccer | St. Louis U. |
| Taylor | Etling | Cor Jesu | field hockey | Indiana |
| Brady | Feeney | CBC | football | Indiana |
| Hannah | Feltz | Eureka | volleyball | Missouri S&T |
| Jacob | Ferguson | Troy | football | Northern Iowa |
| Naomi | Ferguson | MICDS | soccer | Brown |
| Lillie | Fields | Francis Howell | soccer | Missouri-Kansas City |
| Mia | Fields | Nerinx Hall | field hockey | Bucknell |
| Marsean | Fisher | Lafayette | football | Tarleton State |
| Yohance | Flager | Belleville East | football | Butler |
| Macy | Flanigan | Wood River | softball | Kentucky Wesleyan |
| Cam'Ron | Fletcher | Vashon | basketball | Kentucky |
| Loren | Fortune Jr. | Chaminade | football | Missouri Southern |
| Kyle | Fowler | St. Dominic | baseball | Missouri S&T |
| Sophia | Fredman | Ladue | swimming | Lynn |
| James | Frenchie | Trinity | football | Illinois |
| Elena | Fridley | Wesclin | soccer | McKendree |
| Karinna | Gall | Althoff | volleyball | Indiana State |
| Marvin | Gant | Hazelwood Central | football | Missouri Western |
| Peyton | Ganz | Freeburg | soccer | Southern Indiana |
| Mackenzie | Gareau | Marquette | softball | Austin Peay |
| Bria | Garmon | Festus | beach volleyball | Central Arkansas |
| Lauren | Gates | Westminster | softball | SIU Edwardsville |
| Mitchell | Gildehaus | Borgia | football | Memphis |
| Haley | Glover | Columbia | soccer | Illinois State |
| Caleb | Grau | Mascoutah | wrestling | UNC Pembroke |
| Cameron | Griffin | Lutheran North | football | Western Michigan |
| Darriona | Griffin | Hazelwood West | track | Maryville |
| Bailey | Grigg | Triad | tennis | McKendree |
| Kileigh | Grisham | Eureka | softball | Southeast Missouri |
| Xavier | Hadley | Ladue | soccer | Rockhurst |
| Parker | Hagemann | Webster Groves | swimming | Nebraska Omaha |
| Brandon | Hager | Lutheran South | baseball | Arkansas State |
| Jacob | Hager | Lutheran South | baseball | Arkansas State |
| Ali | Hall | Roosevelt | football | Missouri S&T |
| Anna | Hall | Civic Memorial | basketball | Missouri Southern |
| Casey | Hansen | Edwardsville | soccer | Truman State |
| Braden | Harmon | Jefferson | baseball | McKendree |
| Courtney | Harris | Fort Zumwalt West | swimming | Houston |
| Mack | Harris | Althoff | football | Western Illinois |
| Callie | Harrison | Lafayette | softball | Maryville |
| Izaiah | Hartrup | Fort Zumwalt North | football | SIU Carbondale |
| Brayden | Haug | Alton | baseball | Lindenwood |
| Colton | Hawks | Holt | wrestling | Missouri |
| Jalen | Head | Lutheran North | football | Lincoln |
| Lyndsey | Heckel | Nerinx Hall | soccer | St. Louis U. |
| Izzy | Heintz | Webster Groves | soccer | Truman State |
| Drake | Heismeyer | Francis Howell | football | Missouri |
| Nic | Hemken | Edwardsville | baseball | Truman State |
| Emily | Henken | Cor Jesu | volleyball | St. Louis U. |
| Sarah | Higgins | Lafayette | swimming | Indiana State |
| Levi | Hilton | Parkway North | football | Quincy |
| Andrew | Hnilo | Lindbergh | baseball | Truman State |
| Abby | Hodges | Nerinx Hall | field hockey | Bellarmine |
| Cade | Hohl | St. Louis U. High | baseball | Purdue |
| Jake | Holten | Collinsville | football | Southeast Missouri |
| Amaya | Honore | Timberland | soccer | Northern Illinois |
| Cannon | Hritz | CBC | baseball | Regis |
| Emma | Hubbell | Mehlville | track | Lindenwood |
| Ethan | Hudson | Lutheran St. Charles | football | Missouri S&T |
| Azaria | Hulbert | Howell Central | basketball | Missouri-St. Louis |
| Lukas | Hummel | Summit | soccer | Indiana |
| Ronnie | Hunsaker | Columbia | football | McKendree |
| Kendall | Hutchinson | Troy | football | Truman State |
| Maddie | Isringhausen | Edwardsville | volleyball | Tennessee Tech |
| Kayden | Jackson | Hazelwood Central | football | Northwest Missouri |
| Tyson | James | Webster Groves | baseball | Iowa |
| Abby | Johnson | Breese Central | volleyball | Nebraska |
| Antonio | Johnson | East St. Louis | football | Texas A&M |
| Charles | Johnson | Hazelwood Central | football | Lincoln |
| Demarveon | Johnson | Cahokia | football | Quincy |
| Destiny | Johnson | Collinsville | soccer | McKendree |
| Jabin | Johnson | Chaminade | football | Pittsburg State |
| Jordan | Johnson | De Smet | football | Notre Dame |
| Brock | Jones | Ladue | football | Truman State |
| Hanna | Jones | Incarnate Word | soccer | Illinois State |
| Jathen | Jones | Carnahan | football | SIU Carbondale |
| Jerimiah | Jones | Trinity | football | Missouri Southern |
| Logan | Jones | Marissa | golf | McKendree |
| Mackenzie | Jones | Howell Central | soccer | Grand Valley State |
| Reed | Kaburick | Edwardsville | football | Central Missouri |
| Lillie | Kaempfe | De Soto | track | Missouri State |
| Matt | Kaiser | Vianney | baseball | Missouri S&T |
| Ryan | Kalkbrenner | Trinity | basketball | Creighton |
| Miriam | Kastens | Edwardsville | softball | Brown |
| Luke | Kasubke | Chaminade | basketball | Kansas State |
| Baillie | Kearns | Lindbergh | volleyball | Tennessee Martin |
| Jayla | Kelly | Parkway Central | basketball | Missouri |
| Ben | Kennebeck | St. Louis U. High | baseball | McKendree |
| Cameron | Kirkpatrick | Edwardsville | football | McKendree |
| Jensen | Kitrel | Eureka | field hockey | Bellarmine |
| Anthony | Klein | Parkway Central | baseball | Southeast Missouri |
| Kody | Klingensmith | Fort Zumwalt West | football | Truman State |
| Caite | Knutson | Collinsville | basketball | SIU Edwardsville |
| Abby | Korak | Edwardsville | cross country | Xavier |
| Tyler | Kotsis | Fort Zumwalt West | baseball | Central Missouri |
| Max | Koviak | Fort Zumwalt West | football | Missouri S&T |
| Tori | Krahl | St. Charles West | swimming | Missouri-St. Louis |
| Bennet | Krebs | Mater Dei | football | Drake |
| Gretchen | Kuhn | Kirkwood | lacrosse | McKendree |
| Rileigh | Kuhns | Edwardsville | soccer | Missouri-Kansas City |
| Josh | Kyle | Francis Howell | wrestling | Wyoming |
| Wes | Laaker | Alton | baseball | Drury |
| Joey | Lansing | St. Louis U. High | football | Dayton |
| Sara | Lawler | Summit | soccer | Central Missouri |
| Grace | Ledbetter | Mehlville | soccer | Quincy |
| Madison | Ledbetter | Mehlville | soccer | Quincy |
| Isabel | Lehan | Triad | softball | McKendree |
| Skyler | Lesslie | MICDS | field hockey | Georgetown |
| Cameron | Lewis | Howell North | football | Western Illinois |
| Brooke | Lierman | Parkway Central | lacrosse | Florida Southern |
| Faith | Liljegren | Collinsville | soccer | Southeast Missouri |
| Jada | Lindesmith | Lutheran St. Charles | basketball | Missouri S&T |
| Tony | Lindwedel | St. Louis U. High | baseball | Notre Dame |
| Juel | Little | O'Fallon | football | Quincy |
| Noah | Little | Washington | track | Southeast Missouri |
| Grace | Lock | Webster Groves | field hockey | Denison |
| Ian | Lohse | Marquette | baseball | Missouri |
| Eric | Loomis | CBC | baseball | Missouri State |
| Caleb | Love | CBC | basketball | North Carolina |
| Quierra | Love | Edwardsville | basketball | SIU Carbondale |
| Reggie | Love | Trinity | football | Illinois |
| Abby | Lynn | Borgia | volleyball | Louisiana |
| Jay | Maclin | Kirkwood | football | Missouri |
| Joey | Maher | Althoff | soccer | Indiana |
| Diontae | Makins | Lift for Life | football | Quincy |
| Kristian | Malinich | St. Louis U. High | soccer | DePaul |
| Ryan | Malzahn | O'Fallon Christian | baseball | Southeast Missouri |
| Jasmine | Maneul | Summit | basketball | Tuskegee |
| Belle | Marsala | Collinsville | golf | McKendree |
| Lauren | Marshall | Lafayette | field hockey | Bellarmine |
| Jack | Martel | Kirkwood | volleyball | Loyola (Chicago) |
| Rachel | Martin | Lafayette | soccer | Maryville |
| Jillian | Mattingly | Cor Jesu | volleyball | St. Louis U. |
| Kathryn | Maxim | St. Joseph's | field hockey | Central Michigan |
| Jackson | McAlister | Waterloo | track | Missouri |
| Julian | McBride | Chaminade | football | Ball State |
| Jacob | McCauley | Vianney | football | Drake |
| Jake | McCollum | Eureka | football | Truman State |
| Chase | McCoy | Timberland | football | Washburn |
| Lauren | McCurley | Triad | volleyball | McKendree |
| Craig | McGee | Lutheran North | baseball | Missouri-St. Louis |
| Kijuan | McGee | Alton Marquette | football | McKendree |
| Isabelle | McGuire | Nerinx Hall | track | Missouri S&T |
| Henry | McIntosh | Ladue | baseball | St. Louis U. |
| Tony | McMiller | McCluer | football | Missouri Southern |
| Torre | McMiller | McCluer | football | Missouri Southern |
| Briana | McMinn | O'Fallon | golf | Murray State |
| Ryan | Merriweather | Lutheran North | football | Missouri Southern |
| Tyler | Mersnick | St. Dominic | football | Truman State |
| Darci | Metzger | Collinsville | volleyball | Murray State |
| Jack | Meuse | Fort Zumwalt West | soccer | Missouri-St. Louis |
| Tim | Middleton | Mascoutah | football | McKendree |
| Abigail | Miller | Mehlville | soccer | Arkansas State |
| Brandon | Miller | John Burroughs | track | Texas A&M |
| Rich | Minda | Lutheran South | baseball | Illinois Springfield |
| Rachel | Mitts | Belleville East | volleyball | Lindenwood |
| Tommy | Mohan | Parkway West | baseball | McKendree |
| Faith | Montandon | Incarnate Word | soccer | Purdue Fort Wayne |
| Brooklyn | Moore | Wright City | softball | Maryville |
| Joe | Moore III | Cardinal Ritter | football | Arizona State |
| Jacob | Morrissey | Edwardsville | football | Southeast Missouri |
| Jacob | Mosher | Francis Howell | baseball | Missouri-St. Louis |
| Annie | Mueller | Pacific | softball | Missouri State |
| Alex | Mugisha | Roosevelt | football | Lincoln |
| Riley | Mulvaney | Kirkwood | basketball | Maryville |
| Nate | Murillo | Holt | soccer | Maryville |
| Grace | Murphy | Kirkwood | track | Missouri State |
| Jake | Murphy | Fort Zumwalt West | football | Truman State |
| Meg | Murphy | Kirkwood | cross country | Rockhurst |
| Alex | Murray | CBC | cross country | Rockhurst |
| Megan | Nemnich | Lafayette | soccer | Memphis |
| Tim | Nesslage | Fort Zumwalt North | football | Drake |
| Sam | Newton | Howell Central | soccer | Truman State |
| Natalie | Nguyen | Francis Howell | swimming | Truman State |
| Gideon | Niboh | Francis Howell | football | Missouri S&T |
| Heaven-Lee | Nichols | Howell North | lacrosse | Quincy |
| Luc | Nichols | Chaminade | football | Truman State |
| Chris | Nipper | CBC | baseball | Lindenwood |
| Nick | Nipper | CBC | baseball | Lindenwood |
| Jordan | Noble | Lift for Life | football | Southeast Missouri |
| Abigail | Norbury | Wesclin | soccer | McKendree |
| Andrew | O'Brien | Chaminade | swimming | Duke |
| Emily | O'Connell | Visitation | swimming | Miami |
| Luke | Odom | Edwardsville | wrestling | Illinois |
| Brennan | Orf | Westminster | baseball | SIU Edwardsville |
| Lauren | Ottensmeyer | Parkway West | lacrosse | Youngstown State |
| Jack | Owens | Mascoutah | baseball | Truman State |
| Allison | Palmatier | St. Dominic | soccer | Lindenwood |
| Sydney | Panagos | John Burroughs | field hockey | Bucknell |
| Aubrey | Parker | Lutheran North | football | Brown |
| Jaylen | Parker | Parkway North | football | Quincy |
| Cairo | Payne | Fort Zumwalt North | football | Missouri State |
| Marissa | Peek | Holt | softball | Iowa |
| Austin | Perez | Hillsboro | football | McKendree |
| Emily | Pesselato | Mehlville | track | Missouri S&T |
| Elijah | Petersen | Mascoutah | football | Kentucky Wesleyan |
| Aiden | Petrofsky | Parkway North | track | Missouri-St. Louis |
| Natalie | Phelps | Lafayette | soccer | Illinois |
| Caden | Phillips | Lafayette | football | Northwest Missouri |
| Riley | Phillips | Alton | baseball | Louisville |
| Jake | Pisoni | Fox | football | Quincy |
| Brooke | Plessner | St. Joseph's | beach volleyball | Missouri State |
| Maura | Ploesser | Ursuline | volleyball | Truman State |
| Madyson | Pogue | Eureka | softball | Southern Arkansas |
| Kellen | Porter | St. Louis U. High | football | Missouri State |
| Landon | Porter | De Soto | wrestling | McKendree |
| Holden | Potter | Parkway West | soccer | Truman State |
| Cameron | Powell | CBC | football | Southeast Missouri |
| Martez | Poynter | Trinity | football | Toledo |
| Jessica | Preusser | Nerinx Hall | soccer | St. Louis U. |
| Faythe | Price | Francis Howell | lacrosse | Oklahoma Baptist |
| Gus | Pulos | MICDS | baseball | Holy Cross |
| Emily | Puricelli | St. Joseph's | soccer | St. Louis U. |
| Channing | Purnell | Hazelwood East | cross country | Quincy |
| Addison | Purvis | Sullivan | softball | Mississippi State |
| Ellie | Quaethem | Washington | softball | McKendree |
| Evan | Ramirez | Edwardsville | football | Quincy |
| William | Range | Edwardsville | baseball | UMass |
| Kevin | Re | Chaminade | football | Lindenwood |
| Cuinn | Reagan | Ladue | rowing | George Washington |
| E'rmoni | Redden | Howell Central | lacrosse | Upper Iowa |
| Lawson | Redmon | Edwardsville | soccer | Indiana |
| Courtney | Reid | Eureka | cross country | Lindenwood |
| Sydney | Reid | Eureka | cross country | Lindenwood |
| Tim | Reinholz | Gibault | baseball | Quincy |
| Madie | Rey | Columbia | swimming | Northern Arizona |
| Jack | Rhodes | St. Charles West | baseball | Missouri-St. Louis |
| Abby | Rickermann | Festus | softball | Southeast Missouri |
| Jalen | Riggins | Trinity | football | William Jewell |
| Zach | Roberts | Orchard Farm | football | Missouri S&T |
| Abby | Robertson | Fort Zumwalt West | softball | Drury |
| Cole | Robinson | Summit | baseball | Missouri State |
| David | Robinson | McCluer | football | Missouri Southern |
| Justin | Robinson | Hazelwood West | track | Arizona State |
| Carly | Rodgers | Lindbergh | volleyball | St. Louis U. |
| Katie | Rodrigues | Villa Duchesne | soccer | Lynn |
| Margaret | Roggan | Lafayette | volleyball | Fairfield |
| Kate | Rolfes | Incarnate Word | basketball | Maryville |
| Ulysses | Ross | Fort Zumwalt West | football | Truman State |
| Aliyah | Rottger | St. Dominic | soccer | Quincy |
| Matt | Rouse | Oakville | football | Southwest Baptist |
| Catey | Roux | St. Joseph's | lacrosse | Rockhurst |
| Callie | Rowbottom | Pacific | hockey | Mercyhurst |
| TJ | Rush | Trinity | football | Miami (Ohio) |
| Roni | Rutledge | Lutheran North | football | Missouri Southern |
| Liam | Sallee | MICDS | baseball | Lafayette |
| Ashlyn | Sanders | Holt | golf | Quincy |
| Terrell | Sanderson | Pattonville | football | Missouri Southern |
| Luke | Scalf | Summit | baseball | Rockhurst |
| Kendrick | Scarbrough | East St. Louis | football | Truman State |
| Amber | Schade | Summit | volleyball | Lindenwood |
| Jacob | Schadegg | Mater Dei | basketball | McKendree |
| Kylie | Schaffer | Howell North | volleyball | Missouri-St. Louis |
| Natalie | Schellert | St. Dominic | softball | McKendree |
| Kennady | Schertzer | Summit | swimming | Drury |
| Holly | Schneider | St. Joseph's | soccer | Lindenwood |
| Cole | Schnettgoecke | Webster Groves | football | Quincy |
| Jeremy | Schork | Summit | baseball | Purdue |
| Zoe | Schulte | Timberland | softball | Iowa |
| Sam | Schultz | Chaminade | wrestling | Drury |
| Logan | Scott | Howell Central | baseball | Maryville |
| Hannah | Scrum | Collinsville | volleyball | Maryville |
| Jake | Seidel | Seckman | football | Missouri State |
| Jessie | Seidel | Waterloo | volleyball | Lindenwood |
| Ally | Sewester | Parkway West | soccer | Truman State |
| Lauren | Shah | Howell North | soccer | Arkansas State |
| Tucker | Shalley | Jerseyville | baseball | Illinois |
| Carl | Sharp | Hazelwood Central | football | Missouri Southern |
| Connor | Sheehan | O'Fallon | volleyball | Lindenwood |
| Ashley | Shoemake | Troy | track | Lindenwood |
| Ella | Siebenberger | Freeburg | track | Murray State |
| Veronica | Skorcz | Summit | lacrosse | Maryville |
| Bennett | Smallie | Granite City | baseball | McKendree |
| Darion | Smith | Trinity | football | UNC Charlotte |
| Jordan | Smith | Lutheran North | football | Missouri Southern |
| Lexie | Smith | Freeburg | volleyball | Southeast Missouri |
| Maria | Smith | Edwardsville | softball | Southern Mississippi |
| Claire | Solovic | Seckman | golf | Central Missouri |
| Kaden | Solverud | Fort Zumwalt West | football | Missouri Southern |
| Sydney | Sonthiemer | Fort Zumwalt North | softball | Drury |
| Macie | Sparks | Metro-East Lutheran | swimming | Maryville |
| Anna | Speller | MICDS | gymnastics | Southeast Missouri |
| Javontez | Spraggins | East St. Louis | football | Tennessee |
| Gabby | Sprich | Visitation | volleyball | Spring Hill |
| Jalen | St. John | Trinity | football | Arkansas |
| Gretta | Stark | Mater Dei | triathlon | Black Hills State |
| Ty | Stauss | Lafayette | baseball | Southeast Missouri |
| Kayla | Steinmeyer | Howell Central | volleyball | Ouachita Baptist |
| Brady | Stephan | Fort Zumwalt West | baseball | Lindenwood |
| Sydney | Stephens | Waterloo | soccer | Georgia |
| Nick | Stepney | Fort Zumwalt East | football | Missouri Southern |
| Anna | Stiffler | St. Dominic | soccer | McKendree |
| Martin | Strong | Kirkwood | track | Iowa |
| Megan | Stutsman | Holt | wrestling | McKendree |
| Connor | Surratt | Jefferson | football | Missouri S&T |
| JJ | Swafford Jr. | Troy | baseball | Truman State |
| Jacob | Tackes | Ladue | baseball | Maryville |
| Ava | Tankersley | Fort Zumwalt South | soccer | Arkansas |
| Ray'Sean | Taylor | Collinsville | basketball | SIU Edwardsville |
| Taylor | Temple | McCluer North | football | Quincy |
| Kaitlyn | Thorne | St. Charles | wrestling | Lindenwood |
| Aeneas | Tibbs | Mascoutah | football | Lincoln |
| Lili | Toledano | Ladue | rowing | Indiana |
| Kevin | Tyler | Ritenour | football | Illinois |
| Lauren | Tyson | Summit | soccer | Fairmont State |
| Zach | Unnerstall | Borgia | golf | Missouri-St. Louis |
| Zach | Valentine | Eureka | football | Truman State |
| Kat | Van Booven | Timberland | soccer | UW-Milwaukee |
| Paige | Vanek | Howell North | soccer | Southern Indiana |
| Riley | Vickrey | Alton Marquette | cross country | Missouri Southern |
| Jay | Viola | Howell Central | soccer | SIU Edwardsville |
| Ellie | Viox | Edwardsville | softball | Missouri S&T |
| Zoey | Vogel | Notre Dame | soccer | Rockhurst |
| John | Volmert | Vianney | football | SIU Carbondale |
| Joseph | Wacker | Nashville | football | McKendree |
| Joe | Wade | Triad | baseball | Southwest Baptist |
| Casey | Wagner | Columbia | golf | Drury |
| Darius | Walker | East St. Louis | football | Illinois State |
| Armon | Wallace | De Smet | football | Missouri State |
| Cade | Walsh | CBC | soccer | Southern Indiana |
| Julia | Walsh | Marquette | rowing | Clemson |
| Mitch | Walters | Mehlville | football | Missouri |
| Devin | Ward | Vianney | baseball | Marshall |
| Justin | Watson | Eureka | football | Lehigh |
| Kelsey | Watson | Cor Jesu | volleyball | Loyola (Chicago) |
| Charlton | Watson Jr. | Francis Howell | football | Missouri Southern |
| Bryce | Wear | Fox | baseball | Lindenwood |
| Chloe | Weaver | Ursuline | lacrosse | Rockhurst |
| Peter | Weaver | Priory | golf | Villanova |
| Rashad | Weekly-McDaniels | Trinity | basketball | Central Michigan |
| Ellie | Wehrmann | Incarnate Word | swimming | Kansas |
| Kaitlyn | Weinrich | St. Charles West | soccer | Lindenwood |
| Maggie | Weller | Fort Zumwalt East | soccer | Lindenwood |
| Michael | West | CBC | football | Kent State |
| Drake | Westcott | Edwardsville | baseball | Louisville |
| Dionnte | White | Trinity | football | Missouri Southern |
| Alexis | Williams | Oakville | volleyball | South Florida |
| Braeden | Williams | Lafayette | lacrosse | High Point |
| Courtney | Williams | Nerinx Hall | track | Clemson |
| Donte | Williams | Collinsville | football | Missouri Southern |
| Vic | Williams | John Burroughs | soccer | Richmond-London |
| Jarod | Willis | Triad | cross country | Murray State |
| Dain | Wilson | Fort Zumwalt South | baseball | Rockhurst |
| Hannah | Wilson | Nerinx Hall | field hockey | Central Michigan |
| Jarrett | Wilson | Timberland | football | Missouri S&T |
| Matthew | Wilson | Mascoutah | football | Kentucky Wesleyan |
| Lucy | Winkelmann | Ladue | rowing | Canisius |
| Kam | Yancey | Webster Groves | football | Central Missouri |
| Dyontae | Young | O'Fallon | football | Quincy |
| Ethan | Young | Edwardsville | football | McKendree |
| Becca | Zaber | Visitation | volleyball | Arkansas State |
| Anika | Zepeda | Parkway West | soccer | Hiram |
| Ryan | Zerwig | Vianney | football | Truman State |
| Caleb | Zurliene | Mater Dei | basketball | Purdue Northwest |
| Madison | Zurmuehlen | Holt | soccer | Missouri-Kansas City |
Class of 2020 area college signings, NCAA Division III, NAIA, JUCO
| First | Last | High school | Sport | University |
| --- | --- | --- | --- | --- |
| Nikki | Abbott | Incarnate Word | softball | East Central |
| Colby | Ackley | Timberland | football | Greenville |
| Heather | Albers | Waterloo | soccer | Southwestern Illinois |
| Matthew | Arnold | Marquette | baseball | St. Charles CC |
| Grace | Aromando | St. Joseph's | golf | Seminole State |
| Ben | Axelrod | MICDS | baseball | DePauw |
| Ian | Bailey | Edwardsville | golf | Ottawa |
| Maddie | Barton | Marquette | soccer | St. Louis CC |
| Megan | Barton | Marquette | soccer | St. Louis CC |
| Kate | Baskin | Wood River | volleyball | Blackburn |
| Jaterius | Battle | Pattonville | football | Missouri Baptist |
| Paige | Bauer | Collinsville | soccer | Lewis & Clark |
| Mikayla | Beedy | Holt | soccer | Central Methodist |
| Addison | Bellistri | Nerinx Hall | lacrosse | Ohio Northern |
| Dalton | Bingman | Priory | football | Washington |
| Dalton | Blanchard | Waterloo | soccer | Westminster |
| Maci | Bohannon | Jerseyville | soccer | Kaskaskia |
| Allison | Bonde | Columbia | volleyball | Manchester |
| Katie | Borst | Visitation | volleyball | Coastal Georgia |
| Summer | Boswell | Wright City | softball | Westminster |
| Kelly | Bowen | Parkway West | soccer | Webster |
| Zach | Brasel | McGivney | track | STL Pharmacy |
| Paul | Brock | Lutheran South | football | Concordia (Wisc.) |
| Eliana | Brook | MICDS | tennis | Oxford of Emory |
| Chris | Brooks | De Soto | track | Mineral Area |
| Jessica | Brooks | MICDS | basketball | Washington |
| Kameren | Brooks | De Soto | baseball | Fontbonne |
| Lauren | Brown | Jerseyville | softball | Kaskaskia |
| Kimmie | Browne | Francis Howell | shooting | Missouri Valley |
| Natalie | Bruns | Kirkwood | basketball | New York U. |
| Makayla | Bryant | Troy | softball | Three Rivers |
| Emma | Caldwell | Incarnate Word | soccer | Greenville |
| Molly | Callihan | Brentwood | softball | Mineral Area |
| Kati | Casey | Waterloo | volleyball | Illinois College |
| Sidq | Cherry | St. Louis U. High | football | Washington |
| Chris | Chi | Collinsville | football | Missouri Baptist |
| Joe | Chiesa | Howell Central | baseball | Hannibal-LaGrange |
| Catie | Chismarich | Marquette | soccer | Illinois Tech |
| Ryan | Clancy | Mater Dei | cross country | Mount Mercy |
| Colton | Clark | Triad | soccer | Southwestern Illinois |
| Hailey | Clooney | Seckman | softball | East Central |
| Sydney | Coker | Highland | volleyball | John A. Logan |
| Claudia | Cooke | Parkway Central | basketball | Kenyon |
| Dominic | Copeland | Valley Park | baseball | St. Louis CC |
| Mark | Corley | Kirkwood | soccer | Coe |
| Alyssa | Cowell | Red Bud | softball | Southwestern Illinois |
| Daniel | Creighton | Hazelwood Central | football | Missouri Baptist |
| Logan | Cromer | Edwardsville | baseball | Parkland |
| Ashley | Croom | Herculaneum | softball | Missouri Baptist |
| Anthony | Dalton | Orchard Farm | soccer | William Woods |
| Ashleigh | Damazyn | Crystal City | softball | East Central |
| Darrien | Daniels | Hazelwood East | football | Community Christian |
| Caroline | Daughtry | Affton | basketball | Fontbonne |
| Megan | Davidson | Affton | soccer | Westminster |
| Ashanti | Davis | Trinity | basketball | Mineral Area |
| Jelani | Davis | Ladue | football | Iowa Western |
| Jackson | Dearing | St. Dominic | baseball | Jefferson |
| Lindsey | Dejong | St. Charles | softball | North Central (Minn.) |
| Giuseppe | Di Cera | Ladue | soccer | Chicago |
| Molly | Diekember | Carlyle | volleyball | Kaskaskia |
| Jake | Divis | Chaminade | football | Washington |
| Gavyn | Dockery | Ladue | baseball | Jefferson |
| Joanna | Dohrman | Howell North | swimming | Johns Hopkins |
| Talon | Dotson | Lutheran North | football | Ellsworth |
| Shannon | Dowd | Jefferson | baseball | Fontbonne |
| Jordan | Duncan | Herculaneum | baseball | Jefferson |
| Quincy | Erickson | Hermann | basketball | Mineral Area |
| Maggie | Evans | Alton | soccer | Southwestern Illinois |
| Brian | Faulkner | Ladue | football | Iowa Western |
| Kelly | Ferguson | Timberland | softball | East Central |
| Nicholas | Fiacco | Ladue | track | STL Pharmacy |
| Evan | Forsythe | Orchard Farm | soccer | Avila |
| Cailey | Foss | Borgia | soccer | Stephens |
| Taylor | Friederich | Mascoutah | softball | Kaskaskia |
| Hailee | Fritsche | Visitation | soccer | Washington |
| Erica | Fulk | O'Fallon Christian | softball | Missouri Baptist |
| Cameron | Fuller | Mehlville | baseball | Harris-Stowe |
| Ke'Vaughn | Gaines | Belleville East | football | Missouri Baptist |
| Maddi | Galczynski | DuBourg | softball | Fontbonne |
| Eva | Gannon | Holt | softball | Westminster |
| Jaylen | Gardner | McCluer | football | Elmhurst |
| Easton | Gavin | O'Fallon | volleyball | Carthage |
| Mackenzie | Gibbons | Fort Zumwalt West | soccer | Indiana Kokomo |
| Connor | Gibson | Kirkwood | lacrosse | DePauw |
| Calyn | Gicante | Oakville | softball | Illinois College |
| Carlee | Gilham | Notre Dame | softball | St. Louis CC |
| Tyler | Gilmore | Parkway West | baseball | DePauw |
| Jakob | Gittemeier | Holt | baseball | Culver-Stockton |
| Grant | Goebel | Mater Dei | golf | Rend Lake |
| JT | Goldstein | Holt | soccer | Lewis & Clark |
| Madison | Greco | Pacific | softball | East Central |
| Sammy | Gruener | Francis Howell | soccer | John Woods |
| Paige | Hand | Marissa/Coulterville | volleyball | Rend Lake |
| Peyton | Hanser | Parkway Central | soccer | Webster |
| Ethan | Hare | Priory | lacrosse | Illinois Wesleyan |
| Lachlan | Harlan | Affton | football | Missouri Valley |
| Lily | Harrell | Eureka | swimming | Midland |
| Christian | Harvey | Mehlville | baseball | St. Louis CC |
| Halle | Haudrich | Gibault | soccer | Missouri Baptist |
| Carter | Hemeyer | Hermann | track | STL Pharmacy |
| Aryn | Henke | Columbia | softball | John A. Logan |
| Emmeline | Herman | Mascoutah | bowling | Hastings |
| Kayon | Hill | McCluer | football | Evangel |
| Evan | Hofer | MICDS | soccer | Rose-Hulman |
| Skylar | Hollingshead | St. Dominic | soccer | Lewis & Clark |
| Aubrey | Hubbard | Waterloo | basketball | Fontbonne |
| Ciara | Hynes | Eureka | swimming | UW-Whitewater |
| Jake | Isaacs | Freeburg | baseball | Lewis & Clark |
| Cierstyn | Jacquin | Washington | soccer | Culver-Stockton |
| Kyle | James | Troy | baseball | Fontbonne |
| McKenna | Joern | Fort Zumwalt West | softball | St. Charles CC |
| Cassidy | Kallash | Troy | softball | Central Methodist |
| Caroline | Karr | Notre Dame | lacrosse | Missouri Baptist |
| Eylesa | Kellam | O'Fallon Christian | soccer | Palm Beach Atlantic |
| Jeff | Keller | Fox | football | Missouri Baptist |
| Erik | Kiewiet | Francis Howell | baseball | Iowa Wesleyan |
| Sydney | Kirchoff | Ursuline | swimming | Chapman |
| Annika | Kline | MICDS | field hockey | Haverford |
| Mallory | Klutho | Nerinx Hall | basketball/soccer | Stephens |
| Alyce | Koch | Eureka | volleyball | UW-Whitewater |
| Katelyn | Krueger | Jerseyville | soccer | Lincoln Trails |
| Claudia | Labruyere | Timberland | track | STL Pharmacy |
| Adam | Lange | Howell North | baseball | St. Louis CC |
| Trevor | Laub | Edwardsville | golf | Heartland |
| Elizabeth | Lebro | Edwardsville | softball | St. Louis CC |
| Ari | Lieberman | Parkway Central | soccer | Westminster |
| Melissa | Locke | Wright City | softball | Des Moines |
| Stevie | Loretta | DuBourg | soccer | Fontbonne |
| Tyson | Ludwig | Troy | baseball | Bryant and Stratton |
| Tanner | Lukitsch | Howell North | baseball | St. Louis CC |
| Caleb | Mabe | Union | baseball | St. Charles CC |
| Mackenzie | Macam | MICDS | softball | Cornell College |
| Cameron | Macon | Kirkwood | baseball | DePauw |
| Tia | Marlinghaus | Notre Dame | lacrosse | N.C. Methodist |
| Ella | Manthey | Howell North | soccer | Lake Forest |
| Malik | Maroney | St. Dominic | soccer | Missouri Baptist |
| Emily | Martin | Fort Zumwalt West | swimming | Augustana |
| Abby | Mathany | Columbia | soccer | Wabash Valley |
| Payton | Matz | Howell Central | track | Missouri Baptist |
| Peyton | McAfee | Trinity | football | Iowa Central |
| Christian | McConnell | St. Dominic | baseball | Fontbonne |
| Joe | McCulloch | Triad | soccer | Southwestern Illinois |
| Daeon | McDuffie | Hazelwood East | football | Eureka |
| Shannon | McGinnis | Lafayette | soccer | Webster |
| Abigail | McGue | Lutheran South | field hockey | Concordia (Wisc.) |
| Chase | McKague | Hermann | baseball | Columbia College |
| Molly | McPheeters | Webster Groves | softball | Missouri Valley |
| Larry | Miles | McCluer | football | Iowa Central |
| Cole | Miller | Ladue | basketball | Coe |
| Hunter | Miller | Marquette | baseball | St. Charles CC |
| Rhyen | Mills | St. Charles | softball | Jefferson |
| Katie | Minkler | Ladue | basketball | Washington |
| Kristyn | Mitchell | Collinsville | basketball | Illinois Central |
| Kaylee | Morris | Howell Central | softball | Missouri Baptist |
| Jessica | Mowry | Lutheran South | volleyball | Central Methodist |
| Hutton | Murdoch | Clayton | lacrosse | Roanoke |
| Brandon | Murphy | Eureka | baseball | Rose-Hulman |
| Braden | Nett | Troy | baseball | Wabash Valley |
| Emma | Nicholson | Alton Marquette | softball | Illinois College |
| Addison | Niethe | DuBourg | soccer | Harris-Stowe |
| Caleb | Noble | Alton | baseball | Loyola New Orleans |
| Rachel | Nolte | Holt | soccer | Westminster |
| Caroline | O'Keefe | Nerinx Hall | soccer | St. Mary's of Notre Dame |
| Emma | Oldani | Parkway North | soccer | Carthage |
| Jillian | Oligschlaeger | Eureka | soccer | Illinois Tech |
| Grace | Osvath | St. Dominic | soccer | Lewis & Clark |
| Brooklyn | Palmer | Fort Zumwalt West | basketball | Utah State Eastern |
| Ryan | Palumbo | Summit | baseball | John A. Logan |
| Ben | Parks | Parkway North | baseball | Westminster |
| Samuel | Patterson III | Ladue | baseball | Hannibal-LaGrange |
| Mason | Peebles | Parkway North | football | Robert Morris (Ill.) |
| Brandon | Perry | Jefferson | football | Missouri Baptist |
| Jeremiah | Perry | Granite City | track | Greenville |
| Parker | Perry | MICDS | golf | Grinnell |
| Cameron | Peters | St. Dominic | bowling | Missouri Baptist |
| Jared | Peters | Hazelwood Central | football | Iowa Central |
| Alex | Pheney | Chaminade | lacrosse | Elmhurst |
| Nick | Plattner | Eureka | football | St. Ambrose |
| Abbey | Poe | Parkway Central | soccer | Webster |
| Lillian | Prichard | Pacific | softball | East Central |
| Logan | Radar | Collinsville | soccer | Southwestern Illinois |
| Johnny | Rasco | Troy | baseball | Culver-Stockton |
| Noah | Reichman | John Burroughs | baseball | Colby |
| Jason | Reilly | Parkway West | baseball | Westminster |
| Sami | Remis | John Burroughs | tennis | Middlebury |
| Hayley | Riebe | St. Charles | softball | State Fair |
| Anna | Rios | Notre Dame | soccer | Westminster |
| Cameron | Roll | Timberland | baseball | St. Charles CC |
| Devon | Ross | Mascoutah | football | Ripon |
| Gracie | Ruse | St. Charles | volleyball | Illinois College |
| Jordon | Ryan | John Burroughs | basketball | Grinnell |
| Collin | Salter | Edwardsville | baseball | Parkland |
| Luis | Sanchez | Valley Park | baseball | St. Charles CC |
| Matt | Schark | Francis Howell | baseball | Jefferson |
| Jacob | Schawo | Affton | volleyball | Graceland |
| Emily | Schellhase | Oakville | volleyball | Dominican |
| Adam | Schifferdecker | Parkway North | baseball | Missouri Valley |
| Sierra | Schlemmer | Triad | soccer | Culver-Stockton |
| Ethan | Schmitt | Valley Park | baseball | Jefferson |
| Brady | Schmitz | Freeburg | baseball | Rend Lake |
| Tessa | Schneider | Summit | volleyball | Missouri Baptist |
| Lydia | Schorfheide | Wesclin | volleyball | Southwestern Illinois |
| Luke | Schuermann | St. Louis U. High | football | Johns Hopkins |
| Haley | Schulte | Parkway West | softball | East Central |
| Janie | Shanahan | John Burroughs | field hockey | Bowdoin |
| Damonte | Sherod | Hazelwood East | cross country | William Penn |
| Kameron | Sloan | Belleville East | football | Missouri Baptist |
| Brandon | Smith | Parkway Central | baseball | College of Desert |
| Brayden | Smith | Vianney | football | Lyon |
| Kieran | Snowden | Fort Zumwalt South | football | Grand View |
| Travis | Speer | Triad | soccer | Southwestern Illinois |
| Katie | Spotanski | Fort Zumwalt South | soccer | McKendree |
| Mariah | Standifer | Ladue | softball | Manchester |
| Braden | Stark | Fort Zumwalt East | wrestling | William Penn |
| Charlie | Stergos | Fort Zumwalt East | baseball | Iowa Wesleyan |
| Amelia | Stone | Lutheran South | softball | Jefferson |
| Drew | Sutton | Holt | baseball | Millikin |
| Brady | Sweet | Parkway West | track | Missouri Baptist |
| Ben | Swift | Marquette | baseball | North Central Mo. |
| Jacob | Taylor | Lutheran South | football | Augustana |
| Charlie | Teeter | Webster Groves | track | Johns Hopkins |
| Jamie | Theusch | Fort Zumwalt East | soccer | Missouri Baptist |
| Nick | Thomas | Holt | soccer | Webster |
| Noah | Thomas | Holt | soccer | Webster |
| Emma | Thurman | Kirkwood | swimming | Carthage |
| Jordan | Tierney | Visitation | field hockey | MIT |
| Austin | Toler | Highland | baseball | Harris-Stowe |
| Kate | Trickey | Belleville East | volleyball | STL Pharmacy |
| Sophie | Vandeloecht | Lutheran South | field hockey | Concordia (Wisc.) |
| Blake | Vaughan | Summit | football | Iowa Western |
| Megan | Vidmar | Highland | volleyball | Blackburn |
| Nicholas | Viers | Troy | baseball | Lewis & Clark |
| Grace | Vogel | MICDS | swimming | Transylvania |
| Tomiko | Walker | Trinity | football | Iowa Wesleyan |
| Sydney | Webber | Edwardsville | softball | Lincoln Land |
| Sam | Weilgus | Granite City | golf | Lewis & Clark |
| Mackenzie | Wessels | Trinity | volleyball | William Penn |
| Taylor | Whitehead | Wood River | softball | St. Louis CC |
| Jacob | Wiedemann | Troy | baseball | St. Charles CC |
| Anna | Williams | Summit | soccer | Beloit |
| Erin | Williams | Nerinx Hall | bowling | St. Ambrose |
| Ta Niya | Williams | Howell Central | track | MidAmerica Nazarene |
| Maiya | Wilmes | Fort Zumwalt West | volleyball | Central Methodist |
| Ray | Winter | St. Louis U. High | golf | Pomona |
| Abby | Woolverton | Visitation | volleyball | Centre |
| Anika | Zepeda | Parkway West | soccer | Hiram |
| Dallas | Zirkelbach | Triad | softball | Lewis & Clark |