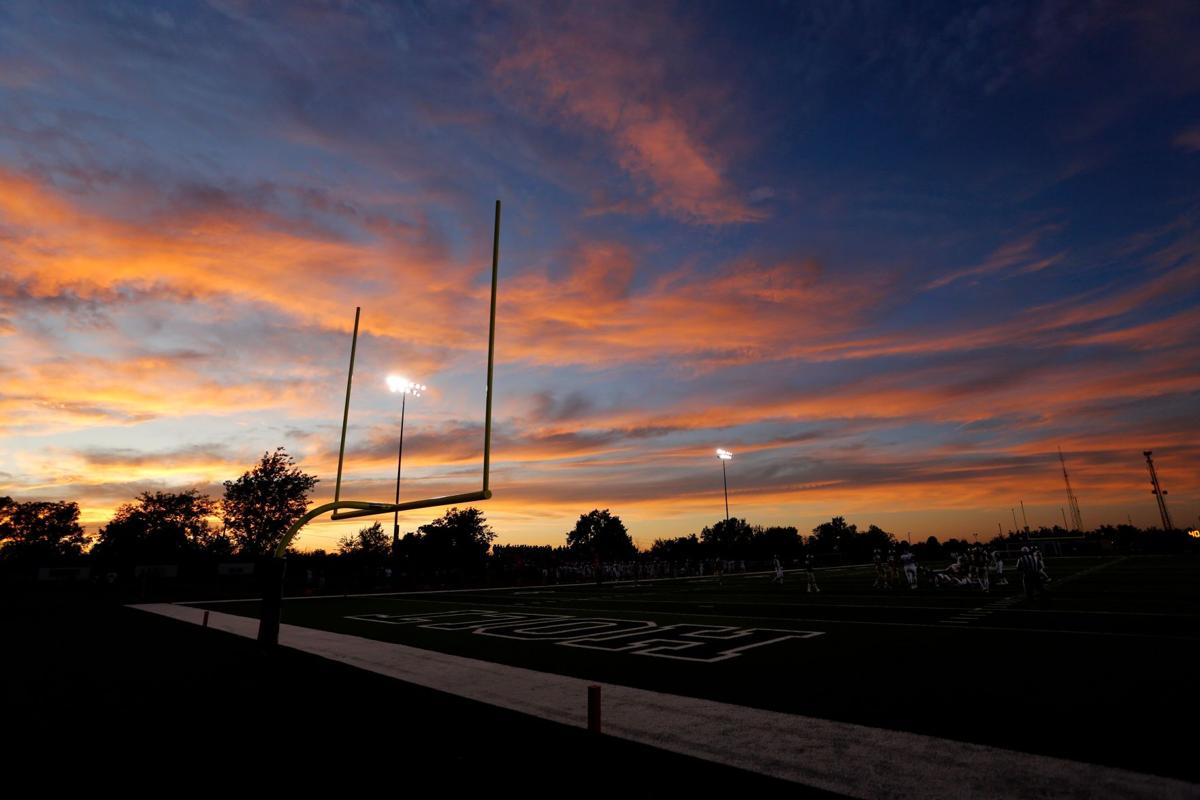 When ink meets paper Wednesday morning dreams will come true. Celebrations will ensue. And for a moment — or even a day — there will be a small piece of normalcy in the lunacy that has come to define 2020.
Wednesday is national signing day, the first day high school seniors can sign binding national letters of intent with college football programs. The early signing period runs from Wednesday until Friday. The next time football players in the class of 2021 can sign will be the regular period, which runs Feb. 3 through April 1 for NCAA Division I schools and Aug. 1 for Division II schools.
The current class of seniors is the first to navigate the already murky, topsy-turvy world of recruiting during a pandemic. Due to COVID-19 shutting down society as we knew it in March, the class of 2021 did not get to go through the established rhythms of recruiting. There were no on-campus visits in the spring. There were no college camps in the summer. The NCAA extended its in-person recruiting dead period until April 15, 2021. That means college coaches can't do in-home visits, face-to-face one-on-one talks and personal workouts with potential prospects.
"Some guys are signing with schools that the first time they're stepping on campus is when they start college," ESPN college football national recruiting coordinator Craig Haubert said. "They haven't had the opportunity to build that bond (with a coaching staff or program)."
Zoom calls and virtual visits have become the norm in recruiting. So has verbally committing early. Verbal commitments are not binding for either the player or the school, but in an effort to shore up their scholarship offer, players committed at a higher rate than in the past.
"A lot of kids were trying to protect themselves and you had some kids commit to schools where they have never been there or met the coach in person," said Clint Cosgrove, director of Midwest scouting for National Preps. "They're signing with a college where they've never been on campus. They don't know how they'll fit in culturally. They didn't take an official visit and didn't meet the kids on the team."
That won't be the case for every recruit or every program. Haubert said that in conversations with programs in places like the Southeastern Conference or the Atlantic Coast Conference, where the recruiting base is nearby, the majority of their signees will have spent some time on campus for events while they were underclassmen. That's not the case across the board, even for other Power 5 programs.
"I talked to a Pac 12 team where nearly half of their recruiting class had never been on campus," Haubert said.
The general belief is that the higher profile athletes in the senior class will begin their collegiate journey in a way that at least resembles how things have gone in the past. But there are a glut of potential prospects that will have to deal the ramifications of the pandemic. Among the changes the NCAA instituted in response to COVID-19 was granting everyone currently in school an extra year of eligibility. That means college programs will have to decide how many scholarships they want to honor for players who were expected to have exhausted their eligibility and how many they want to offer to incoming freshmen.
"Seniors can come back and a lot of them are opting to do that to finish a degree, getting tape for the NFL or they want to stay in college because college is fun," Lutheran North coach Carl Reed said.
Having eligibility and having a scholarship are not the same. The coaching staffs will have to make the determination if the players that are coming back for their extra year of eligibility are going to be a better bet than an incoming freshman then figure out who gets the scholarship.
"College coaches, they want to win," Reed said. "If they think the high school player is highly talented, they'll take him. They're not emotionally invested in the decision that needs to be made."
Cosgrove said it could be similar to when a new coach takes over a program and begins cleaning house. It's not personal, it's just part of the process.
"New coaches come in and they run off kids as they try to establish their culture," Cosgrove said. "They'll tell them 'you're probably not going to play here.'"
Another wrinkle is the NCAA is expected to implement a rule that would allow a one-time transfer without having to sit out a season. A vote is expected on the new transfer policy in January.
The transfer rule has trickle-down effects for the class of 2021 but also the class of 2022. College programs will have to determine if they want to keep scholarships open for potential transfers and if so, how many.
"They're looking at this and saying, 'We need to hold two or three spots,' " Haubert said. "I think that will be felt with this (senior) class more so than the extra year of eligibility."
The free transfer would allow for those players who signed with college programs sight unseen to go looking for a better fit to continue their careers.
"It's going to be the land of misfit toys," Cosgrove said.
Complicating matters more, Haubert and Cosgrove agree, is there are going to be players that could have signed at Football Bowl Subdivision (FBS) schools that are instead at Football Championship Subdivision (FCS), Division II, Division III or NAIA programs because they didn't get to play much their senior year of high school if they played at all, they didn't get to camps and they didn't do workouts for coaches in person.
"They have no business being there (at that lower level) because they're much better than that," Cosgrove said. "I think you'll see a record number of kids getting drafted below the FBS level in a few years."
And that's only if those players find the opportunity to play at those lower levels. That extra year of eligibility is from Division I to junior college. That means there are fewer places for players on the margin to even try.
"It's tough times right now," Reed said. "There are always places you can call to get a kid a shot. They're at a disadvantage like I've never seen before."
The late bloomers will be bear the brunt of it. Those seniors that grew, filled out and needed a season to show on film what they had become. Even in the states that did play football, like Missouri, college coaches couldn't come to the games. The regional recruiting analysts for national outlets haven't traveled like before so they're not shining a light on those players who made a leap their senior season.
"The exposure is lacking in so many areas," Cosgrove said.
As unique as the current senior class has it, Haubert believes the class of 2022 will have an even tougher time. The financial ramifications of the pandemic have yet to be fully realized and that may or may not affect how many scholarships a school is willing or able to offer. Plus there's another class of athletes that have an extra year of eligibility.
"That could really affect the '22 class," Haubert said.
Signing day itself could even be a heartbreaking day for some. Cosgrove believes there will be players who wake up thinking they will sign only to find out the college pulled their offer and never sent the paperwork.
"It happens every year," he said.