EARTH CITY • Sam Robertson caught a flight. Adrian Huey rode in from Nashville. Charlie Fish left Wisconsin at sunrise.
All of them hit the road chasing football dreams. Those dreams led them to The Opening combine Saturday at the Lou Fusz Athletic Training Center at Rams Park.
One of the premier football camps in the country, The Opening hosts a series of events in different parts of the nation in search of the best high school talent. The athletes are rated and those that score highest are invited to a national competition that will be held June 30-July 3 at the Ford Center in Dallas, home of the Cowboys.
But to get to Dallas, competitors have to shine at one of The Opening's regional competitions, which put a focus on overall talent and position specific drills. There are two ways into the regional. The top-rated college prospects were identified ahead of time and invited.
Saturday's combine was for everyone else. The athletes were tested in their 40-yard dash, vertical jump, shuttle run and kneeling power ball throw. Those scores were then compiled and whoever met a certain threshold were invited back for Sunday's regional.
It's why athletes from Arkansas, Illinois, Indiana, Iowa, Kansas, Minnesota and points beyond laced up their cleats and took to the turf. They were in search of a Sunday invitation.
"I wanted to come out here and prove myself and show what I can do," Keyon Mozee said. "I wanted to prove myself. I wanted to push my limits and see how good I could be."
A junior running back from Lee's Summit North, Mozee earned his invitation with one of the best scores recorded at The Opening this year. The 5-foot-7 and 172-pound standout scored 137.19. It was the highest score at Saturday's combine and the second-best recorded in the country. Mozee will have the chance to compete on Sunday and see if he can make the cut for the national competition.
"I've always wanted to be invited to one of these and I've never had the chance," Mozee said. "I was just doing my thing."
Mozee played it cool but the stakes were high. Fish, who hails from Mount Horeb High in Wisconsin, gave up basketball this year to focus on football and prepare for The Opening. A 5-foot-11 and 178-pound wide receiver, Fish made some hard choices and not everyone agreed with them back home. But he'll get the chance to compete on Sunday and that's what he came for.
"It's exciting. I've been working really hard for this," Fish said. "It's the best feeling. I've worked for this."
Patrick Harris was hoping he'd get to skip the combine. A junior defensive lineman at St. Mary's, Harris's coach, Corey Bethany, submitted his information to The Opening for an invitation to the regional. Harris's application was declined.
"The email I got said I have to prove I can play with the elite kids," Harris said. "I see myself as an elite kid. I have to come back and prove people wrong."
This is nothing new for Harris, who doesn't turn a lot of heads as a 5-foot-10 and 205-pound defensive lineman. But once he showed what he could do, he earned the opportunity to come back and compete on Sunday.
"I'm still looking at it and it's surreal," Harris said with a smile. "You grow up watching dudes perform at The Opening on TV. Just knowing I get an opportunity to do what they did is a blessing."
Harris spent more than a month preparing. So did Fish.
Thomas Even decided to see what he could do on a whim.
A running back and linebacker from Don Bosco High in Gilbertville, Iowa, Even came in on Saturday without any specific training or preparation.
"Not at all. Just in track season," Even said. "Just to see where I'm at. I've got one more season of football and want to see what I can do."
Even will compete on Sunday, too.
McCluer North track standout Angelo Butts earned his invitation with a score of 100.29. He was one of about 20 athletes to hit triple digits. The 5-foot-10 and 156-pound sophomore speedster competed at Parkway Central's Henle Holmes Invitational Thursday and Friday. He's looking forward to seeing how he handles himself against the best in the Midwest and representing the Stars.
"I wanted to show McCluer North has some talent, too," Butts said. "It's everything I wanted. It's another step forward and now I'm competing with the best of the best."
Lindbergh linebacker Logan Kopp put a nice bow on the end of his sophomore year. He saw significant varsity action and earned all-conference honors for the Flyers in the fall. Now the 6-foot and 181-pound Kopp will be one of the few, if not the only, Lindbergh player on the field. Saturday's success was a nice feather in his cap as he chases bigger goals for next season.
"I can't say I didn't expect it but I'm excited I got in and get to show some more of my talent," Kopp said. "I'm hoping to be a leader and a captain on the team next year."
Quentin Stephany and Marquis Munoz punched their ticket to Sunday's regional. Teammates from Jefferson High in Lafayette, Indiana, they'll join their quarterback, Maximus Grimes, who was invited prior to the combine.
"It's overwhelming, honestly. I came here with the intention of making it tomorrow," said Stephany, a 5-foot-10 and 188-pound defensive back. "We practiced for like a month and we were going through stuff. We were practicing and training for it."
Munoz and Stephany were too pumped to nap on their journey Saturday morning. They were excited and a bit anxious to see how the combine went. A 5-foot-10 and 198-pound running back, Munoz put up a top-10 score at 111.27. He said that no matter what, he was going to enjoy this experience.
"I'm happy we came down here as a team and as a family," Munoz said.
Malik Berry had to make a pit stop on his way to The Opening. A junior from Lawrence Free State High in Lawrence, Kansas, Berry and his family popped in to say hello to the Missouri football staff Saturday morning. Berry had been invited the spring football game. He couldn't stay but he had a good reason. After earning an invitation to Sunday's regional, it was worth it.
"I've been watching The Opening all my life and it's something I've looked forward to," Berry said. "To get invited back is a blessing. I've seen the best of the best compete at it and I'm ready to compete and show what I got."
Among those locals who earned a ticket to Sunday's regional with scores of 100 or better were Francis Howell junior running back Gideon Niboh (111.75), Fort Zumwalt West junior running back James Strauss (111.03), CBC sophomore receiver Zach Hahn (105.51), Orchard Farm sophomore quarterback AJ Snow (102.84), Fort Zumwalt North wide receiver Isaiah Hartrup (102.39), Trinity junior linebacker Darion Smith (101.25), Chaminade sophomore running back Amar Johnson (100.71). 
High school football combine
High school football combine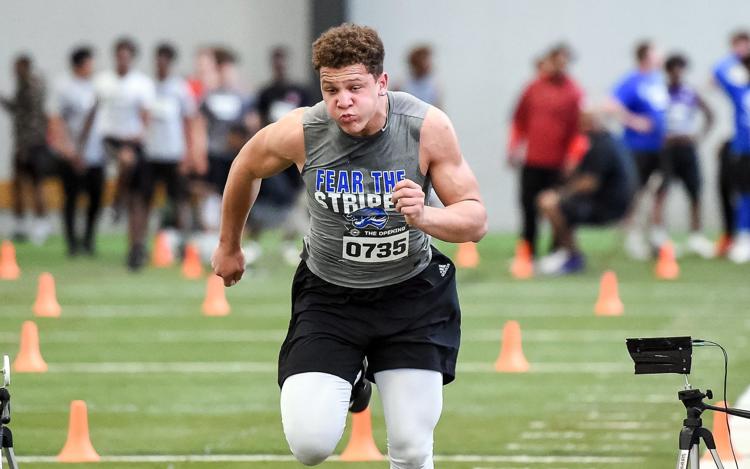 High school football combine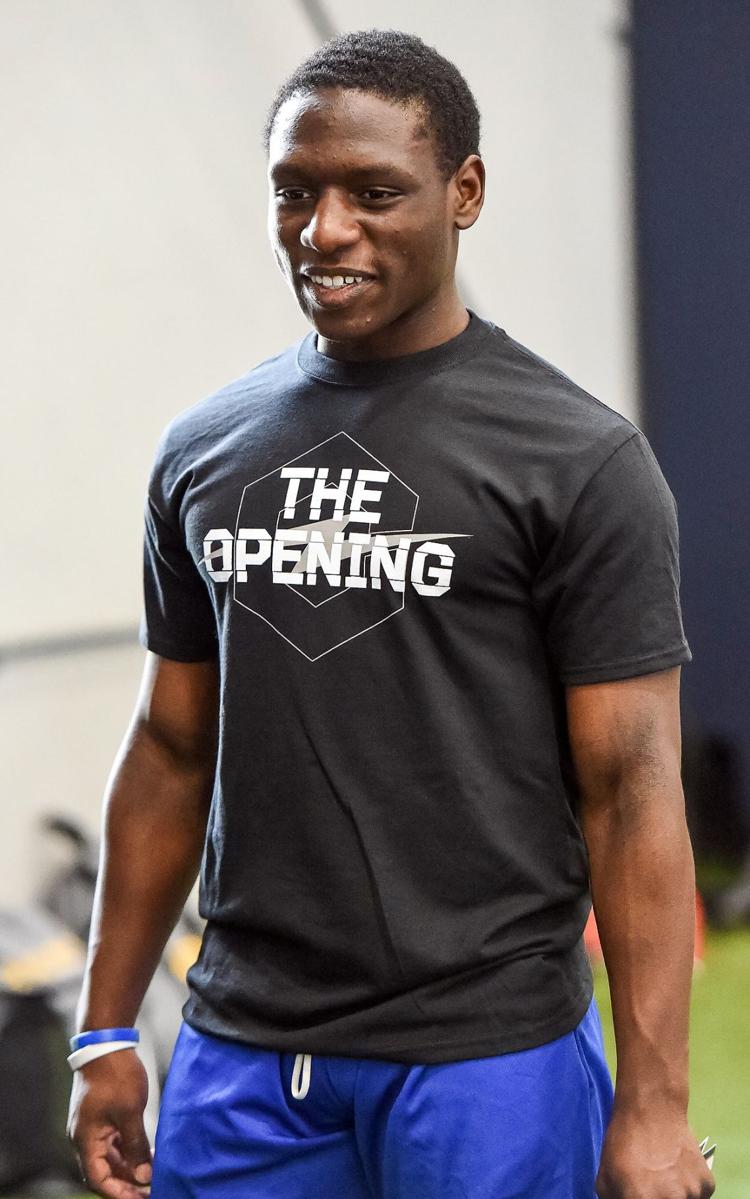 High school football combine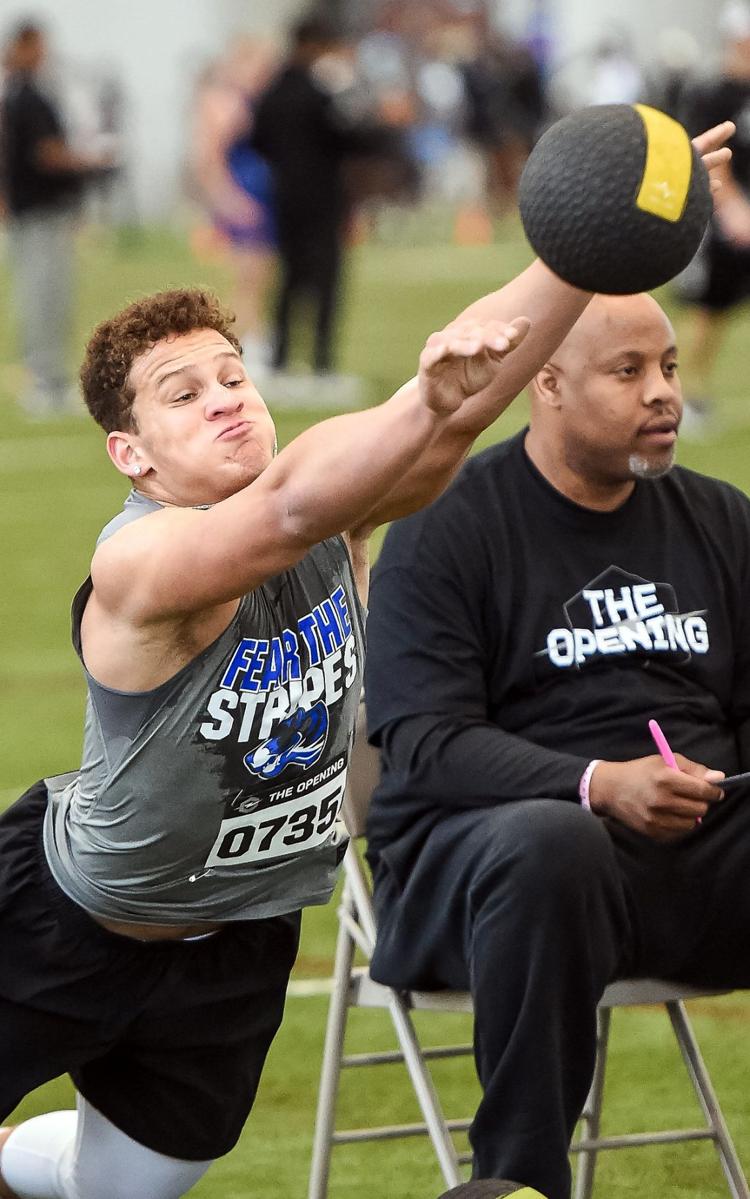 High school football combine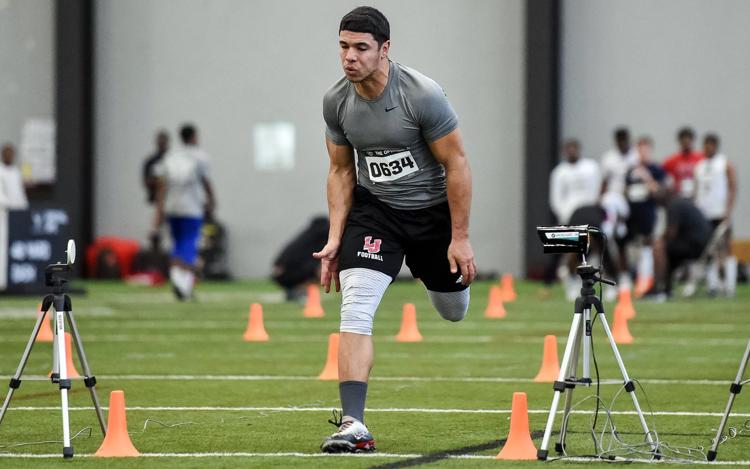 High school football combine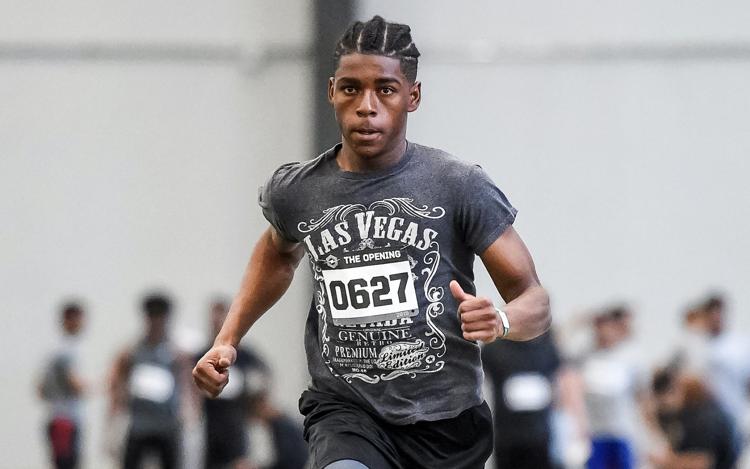 High school football combine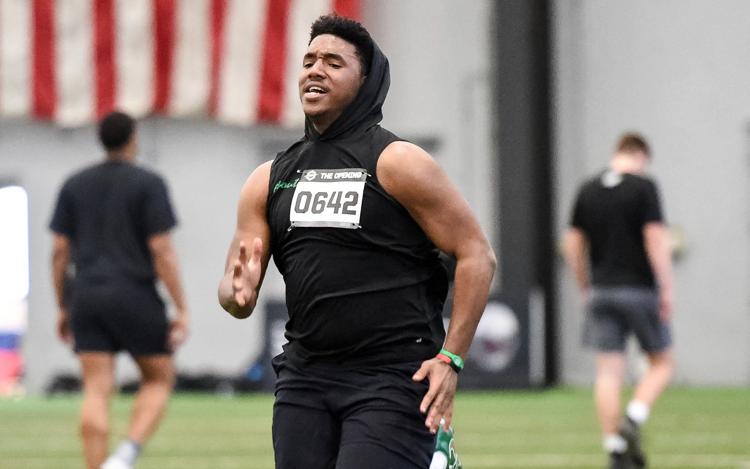 High school football combine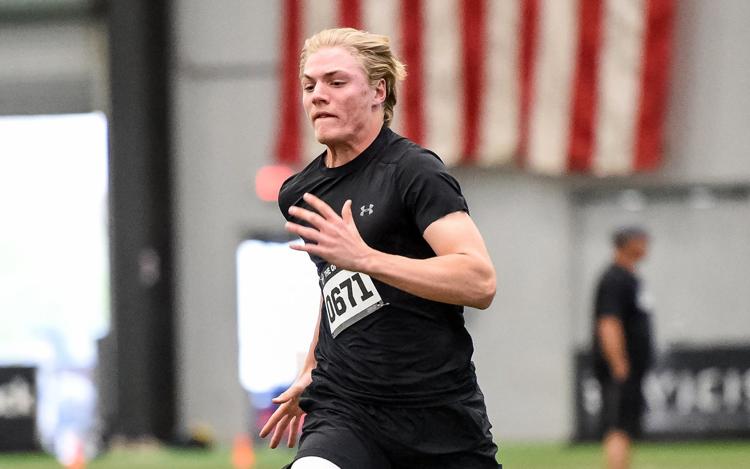 High school football combine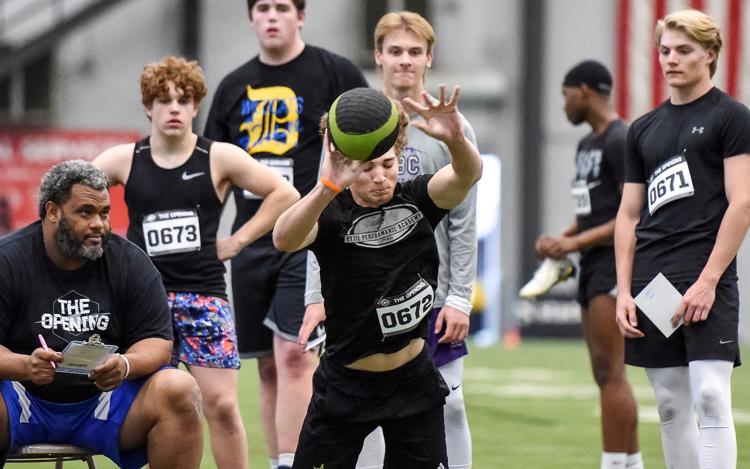 High school football combine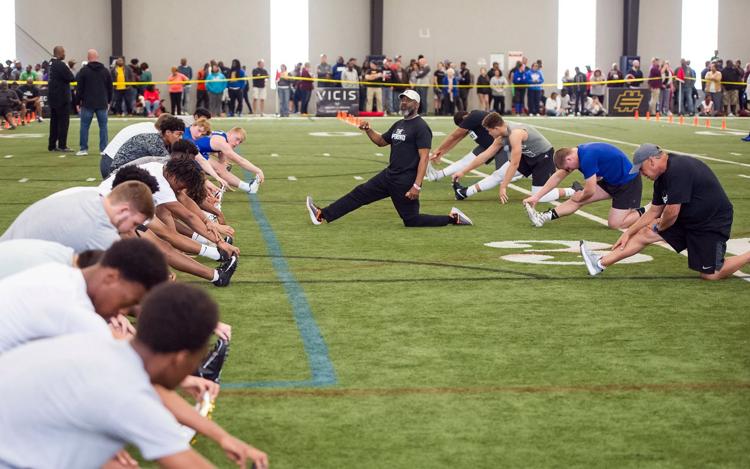 High school football combine