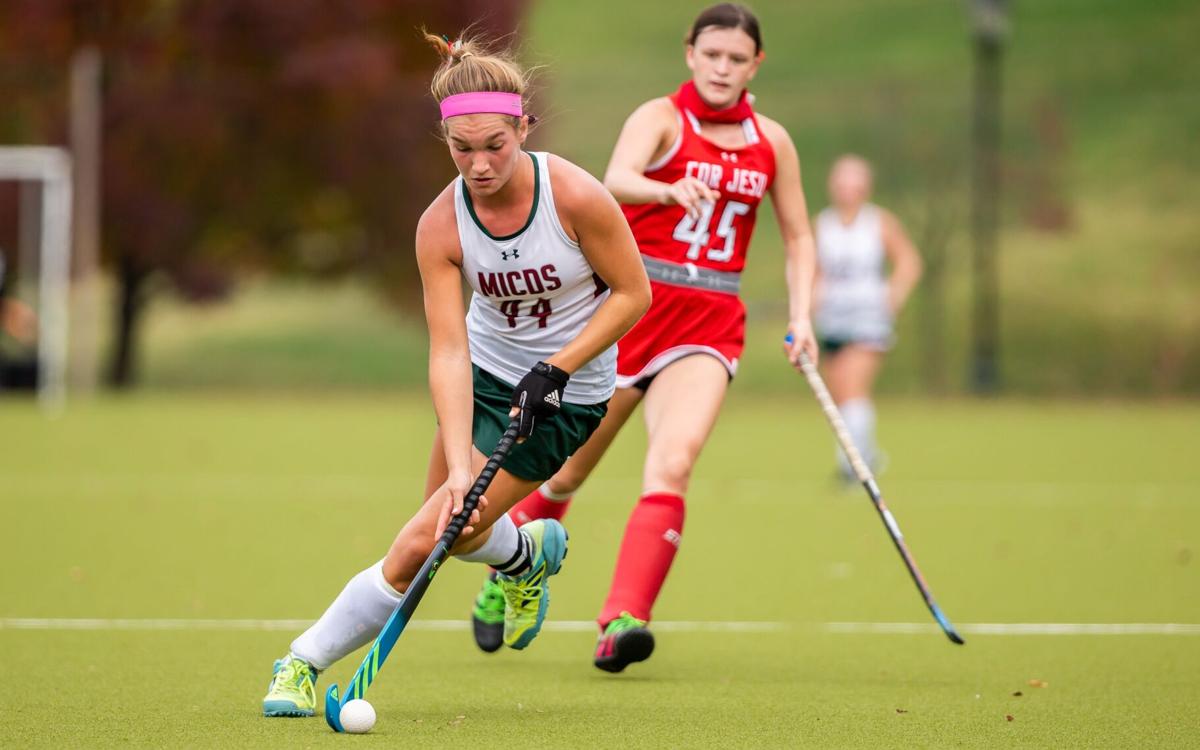 LADUE — Whether defending the opponent's best offensive player or pursuing an Ivy League education, there is no challenge too daunting for Lily Baker.
A four-year starter on the MICDS field hockey team, Baker has chosen Columbia University in New York City as the spot to continue her education and playing career.
The Post-Dispatch and STLhighschoolsports.com annually publish a list of signees from area high schools, and we need your help. Coaches, athle…
"I visited New York City once and I was obsessed," Baker said. "It's the people, the energy, the lights. It's brand new, but I'm already in love with it."
After spending three seasons as a shut-down defender, often assigned to eliminate the top scorer on the opposing team, Baker welcomed a new adventure when MICDS coach Lynn Mittler moved her into the midfield for her senior year.
"It was a new challenge, and I said, 'Sure, let's mix it up,' " Baker said.
Baker excelled, playing an integral part on both offensive and defensive corners and adding four goals and two assists.
"She runs our entire field," Mittler said. "Her composure on the ball is beyond comparison and her ability to distribute it is uncanny."
That ability to deliver passes to teammates is what Baker sees as her best quality.
"My goal is to make others better," Baker said. "I try to be as selfless as I can with the ball and I try to connect as many passes as I can to give other players the opportunity to grow."
Baker also perfected a new skill prior to the season — the long-distance throw. Her ability to scoop the ball and hoist it skyward almost 40 yards downfield allowed the Rams to alleviate pressure and begin counterattacks.
"I used those a lot during the high school season," Baker said. "They not only go really far, but they're hard to receive for the other team."
The ability to learn and master new skills also has guided her career path.
At MICDS, Baker is taking an independent study course on computer creation and software design and plans to major in engineering or computer science at Columbia. She also understands the need to increase the number of women in STEM-related fields.
"Not many of my friends are thinking about going into STEM fields and I say, 'It's so much fun, and we need more (women) in there.' " Baker said. "It definitely motivates me to want to go into (a STEM field) and stick with it."
Another passion for Baker is volunteerism and she recently earned the Congressional Award for Service. She is a member of National Charity League, where she organizes shelves at Food Outreach and organizes supplies for teachers and students at KidSmart.
The dedication to service initiatives of the Columbia field hockey program also factored into her decision to join the Eagles, who have had success recruiting in the St. Louis area, finding 2014-15 Post-Dispatch Scholar Athlete Katherine Cavanaugh of Visitation and three-time state champion Kara Zurlinden of MICDS in 2016.
And their latest find is Baker, who despite not knowing anybody from the Empire State, only having taken a virtual tour of campus, and only meeting the coaching staff over Zoom, is excited to embark on yet another new challenge.
"Being in the city will be a whole different experience and environment. I'm going to love it," Baker said.