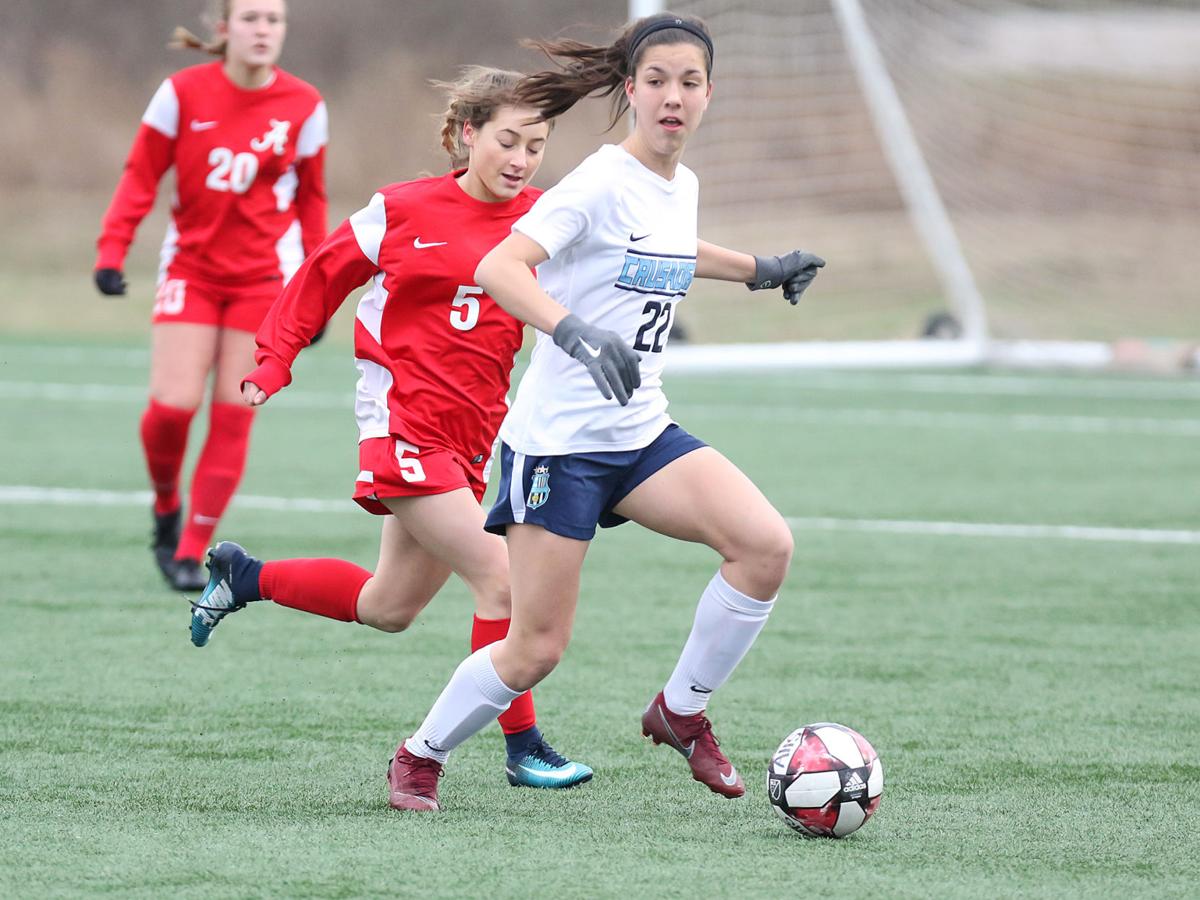 O'FALLON, Mo. — Ashley Martinez and several of her St. Dominic girls soccer teammates got to do something Wednesday they hadn't in quite a while.
With it being the initial day to sign a national letter of intent, Martinez and five of her fellow girls soccer players were among 10 signees at the school's morning ceremony.
The Post-Dispatch and STLhighschoolsports.com annually publish a list of signees from area high schools, and we need your help. Coaches, athle…
It proved to be a cause for celebration — something Martinez and her teammates hadn't been able to do much of without playing the entirety of the 2020 season because of the COVID-19 pandemic.
Martinez, who plays midfield for the Crusaders, signed to play Division I soccer at Wisconsin. She scored eight goals and added seven assists during the Crusaders' 2019 championship season, when St. Dominic won the Class 3 title and finished 26-3-1.
"I really just like the overall vibe, the coaches and the program up there," Martinez said. "The things that have happened have made me realize just how valuable time is. It's going to be bittersweet to move on, but it's really going to make me value my last times in club and in the spring season for high school."
Martinez was joined by Rylie Combs (Mississippi State), Logan Racine (Rider), Jessica Grayek (Rockhurst), Gabby Hennessy (Rockhurst) and Emma Berens (Truman State) as signees from the soccer team.
Combs scored four goals and added an assist as part of the 2019 championship team.
"I'm so happy that this day finally came and I am officially a Bulldog," Combs said. "Now, I can relax and play my game. Now that this is done, there isn't as much pressure, as much need to worry."
Wednesday was the first day athletes in the class of 2021 could sign binding letters of intent to their chosen college or university for NCAA Division I or Division II programs.
All college sports except football opened their signing period Wednesday. Football's first signing period runs from Nov. 16-18.
"It's always a big day for us and it's great to see the girls being excited about moving on to the next level," St. Dominic soccer coach Greg Koeller said. "This is a great group, a special group that we have. I am just so excited for them and their families."
While the soccer players made up the bulk of St. Dominic's signings Wednesday, the softball program had a rather high-profile signing of its own.
Jessie Blaine, who moved to the school from California during the summer, signed to play at Auburn. Blaine committed to the Southeastern Conference school as a freshman.
One of the nation's top prospects at catcher, Blaine hit .529 with nine home runs and 37 RBI in her lone Crusaders season.
"It's been a long time coming and I have a lot of excited feelings after a long wait," Blaine said. "Now, I'm just ready to move on, get to Auburn and get to where I'm meant to be."
Others St. Dominic athletes signing at Wednesday's ceremony were: Lydia Cornett (lacrosse) to Missouri Baptist; Audrey Weber (volleyball) to Lindenwood; and Carson Prescott (baseball) to William Woods.