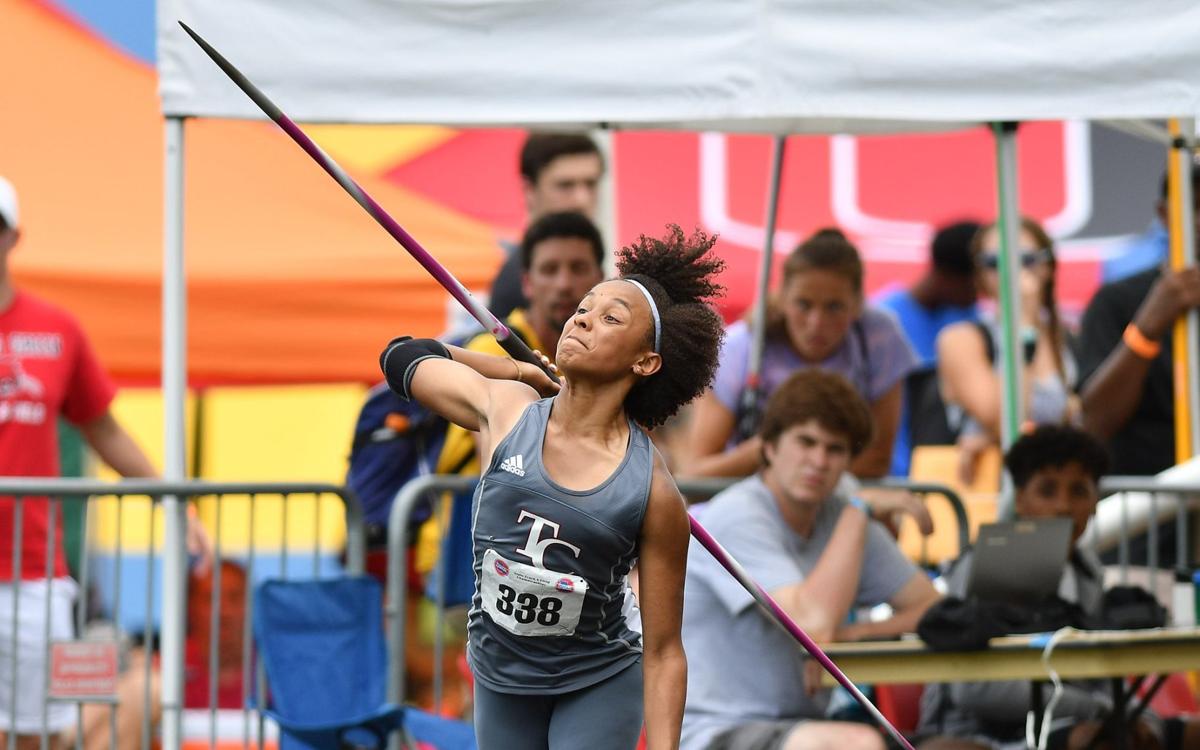 Sydney Juszczyk woke up Wednesday morning with a decision to make.
The biggest decision of her life.
A senior all-around standout for the Trinity girls track and field team, Juszczyk laid in bed contemplating her future. She would have an answer before she rose.
The Post-Dispatch and STLhighschoolsports.com annually publish a list of signees from area high schools, and we need your help. Coaches, athle…
When she made a choice, she pulled herself off the mattress and made her way into the kitchen, where her parents were waiting on her.
"Where you going?" asked Peter, her father. "Tell me."
Juszczyk didn't divulge her answer. Instead she pulled out her phone and made a call. She put it on speaker so her parents could hear.
They recognized the voice of Texas Christian University track coach Darryl Anderson. In that moment, Juszczyk told everyone she was signing with the Horned Frogs.
"Coach and my parents found out at the same time," Juszczyk said.
This isn't normally how Juszczyk operates. She prefers not to wait until the last moment for anything. But this was not a normal situation.
The 5-foot-3 Juszczyk is the top high school javelin thrower in the country. A two-time Class 3 state champion with multiple national championships on her resume, Juszczyk still holds the AAU Junior Olympics 14-under record.
In the time before the coronavirus pandemic, Juszczyk would have spent the spring of her junior year dominating the competition in Missouri and then taken her talents on the summer circuit across the country. She'd have been able to compete against the best the nation could offer all while fielding offers and interest from a wide swath of collegiate programs.
When the country went into lockdown in March, Juszczyk's junior track season vanished. The summer season was wiped out, too.
Juszczyk was deflated. Her motivation to train waned. She didn't know what the point was of continuing to grind through workouts.
"It was kind of upsetting how the season played out," Juszczyk said. "I was banking on having a good season, going to big meets and getting some good marks out there."
Peter, who's an assistant at Trinity and has coached Juszczyk her whole life, did his best to pull her out of her funk.
"Something will have to happen," he told her.
Something did happen in late July. There was a throwers-only meet in Aurora, Illinois. The organizer reached out to Peter and made his pitch to have Juszczyk come compete.
For the first time in 13 months, Juszczyk took to the runway and fired her javelin into the horizon.
When she was done, Jusczyzk not only won the meet but put herself atop the national leaderboard with a throw of 164 feet and 7.25 inches. It's the longest throw by a high school girl this year and put her in the all-time top 20 longest throws by high school girl ever, according to Milesplit.com.
Jusczyzk's throw measured out at 50.17 meters, which is the third longest throw by an American woman this year. She trails only Kara Winger (64.44) and Ariana Ince (57.98), both of whom Juszczyk said she idolizes.
After drowning in disappointment for months, Juszczyk's spirit was renewed.
"It was a lot of fun," she said.
It also reinforced what a college program would be adding if it were willing to invest in Juszczyk.
Texas Tech, Kansas State and Iowa all made a push. TCU won her over in part because it was willing to make that investment.
TCU offered Juszczyk a full scholarship. That might be standard fare for the likes of football or basketball. Only exceptional track athletes land full rides instead of partial ones.
"Coaches have a limited number of full scholarships," Juszczyk said. "For them to offer me a full ride for all four years is pretty cool."
TCU also earned Juszczyk's trust when she talked to the staff about how to train. Juszczyk has hurdled, long jumped, triple jumped, thrown the shot put and competed in the sprints growing up. She could be a dynamic in the heptathlon.
"I want to take a multi-event approach to training," she said. "They want to get me better in those other events. Throwing the jav gets a little lonely. It'd be a lot of fun to do other events."
With her college plans now decided, Juszczyk said she's putting her attention on making Team USA's Under-20 roster. Invigorated by her performance this summer, Juszczyk will be ready for whatever comes next, whenever that may be.
"I want to make that team," she said. "I'm taking advantage of my whole senior year. I'm really staying focused."