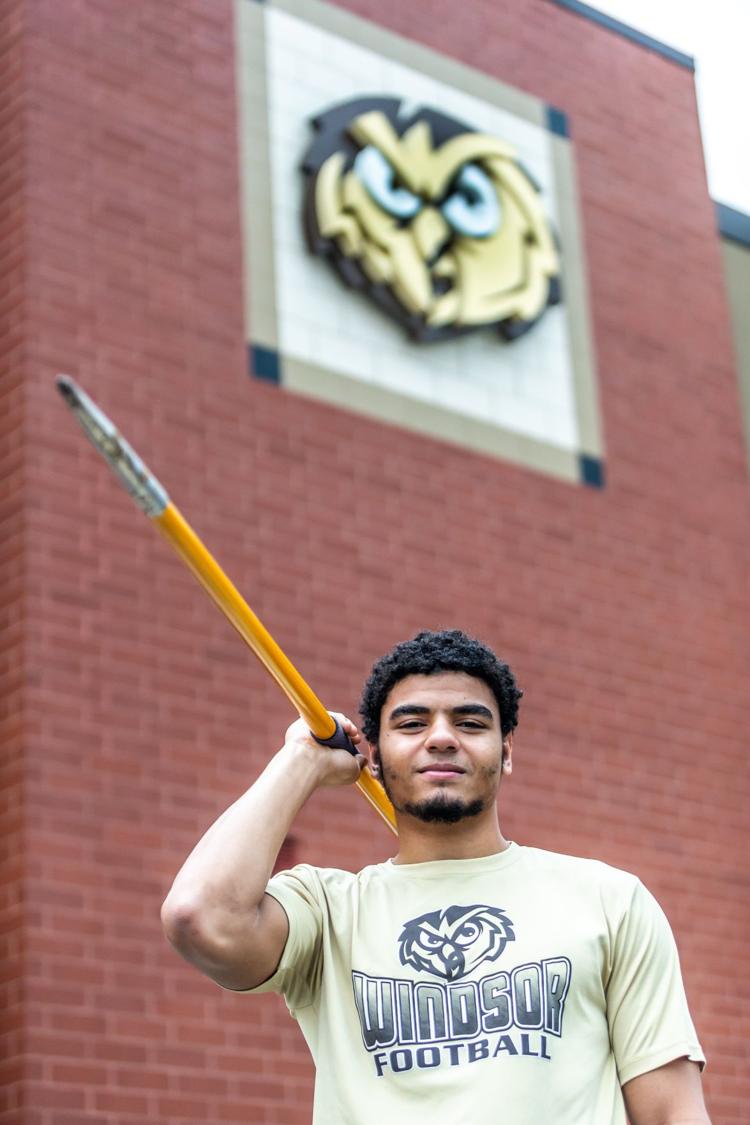 Seif Elkhashab had no idea what he was doing.
He just knew it wasn't homework.
A middle schooler at the time, Elkhashab's friends were filling him in on this game they were playing called "football." You wear a helmet and pads and try to drag the guy with the ball to ground before he can score a home run.
An immigrant from Mit Ghamr, Egypt, Elkhashab never heard of this game but it piqued his interest. He asked his aunt and uncle if he could play.
"I joined the team a week late," Elkhashab said. "I didn't get it at all. I wasn't really good. I'd call touchdowns home runs. I still do sometimes."
The terminology might befuddle him here and there, but the game itself no longer does. A senior at Windsor High, Elkhashab was a standout two-way lineman in the fall. He played left tackle, left guard, right tackle and right guard on the offensive line. He was a dominating force on the defensive line, where he had a team-best 79 tackles and five sacks. When injuries ravaged the Owls late in the season, he stepped in at linebacker for the first time in his career.
"He goes out and learns linebacker in a game week," Windsor football coach Alex DeMatteis said.
The 6-foot-1 and 190-pound Elkhashab made such an impact he was named the Mississippi Area Red Conference defensive player of the year even though Windsor was winless in the league.
"It was a proud moment for me," Elkhashab said.
It's just one impressive accomplishment on a resume so polished it twinkles. Windsor's Post-Dispatch Scholar Athlete, Elkhashab's grade point average swelled past 4.0 long ago. He's the valedictorian, National Honor Society vice president, student council sergeant at arms, a member of the character council and an Advanced Placement Scholar with Honor.
A thrower on the track team, he was the only Windsor boy to advance to the Class 4 state meet last spring. This winter he wrestled at 195 pounds, went 45-7 and competed at state, too.
Elkhashab, 18, has done all of this despite arriving in Imperial at the age of 10 with a limited understanding of English. Adopted by his aunt and uncle, Elkhashab's parents and three sisters remain in Mit Ghamr.
"We made the decision for me to stay," Elkhashab said. "It would open up more opportunities here."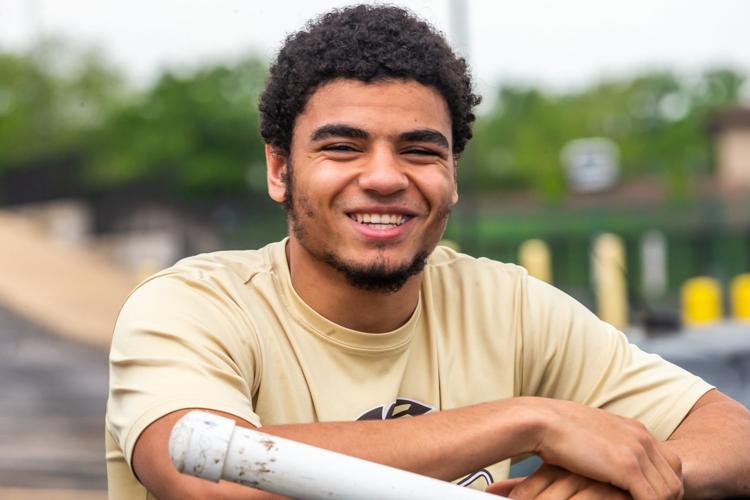 The first challenge was to get a grip on the language. Elkhashab said in the span of two years he went from the lowest reading level in school to the highest. He devoured books and began to learn the idiosyncrasies of American English. Well, most of them anyway.
"When the only way to communicate is to talk it, you learn it pretty quick," Elkhashab said.
His aunt and uncle stressed academic achievement was sacrosanct. Elkhashab wasn't aiming to be the valedictorian when he got to Windsor. He was just trying to keep his household happy.
"Freshman year I didn't know anything about class rank or GPA," he said. "It was get A's or have a conversation at home."
The transition to high school can be a challenge for plenty of kids, but Elkhashab said it was especially difficult for him. A devout Muslim, he was well aware of just how different he was compared to the vast majority of the student body.
"It was tough at first," he said. "Having a different religion and culture, I was pretty different. It was almost impossible to fit in."
Sports helped bridge the gap. He didn't play a down for the football team as a freshman, but it was a great way to test himself physically and show a side of himself that didn't come out when he was acing tests.
"It's something you look forward to," Elkhashab said. "Even if I wasn't good at it, it was a way to make friends and get better, faster and stronger."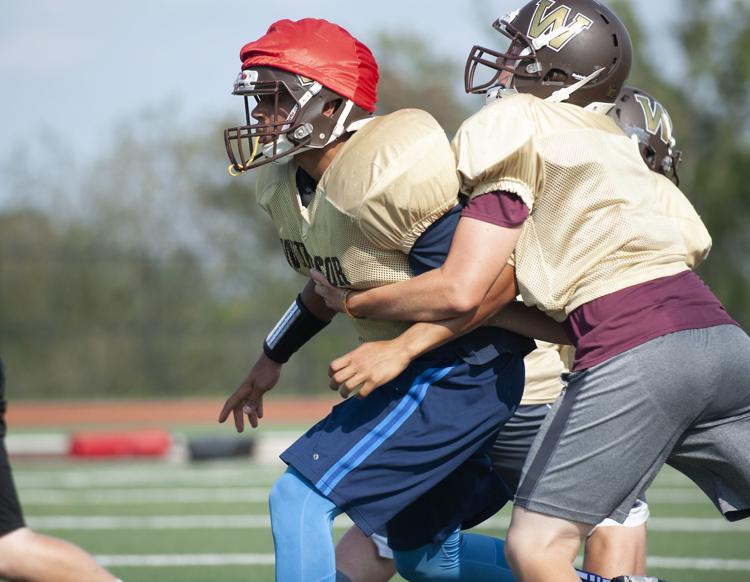 Physical fitness is as important to Elkhashab as mental acuity. He began a nightly push up routine in middle school. He practices mixed martial arts along with his school sports. During football season he would rise at 4 a.m., get a workout in and then finish up whatever homework remained before heading off to school.
In the summer his academic pursuits could be hectic as he participated in events with the student council and student government. He took prerequisite classes during summer school to open his schedule for more rigorous courses during the fall and spring semesters. He wasn't always able to make it to offseason workouts with the football team, but not once did DeMatteis believe he was getting less than Elkhashab's best effort.
"In my 20 years I've had kids tell me they were working out on their own and when they showed up it was obvious they weren't," DeMatteis said. "Seif smashed every (mark) he pretested in."
Elkhashab said a real turning point for himself was the year he didn't play football. He returned to Egypt over the summer between his sophomore and junior year. The time around his family and his culture helped him grow more comfortable with himself.
"It solidified who I wanted to be," he said. "It helped me come out of my shell a little bit."
But he didn't arrive back in Imperial until shortly after the school year began, and with two weeks of required practice to become varsity eligible, he decided to pass and focus on track and field in the spring. He qualified for the state meet in the discus, shot put and javelin. The javelin is his favorite of the three. It's the event that showcases his combination of speed and strength the most.
"He was the fastest guy in our (football) program this year," DeMatteis said. "Our running backs weigh a lot and Seif would fold these guys up in tackling drills. Once he gets his hands on you there's nothing you can do."
Washington University took notice of Elkhashab's abilities and offered him the chance to play football and throw for the track team. He'll take his talents there in the fall should life to return to something that looks like normal in these coronavirus times. DeMatteis said it took some convincing for Elkhashab to believe he was up for the challenge of the next level.
"Wash U. is getting a good one. We had several talks about it," DeMatteis said. "His humility, it's what I like about him the most."
Elkhashab said it comes from his faith. Humbleness is a pillar of Islam and he strives to live his life in a way that exemplifies it.
"I attribute everything I've done to my faith," Elkhashab said.
He had hoped to return to Egypt this summer, but that does not appear likely amidst the pandemic. Elkhashab will finish his online learning at Windsor and begin preparing for college. He's contemplating pursuing a path to medical school.
"I've told him I'm going to need a good heart surgeon one day," DeMatteis said with a chuckle. "I need him to do a good job in school."
Elkhashab knows no other way. Time and again he's proven when the game is on the line he can step up and score a home run.
STLHighSchoolSports.com is the most comprehensive source of stats, scores and stories from any and all area high schools.