For a project in her freshman geometry class, Alexis Woodman constructed a bridge using only plastic straws and a piece of card stock paper.
Her teacher, Bud Stein, was impressed.
"Her bridge was strong, followed the specifications to the letter and the quality of her work was immaculate," Stein said.
Stein asked Woodman to join the St. Joseph's Academy Bridge-Building team, and for the next three years, she designed and constructed bridges out of balsa wood for entry into to the Billiken Beams Bridge Building Competition at St. Louis University.
While her sturdy structures have won numerous awards, Woodman's bridge-building talents span far beyond engineering competitions. Throughout her high school career, she has been a unifying force on the tennis court and in the classroom.
Woodman is the St. Joseph's Academy 2020 Post-Dispatch Scholar Athlete.
Last fall, Woodman and sophomore Ellie Choate won a second successive Class 2 doubles state championship, outlasting a powerful team from Rock Bridge in the semifinals on the way to a repeat title.
"That match against Rock Bridge was the best match I've played in my entire high school career," Woodman said. "For the first time I felt no pressure and just went out and played. I know Ellie was a little nervous, so it was good we could balance each other out."
But the road to tennis excellence had its share of bumps along the way.
Woodman and her older brother AJ, who won a singles and a doubles state championship in his career at CBC, began playing tennis at age 5. Both played competitively while living in Ohio, but the emotional strain involved in high-stress tournaments forced her out of the sport.
"I started putting so much pressure on myself that I just didn't like it anymore, so when we moved to St. Louis, I actually quit tennis for three years." Woodman said.
Instead, she played competitive volleyball throughout middle school, but when she arrived at St. Joseph's Academy, she decided to hit the restart button on her tennis career.
"I liked that it was going to be a team sport and that I could play doubles," Woodman said.
Woodman earned a varsity letter in her freshman season at St. Joseph's, but the transition from volleyball to tennis was not an easy one.
"Although the jump serve in volleyball and kick serve in tennis are similar, the difference is the contact point," Woodman's private coach Troy Bray said. "Adjusting the ball toss when she came back was a challenge but something she worked hard to correct."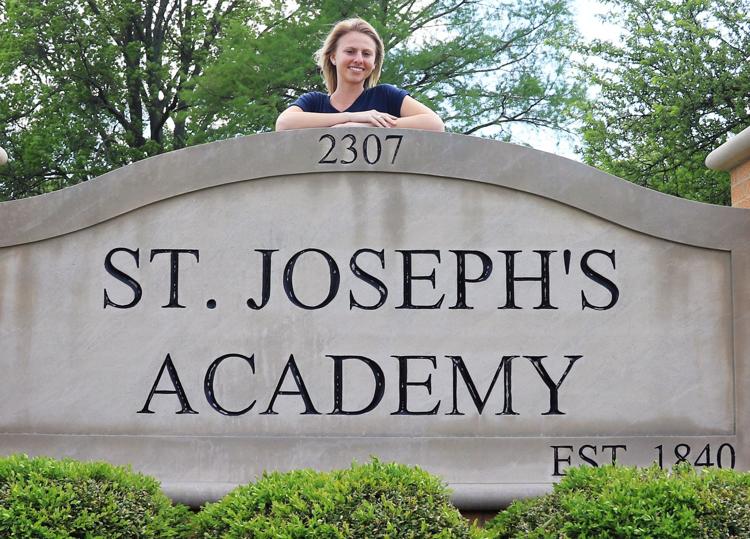 Throughout her high school tennis career, Woodman used her explosive backhand, solid net game and improved serve to become one of the top players in the area, earning first team All-Metro honors as a junior.
"Lexie entered St. Joe as a wide-eyed freshman and exited as a steel-eyed competitor," Angels' tennis coach Doug Smith said. "As her confidence grew, she became the heart and soul of the team."
And as a senior co-captain, Woodman helped bridge the gap between the Angels' four battle-tested upperclassmen and six exuberant underclassmen, guiding the Angels to their first team state championship since 2012.
"We had a pretty young team with a big group of sophomores, and we had a lot of fun, but they also pushed our buttons a lot," Woodman said. "They saw us as their really close friends, so we had to figure out what authority we had and how to get them to listen to us."
Smith credits Woodman's leadership as a major reason the Angels captured that elusive team championship.
"With each successive year, Lexie stepped up her game physically and mentally, but every bit as importantly, her natural confidence and determination as a leader won the hearts and minds of her teammates," Smith said. "She focused on leading her teammates on a quest to win the state team championship."
Woodman has displayed that same unifying ability in the classroom. She earned honor roll status in each high school semester and has willingly shared her academic gifts with her classmates.
"One of Lexie's greatest strengths is how much she cares about her classmates' success," sociology teacher Jacob Yorg said. "She is a very empathetic person who does not like to sit back and watch people struggle. She wants others to become the best version of themselves."
Her love for mathematics and her experience on the bridge-building team have fueled a passion for architecture, which Woodman will study at Georgia Tech. As a senior, her three-person team designed one of the strongest bridges at the Billiken Bridge Building Competition and took home first-place awards for bridge aesthetics, written report and trivia.
"When choosing students to participate on the bridge-building team, I look for enthusiasm, interest, academic ability and the quality of their work," Stein said. "It was an easy choice to invite her to participate. She has been one of my best choices."
But before she begins designing houses, Woodman is embarking on a new creative endeavor — podcasting. After Woodman and classmate Ainsley Hurford created a podcast for a theology class competition, they realized they had found a new passion.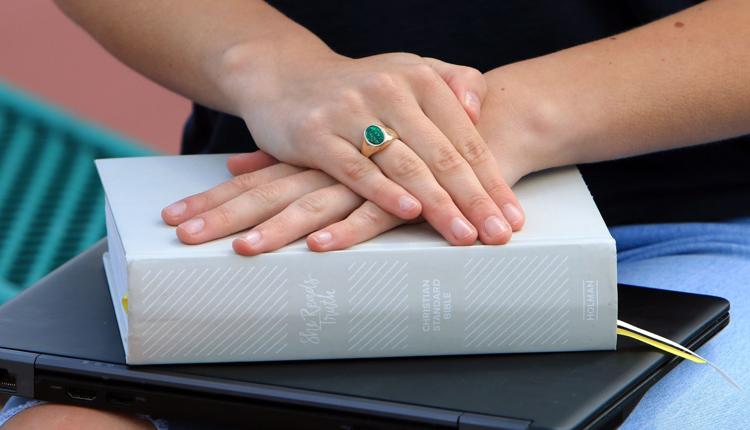 The result has been a faith-based podcast called "Radical Love" that discusses living a life of faith in a secular world. Episodes include "The Reality of Social Media" and "Life on Lockdown" and can be found on Apple Podcasts and Spotify.
"We both love listening to podcasts — funny podcasts and Christian podcasts — but they don't necessarily relate to our lives as teenagers." Woodman said. "We wanted to talk about our lives, what we've experienced and what we've learned to try to help and inspire people."
And Woodman continues to inspire people as a campus ministry retreat leader, a Christian public speaker and a youth tennis coach, all part of the lasting legacy she has constructed at St. Joseph's Academy and in her community.
A legacy she has built with much more than plastic straws.