Grandview High senior Megan Jones didn't hesitate to venture into the family business.
The four-sport standout gave fire fighting a try — and she was hooked.
"My dad suggested that I try it out just to see if I liked it," Jones said. "I did."
Jones wants to continue a family tradition that includes her father, grandfather and several uncles, who all became firemen. She started as a junior firefighter when she was 14 years old.
Once she turned 18, she became a volunteer firefighter.
Jones goes out on calls with the Cedar Hill Fire Department.
"We're very limited to what we can do because of the liability issues," Jones said. "We do have our own gear and we get to go through the training meetings and do all that stuff. We can go on calls and like set up lights, give the guys some tools from the trucks and basically be like a gopher."
Megan's dad, David, has been with the Cedar Hill Fire Department for more than 35 years. He started as a junior firefighter, too.
"I'm proud of everything that she does," David said. "It's not going to be a career for her and I'm OK with that."
One of the most exciting moments came when Megan's dad woke her up in the middle of the night. There was a house fire nearby.
"So I get up and I don't have my contacts in and I can't see, everything's blurry, but I didn't have time, we have to go," Megan said. "I just remember it was dark out, everything was fuzzy and there's a house on fire."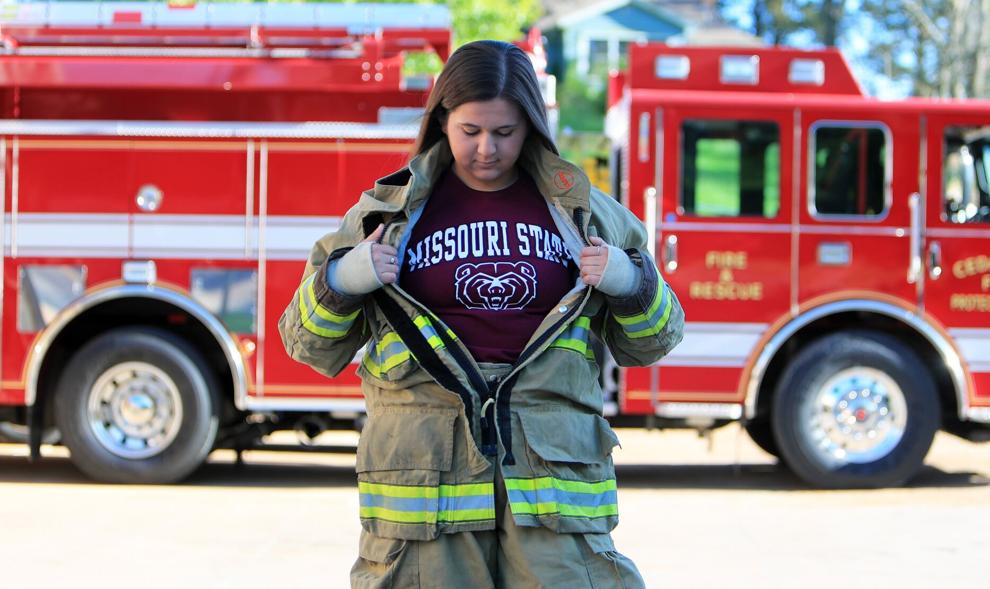 Megan's firefighting days may be numbered for now as she plans on attending Missouri State University in the fall.
The Post-Dispatch Scholar Athlete takes an impressive resume with her to Springfield.
Jones has been on the honor roll all four years and she was accepted into the American Legion Auxiliary Missouri Girls State program even though she couldn't participate in the 2020 session due to COVID-19 protocols.
Jones served on student council and was a member of the National Honor Society. She earned the KMOX/Southeast Missouri State University Student of Achievement award.
"I really enjoy National Honor Society," Jones said. "We do a lot of things to help out on the campus and volunteer work is an important thing for me. I enjoy doing that kind of thing and helping out with others. And student council's fun. We get to represent our class and talk about issues that we can solve and we can actually make change, do things to make our school better."
Jones lettered in volleyball, basketball, softball and track and field.
Jones said basketball is her favorite sport and she averaged 6.5 points for the Eagles this season. She ended her high school athletic career hitting .440 and driving in eight runs for the Eagles softball team.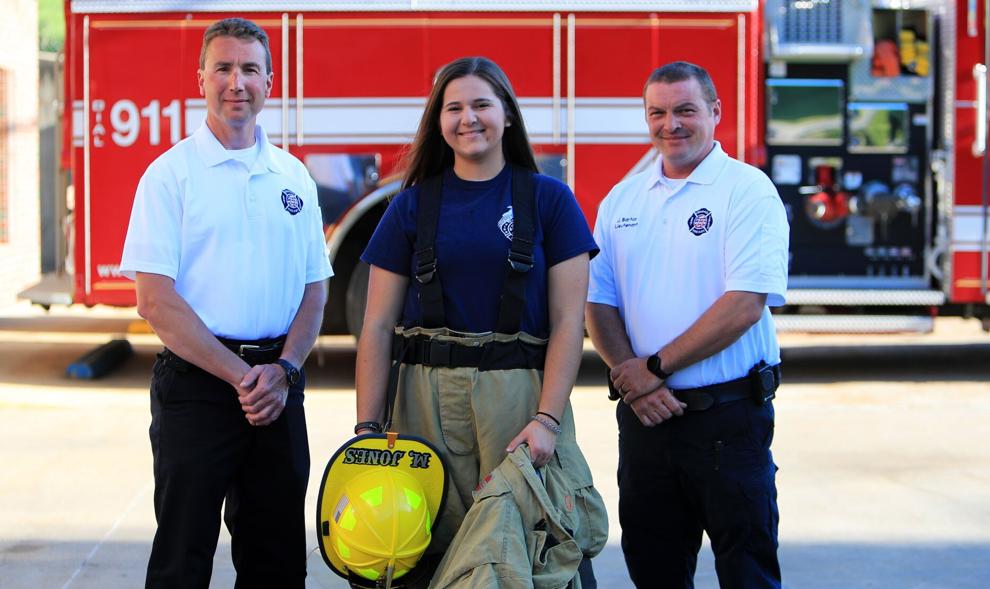 "We had kind of a ragtag group this year, and I would ask her to play a position she's never played before and she didn't care," Grandview softball coach Ann Dugan said. "She would go up there and play a position she never had before and never worry about how it would look when she messed up. She will do anything asked of her. She's a great kid."
Jones also is active with her church's youth group at St. Martin's UCC. She has taken mission trips to Bayou La Batre, Ala., and Niagara Falls, NY.
Each trip presented a new experience and perspective.
The trip to Alabama in 2016 was the first for the young group. Jones' group painted houses as part of Hurricane Katrina cleanup, several years after the storm devastated the area.
Going to New York in 2018 was memorable. Most think Niagara Falls is a thriving tourist town, but Jones found that isn't reality.
"Niagara Falls is one of the poorest towns in New York," Jones said. "We went there and there's a whole bunch of like decrepit houses and like everything's falling apart."
The group served at a nursing home, painted a former school and mowed an elderly woman's grass.
Jones also makes a difference locally with the youth group, raising money and collecting food and personal hygiene products for homeless youth in Jefferson County. They also have a box night, where the group spends a night in a box to understand the plight of the homeless.
"It's definitely different," Jones said. "You don't get to shower when you wake up in the morning and the ground's always hard and it's cold. It's always raining. I think one year it snowed on us when we did it. Of course, we had these nice sleeping bags that we bought and all this stuff, but it's harsh. It's horrible because there's some of my classmates that I know that don't have beds to go home to at nighttime and it definitely puts things in perspective."
Though it may seem school comes easy to Jones, that hasn't always been the case.
She remembers struggling with reading when she was younger and having to stay in during recess for extra reading.
"We just kept working with her," said Megan's mother, Jaime Jones. "We would read to her and have her read to us. She caught on pretty quickly."
Now reading is one of her favorite activities. She is currently working her way through some of the classics of literature.
Jones said her parents are her biggest inspirations.
"My dad taught me the importance of being brave and that family is very important," Megan said. "My mom has showed me how important it is to be independent and doing what's right, but always showing compassion and kindness."
And the Jones' firefighting line is not ending. Megan's brother, Dylan, is a firefighter with Rock Community.
While she might not follow in her father's footsteps as a firefighter, she plans to take that same service-first mentality into whatever career path she chooses.
"We're very blessed," Jaime Jones said. "I don't know what we did right, but I love and appreciate the fact that she's so willing to try things and see what things are about."