Jordyn White woke up one Saturday morning and immediately knew something was wrong.
The Lutheran North High standout athlete was all alone in her North County apartment.
Her mother, Alvina Ellliott, a hard-working single mom of a talented three-person family, was nowhere to be found. Even more disconcerting, Jordyn's twin brother Jalen was also missing.
"I got scared because no one was around — and I knew what probably happened," Jordyn White recalled.
In its 53rd year, the St. Louis Post-Dispatch Scholar Athlete program honors one student from every area school, a requirement being that they…
White's worst fears were realized.
Elliott, who had been slowed by the outset of a rare neurological disorder, suffered a major relapse in the night. Jalen, with little driving experience and no valid license, was forced out of necessity to drive his mother to the nearest hospital.
It could have been the start of a downward spiral for Jordyn, then a sophomore basketball and track star at Lutheran North.
Instead, it galvanized her and helped turn her life around.
In that brief moment, White knew that some rough times would be heading her way. She prepared — and eventually conquered them.
"It helped me grow up in so many ways," White said.
White and her brother, at the time a key member of the Crusaders' basketball team, spent that entire school year bouncing from apartment to apartment, living with friends, neighbors, teachers and even a local pastor.
Jordyn said she and Jalen were evicted twice and spent time in four different living quarters. The family car was repossessed as Elliott remained in serious condition unable to walk or even communicate.
Despite the uncertainty, Jordyn forged ahead and hardly missed a beat athletically or, most importantly, academically.
She never missed a class and played in all 32 of the Crusaders' basketball games.
That courage, determination and perseverance has paid off two years later.
White, now a senior, was selected as Lutheran North's Post-Dispatch Scholar Athlete. White will be one of 161 Scholar Athletes from the Metro area honored Thursday at Busch Stadium as part of the 53rd annual Post-Dispatch program before the Cardinals' game against Pittsburgh.
She is coming off a straight-A semester and is among the top nine students in her graduating class. Lutheran North does not make student academic rankings public. White has accepted a scholarship to attend Trinity University in San Antonio, where she will compete on the track and field team.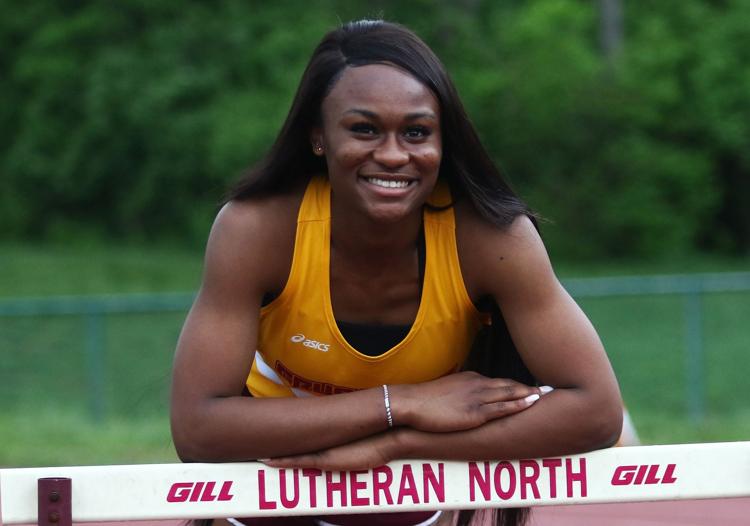 The 5-foot-8 lightning-quick sprinter and jumper has come a long way since her painful sophomore year, where she said her grade-point average "slipped" to 3.1 thanks to a pair of Cs.
Despite all the turmoil surrounding her life, she and Jalen held things together. Both of them passed the 1,000-point plateau in their basketball careers. Jordyn helped the Crusaders reach the Class 3 state title game in March. North lost to four-time defending champion Strafford 61-53 in the championship game.
Jalen, who transferred to Marquette for his senior year, averaged 15.6 points for the Mustangs, who posted a 20-6 record and won the third conference title in program history. Jalen also will be attending Trinity on scholarship.
Jordyn and Jalen survived thanks to their courage and an incredible amount of help from those around them.
In July of 2017, the twins moved in with Edward and Erica Glanz, who now serve as their guardians, in Chesterfield while Elliott recovers. Elliott, still under care, can now talk, communicate and move around. She speaks with her children every day on the phone and meets up every couple of weeks. Elliott even managed to attend a few basketball games. The disease she's fighting, which she did not want to disclose, is incurable.
The Glanz couple played a key role in turning around the lives of the twins. The stability they provided for the two will never be forgotten, Jordyn said.
Edward Glanz got to know Jordyn when he coached her summer AAU basketball team while she was in the eighth grade.
"There's no way to repay them for what they've done for me and my brother," Jordyn said. "I can only hope to help someone out in that way later on."
Edward Glanz does not want any credit for the success of the pair.
He said he simply, "saw two kids hanging in there and trying to keep things together."
So he and his wife chose to open their hearts and home to two children in serious need.
"We want to provide them with structure and anything else they needed to move on with their lives and be successful," Edward Glanz said. "They were going through some bad real-life things. And we were in a position to help."
Glanz served as a student assistant coach for the women's basketball team at Trinity. He helped bring the twins to the attention of the coaches at the prestigious Texas school, one of the strongest academic institutions in the state.
Jordyn has flourished since moving in with the Glanz family 22 months ago. She is a member of the student council at North and was selected as the Maryland Heights Student of the Month in January.
She holds the school record in the triple jump (38 feet, 2 inches) and finished third at the state meet last May. White also is closing in on the school mark for the long jump and is just two inches away with her best leap of 18-2.
White served as the defensive stopper for the basketball team in addition to averaging 6.7 points and 4.5 rebounds per game. North went 92-29 over four years with White as a regular. She finished with 1,172 points, averaging 10.1 per game over 115 contests.
But it is her academic prowess that brings the biggest smile to her face.
"I just worked hard, prayed and everything started coming together," she said.
White has provided a shining example for those around her.
"This is a pretty tight-knit school and she's pretty open about what she's gone through," North girls basketball coach Chris Forrest said. "Her ability to stay positive through this all — it just amazes me."
"It's hard to believe what she was able to accomplish," Edward Glanz said.
White is proud she worked through the bad times. And those around her realize there are many good times ahead.
"She's just scratched the surface," Edward Glanz said.
Added Forrest, "She's the type of girl that can do anything she wants if she sets her mind to it. I have no doubt she'll be a success in anything she sets out to do."