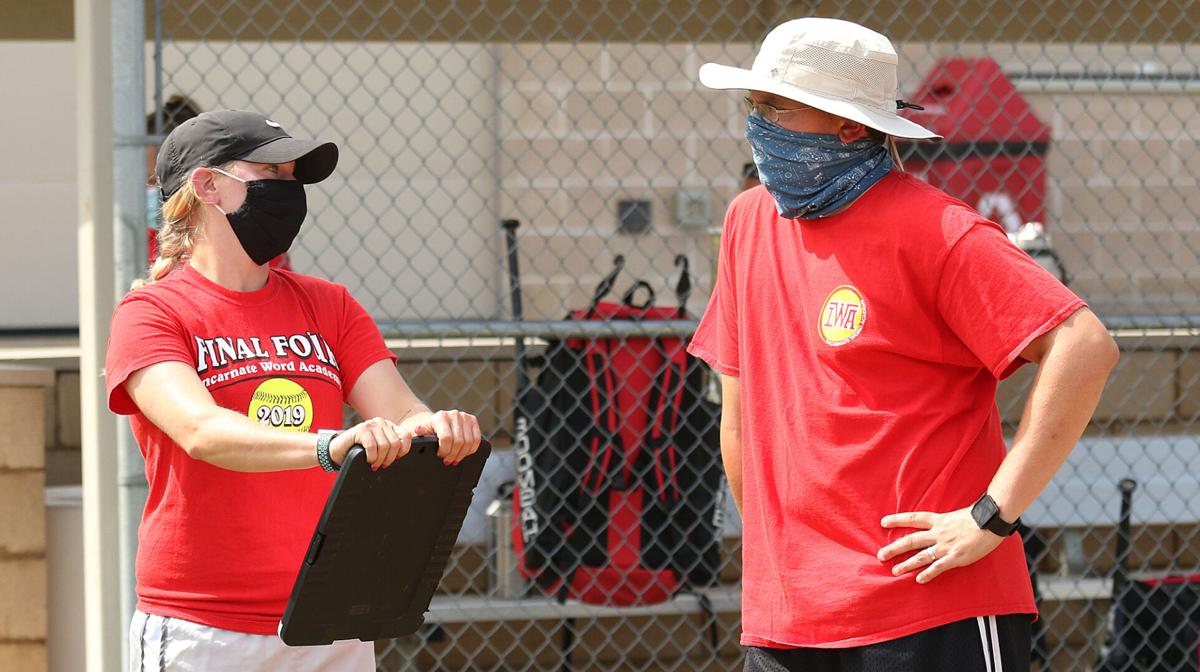 Incarnate Word Academy's athletics program broke with the rest of St. Louis County by playing a softball game Tuesday, a direct contradiction to what the rest of the high schools in the county are doing.
The Red Knights won their season-opening game 13-1 at Lutheran St. Charles, located in St. Peters in St. Charles County, in the first softball contest played this fall by a team from St. Louis County.
Incarnate Word president Randy Mikolas said the school has plans to play volleyball soon, too. High school volleyball, football, soccer and field hockey also are not approved to be played by the St. Louis County guidelines.
"I don't think this was fair to do to teenage girls," Mikolas said. "I think it has been very stressful for them, not being able to be competitive. For the well-being of students, the parents and the community we felt like this was the right thing to do."
Mikolas said she, athletics director Dan Rolfes, principal Katie Wilson and the rest of the school's administrative team came to a consensus about letting the teams play.
Incarnate Word is a private Catholic school located in Bel-Nor.
Mikolas said IWA's administrative team did its due diligence to begin playing games against other schools, including determining any potential legal ramifications.
Incarnate Word has moved all of its softball and volleyball events outside of St. Louis County.
"We called an attorney and found out the parameters of what we would be dealing with," Mikolas said. "We knew we could not host any games and that was fine. We know that juniors and seniors might have college recruiters looking at them and it just didn't seem fair. The county doesn't have jurisdiction in what occurs in St. Charles County or anywhere else. We're abiding by not having games or hosting on our campus. A third of our softball team and more than that on our volleyball team don't even live in St. Louis County. These girls, had they chosen to go to school in St. Charles, they would be playing. We just felt it wasn't the right thing to keep them from playing."
Incarnate Word began the school year by distance learning Aug. 24 prior to starting in-person learning just after Labor Day. 
Rolfes said he's happy to see the school's team sports take to the field for competition this fall.
"From my standpoint as an athletics director, coach and lover of sports, I'm just really happy that our girls can get out and play and do something that they love," Rolfes said. "There's a lot that goes into the high school experience. Academics is first, obviously, but athletics played a role in that overall experience. There can be a lot of lessons learned through athletics and we felt like it was important. It was great to see our kids have the chance to compete."
Incarnate Word's softball team is scheduled to play again Thursday at St. Dominic. The volleyball season is slated to open its season Thursday at Duchesne and then play Friday at Lutheran St. Charles.
Sports listed as low contact — cross country, tennis, golf and swimming — by the youth sports task force were allowed to begin competition Sept. 11. 
Rolfes said all the school's teams have taken the same precautions since preseason practices began Aug. 10.
"We've been practicing since Aug. 10 and, knock on wood, haven't had any issues," Rolfes said. "We're in school five days a week, we're in person, and our kids are wearing masks. We're taking all the mandated safety precautions — masks and social distancing."
STLHighSchoolSports.com is the most comprehensive source of stats, scores and stories from any and all area high schools.