Waldron is hitting .725, which is fourth-best in the area, and is doing so thanks to a scalding hot streak.
She has 17 hits in 17 at-bats in games from Sept. 1 to Sept. 6 on 15 singles and two doubles for the Flyers (7-3).
"I just feel like I'm doing whatever I can to help out my team," Waldron said. "The players on my team always keep me up and they're the ones that have helped me get on. Their encouragement has really meant a lot and it has helped me."
Waldron's hit streak started with a hit in her final at-bat Sept. 1 in a win over Jackson at the Cor Jesu Haberstroh Invitational.
In victories against Cor Jesu (Sept. 1) and Pattonville (Sept. 5), Waldron had five and six hits, respectively. In a loss Sept. 6 to Parkway South, Waldron added five more hits for a grand total of 17 in a row.
"What Sam has done has been unbelievable," Lindbergh coach Darin Scott said. "I don't know how to explain that. It's a combination of speed and, if they try to take the bunt away, she's knocking the ball past people. She's really doing a nice job."
Other players also are bashing the ball for the Flyers, who are participating this week in the 12-team Suburban Showdown from Monday through Wednesday at the Kirkwood Athletic Association.
In addition to Waldron, Lindbergh has gotten stellar offensive output from senior outfielder Allison Shakiba (.485 average, three home runs, 18 RBI) and senior shortstop Kayla Swiderski (.412, two home runs, 22 RBI).
Lindbergh has scored 121 runs, including 10 home runs and 35 extra-base hits.
"This is a pretty fun group," Scott said. "This is definitely a new breed of softball. The girls are really athletic and they can flat out get on base and make things happen."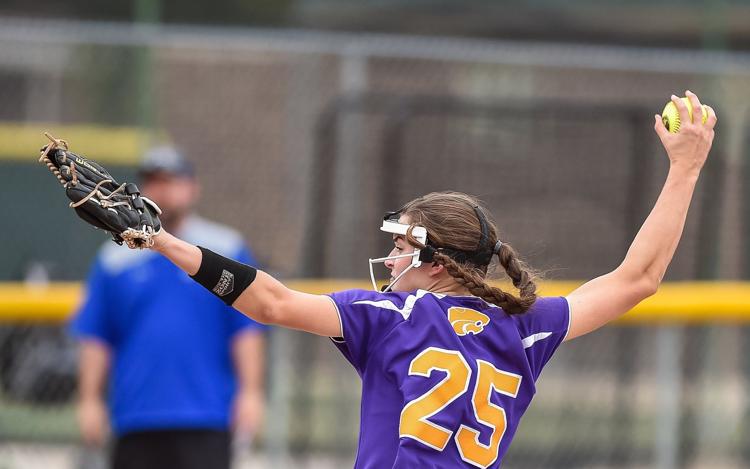 PITCHERS POWER EUREKA'S START
Eureka isn't giving up a lot of runs.
Senior pitchers Rylie Inglis and Haley Tate have combined to help the Wildcats (7-0) limit their opponents to 2.7 runs per game.
"It's great," Eureka coach Mark Mosley said. "It's not like we have a top two pitchers. We have pitchers 1A and 1B. It's been great. They've both been great. The big thing, though, is that the defense has been so strong behind them both."
Inglis is 4-0 with a 2.63 earned run average over 24 innings while Tate is 3-0 with a 1.87 earned run average in 15 innings.
Inglis has 19 strikeouts to 13 walks while Tate has 13 strikeouts to six walks.
"They're very similar pitchers," Mosley said. "Rylie might bring a little more (speed), but Hayley has got such nice movement. They, like any other pitcher, have different skill sets, but we like what we see from both of them." 
BAGBY DOING IT ALL FOR TIMBERLAND
In helping the Wolves win three in a row and four of their last five, Bagby has been as valuable hitting the ball as she has been using it to throw out would-be base stealers.
Bagby is leading Timberland (5-3) with a .727 average and a 1.364 slugging percentage. She also has three home runs and 15 RBI. It comes one season after she hit .337 with two home runs and 20 RBI as a freshman.
"The ball looks like a beach ball to me right now," Bagby said. "I'm actually doing a lot better than I thought I was going to do. I am actually very happy about it."
Timberland coach Brad Schellert said Bagby's transition from the summer to high school ball has been smooth.
"From what I heard from her summer coaches, she had a very productive summer and, my goodness, it has continued into this season," Schellert said. "Everything she hits is hard, even if it's an out."
Bagby has caught all but one of Timberland's games and has recorded 12 assists.
"Not a whole lot of people have tried to steal on her," Schellert said. "She's thrown most that have tried out."
SWINNEY'S MONSTER GAME KEEPS ST. CHARLES PERFECT
Batting better than .500 with a slugging percentage of over 1.300, it would be hard for St. Charles junior center fielder Kylie Swinney to drastically improve her numbers in one game.
Yet, there she was changing a lot of numbers in a 14-2 win over Whitfield last week.
Swinney hit three home runs and drove in a single-game best 10 runs for the Pirates (5-0).
She improved her average .588. Additionally, she has a 1.353 slugging percentage, four home runs and 14 RBI.
While Swinney has been astounding, Pirates junior shortstop Rhyen Mills leads the area with a .786 batting average.
• After starting the season 1-2 at the Summit Tournament, Oakville has hit its stride. The Tigers (6-2) have won five consecutive games. Included in that span is a 6-5 victory Sept. 6 against defending Class 4 state champion Marquette.
• Sullivan's Addison Purvis leads all area pitchers with 75 strikeouts. Troy's Kiersten Nixon is second with 65 and Warrenton's Katheryn McChristy has the third-most in the area with 58.
STLHighSchoolSports.com is the most comprehensive source of stats, scores and stories from any and all area high schools.