The pitching staff at Fort Zumwalt West has a solid claim to being at the top in the area when it comes to sheer depth and success.
The highest earned run average — 3.06 — belongs to Robertson, who is 2-0. Barnes is a shade under a 3.00 ERA while Feiste and Joern both have allowed less than two earned runs per seven innings.
STLhighschoolSPORTS.com rankings - 10/7/2019 Large SchoolsLast Week1. Holt (21-2)22. Oakville (16-3)13. Troy Buchanan (19-3)34. Fort Zumwalt W…
"I think having four pitchers isn't all that tough," Joern said. "Each of us have a role and those roles can change from game to game. One of us will start, and if we do well then we go the whole game, but if we are struggling then a relief pitcher goes in. It's nice to know we have a backup so if we mess up then someone is there to save the game."
Barnes leads the way for the Jaguars with 71 2/3 innings pitched. Joern is next with 37 1/3, followed by Feiste (32) and Robertson (16).
"It's great to know that we can rely on several pitchers to get the job done," Zumwalt West coach Ryan Oetting said. "One of the biggest advantages is being able to share the innings so the load isn't too big for any one of them and they aren't overworked by this time of the season."
Oetting also pointed out each of the four pitchers give the opposition a slightly different look in the circle, from speed, to style, to release point.
"McKenna relies more on using several pitches, locating and being a bit more crafty," Oetting said. "Lydia is similar in that she has a lot of success when she keeps the down and locates. Lexi is a bit more of a power pitcher with a change up that keeps hitters off balance."
With two regular season games remaining — Tuesday at Holt and Thursday at Francis Howell North — Joern said the pitching staff is ready for the looming postseason.
All four owning multiple wins, led by Barnes' nine. 
"Having over 20 wins (as a team) means so much," Joern said. "We have put so much preparation and time into what we do and getting those wins makes the time commitment worth it. Our whole team is always cheering and lifting each other up and that's what we all need. We are constantly around each other helping one another."
VALLEY PARK WINS ANOTHER CONFERENCE TITLE
Life is rarely full of certainties.
When it comes to the South Central Athletic Association softball landscape, though, one thing has become increasingly certain.
Valley Park earned the program's seventh consecutive SCAA title, shared or outright, with a 15-2 win Friday against Brentwood.
Since going 1-4 in conference in 2012, the Hawks (11-6-1 overall, 7-0 SCAA) haven't had to look down the standings.
Junior pitcher Anita Kraus said that, after a recent three-game losing streak in nonconference games, the Hawks are now flying high again.
"I think, as a team, keeping a positive atmosphere has really helped us succeed this season," Kraus said. "We've stayed strong as a team and that makes this conference title feel so special."
The most recent three-game conference stretch that put Valley Park over the top in the SCAA included wins over Bayless, Hancock and then Brentwood.
In the three conference games, the Hawks outscored the opposition 58-12.
"The girls have that confidence, which is huge," Valley Park coach Tank Sherman said. "The last week or so they've really put it into the next gear."
Sherman said Kraus has been a key figure for the team in the circle and at the plate.
In addition to hitting .672 with three home runs and 37 RBI, she also owns a 10-5 pitching record.
"She's having a great year at the plate," Sherman said. "That's just what the Kraus sisters do (following sisters Amanda, Courtney and Rachael). We've had quite a few of those and it's very exciting."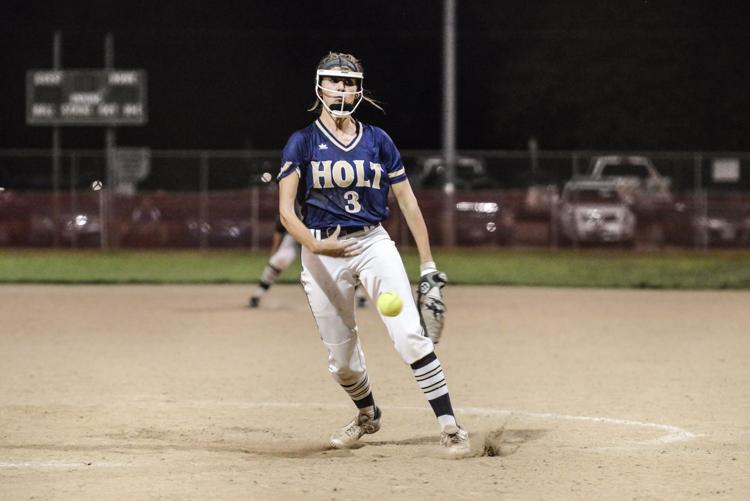 HOLT GOES UNBEATEN IN SPRINGFIELD
Holt made its annual trek to the Springfield Invitational last weekend at Killian Sports Complex, which just so happens to be the home of the state tournament.
After pool play wins against Logan-Rogersville, Cassville, Waynesville and Kickapoo, Holt (21-2) was awarded the tournament's Silver Division championship after the title game was called because of inclement weather with Holt leading Fatima 5-0 in the third inning.
Holt coach Joel Adam said it was the first time his team won a division in three seasons at the tournament. Adam said Holt rallied from a 4-0 deficit against Logan-Rogersville by scoring five runs in the top of the seventh.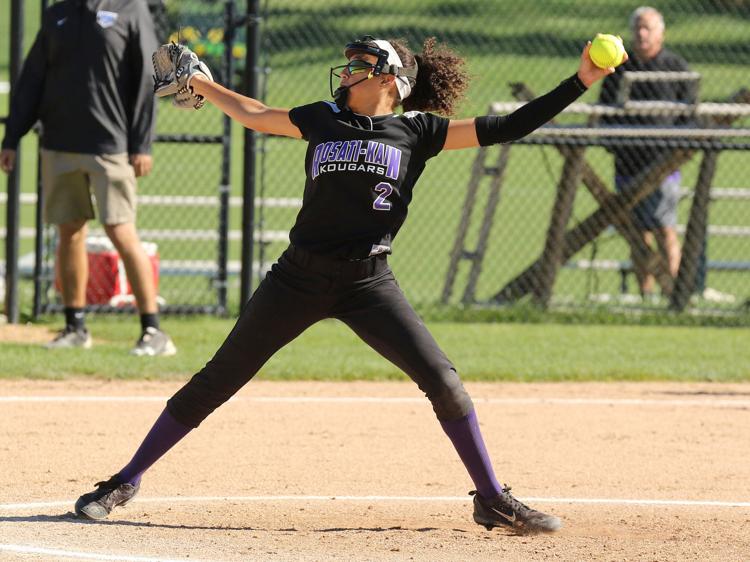 ROSATI-KAIN IS BACK ON A ROLL
After a five-game losing streak earlier in the season, the Kougars have won seven in a row, allowing only seven runs on the way.
"We're going a lot of things right right now," Kougars coach Dan Schulte said. "We're getting good pitching, good defense, and a lot of the girls who haven't been so hot are really hot right now."
Bethany (10-4, 3.01 earned run average) also has been the key figure in the pitcher's circle.
The Kougars (12-6 overall, 5-1 conference face an important AAA Division II game at Lutheran St. Charles (10-5, 5-0) at 4:15 p.m. Tuesday, which is rife with conference title implications. Lutheran St. Charles won the first meeting 5-4.
"We've learned from our mistakes and that's resulted in us getting better," Schulte said. "That's the stuff we're going to keep working on."
• Fort Zumwalt West junior outfielder Tatum Gerwitz has taken over the area lead in stolen bases. On the strength of five stolen bases Sept. 30 against Fort Zumwalt South, Gerwitz leads the area with 39. She has three more than Jada Glass of University City.
• Pacific senior Madison Greco has proven to be a ball magnet this season. Her 11 hit by pitches leads the area.
• DuBourg's Jynna Faller is putting up an impressive season. She not only leads the area with a .767 average, but with a 1.567 slugging percentage and a .829 on-base percentage.