CEDAR HILL — Sarah Roth likes to push the buttons of her twin sister Jenna.
The scuffles among the Northwest Cedar Hill High junior softball standouts are legendary.
Like the time Sarah hit Jenna in the eye with a rock during their first day of kindergarten. The blow sent Jenna crying to the school nurse. Or when Sarah gunned a heavy silver cup at her sister's head prior to a softball jamboree in August. The large projectile just missed its target.
But the best jab came several years ago when Sarah looked Jenna straight in the eye and called her identical twin, "ugly."
"That one I couldn't believe," said Bill Roth, father of the two. "I took her aside and told her, 'you know you just called yourself ugly too.'"
The Roth girls certainly have more tiffs than most twins.
But the two have banded together to form one of the best shortstop-second base duos in the state.
Northwest, with the Roth's leading the way, has reached the state tournament for the first time in 30 years.
The Lions (26-4), winners of 11 of their last 12 games, will face Raymore-Peculiar (26-4) in a Class 4 state semifinal at 10 a.m. on Friday at Killian Sports Complex in Springfield.
Northwest last reached the final four in 1989 when it finished third, three years after claiming the program's lone state championship in 1986.
Thanks in part to the Roth girls, the Lions are making history once again.
And even though the two fuss and pick at one another on a regular basis, they realize that this weekend will be special.
"She's annoying most of the time," Sarah said. "But this is going to be something I'll never forget."
Added Jenna, "We fight because she does little stupid stuff to make me mad. On the field though, we work together."
Sarah, a shortstop, kick-starts the high-powered attack from the leadoff spot in the batting order. She is hitting .560 with an eye-popping on-base percentage of .613. Sarah has hit safely in 21 of the last 22 games and she has tied a state record for most doubles in a season with 25.
Second sacker Jenna is hitting .427. She has struck out just four times in 122 plate appearances out of the No. 2 position in the order.
The pair has combined to steal 19 of 21 bases.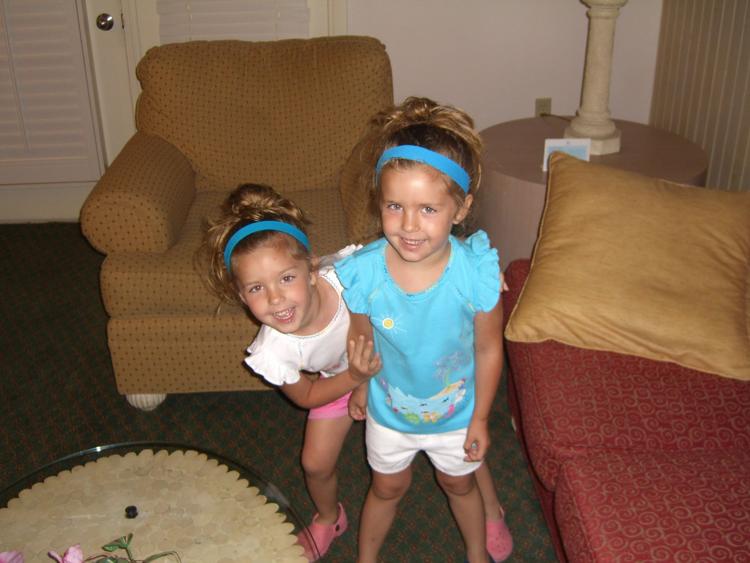 "They are two quiet girls, but they set the tone for the entire team offensively," Northwest coach Dan Davison said. "Defensively, they're so solid up the middle. Both of them are great athletes — it's fun just watching them out there."
Sarah bats from the left side while Jenna is a right-handed hitter. And those differences carry over off the field too.
Bill says Jenna is the instigator of the two.
"They are always in competition with one another, which I guess is why they're always arguing," he said. "Most of the time, they're trying to outdo each other. But down deep, they care what each other does and they're really happy for one another. They don't want to let each know just how much they really like each other."
Sarah said most of the sisterly arguments are basic sibling disputes.
"She'll wear my clothes and not put them back," Sarah said.
Explained Jenna, "Usually she says something, just knowing it will annoy me."
Northwest sophomore slugger Alexi Sanchez enjoys the repartee between the twins.
"It's fun to watch what they say to one another," Sanchez said. "Last year, they hardly ever talked to anyone. Now, they're fitting right in."
The two have a perfect synergy on the infield. Davison says there have been numerous times one, or both, of the Roth's have saved an inning with a nifty defensive play.
The pair began playing softball in the third grade and have been teammates ever since. They both play club softball for the Missouri Bombers, a select team coach by Bill, and they are in their third season on the varsity level.
The Roth girls went a combined 7-for-8 in a 14-4 win over Parkway Central on Sept. 12. They also banded together to go 6-for-8 in a 17-6 triumph over Seckman on Oct. 18.
The twins play basketball for the Lions as well. Sarah averaged 4.9 points per game and Jenna scored at a 3.4 clip last season for a 12-14 team.
But softball has always been their favorite sport. They would both like to continue their careers in college. Although neither will admit it, they don't want to break up their partnership just yet.
"They've been playing alongside each other for so long, I'm not sure they'd know how to react if they were not with each other out there," Bill said.
For now, the Roth's are hoping to finish off the dream campaign in style. They realize they play important roles on an offense that is averaging a whopping 11.3 runs per game.
"It's pretty cool to see all the community and the whole school being proud of us," Sarah said.