SAPPINGTON — Morgan Goodrich wasted no time in making a strong first impression on Lindbergh High softball coach Darin Scott.
At first glance, Scott knew Goodrich had the potential to be a standout on the softball diamond.
That first glance came literally minutes after Goodrich was born.
Scott has been lifelong friends with Morgan's parents, Scott and Marci. So much so that the two families traditionally have rushed to each other's side the day their children were born.
All Darin Scott needed was one look.
"She came from an athletic family, so I knew right away, when I first saw her, she could be a softball player," Darin Scott explained.
Goodrich has developed into one of the top players to ever come out of the South County school.
She led the area with an eye-popping .722 batting average during last fall's truncated season. Her on-base percentage of .778 also was tops on the list.
A left-handed slap hitter with impressive speed and a surprising amount of power, Goodrich has picked up this season right where she left off last year. She sports a .444 batting average and leads the team with a .708 slugging percentage.
Goodrich has hit safely in each of her last 32 games, dating back to her sophomore season. She walked in all three plate appearances of an 11-7 loss to Lafayette on Sept. 18, 2019.
That consistency earned her a scholarship to Indiana State University.
"She's just got natural skills," Lindbergh teammate and fellow senior Hayden Cochran said.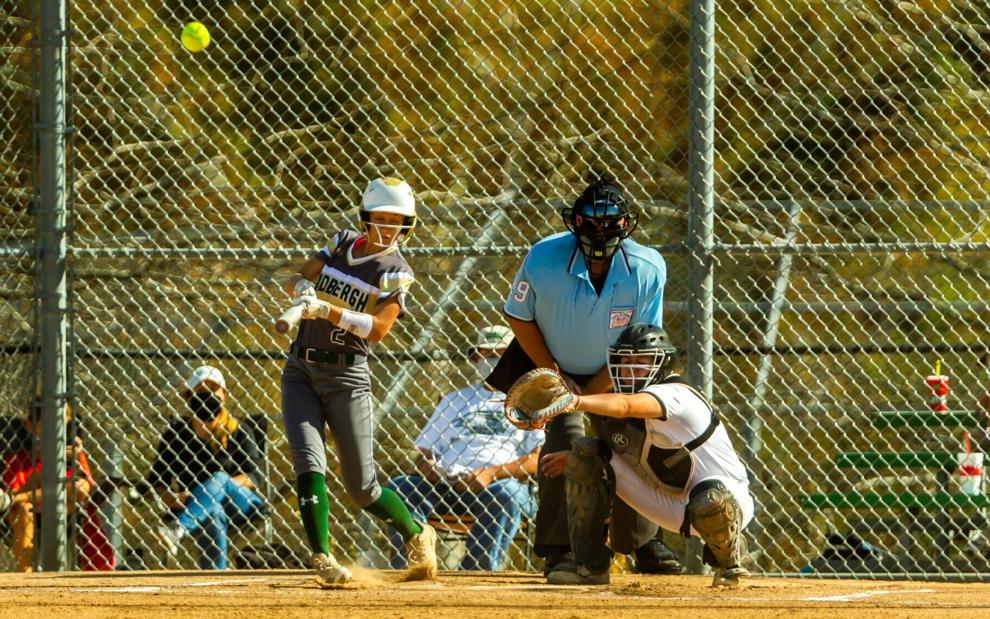 Darin Scott has been there for many important moments in Morgan's life. The two have created a bond that goes beyond the normal player-coach relationship.
It also gives Goodrich license to take a few liberties with her long time family friend.
"She picks on him and gets away with it," Marci said. "Not everyone on the team can do that."
Darin Scott likes the good matured kidding and banter.
"I like to make fun of his hair and how old he is," Goodrich said. "But he's not afraid to give it right back to me. It's fun."
Goodrich remembers family barbeques at the Scott residence in Valley Park. She has fond recollections of playing on a water slide with Scott's children.
The veteran coach can also throw some barbs back at Goodrich. He recalls how she would stuff herself with hot dogs at the outings, feeding herself to the brim before throwing up.
Scott Goodrich, who coaches the baseball team at St. Louis Community College, met Darin Scott in college and they quickly became friends. They played together on amateur baseball teams in the area and both teach at Lindbergh High with their classrooms across the hall from one another.
Goodrich's strong relationship with Darin Scott has also helped sharpen her game.
"The one thing she has that others don't is that she can play small ball, she can bunt, she can slap, but she has the ability to stand up and drive the ball into the gap," Darin Scott said. "She's just a very, very hard out."
Goodrich also is a standout soccer player. She had three goals and three assists from her midfield spot last spring.
But softball has always been her first love.
"I can remember playing T-ball when I was 3 or 4 (years old)," Goodrich said. "It was just fun for me and it still is."
Goodrich, a straight-A student, is strong defensively. She plays shortstop for the Flyers, but likely will move to the outfield in college.
Her blazing speed and ability to jet out of the left side of the batter's box makes her almost unstoppable when she puts the ball in play.
The Flyers have had their share of struggles the past two seasons, but Goodrich is working hard to change those fortunes. She had two hits and stole three bases in an 11-4 win over Parkway Central on Friday that improved their record to 2-5.