SPRINGFIELD, Mo. — Lauren Bacon called it, "One of those days."
The freshman catcher for the Parkway South softball team wasn't exaggerating.
Anything that could go wrong did go wrong Friday morning for the Patriots in a 19-1 loss to Lee's Summit West in a Class 5 state semifinal.
The Titans scored 10 runs in the third inning to end the game via the mercy rule.
Lee Summit West senior Katerina Wilds hit three home runs and drove in nine runs.
Parkway South (23-9) couldn't maintain the magic that helped it earn a state semifinal berth for the first time since 2008.
"Mentally we were not ready to go," South coach Dave McFarland said. 
The game-time temperature was 46 degrees. The contest, which was originally slated for Thursday, was played in a steady drizzle.
"The kids get it in their minds that it's cold and it's wet," McFarland said. "It sets a tone."
The first three Lee's Summit West hitters reached and scored against South junior hurler Ashley Ware, who struck out 26 and walked just one in her two previous postseason games.
Bacon supplied the lone highlight for the Patriots with a first-pitch homer in the bottom of first. The long drive to straight center cut through the wind and rain.
"I had a plan, I was looking for something low and inside," Bacon said. "That's what I got."
Bacon's first homer run of the season gave her a team-best 42 RBI.
The Titans (24-10) added five more runs in the second and scored 10 times in the third. Wilds homered in all three frames.
"We were ready," West coach Eric Doane said. "We came out looking to hunt good pitches and we found them."
South had won seven of its previous eight games.
Howell Central reaches Class 5 final
Francis Howell Central advanced to its first state championship game with a 15-11 win over Blue Springs South in the other Class 5 semifinal on Friday.
Kennedy Jensen, Josie Bezzole, Lexi Floyd, Alyssa Haile and Mary Kate Neal pounded home runs as the Spartans scored 11 of the final 13 runs in the 2 hour, 49 minute contest.
Central scored five times in the fourth and added six runs in the sixth to erase a 7-4 deficit.
Haile broke a 9-9 tie with single in the sixth. Bezzole followed with a 2-run homer.
The Spartans gave up four runs in the top of the first but responded with four tallies of their own.
"We wanted to show them that we weren't going to be intimidated," Central senior Emily Chadwick said.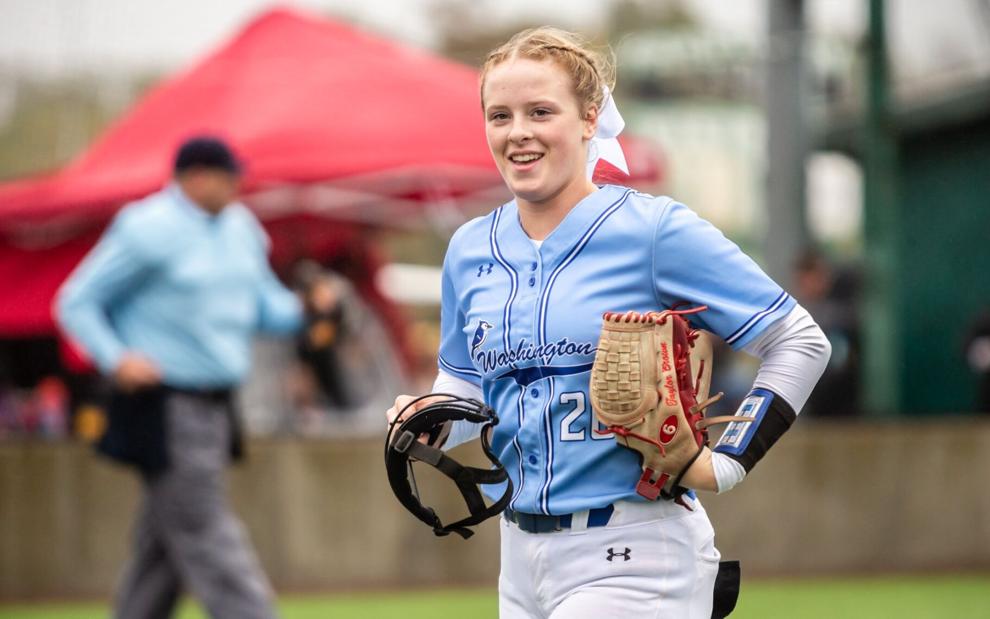 Washington keeps rolling
Washington tied a school record in knocking off Platte County 10-0 in six innings in a Class 4 semifinal Friday afternoon.
The Blue Jays (31-5) have won 18 in a row, matching the feat of last year's squad.
Sophomore pitcher Taylor Brown struck out 15 in improving to 17-3. She has 107 strikeouts in her last 51-plus innings.
Incarnate Word falls in Class 4 semifinal
The Red Knights scored four runs in the first inning before their offense went dry in a 9-4 loss to Rolla (31-8) in a Class 4 semifinal game Friday afternoon.
IWA (17-12) entered the contest on a nine-game winning streak.
Rolla is making its first final four appearance.