WENTZVILLE — The Class 4 District 7 softball tournament at Timberland can only be described as a sort of "district of death."
The district featured three of the top four teams in the STLhighschoolsports.com large-schools rankings with No. 1 Holt, No.2 Troy and No. 4 Fort Zumwalt West.
"When you look at the big picture, it's like, 'Gosh, why couldn't we meet somewhere else?'" Troy coach Lance Richardson said. "But it is what it is. There's some Kansas City districts that are just as bad or worse."
Zumwalt West coach Ryan Oetting agreed, saying, "The bottom line is if you want to be the best, you've got to beat the best. So, you can complain about it and you can be disappointed about it, but you just have to ultimately come out and get the job done."
The Trojans and Jaguars met Thursday afternoon in an epic district semifinal showdown. But only one powerhouse team was left standing as Troy defeated Fort Zumwalt West with a thrilling 4-2 victory.
Second-seeded Troy (22-3), the defending Class 4 runner-up, advanced to take on top seed Holt (26-2) for the district championship at 4 p.m. Friday at Timberland. Two of the Trojans' three losses this season have come against Holt.
"It's pretty apparent that were not the favored team, so it's just great to get out and show people what we've been working on and just see what we can do," Troy junior center fielder Natalie Sullivan said.
It will be the fourth consecutive year the two teams meet in the district final with Troy winning in 2016 and 2018.
"This game helps us because we got tested today and that's what we need if we're going make a run," Richardson said. "They played Liberty today and they didn't give them a test. We got tested. So, we're looking for every advantage we can. We need all we can get to beat Holt. They are an outstanding team."
Zumwalt West (22-6) lost to Troy for the third time this season with two of the other three setbacks coming to Holt. The Jaguars had the go-ahead run at the plate in their final at-bat Thursday, but their comeback fell short.
"Our bats were stymied for a good portion of the first part of the game," Oetting said. "I was kind of expecting (a rally) because that's kind of been our M.O. a little bit this year. But, there's always fight and that's what I'm so proud of today."
The first time through the lineup, the Trojans had just one base runner, but Sullivan made it two when she smacked a 3-2 pitch from Zumwalt West starter McKenna Joern (6-2) the opposite way over the fence in left field for a 1-0 lead.
"In that moment, I'm just thinking get on," Sullivan said. "There were two outs. I was looking for a pitch to drive. If you see one down the plate, you might as well take a hack."
It was the second career homer for Sullivan, who has 68 runs batted in and 46 stolen bases in three varsity seasons for the Trojans.
"We have been blessed with leadoff hitters since I've been here at Troy," Richardson said. "She's just another one in a long line of great hitters that we've place in that leadoff spot. A two-time all-stater as a freshman and sophomore and she's doing it again this year for us."
Troy struck again in the fourth to take a three-run lead.
Makenna DeClue and Bella Wilson each singled to start the frame and were both bunted up a base by Morgan Shields. Lela Bryant also laid down a bunt to score DeClue on the suicide squeeze before Wilson scampered home on the play when the throw to first got away.
"They believe half the stuff I say and half they don't," Richardson said. "I told them, 'You watch, it'll get come down to a big executed bunting play.' And there it was. I looked a little smarter."
Troy starter Ali Cook (13-1) was perfect through the first 13 batters of the game before Abby Robertson's one-out single in the fifth. The Jaguars then broke through against Cook in the top of the sixth with a pair of runs.
Sophomore No. 8 hitter Lydia Feiste hit her eighth homer of the season and 13th in two seasons on the varsity level, an opposite field shot to right to make it 3-1.
"I went up there and told her to try to lay down a bunt and spark us," Oetting said. "So, she didn't quite get that thing down and then she did that. When she was rounding third, I said, 'I guess you can spark us that way.' When she got that big hit, she kind of woke us up a little bit."
Tatum Gerwitz reignited the rally with one out when Cook couldn't cleanly field her dribbler down the first base line. Danielle Blackstun bunted Gerwitz to second and Julia Crenshaw brought her in with a hard-hit single to left to cut the deficit to 3-2.
Troy got an insurance run in the sixth when Sullivan smacked the first pitch she saw from Zumwalt West reliever Lexi Barnes up the middle for a two-out RBI single to set the final score.
"She's a leadoff hitter and she has that mentality of walk, walk, walk. But we tell her if you get a fatty early, you hit that sucker," Richardson said. "So many times this year, she's taken that pitch. She didn't and thank goodness."
The Jaguars did not go down without a fight in the top of the seventh, getting hits from Abby Robertson and Feiste to bring the go-ahead run to the plate with two outs, but Cook fanned Mackenzie Riggle looking for her 11th strikeout to end the game.
"That's the best I've ever seen her composure," Richardson said of Cook. "Because of (former standout pitcher Kiersten) Nixon — it's not her fault — she hadn't been in many games like this. That was our thing. How was she going toe the rubber tonight? We didn't know. She was outstanding."
Class 4 District 7 softball: Troy vs. Fort Zumwalt West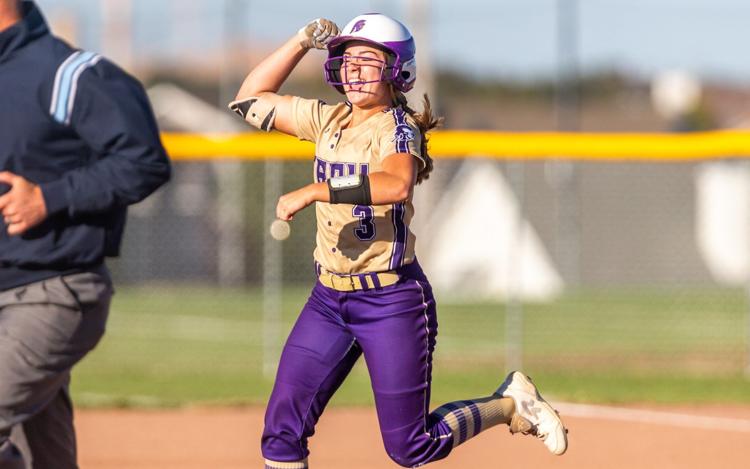 Class 4 District 7 softball: Troy vs. Fort Zumwalt West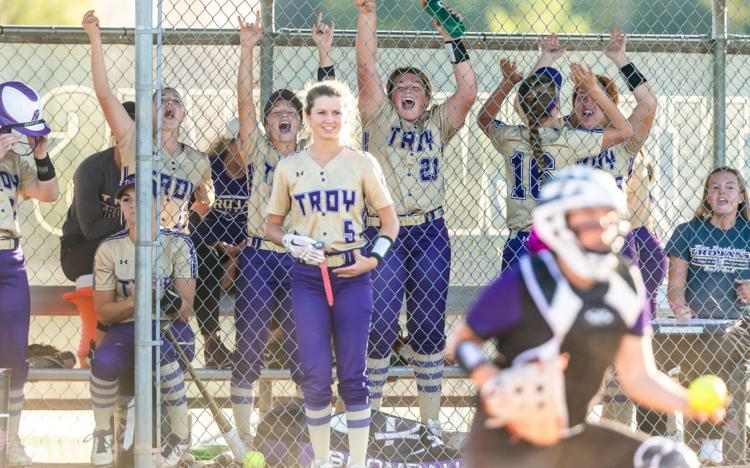 Class 4 District 7 softball: Troy vs. Fort Zumwalt West
Class 4 District 7 softball: Troy vs. Fort Zumwalt West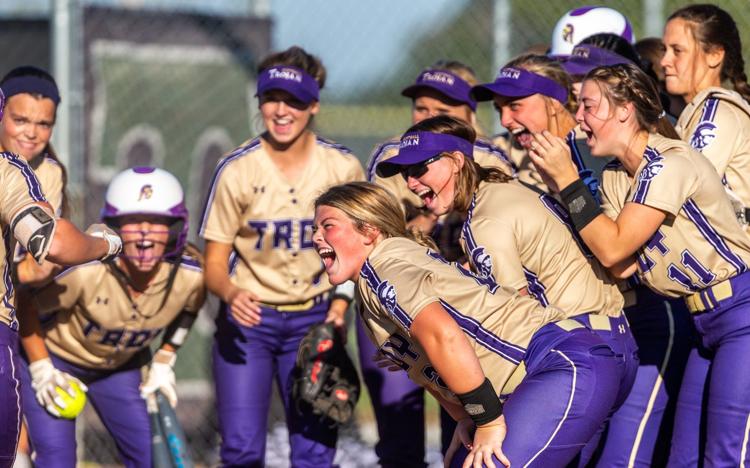 Class 4 District 7 softball: Troy vs. Fort Zumwalt West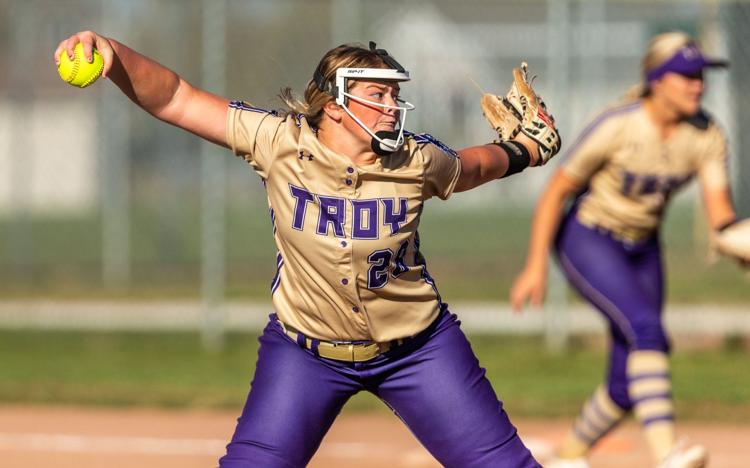 Class 4 District 7 softball: Troy vs. Fort Zumwalt West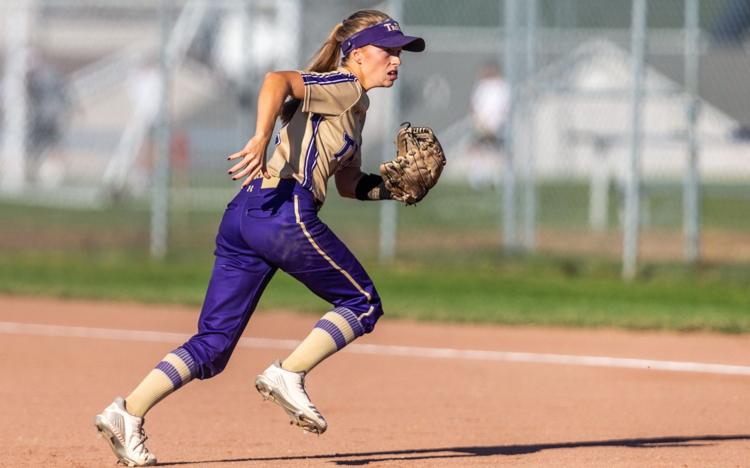 Class 4 District 7 softball: Troy vs. Fort Zumwalt West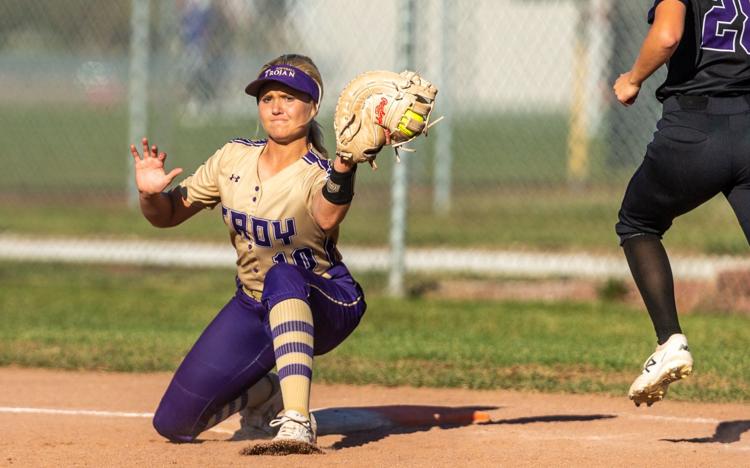 Class 4 District 7 softball: Troy vs. Fort Zumwalt West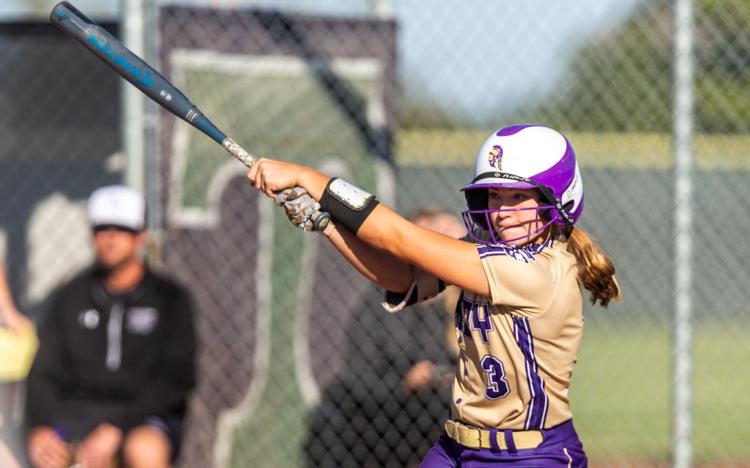 Class 4 District 7 softball: Troy vs. Fort Zumwalt West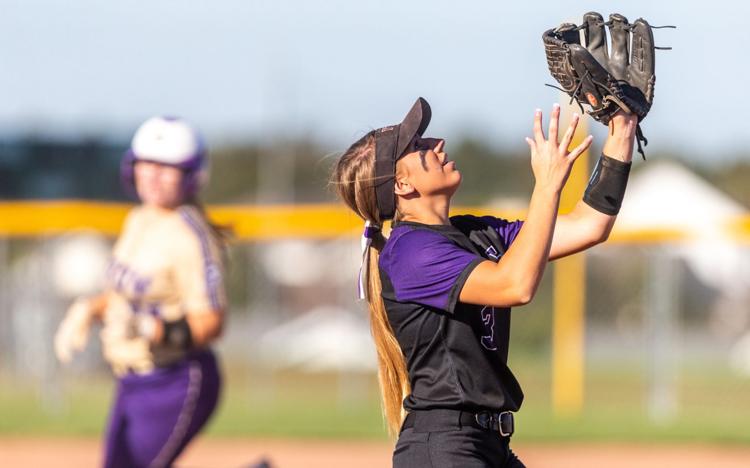 Class 4 District 7 softball: Troy vs. Fort Zumwalt West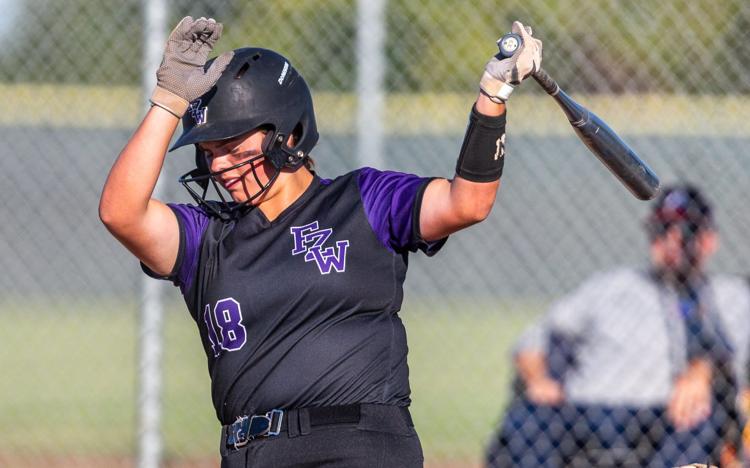 Class 4 District 7 softball: Troy vs. Fort Zumwalt West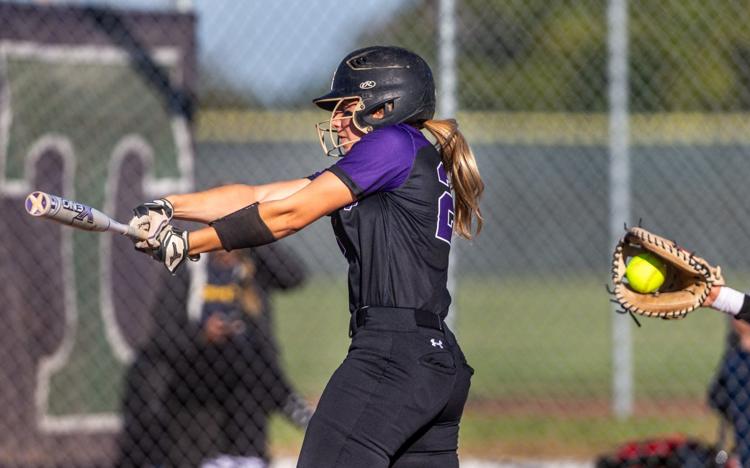 Class 4 District 7 softball: Troy vs. Fort Zumwalt West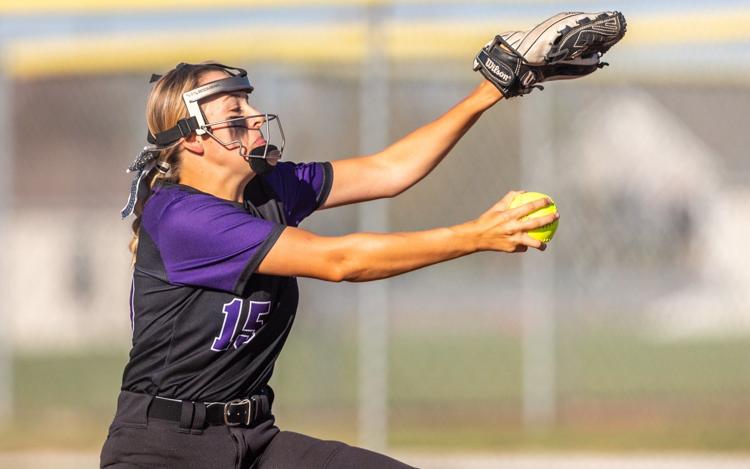 Class 4 District 7 softball: Troy vs. Fort Zumwalt West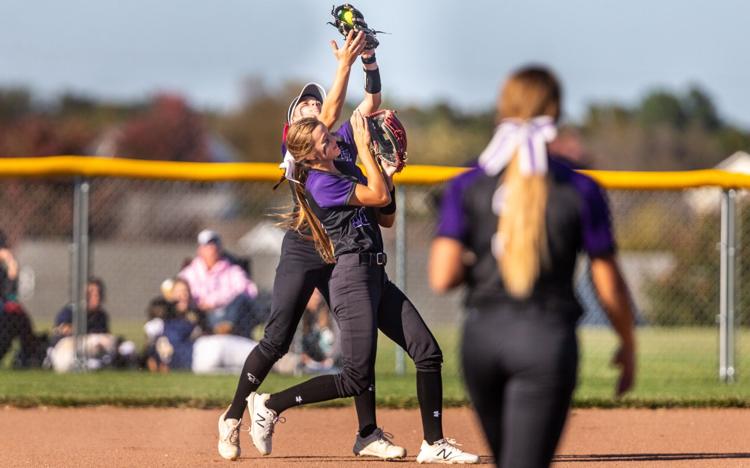 Class 4 District 7 softball: Troy vs. Fort Zumwalt West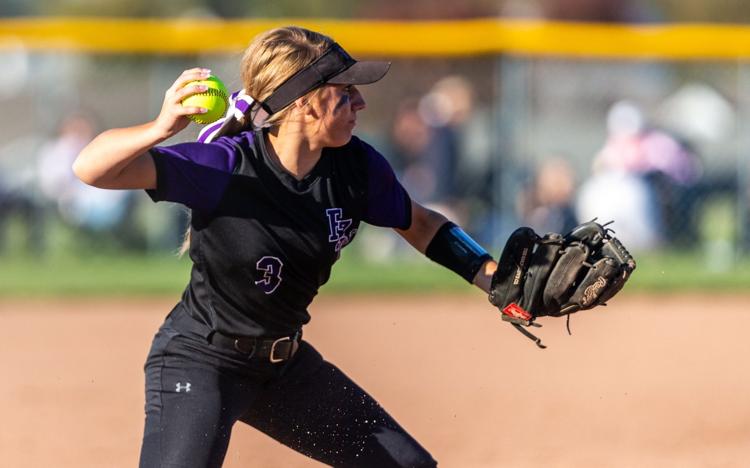 Class 4 District 7 softball: Troy vs. Fort Zumwalt West