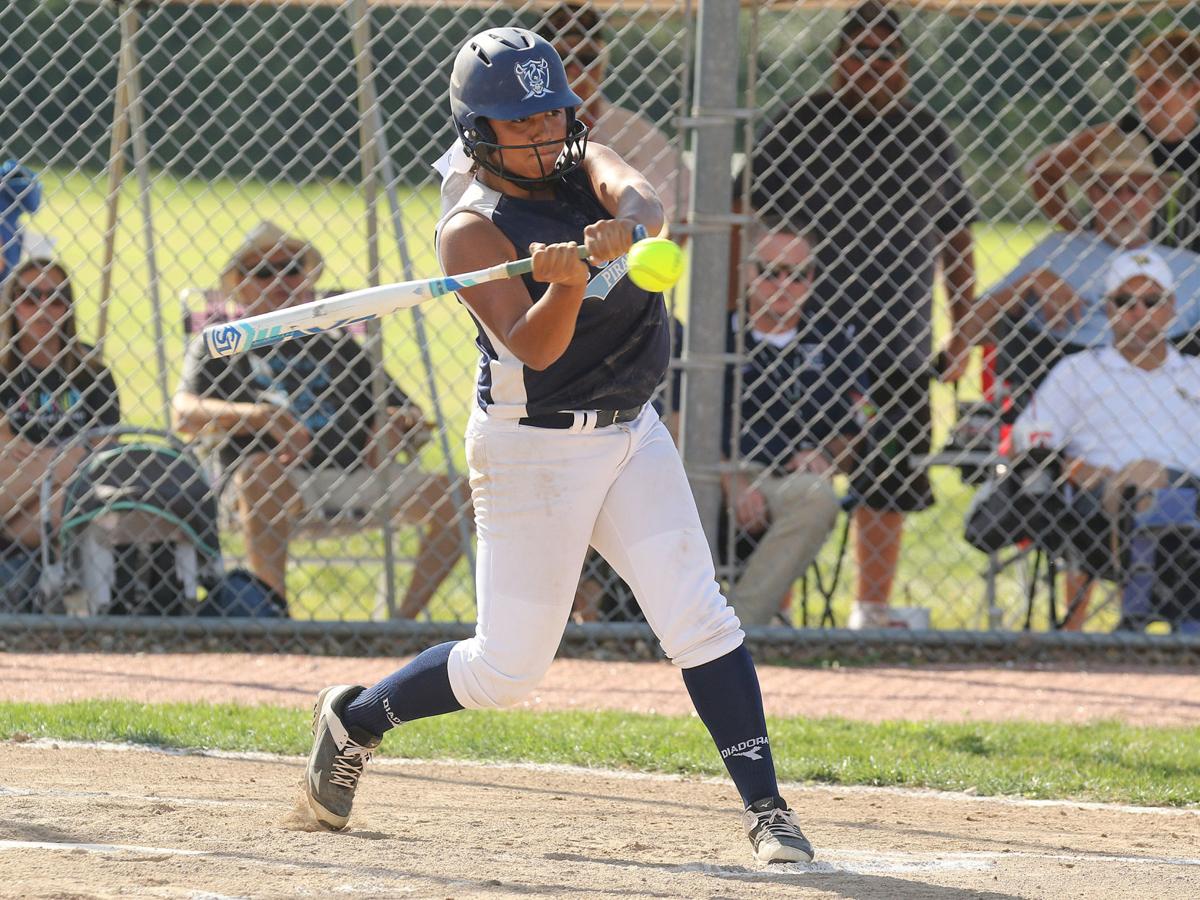 St. Charles junior center fielder Kylie Swinney is a self-confessed member of the "Swifties" — the fan base of pop superstar Taylor Swift.
As such, Swinney said she knows full-well what it feels like to be starstruck.
Swinney had her chance earlier in the month to come close to her idol as Swift played the Dome in September.
"That was, probably, one of the best nights of my entire life," Swinney said. "I was looking forward to that night so much. To actually see Taylor in front of me, live and in person, it was overwhelming."
While Swift has her millions of fans, Swinney has her own group of followers closer to home.
When St. Charles (23-3, No. 2 in the STLhighschoolsports.com small-schools rankings) plays host to Trinity (5-16) at 4:15 p.m. Wednesday in a Class 3 sectional at Kiwanis Park, Swinney said she knows there will be young eyes upon her, just as they were when the Pirates pulled off a four-run comeback in the bottom of the seventh inning Saturday to get past Orchard Farm for the Class 3 District 6 championship.
This is only St. Charles' second appearance at this stage and first since 1982.
"I actually saw a girl that comes to all the softball camps at the game the other day," Swinney said. "I just talked with her and she just thought it was so cool that I was there, in my softball uniform. She just loved to hear how we played and how things were going this season. I think that there are those girls who definitely look up to us."
St. Charles and Swinney are making history as the program is on solid footing after limping out to a 1-20 record the year before Swinney and her classmates arrived.
Pirates coach David Jones said the cultural shift around the program has been huge.
"I came up with sort of a four-year plan of what we wanted to do and where we wanted to be," Jones said. "Kylie is one of a couple of pieces that have helped come in and turn this program around. We have a very talented group of juniors that have been tremendous in terms of attitude and work ethic to lead us back to where we are now."
The St. Charles-Trnity winner advances to the quarter round Saturday to play either St. Dominic (15-8) or  Mexico (23-4).
Swinney leads all Pirates and is seventh in the area with a .607 batting average.
She also has 11 home runs and 46 RBI. Jones said Swinney has taken advantage of the Pirates' deep lineup for a successful season.
"I know that she's going to get it done and, if you don't (pitch to her) you're going to have to face our No. 3 through 9 hitters," Jones said. "It's nice to have all of them hit. It's also great that it's been hard to stop one of the ones you can identify. If she gets on base, she gives the others chances."
Swinney said she and her teammates are ready to go on a prolonged postseason run. That all starts with Trinity, Swinney said.
The junior said she doesn't care if the Titans have five, 15 or 25 wins.
"They're here and that means they won a district, so we have got to be ready for a good game, I really don't care what they've done up to now," Swinney said. "We have goals in mind. We wanted conference and district titles. Now, we want to keep playing as long as we can into the postseason and that all starts with one game. We're ready."
Softball postseason schedules, scores