Sam Miener finally had to say goodbye to one of her first loves.
The Highland High standout right-handed softball pitcher made a life-altering choice at age 9.
Softball entered her life. Which meant there would be no time for chickens.
Hello, rise balls and changeups.
Yes, one of the top pitchers in the southern half of Illinois used to show chickens at nearby county fairs.
Miener spent most of a four-year stretch raising and preparing the hard-to-tame birds for upcoming competitions.
And she was good at it, too.
"It was a big thing for her back then," recalled her mother, Julie. "She took it seriously and really worked at it."
Sam likes to downplay her success, although she has a host of ribbons from annual Madison County Fair competitions.
"You had to bathe them, trim them, get them ready," Sam said. "But first, you had to tame them. I spent a lot of time hanging around with them, getting them to trust me and be comfortable around you."
Sam would drag the chickens around the 25-acre family farm in the Village of Grantfork in a coaster wagon, thus creating a bond with the birds.
Her specialty was Rosecomb chickens. Sam and old sister Hannah worked tirelessly to get the birds ready.
The Miener sisters quickly became known for their chicken showing prowess. They racked up several awards starting when Sam was 6 years old.
But that all came to an end once Sam picked up a softball.
At first, she just wanted to follow in the footsteps of Hannah, who played at Highland High before moving on to Danville Community College and Fontbonne University.
Sam made a concerted choice to put all her effort into softball — not chickens.
Miener has helped the Bulldogs reach the state tournament for the first time in school history.
Highland (23-1) will face Sterling (17-7) in a Class 3A semifinal at 10 a.m. Thursday at the Louisville Slugger Softball Complex in Peoria.
Ridgewood (24-4) and Lemont (27-4) meet in the other semifinal in the one-day affair. The winners battle for the state crown at 2 p.m.
Miener has been the leader of Highland's record-setting run. She sports a 23-0 mark with a microscopic 0.21 ERA. Bound for Austin Peay University, she has a strikeout-to-walk ratio of 211-15 over 167 innings.
She did not allow an earned run over her first 131 innings this season covering 18 starts before Collinsville finally nicked her for a tally during a 5-4 loss May 29.
"She's always dominated no matter what level she was in," Highland coach Glenn Nicholls. "In junior high she was dominant, club ball (under) 10, U-12, U-14, she was always the best pitcher out there.
"And that hasn't changed at all."
Miener has the ability to take over a contest through sheer will and determination. It is not uncommon to hear her mumbling to herself in an effort to push her game up a notch.
Highland shortstop Sydney Parkerson and Miener are the only two seniors in the starting lineup. Parkerson has seen first hand how Miener pushes her way through the rare difficult times.
"When I'm behind her and if she messes up just a little bit, you can hear her frustration," Parkerson said. "Then she fixes it the next pitch. It's great to see."
Nicholls first coached Miener on the junior high level. He knew she was something special from the start.
"What sets her apart from the others is her work ethic," he said. "She works her tail off, always trying to get better, get stronger. In the gym, on the field, she's never satisfied."
That was never more evident than when Highland outdueled Waterloo 2-0 in a 14-inning marathon May 17. Miener struck out a career-best 20 batters and her last pitch was just as fast as her first.
"She just always comes through for us," Highland sophomore outfielder Maci Miles said.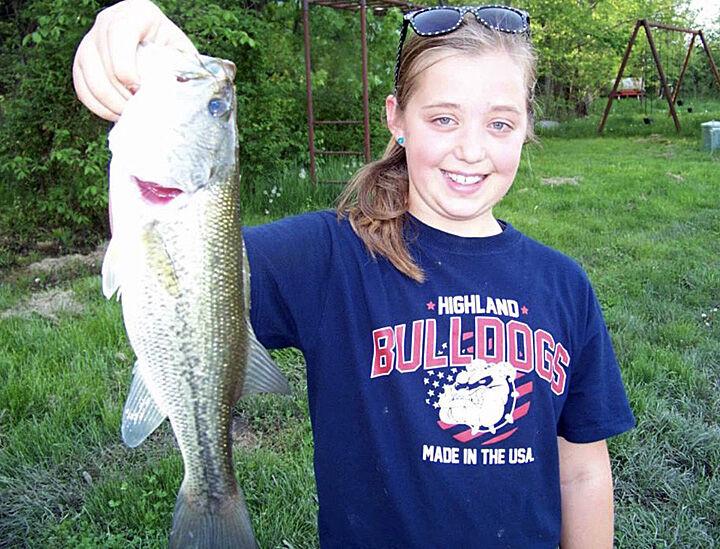 Miener's chicken raising acumen comes from spending most of her formative years outdoors. While other children were figuring out how to master video games, Miener would spend all of her time exploring nature.
"I was always outside doing something," she said. "Never inside."
Julie noted her daughter enjoys catching frogs and fishing.
"She's just a small town country girl," Julie said.
Miener is extremely proud of her tiny community located six miles north of Highland. There are 334 people in Grantfork and they are following the local girl with a passion.
"We're a small laid-back town that takes a lot of pride in anything our residents accomplish," Grantfork mayor Steve Brendel. "Something like this is big for all of us."
The Bulldogs are two steps away from claiming a state crown that was just a dream a few years back. They compiled a 12-12 record two seasons ago, the last time softball was played on the high school level. Miener knew she would have to step up and take the leadership role on the team.