Dan Matusiak was out the door before dawn.
The drive from his home in North County to Bishop DuBourg in South City wasn't quick. On Saturdays it took a little bit longer.
Matusiak and his daughter, Jennifer, had a scheduled stop at Donut Delight.
The DuBourg football coach in the early 1980s, Matusiak was responsible for mowing and lining the field in the morning for the Cavaliers' game that afternoon. Jennifer tagged along. The oldest of seven siblings, any chance to get out of the house was a good one. Especially if donuts were involved.
"She'd associate with the girls that were the trainers," Matusiak said. "She'd be there during the game."
One of the most vivid memories Jennifer Matusiak, now Jen Brooks, has from her early days roaming the field at DuBourg was how her dad and the team would head into the locker room together and she couldn't follow. It wasn't that the locker room was a great place for an elementary school kid to be, because it wasn't. It was that she couldn't go in simply because she was a girl.
"I'm outside the boys club," Brooks said. "I'm changing that now."
Ursuline's athletic director the past 25 years, Brooks recently was named the Missouri Interscholastic Athletic Administrators Association's athletic director of the year. She's the second consecutive area athletic director to receive the award after Parkway North's Corey Johnson was selected in 2020. Since the award began in 1974, Brooks is the first private school AD to be chosen and just the second woman.
"The award is 47 years old, I'm 47 years old," Brooks said. "It's like double barriers I had to break."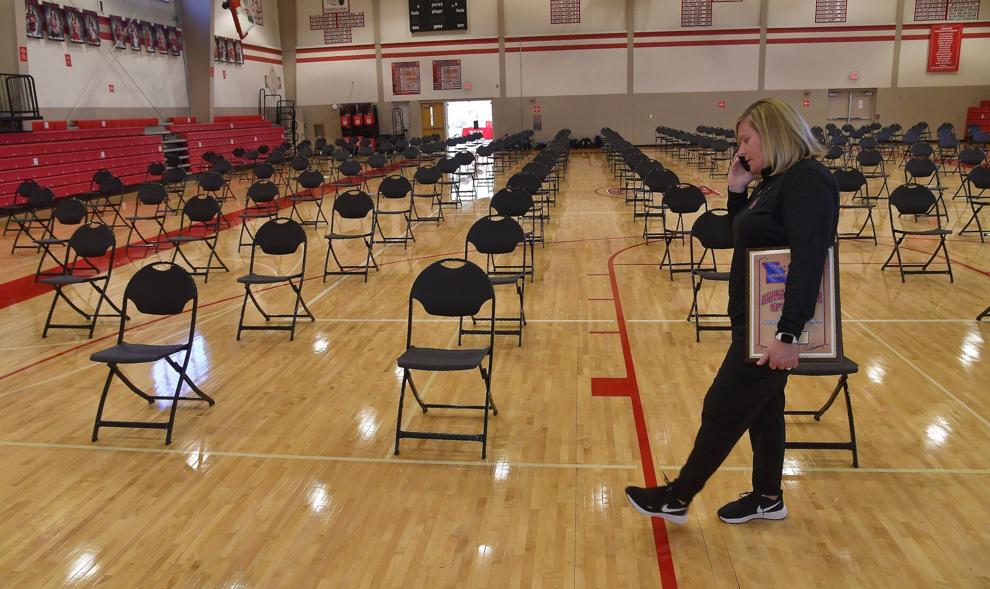 That Brooks would be the one to do it is no surprise. She's made it her professional mission to carve out more space for women in high school athletic administration. She started her own speaking and consulting business built around her platform called "The Power of Being the Only Woman in the Room."
Inspired by the challenges, roadblocks and discrimination she encountered in her career, Brooks wants to open a lane for other women to follow.
"I didn't have that," Brooks said. "I didn't want that path for other females."
Brooks didn't begin her career with the idea she'd become a trailblazer. Far from it. She followed the principles instilled in her by her parents. Principles that helped make Brooks one of the most unique athletes to ever attend Maryville University.
"She had the heart of a lion," Lonnie Folks said. "She had this fire inside her."
Currently Maryville's director of athletics, Folks coached at the school for 16 years with stints as the head women's soccer and women's basketball coach.
"I was a soccer coach who was coaching basketball," Folks said with a chuckle.
Folks recruited Brooks for the women's basketball team. Brooks played softball, basketball and soccer at Rosary High and was good at all of them. So good she couldn't pick just one.
"I'd ask her what her favorite sport was," Matusiak said. "She'd say, 'The one I'm playing that season.' "
A strong multisport athlete, Brooks also was an excellent student. She was an ideal recruit for Maryville, which at the time was an NCAA Division III school and could not give out athletic scholarships. Her grades enabled Maryville to whittle down the cost of tuition and Brooks signed on to be a Saint.
"I was thrilled to get her," Folks said. "When she was 18 years old I could see this kid was going to be a leader."
Brooks was recruited as a point guard for the basketball team but wound up playing soccer and softball, too. She also maintained a rigorous academic course load and graduated in three years with a degree in theology.
"We've had kids graduate early, we've had kids play multiple sports," Folks said. "I don't know that I can remember a kid that graduated early and played multiple sports."
Brooks was a hardnosed player, battling through multiple injuries in her career. During her final season on the soccer field at Maryville she tore her meniscus. She was unable to play basketball that winter and was looking for work.
Villa Duchesne's athletic director at the time, Debby Watson was looking for someone to be a gym monitor and keep the elementary kids from doing anything crazy. Watson reached out to Folks and Folks sent her Brooks.
On crutches with her leg in a huge brace as she recovered from knee surgery, Brooks was sitting in Villa's gym with a book in her lap while monitoring the children when she overheard Watson say she was in dire need of a junior varsity basketball coach.
Brooks scooped up her crutches, hobbled over and volunteered for the job.
"I said, 'Well great, I don't need to interview anybody,' " said Watson, who now is the president of Barat Academy. "She has always had that can-do spirit."
That was Brooks' first coaching job. She assisted Folks with the Maryville women's soccer team, too. Brooks' fire didn't mellow on the bench. If anything it burned hotter. One afternoon Maryville was in the midst a poor first half and Brooks was stalking the sideline. As halftime approached, she leaned over to Folks.
"What time does the registrar's office close?" she asked.
Folks was befuddled. The team was struggling, halftime was almost upon them and here his steely assistant was asking random questions.
"Five o'clock, why?" Folks said.
"At halftime I'm going to go register for graduate school so I can be eligible in the second half," Brooks said.
"As long as I have my mind about me, I'll never forget that day," Folks said with a laugh. "She really is special."
When Brooks chose Maryville she had every intention of becoming a teacher. She saw the impact her father had as teacher and coach at DuBourg and later as a teacher, coach, athletic director and principal at Rosary.
"Whatever I did I wanted to have a positive impact on young people's lives," Brooks said. "I wanted to be that (inspiration) for young women."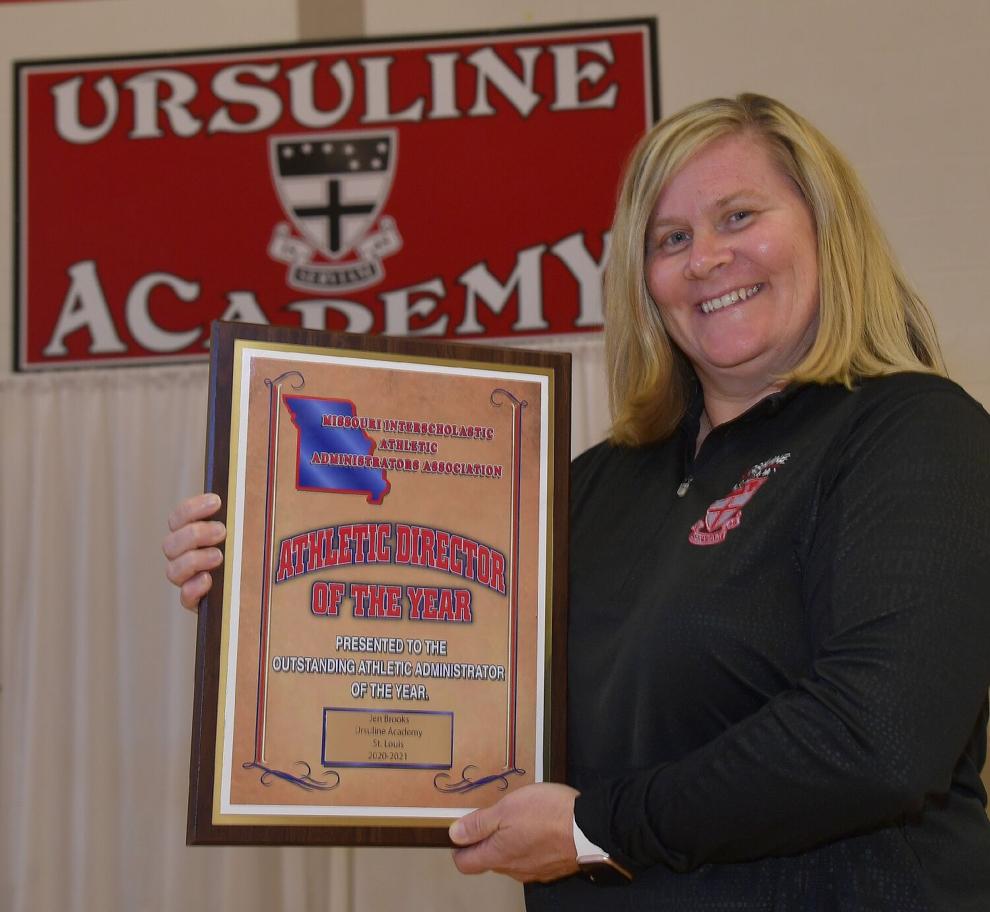 She was given that opportunity when she was hired to teach theology at Ursuline in 1994. She was in that role for two years when Ursuline's athletic director at the time gave birth to twins and due to complications needed to step away.
With her lengthy athletic background, Brooks was given with the job and has kept it ever since.
As Brooks cut her teeth as Ursuline's AD she realized just how much she didn't know.
"I learned so much on the job," she said. "My apologies to the student athletes from way back." 
Among those lessons were to know what it felt like when she was the only woman in a room full of men. It was uncomfortable. It was, at times, unwelcoming. But Brooks has never let anyone or anything stand between her and her objective. She's forged relationships that will help grow opportunities for women in the future. She worked with the MIAA to change a bylaw to require women and racial diversity on its board of directors.
She worked extensively with Parkway West athletic director Brian Kessler on field hockey and lacrosse in the area. The two teamed up again as part of a consortium of area schools that meet with representatives from the St. Louis County Department of Public Health every week to address issues around high school sports and the coronavirus pandemic. When it appeared high school sports might not get to play in the fall, Brooks believed there was a safe ways to allow the kids to compete and was willing to do the work to make it happen.
"Jen in incredibly organized, a good communicator and an advocate for all kids," Kessler said. "Jen is always the first one to raise her hand and volunteer to make sure what we're doing is good for kids."
In her tenure, Ursuline has opened competitive opportunities in golf, cheer, dance, lacrosse and racquetball.
"Ursuline should be proud of what she's accomplished," Matusiak said. "Ursuline is a good school and she's made it better."
As Brooks spreads her message of equality and mentors more women, she won't just make Ursuline better. She will have a hand in shaping an entire generation of women. Women who, like her, grew up in athletics and want the opportunity to show they can be athletic directors, too.
"Jen has taken that torch and continues to blaze the trail," Watson said.