ST. PETERS • Walker Piles had no clue how little time was on the clock.
Piles scored a buzzer-beating goal off a restart with just 0.59 seconds left in the first half to give Parkway West a one-goal lead at the intermission. It was a lead the Longhorns didn't relinquish as they held on to beat MICDS 9-7 in a Missouri Water Polo district tournament semifinal game Thursday night at the St. Peters Rec-Plex.
"I had no idea how much time I had. I kind of guessed," said Piles, a junior. "I thought the goalie wasn't going to expect a lob, so I just tried to lob it and I hit the post. It was 6-4 and then MICDS ran off two quick ones, so to put one in right before half kind of set the tone for the rest of the game.
The win for the second-seeded Longhorns (22-7) set up a district championship game rematch against No. 1 seed St. Louis University High (22-2) at 7 p.m. Saturday at the Rec-Plex.
SLUH beat Parkway West 15-4 in last year's title game and also won all three regular season meetings this year, including an overtime thriller just 12 days ago in the Lindbergh Invitational championship.
"I don't think the boys realize how spoiled we are. This is our third year in a row in the final four and second year in a row in the finals," Longhorns coach Charlie Cutelli said. "This will be the fourth time we've played SLUH this year. I think at this point in time they know who our guys are and we know who their guys are. My hope is we are going to get an exciting state championship."
Parkway West is the last Missouri team to hand SLUH a loss, which happened in the 2014 district championship game, a fact not lost on Piles.
"I keep telling my team that we were the last one, so we've got to beat them again," Piles said. "Last year, we lost 15-4 and we can't repeat that. I'm beyond hyped for this game."
Piles was one of three Longhorns with two goals Thursday, joining Clark Griffin and Alex Nozka. Ryan Mendonsa had three goals to pace a balanced scoring attack.
"We had four guys score, which is great," Cutelli said. "There are a couple other kids that I would have liked if they had put one in, so it was a lot closer than I wanted."
Sixth-seeded MICDS (17-4), which was in the semifinals for the first time in four years, will play No. 4 Parkway South (22-9) for third place at 5:30 p.m. Saturday. The Rams got five goals from area scoring leader Filip Alesic, but otherwise only mustered single tallies by Davis Johnson and David Shapshovich.
"We're very young, so we're still learning and I think that makes a difference," MICDS coach Don Casey said. "And when you've got someone like Filip, the tendency is to look to him. We're a much better team when we play as a team. When we got behind, I think the kids kind of panicked and we started throwing the ball to Filip thinking that's how we were gonna win and we can't do that."
Alesic got the scoring going with a pair of goals 54 seconds apart in the first period, but Nozka countered with a pair of his own to tie the game. Parkway West then held a 3-2 lead after one quarter on a last-minute goal by Griffin.
The Longhorns pushed the lead out to two goals on three separate occasions in the second quarter. One of the goals during that span came from Piles, who made a dazzling move under the water to get past his defender and give himself a breakaway.
"I usually just try to powertrain guys with that one. I kind of brought him in and then spun him," Piles said. "After that, I needed a Gatorade and a nap. I was really tired after that one."
But, Shapshovich and Alesic answered Piles' highlight-reel tally with goals 1:07 apart late in the period to tie it at 6-6.
It appeared things would stay that way at the break when Piles got fouled well away from the cage with 0.59 seconds left in the first half. He grabbed the ball for a quick restart and lobbed one past MICDS goalkeeper Mika Shapshovich to give Parkway West a 7-6 lead.
"They had an opportunity to score at our end and then we suddenly got the ball back," Cutelli said. "Walker's been working on his lob shot all year and it went in."
Casey didn't take much stock in that goal making a huge difference in the outcome of the game.
"It's one goal," he said. "There's a tendency for people to overemphasize events. They got a goal. It was a lucky shot. The kid shot the ball and it bounced in off the bar. It was just one of those things that happens. You live with it. Those are the kinds of goals you should overcome if you want to win the game."
After a 13-goal first half, both offenses cooled off considerably in the second half as just three goals were scored.
Griffin scored midway through the third, but Alesic tallied his fifth to make it an 8-7 game after three quarters.
Mendonsa completed his hat trick with the only goal of the fourth quarter at the 1:30 mark. That meant the last 5:30 was contested without a goal.
"We didn't get as many opportunities. I think we had opportunities, but we didn't follow through like we should," Casey said. "And they took a lot of shots and I thought our goalie made some saves."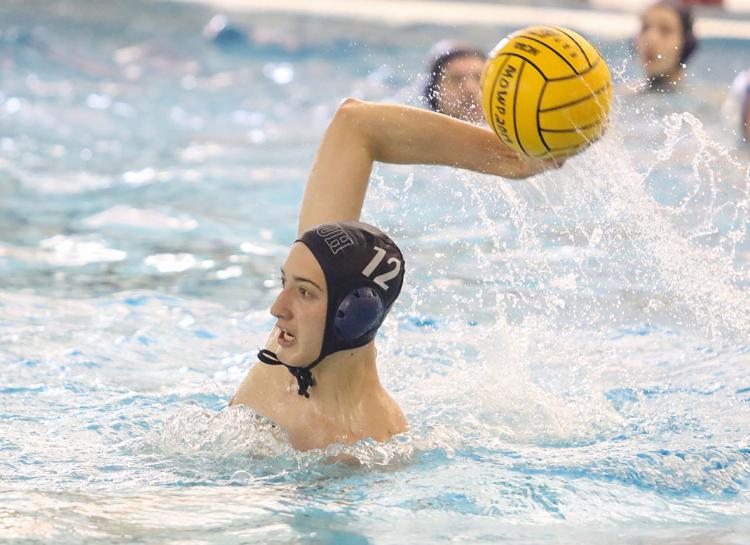 SLUH 11, Parkway South 3 • The Jr. Bills jumped out to a 3-0 lead after one quarter and were never headed in winning the first semifinal Thursday at the Rec-Plex.
Michael Kreienkamp, Andrew Zimmerman and Jarrett Schneider each scored three goals to lead SLUH, who will face Parkway West in the final for the fourth time in tourney history (last year's win and losses in 2012 and 2014).
"With Parkway West, we can name off the names of who we need to be worried about and they can do the same for us," Jr. Bills coach John Penilla said. "Charlie's such a great coach. We know they're gonna be ready."
Penilla was happy with his team's defensive effort in allowing only three goals, one of which came after the backups had entered the game.
"We want defense to be what we do," he said. "It was a different game than we've had this year just in terms of offense. We're able to have that shutdown defense that makes us feel comfortable."
Parkway South got single tallies from Marko Terzic, Ryan Hilgendorf and Zach Gay. The Patriots were in the semifinals for the first time since 2011, and were looking for their first title game appearance since winning the second of back-to-back championships in 1999.