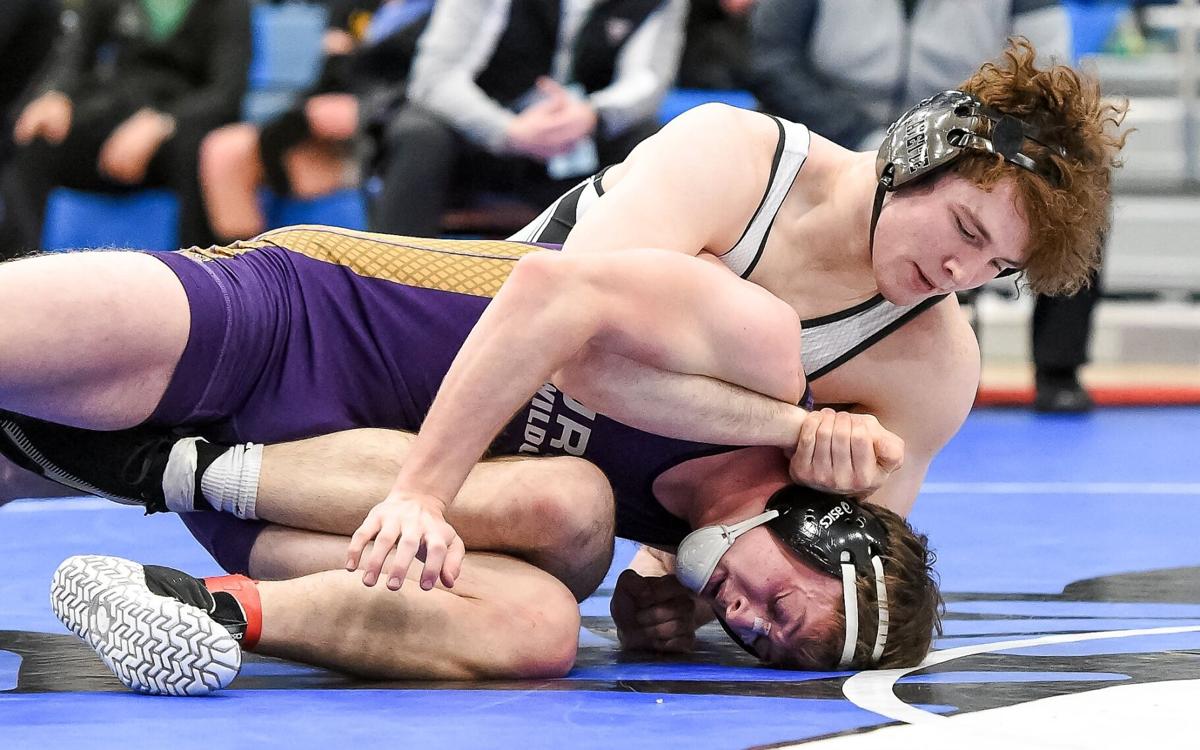 Lafayette assistant boys wrestling coach Brian Sanguinet hopes he is no longer the answer to a trivia question after this weekend.
Despite the sustained excellence of the Lafayette boys wrestling program the past decade, Sanguinet remains the last Lancers wrestler to clutch a first-place medal at a state tournament, winning the 130-pound Missouri high school wrestling championship in 2004.
"We've had some really talented wrestlers that just haven't won that big one with some bad luck draws and little things that didn't take place," said Sanguinet, who has been an assistant coach for the Lancers for 10 seasons.
Lafayette will bring six wrestlers to Cable Dahmer Arena for the Class 4 state tournament Saturday, and three of them — Tommy Hagan (182), Evan Boren (170) and Joel Mylin (132) — already have experienced great success.
"I expect some of them if not all of them to win that state title, and hopefully relinquish me from being the most recent state champ from Lafayette, because we have too good of a program to not have a state title holder for 15-plus years," Sanguinet said.
Hagan (38-3), a junior, placed third at state as a sophomore at 170 pounds and finds himself in the best starting position of the three, earning a first-round bye after winning the 182-pound sectional championship at Northwest-Cedar Hill on Feb. 27.
He also is highly motivated.
"The Lafayette wrestling team means more to me than anything I've ever been a part of, so it would be nice to give a state title back to a team that's given me so much," Hagan said.
Hagan has wrestled in both the 182- and 195-pound divisions this season. He defeated 195-pound standout Trey Ward of St. Charles 4-0 earlier this season, delivering Ward his only loss of the season.
Sanguinet credits Hagan's mentality for his dominance on the mat.
"He has an ego, and I mean an ego in a good way to where, 'This is my mat and I'm going to win this match every time,' " Sanguinet said. "He takes it very personally when he gets scored on, even in practice, and that is what has excelled him to a state champion-caliber wrestler."
Boren (36-3), a senior, was a state runner-up last season at 160 pounds after a completing a dramatic path to the championship mat. Boren earned sudden victory with an overtime takedown in his first match and squeaked out a 3-2 nailbiter in the semifinal before losing in the title match.
"I've been working so hard since I had the taste of victory at state but didn't quite get there, and I know this hard work is going to pay off," Boren said.
Boren lost close decisions at both the district and sectional meets to CBC senior Lucas White, who placed fifth at state at 170 pounds last season. If things go as planned, Sanguinet anticipates a third battle between Boren and White for the state championship Saturday.
"He's got that 'I'm the alpha male' confidence this year," Sanguinet said of Boren. "Last year he had a couple of close matches that he had to win in the quarters and the semis to sneak into the finals. This year, I think he should steamroll into the finals."
Mylin (32-3), a senior, has already won a state title — in Illinois. As a sophomore at Aurora Christian, he captured the Class 1A state championship. Last season, he placed third in 2A.
"Coming from Illinois, I had state champs on my team since I was a freshman and I know what those guys had," Mylin said. "These guys here definitely have it. They know how to wrestle and they know how to win."
Sanguinet wrestled in high school at a similar weight as Mylin and sees his desire to rack up points in bunches as Mylin's best asset.
"He's a goer. For six minutes he's in your face and it's his offense. When you wrestle him, he's going to be in on your legs nonstop," Sanguinet said. "He's a kid who has a really good shot to win a state title because he's not going to hold back."
This year, the Missouri state wrestling tournament changed from a three-day format to a one-day event for each classification to limit the number of wrestlers and spectators at the venue.
Sanguinet sees the change as a possible benefit for those participating.
"I think it's going to bring the anxiety down a little bit," Sanguinet said. "When it's a three-day tournament, there's a lot of time to think and you can psych yourself out, but in a one-day tournament, you're just showing up that morning, you weigh in and you wrestle."
And if later that evening a Lancer finds himself wrestling for a state championship, Sanguinet, who also lost a state title match in his high school career, has some words of advice.
"At the end of the day, you have to go get it." Sanguinet said. "You can't try to be situational or protective, you have to be extremely aggressive and go take what's yours."
And should a Lafayette wrestler stand atop the podium on Saturday night clutching a first-place medal, nobody will be happier than Sanguinet.
"I don't coach to hold onto my old glory," Sanguinet said. "I'm more than OK to have a state champion in place of me." 
2021 wrestling area state qualifiers
Missouri's girls and boys wrestling state tournaments, all one-day affairs this year, get under way Tuesday in Independence. Check out a list of your favorite area wrestlers who are competing.