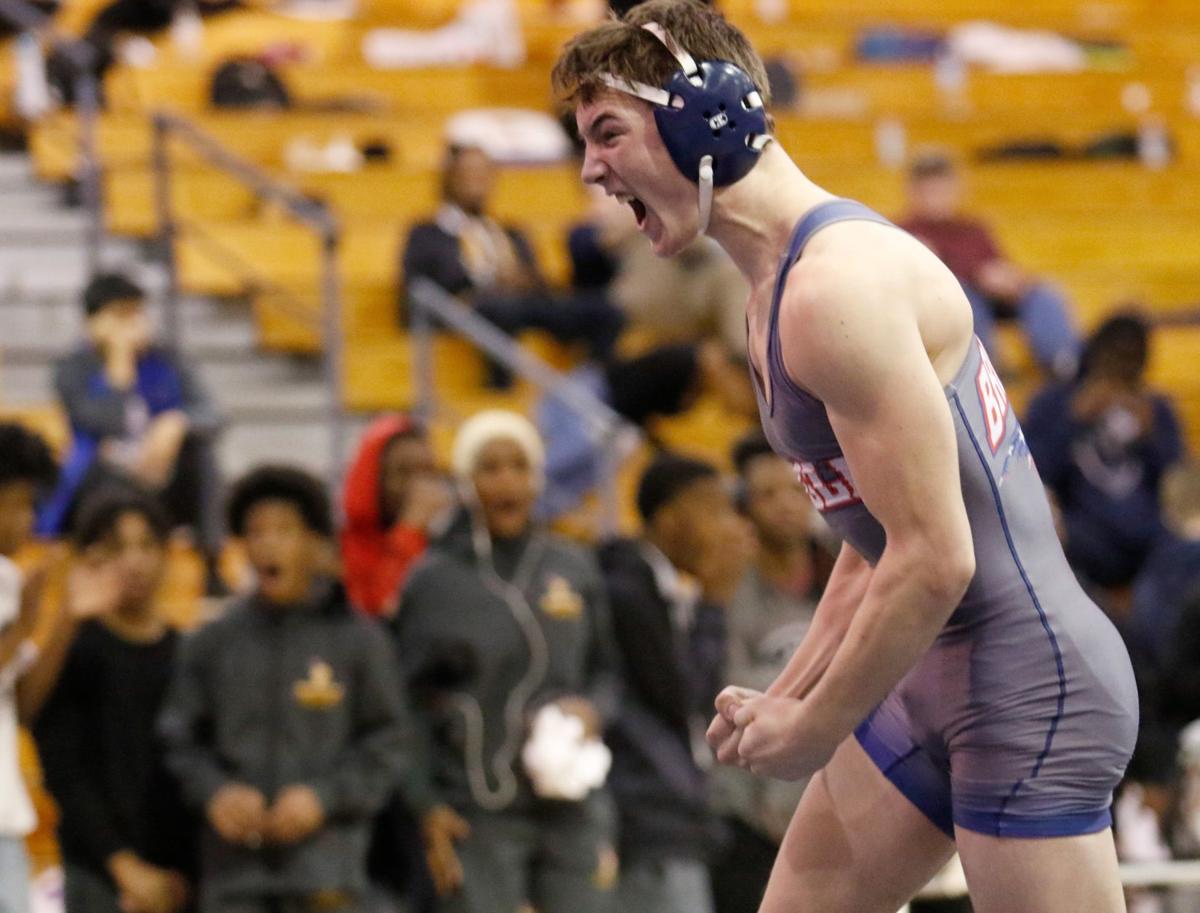 Wyatt Haynes is building quite a resume, both in the classroom and on the wrestling mat.
Ranked No. 1 in his class academically at Liberty High School, Haynes has his eyes set on another top spot — the highest step on the podium in Missouri's Class 3 boys wrestling state tournament in March.
"My whole game plan is centered around the state finals," Haynes said. "Every match is just a preparation for that match."
Haynes continued to build upon his stellar senior season Saturday when he cruised to the 160-pound first-place medal in the Gateway Athletic Conference North/Central tournament at Warrenton High School, improving his record to 28-1 this season.
But an impressive resume is not all Haynes is building. In his spare time, Haynes likes to build computers, a hobby he developed in eighth grade.
"I build computers for fun, that's kind of my thing," Haynes said. "It's just like a LEGO set; you put the pieces in where they go and you're good."
His father, Liberty coach Kevin Haynes, has been coaching Wyatt since he was 5 years old.
Kevin credits wrestling with helping his son acquire the discipline, work ethic and focus needed to build computers.
"He saved money and bought every tiny, internal part," Kevin Haynes said. "He built it just figuring it out himself."
Haynes challenged himself by filling his senior schedule with Advanced Placement courses.
He also built his own bed frame, is currently building his own computer desk and plans to build an Adirondack chair.
"I'm kind of a science and math guy," Haynes said. "I really like school. I like to learn new things and pick-up new hobbies."
But it is doubtful the Adirondack chair will feel Wyatt sitting in it any time soon.
Haynes has been a workout warrior this season, increasing his bench press by 40 pounds while still remaining in the 160-pound weight class.
"I've been conditioning hard," Haynes said. "Last year I got worn out during long matches and they were too close for comfort."
Haynes has gone the full six minutes in only one match this season — a 3-0 loss to two-time defending Iowa state champion Hayden Taylor, providing the only blemish on Haynes' record.
If he qualifies, Haynes will make his fourth successive trip to the state tournament. He won one match as a freshman, battled through broken ribs as a sophomore and earned a third-place finish as a junior, losing 5-3 in the semifinals to eventual champion Trevor Christian of Lebanon.
"Placing last year is probably the furthest thing from his mind. It's all about this year," Kevin Haynes said. "He is such a technical, smart wrestler, and this year he has really turned it on. He has a complete motor and he is just dominating,"
Rather than the normal three-day event, the state tournament will be a one-day affair for each classification.
Although the experience may feel different, Haynes is grateful to have the chance to measure himself once again against the best wrestlers in the state.
"I think (the one-day tournament) will be good to avoid the possibility of someone getting quarantined or especially COVID," Haynes said. "If we want to wrestle, that's our way to do it. We have to protect what we love and wrestling is that."
After high school Haynes is looking to attend either the University of Chicago or Case Western Reserve University, where he wants to wrestle and be a pre-med major in hopes of being an anesthesiologist.
But for now, he is preparing for a different operation — the pursuit of a state title.
"I'm working my moves, I'm wrestling my matches and I'm focused on winning," Haynes said.