Cahokia High senior Arnold Edwards plans on winning a state wrestling championship next month at the University of Illinois' State Farm Center in Champaign.
"To be honest, that's been my goal since last year and I've never really thought about not winning,'' said Edwards, who qualified for state as a sophomore and placed third in Class 2A at 195 pounds last season as a junior. "I've been wrestling since the fifth grade and my goal is to be a state champion. It's what I've worked for and it's something I definitely feel is possible."
Arnold went 26-6 a year ago, rallying to take third at 195 after losing 10-3 to Washington (Ill.) senior and University of Missouri recruit Jace Punke (45-1) in the 2A state semifinals. Arnold earned Post-Dispatch All-Metro third-team honors.
Last weekend, Arnold (30-3) rolled to the title at 182 pounds in MICDS' Eric Lewis Invitational at St. Louis University High with three pins. In the title match, after falling behind on an early takedown, he came on strong to pin SLUH junior Bobby Conrad (32-3) in the second period.
"He caught me by surprise a little bit there at the start, but I knew I had plenty of time to come back," Edwards recalled. "I expected him to be tough, and he was. I just needed to stay focused, to stick to my game plan and eventually I was able to do what I needed to do."
Cahokia beat Althoff on Thursday in a dual match to kick off the South 7 Conference Tournament, which is scheduled to shift to Mount Vernon for the remaining duals Saturday.
This season, Edwards has dropped three matches — 10-6 to Mascoutah's Caleb Grau in early December, 20-18 in overtime to Neosho's Jeremiah Larson in the title match at Granite City's Red Schmitt Holiday Tournament and 14-6 at 195 to Eureka's Jake McCollum in the title match at the St. Charles West Tournament.
"I felt like I could've won all three, but I didn't so you just try to move on,'' the 18-year-old said. "For me, the key is trying to learn and grow through the experience, win or lose. With each match, you try to take away something positive, at least that's how I try to approach it. The key in a sport like this is to grow and learn through your experiences."
At Granite City, Edwards' match was among the most exciting of the final round as he rallied late to force overtime before surrendering a takedown in the extra period.
"I thought I'd won it in regulation, but didn't get the point I thought I'd earned,'' said Edwards, who considers a pair of victories this season over Collinsville's Kenny Lutz as his season's highlight wins to date.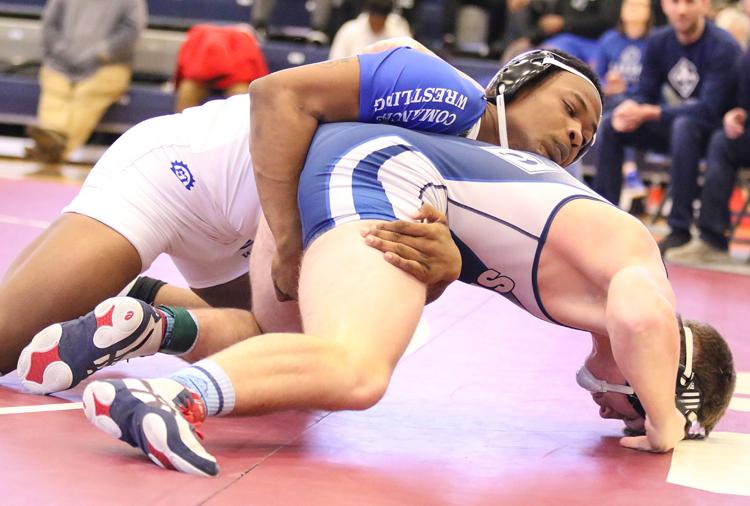 But the "real" season is about to begin.
Cahokia starts the postseason at noon Feb. 8 in the Class 2A Mascoutah Regional, facing a field of teams that includes Civic Memorial, East St. Louis, Highland, Jerseyville, Mascoutah, Triad and Waterloo.
The top three individuals in each weight class from the regional advance to the Class 2A Mascoutah Sectional on Feb. 14-15, and the top four individuals from the sectional qualify for the Class 2A state tournament Feb. 20-22 in Champaign.
"In our sport, it's a building process and all that really matters is how you finish,'' said Edwards, who's ranked No. 2 behind Graylake Central junior Adrian Cramer in the Illinois Matmen rankings at 182. "The key, I believe, is making sure that you learn from your losses and that you're constantly working to get better, to improve your wrestling. At the time, the losses hurt, but you can't dwell on them. You have to find a way to learn from them and then hopefully move on."
Throughout his career at Cahokia, Edwards has been a leader, following in the footsteps of former Cahokia veterans such as Jacob Bullock (Old Dominion), Martel Boone (Missouri) and Rozell Baker (Ellsworth Community College). Edwards has learned a great deal from former coach Tom Reed and current Cahokia coach Emanuel Brooks, who starred at Cahokia and went on wrestle at Missouri.
This year's Cahokia squad is young but has been improving. At the Eric Lewis Invitational, it finished third behind St. Charles West and De Soto, getting titles from Edwards and junior Jalon Strong (152 pounds), runner-up finishes from junior Edwin Johnson (126) and junior Mahlik Ball (145) and fourth-place finishes from freshman Nick Deloach Jr. (132) and sophomore Ja'Ry Cobb (138).
"As a team, we just keep getting better and better. It's exciting to be part of all this,'' said Edwards, who's looking to continue his career at the junior college level while studying either business or athletic training.