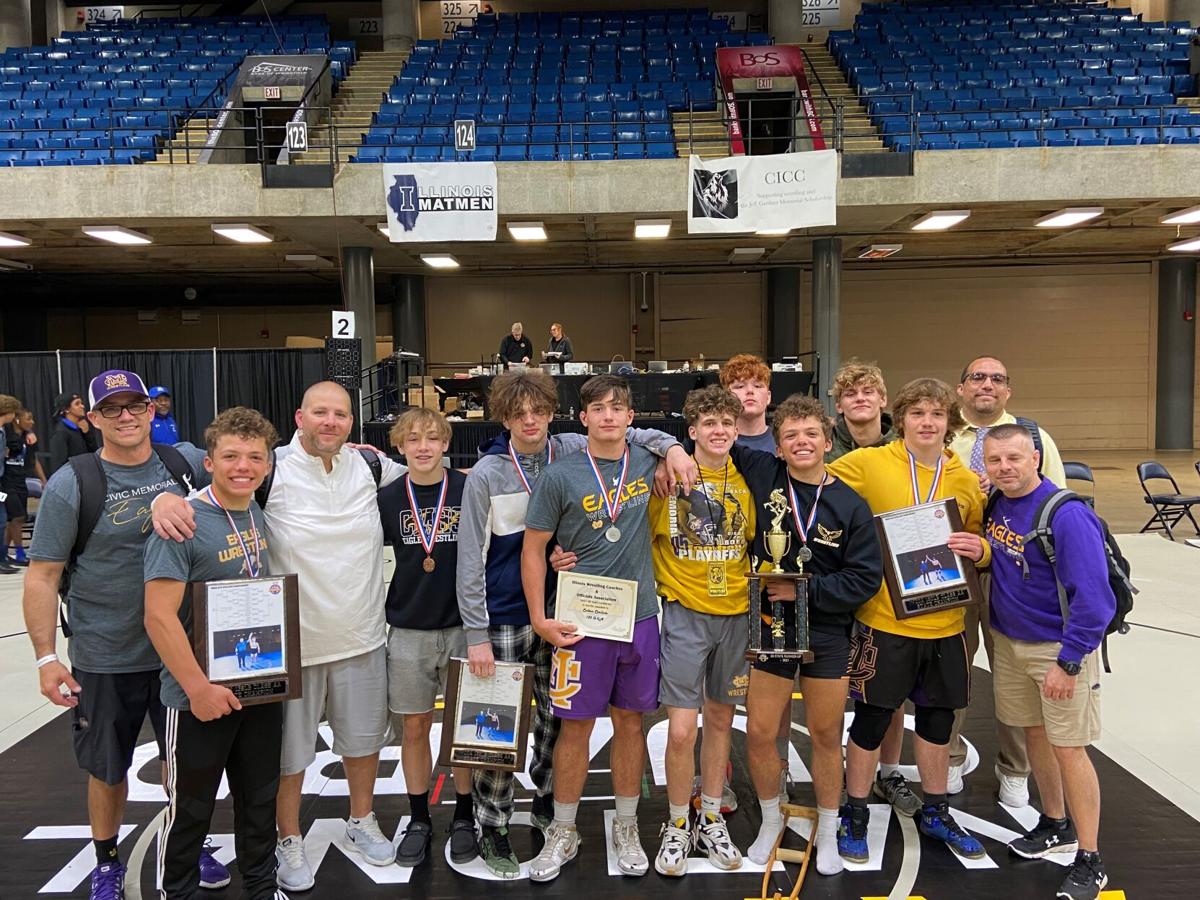 After dominating its sectional tournament, the Civic Memorial wrestling team arrived at Bank of Springfield Arena on Friday ready to test itself against the best that Illinois had to offer.
The Eagles aced that test.
Civic Memorial crowned three individual champions, produced six medalists, and placed second overall with 147.5 team points at the Class 2A Illinois Wrestling Coaches and Officials Association open state championships in Springfield.
"Nothing happened that was surprising," Civic Memorial coach Jeremy Christeson said. "These kids have been together since they were little kids, and I knew this was building. I am just more relieved that it happened for them."
Marian won the first-place team trophy with 178 points.
Civic Memorial senior Caleb Tyus (31-0), who placed second at state last season, became the first Civic Memorial wrestler to win a state championship match since David Pearce in 2012 by winning a 7-2 decision at 138-pounds over previously undefeated Marian sophomore Chris Moore.
Senior Vinnie Zerban (28-0) pinned Deerfield junior Benjamin Shvartsman 46 seconds into his championship match to win the 152-pound title. It was the fourth time Zerban medaled at a state tournament with the other three occurring in Missouri while wrestling for CBC.
And sophomore Abe Wojoikiewicz (26-1) endured a grueling path, going the distance in all four of his matches and winning a pair of one-point decisions, including a 3-2 victory in the 160-pound title match against previously undefeated Boylan Catholic senior Dathan Wickson.
"That's his style. Against good competition, he finds himself in tight matches and finds a way to pull it off," Christeson said.
Senior Caine Tyus, who will be joining his twin brother Caleb at Southern Illinois-Edwardsville, was forced to withdraw from his 145-pound championship match due to injury and settled for second place. Junior Colton Carlisle also placed second, dropping a 9-1 decision at 182-pounds to undefeated Marian senior Dylan Connell.
Freshman Bryce Griffin made it six medalists for Civic Memorial with a third-place finish. Griffin lost in the quarterfinal round 3-2 in an ultimate tiebreaker but recovered to win four consecutive consolation bracket matches.
"That was definitely a heartbreaker because he had his mind set on winning a state title this year, but all the kids rallied around him and he stepped up and got third (place)," Christeson said.
Mascoutah senior David Polaski (27-2) won the state title at 220-pounds going the full time in all four of his matches. His widest margin of victory came in a convincing 9-4 victory in the championship match against previously undefeated Glenwood senior Conner Miller.