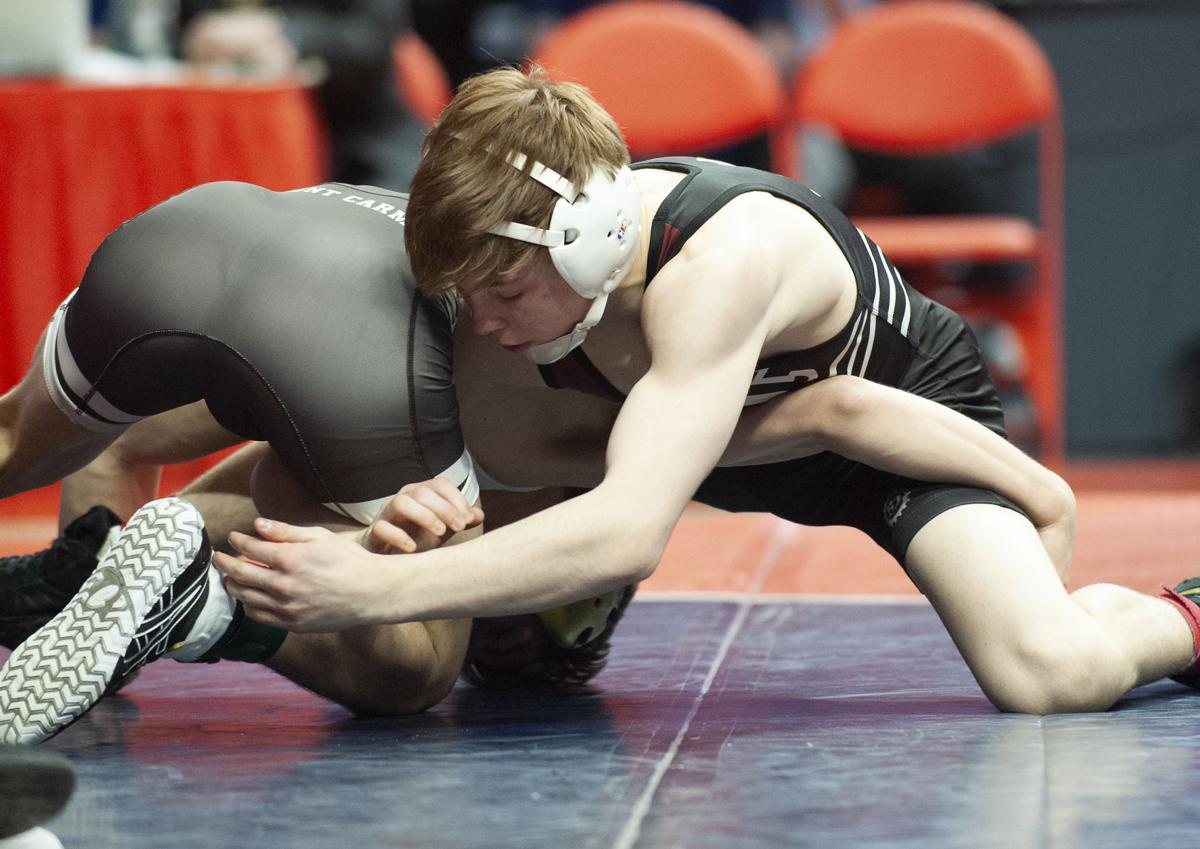 Alton wrestling coach Eric Roberson calls the situation "strange."
Normally starting in November, the Illinois wrestling season opened its seven-week schedule April 29, becoming the final sport to begin competition in the Illinois High School Association athletics calendar.
"There are eight sports going on right now in Illinois, so I've got a couple baseball players who are wrestling at the same time, a couple track kids, so we are sharing athletes," Roberson said.
Like many wrestling programs, the roster size of the Redbirds has decreased this year.
Alton will field a team of 19 wrestlers and may be forced to forfeit a few weight classes this season, which for Alton, begins Thursday at Civic Memorial in a tri-meet that also includes Roxana.
"Nineteen is low for us," Roberson said. "(The change of season) definitely affected our numbers at the high school, and it affected our numbers even worse at our middle school level."
Althoff, which has crowned an individual state champion for five successive seasons including Joe Braunagel, the defending 182-pound champion, will not field a team this season.
According to Althoff athletics director Kathy Wuller, some wrestlers opted to travel to national tournaments while some opted to play a different spring sport, leaving only two remaining wrestlers.
East St. Louis and Sparta also will not field wrestling teams.
Belleville West senior and defending 120-pound state champion Josh Koderhandt chose to participate this year as a final chance to wrestle in front of his family and for his coach, Joe Rujawitz.
"At first, I wasn't too excited about the season, but now that it's started, I'm glad that I'm doing it," said Koderhandt, who pinned his first two opponents last week against Triad and Belleville East. "I owe it to my parents and coaches who have been with me through my whole high school career to let them watch me wrestle in a few more matches."
Belleville West (2-0) won its first two dual meets, 48-27 against Triad and 63-9 against Belleville East, and Koderhandt is especially eager to wrestle in the Maroons' first home meet Wednesday against Mascoutah.
"I'm most looking forward to be able to wrestle at home as a defending state champ," Koderhandt said. "That's something I haven't been able to do yet."
Koderhandt, who will continue his education and wrestling career at the United States Naval Academy, is planning to use this season as additional preparation for his future goals.
"It's always about getting better, and one day, being the best in the nation," Koderhandt said.
There will be no IHSA-sponsored postseason when the regular season concludes June 12.
While he understands that the hopes for postseason success is what drives many wrestlers, Koderhandt has come to terms with knowing he cannot defend his IHSA state title.
"I think not having a postseason definitely takes some of the fun out of it, but my goals are much bigger than state titles," Koderhandt said.
But postseason action is not completely out of the question.
According to Roberson, the Illinois Wrestling Coaches and Officials Association (IWCOA) is hoping to provide an optional postseason series in late June.
"The sticking point seems to be finding a school to host the regional and the sectional," Roberson said. "It's something they have planned, but it hasn't been finalized."
But prior to any thoughts of a postseason, Roberson and the Illinois wrestling coaches must negotiate an unprecedented regular season, which will be limited to dual and triangular meets and devoid of any tournaments.
Masks must be worn in the weight room, at practice, on bus rides and any time when wrestlers are not competing against one another. In the Southwestern Conference of which Alton is a member, attendance is limited to four spectators per wrestler during home meets and two spectators for away meets.
"Whatever school is able to manage the situation the best — dodging all the obstacles and overcoming the adversity — is going to have the best success this year," Roberson said.
Another potential obstacle is that the wrestling season will continue for several days after school calendars end. The final day of classes for Alton students is May 25 and the wrestling season lasts until June 12.
"We'll be trying to overcome transportation issues and trying to make sure kids stay out for the team once school gets out, so that time of year will present a lot of challenges," Roberson said.
But once the mats are rolled out and the takedowns begin, Roberson anticipates that all the strangeness will be replaced by much-needed normalcy.
"Once they step on the mat, the only thing different will be what time of year it is," Roberson said.