BETHALTO — Zeke Waltz was a whirlwind of movement as soon as he heard the whistle Saturday.
The Jerseyville High senior seemed to be everywhere at once in the title bout of the 160-pound division of the Civic Memorial Holiday Wrestling Tournament.
Despite trailing on points after one period, Waltz stuck to his game plan.
"I knew that if I kept the pace, later in the match I'd get him," Waltz said. 
The blur of motion paid off as Waltz secured a third-round pin against Mattoon's Hayden Stanley for the tournament title at Civic Memorial High School.
Waltz was voted as the most outstanding wrestler by the coaches at the tournament after recording two pins and a technical fall. 
"He knows how to wrestle his own match," Jerseyville coach Allen Snyder said. "We don't try to over-coach him. If we see something, we'll let him know, but he knows his own match."
A three-time state qualifier, Waltz trailed 4-3 after Stanley scored two takedowns in the first period.
Waltz scored three takedowns in the second period before getting a pin within the first minute of the third period to keep his senior record unblemished at 6-0.
"We may not be the best technical coaches out there, but by gosh, we'll outwork anyone," Snyder said. "We pride ourselves in being in better condition than anyone we wrestle. That'll win some matches."
After a fifth-place finish last year in the Class 2A state tournament, Waltz is focused on climbing to the top of the podium in his last opportunity.
"That's been my goal the whole time over the offseason," Waltz said. "I'm just trying to win the title."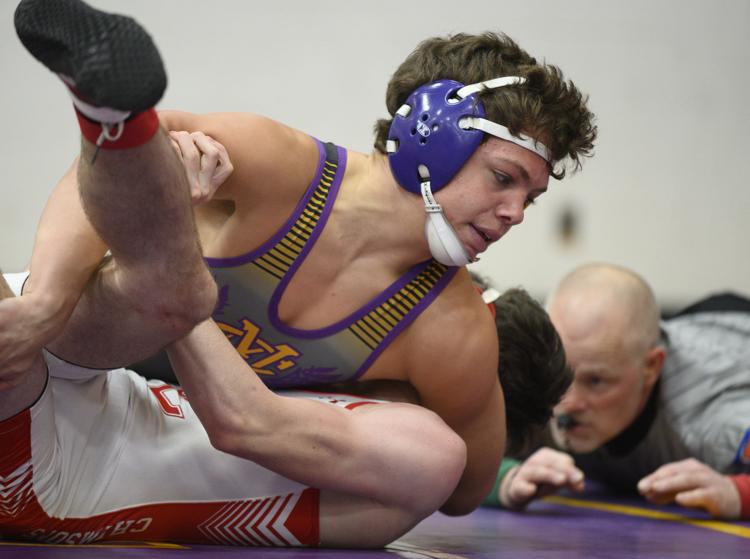 CIVIC MEMORIAL THIRD PLACE IN OWN TOURNAMENT
Civic Memorial coach Jeremy Christeson said he was pleased with the performance of his injury-riddled team in its own tournament.
The Eagles finished third as a team with 174.5 points, behind powerhouse Vandalia (221) and Mattoon (181).
"A good start to the season," Christeson said. "This was a good first tournament for us. I think if we get rolling later on and in the second half of the season at full strength, we'll be pretty tough."
Vandalia has won consecutive tournament titles at Civic Memorial after Mattoon won in 2016 and 2017.
The Eagles had three first-place finishers in juniors Caleb Tyus (132 pounds), Caine Tyus (138 pounds) and freshman Abe Wojcikiewicz (145 pounds).
Christeson praised the effort of Wojcikiewicz had in his first home invitational.
"He's just an elite competitor," Christeson said. "All he wants to do is eat, sleep and wrestle."
Wojcikiewicz is the latest freshman to make an impact for Civic Memorial wrestling after the Tyus twins burst onto the scene two seasons ago. 
After multiple years of finishing outside of the top five in its own tournament, the Eagles have finished in the top five the last three years and have sent five wrestlers to the state tournament. 
"I have a really good coaching staff," Christeson said. 
EAST ST. LOUIS GETS TOP FIVE FINISH IN FIRST TOURNAMENT OF SEASON
First-year East St. Louis coach Jason Basso fielded numerous questions from his young team stepping into the gym at Civic Memorial.
"I think they were curious, but not overwhelmed," Basso said. "The whole process is different (than duals). I think everyone wanted some certainty, but I don't think anyone was overwhelmed."
After taking part in its first tournament of the season, Basso was pleased when the Flyers turned in a fifth-place finish in the team standings.
"That's a good spot for the first experience for a lot of these kids in a tournament," Basso said. "We're just trying to rebuild the program. Starting with kids club through middle school and high school. I'm really proud of the kids."
The Flyers haven't had a lot of success in dual meets this year, going winless in their first seven matches.
Basso, a former assistant at Highland, was ready for a change.
"I wanted to see how we were as a tournament team," Basso said. "We only have two seniors on the whole team. For those guys to come out and wrestle as they did, that's good to see."
East St. Louis racked up 117.5 points, edging out Benton (115) for fifth place. The Flyers tallied two individual champions, seniors Zion Wilhite (126 pounds) and James Young (182 pounds).
"I've got two good seniors who are true team leaders," Basso said. 
Young trailed Civic Memorial's Dillon Dublo going into the third period but felt his opponent running out of energy to keep the high pace going.
"I knew I could keep going. I knew I had it the gas tank and it paid off," Young said.
In the third period, Young used the extra energy he had and turned Dublo before getting a third-round pin.
"I knew I was going to keep coming," Young said. "I could feel him giving away throughout the period. I knew I just had to keep going."