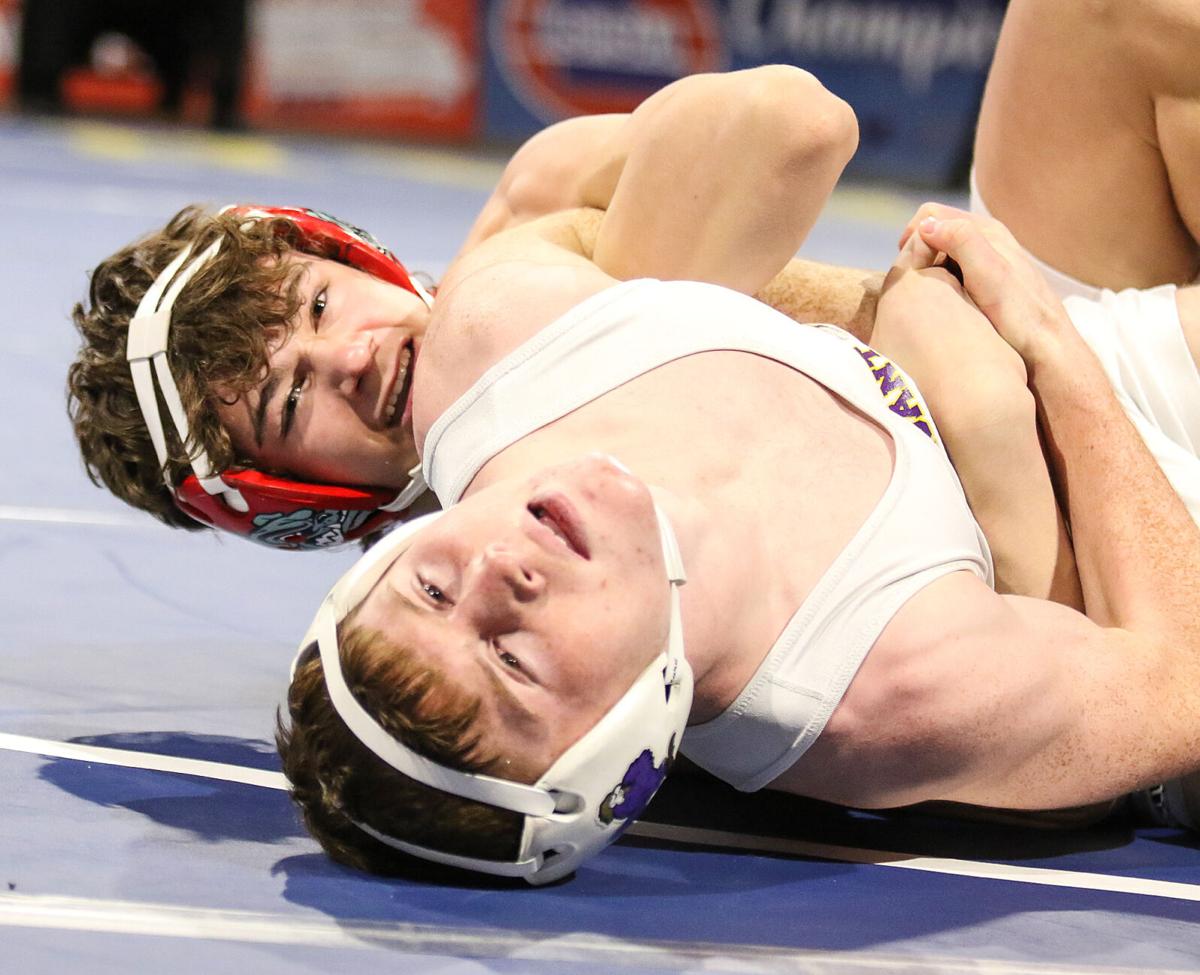 Whitfield sophomore AJ Rallo was not sure it would work.
The defending 106-pound Class 1 state champion was entering his first state tournament in Class 3 and had his reservations about a one-day tournament in Independence as compared to a three-day event in Columbia.
"I was a little nervous that it wasn't going to be as intense of an environment as normal state because it was at a different place and each class was a different day, but I really like the way they did it," Rallo said. "I feel like it's more individualized because it's only this class."
Rallo was among several local wrestlers and coaches who praised Missouri's 2021 state wrestling tournament format designed out of the necessity to reduce the number of participants and spectators in the same venue because of the COVID-19 pandemic.
Rallo won his second state title, this one at 113 pounds in Class 3, and was one of five Warriors state champions as Whitfield captured its 10th team championship in the last 14 seasons.
Whitfield coach Charlie Sherertz commended the Missouri State High School Activities Association for having the foresight to create an opportunity for a state wrestling tournament to take place in any form.
"I'm grateful for what MSHSAA did to make this happen," Sherertz said. "It was great vision and nerves of steel to pull this off for all of us."
During the normal three-day competition, wrestlers weigh in prior to competing each day, go through their warmup routines, wrestle and then work to regulate their weight each night before doing it all again the next day.
"I liked (the one-day format) because I was warmed and ready," said Sullivan senior Dillon Witt who earned the first medal of his career with a Class 2 third-place finish at 126 pounds. "Before when it was three days, I wasn't warmed and ready."
St. Clair sophomore Brock Woodcock cruised to the Class 2 title at 132 pounds by defeating defending state runner-up Sam Hrabovsky of Fulton 7-0 in the semifinals and then won by technical fall in his title match approximately four hours later.
"I loved the one day. I could stay warm the whole day and not have to come back in and warm up again." Woodcock said. "Then the quick warmup with my partner (between the semis and finals) really helped."
Woodcock placed third last season and admitted to struggling with the mental aspect of the three-day format by overthinking during the lengthy amount of idle time between matches.
"I was kind of freaking out last year as a freshman," Woodcock said.
Priory senior Adam Rolwes, who placed fourth at 182 pounds in Class 2, also suggested the mental side of wrestling in a high-stakes tournament was more manageable this time around.
"I love the one-day format way better," Rolwes said. "In the three days, you have to keep up your motivation throughout all three days, there's a lot of anticipation. If you can take care of it in one day, it's a lot better."
Prior to the state meet, Lafayette senior Evan Boren suggested one negative aspect to the 2021 format is that the wrestlers who pride themselves on their ability to persevere may lose a competitive advantage.
"A lot of people get to that second and third day and they're tired and sore and they're ready to give up, but I know we're a never quit kind of team," said Boren who placed second at 170 pounds in Class 4, one of five Lafayette wrestlers who earned medals Saturday.
His teammate, Joel Mylin, who finished third at 132 pounds in Class 4, also thought a three-day tournament tested a wrestler in ways a one-day tournament could not.
"Those three days grinding, winning, maybe losing a match, having to wrestle back in the morning, cutting weight at night, whatever it takes — that feeling of accomplishment is unmatched," said Mylin, who won a Class 1A Illinois state championship as a sophomore.
The week of wrestling in Independence ran smoothly with a few exceptions. During the Class 1 tournament Wednesday, the event was paused for approximately 15 minutes after announcements for spectators to remain masked and socially distant went unheeded by some spectators.
In the finals of the Class 3 tournament, a fire alarm was activated prior to the 182-pound championship match, prompting the evacuation of the arena and a delay of approximately 20 minutes.
But overall, those hiccups paled in comparison to the overall enjoyment of the one-day tournament for local wrestlers.
"I loved it. I didn't have time to think about my other matches. I just went out there and wrestled," said Sullivan junior Ty Shetley, who placed sixth in Class 2 at 152 pounds.
According to Greg Stahl, MSHSAA assistant executive director who oversees wrestling, the one-day format was meant to be a temporary fix, but alterations to format and location may be a topic of discussion moving forward.
"Given the circumstances that we had to navigate through relative to COVID-19, we were pleased with the overall outcome of the 2021 State Wrestling Championships," Stahl commented. "While the alternate format resulting in one-day tournaments with a decreased number of wrestlers is not what we wanted our state tournament to look like, for many reasons it was a necessity."
Stahl explained that a return to 16 state qualifiers in each weight class would require eight mats, a larger venue and additional competition days, but that the future of the state tournament would be discussed later this month.
"There were many questions and conversations circulating during all five days about what the future looks like for our state wrestling championships as it relates to location, format, etc.," Stahl continued in his comment. "The MSHSAA Wrestling Advisory committee will meet in late March and we are certain that the future of the state wrestling championships will be a topic of discussion."
Stahl went on to praise Cable Dahmer Arena and its personnel for "exhibiting an excitement for wanting to host" and the member schools, wrestlers, coaches and fans for their cooperation in following the protocols "to even allow us to consider having an in-person state championship."
And whether the state tournament is in Columbia or Independence, a one-day tournament or three-day affair, success at the state level is often the thrill of a lifetime for a wrestler.
"There's no doubt that winning matches and placing at state, in any format, is a great accomplishment," Mylin said.