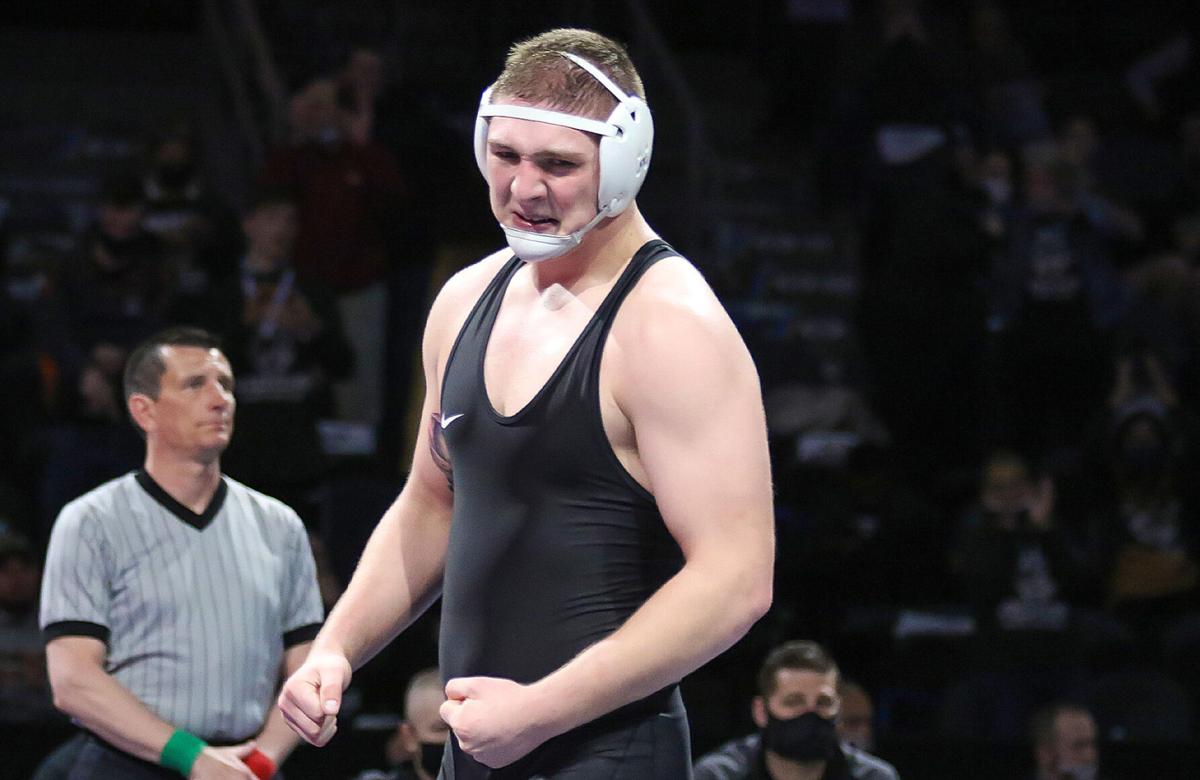 INDEPENDENCE — Freshman Gavin Linsman was not going to be the only one.
After watching teammates Porter Matecki (106) and AJ Rallo (113) win in dominant championship performances and seeing Evan Binder (120) cruising to victory on the mat to his left, Linsman decided it was time reverse a 4-0 deficit in his championship match at 126 pounds.
"I told myself halfway through the match, I'm not going to be the first one to lose," Linsman said.
Linsman scored a reversal before the end of the second period, then executed a double leg takedown and near fall to open the third, becoming the fourth Whitfield state champion in the first four weight classes, as the Warriors captured the Class 3 Missouri wrestling state team championship at Cable Dahmer Arena on Thursday.
Whitfield won its fifth consecutive state title, the first in its new Class 3 classification and its 10th state title in the last 14 seasons.
The Warriors crowned five individual state champions and finished with 182 team points, topping second-place Neosho (148) and third place Hillsboro (91).
"I think we were ready for the challenge, accepted it and conquered it," Whitfield coach Charlie Sherertz said of the move to Class 3. "I'm going to enjoy it tonight, because tomorrow I'm going to be looking over my shoulder."
Linsman noticeably gained confidence throughout the second period of his title match with Kyshin Isringhausen of Branson, demonstratively signaled to the official that he wanted in the bottom position to start the third period and then took over the match.
"I feel like conditioning saved me," Linsman said. "Being down 4-0 is just a mindset. I know I'll do anything to win."
Binder completed a perfect season (43-0) with a 7-0 victory in his championship match with Landon Kivatt of Neosho. Binder also credited conditioning for his ability to not surrender a point during three decisions in the state tournament.
"This season has really been a challenge practicing with masks on every day and we hated it, but looking back on it, it was really a conditioning benefit and we were able to wrestle all three periods," Binder said.
For Sherertz, the struggles to just make it to a state championship meet were equally as difficult as performing in one.
"This has been such a tough year and I'm just grateful that we got be here and that the kids performed so well," Sherertz said. "We were wrestling without people all year long and the constant fear of being quarantined and disqualified was overwhelming."
Keith Miley became the fifth state champion from Whitfield, coming from behind in the 220 final with a takedown at the end of the second period and an escape to begin the third to complete an undefeated 31-0 season. Miley reached the top of the podium after finishing as state runner-up the previous two seasons.
"It's so unreal," Miley said as he clutched the medal around his neck. "It doesn't feel like much right now, but when I wake up in the morning and still see this, it's not going to feel like so much of a dream."
No cover jinx for Ladue's Mann
Ladue senior Jacob Mann (138) completed an undefeated 36-0 season with a dominant 14-1 major decision over LJ Davenport of Grandview for his third consecutive Class 3 state championship.
"I try to treat every year like I've never won a state title, so I keep that chip on my shoulder," Mann said.
Mann was the cover photo of the Class 3 program available at the arena and saw it as a humbling tribute to his Class 3 excellence over his career.
"I thought my coaches had to bribe someone to get that to happen, but it's such an honor to be on the cover. I'm going to have that packet for the rest of my life," Mann said.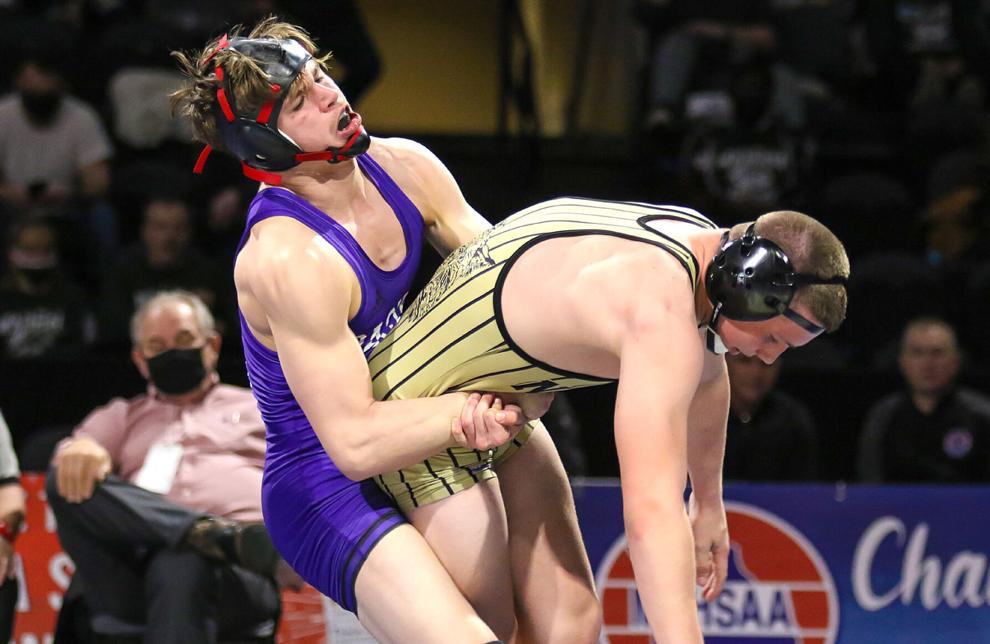 Pacific's Sitek, De Smet's Jackson finish undefeated seasons
Pacific senior Callum Sitek also completed an undefeated season (52-0) after finishing as state runner-up the previous two seasons.
Sitek defeated Eli Zar of Neosho 7-0, a surprising opponent in the finals after Zar upset undefeated Platte County wrestler Eli Roche in the semifinals.
"It's amazing. It goes with my work. After my sophomore year, I amped it up, my wrestling, my drilling, my whole training just went exponential and that's where I took off," Sitek said.
Sitek did not yield a takedown to an opponent for the entire season.
"That's just my style of wrestling. With position wrestling and keeping a great stance, you can't lose with that," Sitek said.
De Smet's Jacobi Jackson won his second consecutive state title at 285 and completed an undefeated 31-0 season with a 6-3 decision over Dakota Davis of Camdenton.
"I work my hardest in the wrestling room every time, and especially this year it was tough, so it's great to be a two-time champion," Jackson said.
Hillsboro places third with six individual medalists
Despite not getting a wrestler through to a title match, Hillsboro placed third as a team with grit and persistence in the wrestleback rounds.
The highest placer was sophomore Griffin Ray who placed third for the Hilltoppers at 152 after a 6-2 decision over Mehlville senior Jack Silies. Ray enjoyed the pace of the one-day state tournament and the persistence of his Hillsboro teammates.
"The one-day format gave me the ability to go out and scrap all day and do what I do," said Ray, who placed fifth last season. "We've been growing every day and we'll continue to grow throughout the years, it's only the beginning."
Hillsboro brought a large contingency of fans who flooded section 116 of Cable Dahmer Arena in a sea of white shirts to cheer on their Hilltoppers.
"We were allowed 96 tickets and all 96 are here," Hillsboro coach Matt Mitchell said. "For them to come all the way across the state and support us like that has been awesome."
Freshmen Aiden Black (106) and Sam Richardson (126), junior Dalton Litzsinger (138) and last year's Class 3 champion sophomore Gavin Alexander (113) placed fourth for Hillsboro. Senior Zach McNees (195) medaled for the first time in his career with a fifth-place finish.
"I'm proud of them. They've been a really close group, and to lock up a third-place team trophy, we're really excited about that," Mitchell said.