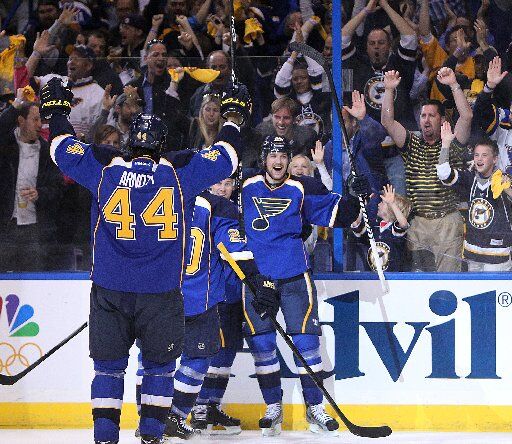 When the tentative end of the NHL lockout finally came, Blues players who had made multiple trips to New York to participate in negotiations, and followed every twist and turn, weren't able to rejoice.
They were sleeping early Sunday.
"I woke up to maybe six or seven texts saying it was done," Blues captain David Backes said. "Then I looked at the time and it was 4:30 in the morning and I thought to myself that it was 5:30 (in New York). I was wondering what the (heck) they were still doing there. Apparently, it just took some sleep deprivation getting the two sides together. I'm happy to be back, but I think it's still a little surreal."
Actually, the 2012-13 NHL season is not yet real because the league and the players' association have yet to ratify the collective bargaining agreement reached Sunday. The league is expected to do so at Wednesday's Board of Governors meeting, while the union should have its endorsement by then, if not sooner. But until then, the NHL isn't expected to announce the start of training camps or release the schedule, which could be 48 or even 50 games.
So there is still some uncertainty, but that was hard to pick up on Sunday night when several Blues players took the ice around 5 p.m. with an extra jump in their step.
"I don't even know what word I can use to describe it … maybe Christmas Day when you're about 10 years old," Blues forward T.J. Oshie said. "You wait for so long for it to get here … it's just great that it's all over and we can play the game we love again."
A few more Blues players were already expected to trickle into St. Louis today, but now the entire roster is on its way to town, including the large contingent that played in Europe during the lockout.
"I sent an email to all the locked out players saying that we're excited that the work stoppage has concluded, and we're looking forward to getting everyone back here," Blues general manager Doug Armstrong said. "If they need any assistance with their travel, we want to expedite their return and be ready to go whenever we get the final green light on the first day of training camp."
Among the European group is Russian forward Vladimir Tarasenko, who played for SKA St. Petersburg of the Kontinental Hockey League. The right winger had 14 goals and 31 points in 30 games.
"He wasn't a locked-out player; he was an assigned player," Armstrong said. "Part of the assignment agreement with the KHL was that when the lockout terminated, he would come back and I trust they'll stay true to their word. I am 100 percent confident they'll stay true to their word."
Also joining the Blues when camp begins will be forward Jaden Schwartz and defenseman Ian Cole, who have been suiting up for the Peoria Rivermen, the Blues' top minor-league affiliate. Schwartz and Cole were pulled from Peoria's lineup Sunday to avoid the risk of injury.
After getting through a couple of injury scares, when Alex Steen suffered a leg injury and Tarasenko missed time with a concussion, the Blues appear to be healthy as they get the band back together.
"Alex Steen got a little bit banged up but he's back skating," Armstrong said. "We should be all hands on deck. It's good to get through that process. I know that some teams haven't been as fortunate as we have, but our guys are healthy and ready to go and we're going to have a pretty competitive camp. We're going to need to competitive camp because it's going to be a competitive sprint."
There was some chatter that the NHL might insert one exhibition game into the schedule, but that doesn't appear to be the case.
"My understanding is that we're going to start right up into the season," Armstrong said.
So the Blues will have to be careful in their preparation as a result of gearing up quickly. Head coach Ken Hitchcock spent some talking with the San Antonio Spurs of the NBA, learning how they returned to action after the league's lockout-shortened season last year. One useful tip taken will be the idea of practicing at night, getting players accustomed to playing when the games are actually played. Aside from that, Oshie doesn't believe Hitchcock will have a problem tempering his practices due to the circumstances.
"That's one thing that I've noticed about Hitch, he really understands the game, he understands guys, he's a real team coach," Oshie said. "I think he understands where everyone is at. It's going to be hard, and I kind of hope it is. We want to be ready for the first drop of the puck."
Perhaps the greatest challenge for the Blues won't be reclaiming their conditioning or their chemistry – it'll be reclaiming their fan base. The souvenir shop at the rink in Chesterfield had more traffic Sunday than in recent weeks, according to the staff, but the Blues say they still understand they'll have a lot of work ahead.
Blues owner Tom Stillman, whose group of local investors took over the team in May, issued a statement Sunday addressing the team's fans.
"As we prepare for the season opener, I want to apologize to all Blues fans, especially our season ticket holders, suite holders, and sponsors," Stillman said. "We share in your disappointment and frustration about the lockout and the lack of Blues hockey over the past three months.
"As you can imagine, the last thing our new ownership group wanted in our first year was a lockout and no Blues hockey. Moving forward, our aim is to make up for lost time and to earn your continued support … we are firmly committed to the Blues and to ensuring the franchise's long-term success here in St. Louis. With the lockout behind us, we reaffirm that commitment."