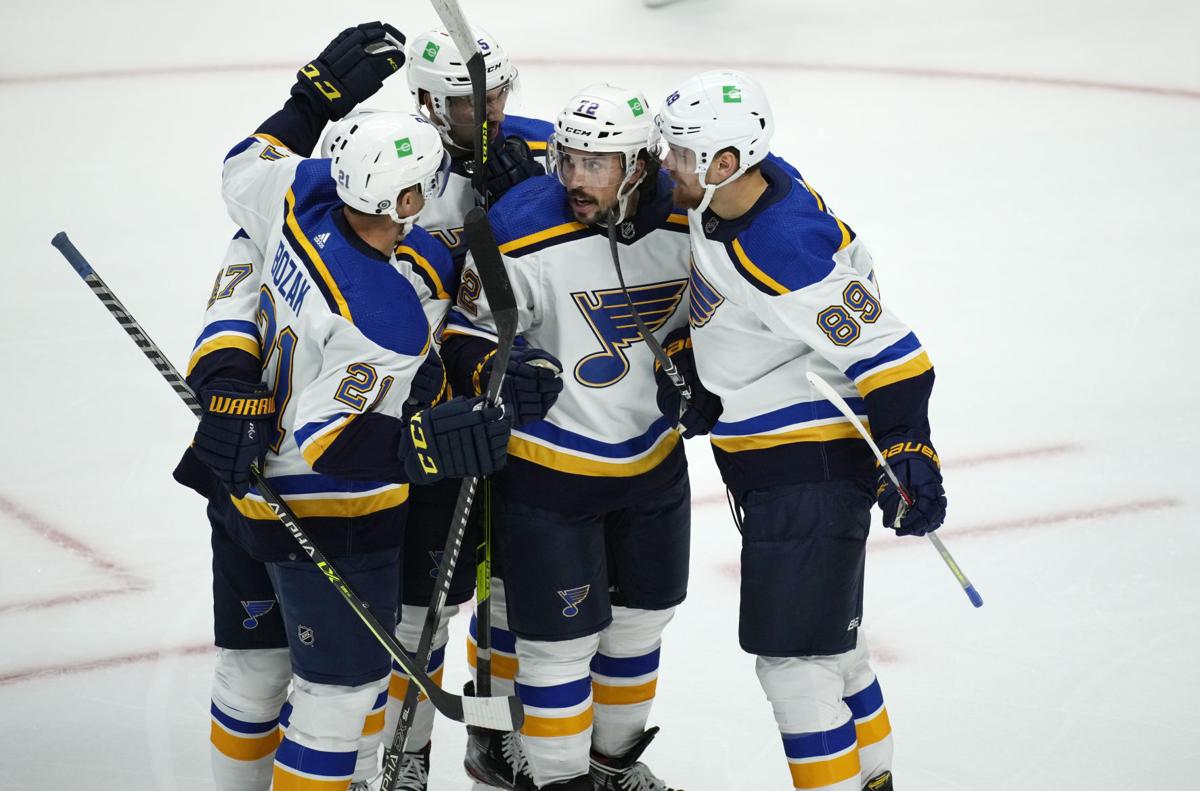 DENVER — As much as the Blues said getting swept last May in the playoffs by Colorado was in the past, they remembered. And Brayden Schenn remembered, the hit by Nazem Kadri in Game 2 on an illegal check to the head that ended Justin Faulk's season.
Schenn dropped the gloves to fight Kadri just 40 seconds into Saturday's season opener against the Avalanche at Ball Arena. That set the tone for a game in which the Blues jumped out to a 3-0 lead, and then with the help of a disallowed Colorado goal that would've tied the game at 4-4 with 2 minutes 49 seconds left to play held on for a 5-3 victory.
Faulk got a little revenge of his own, scoring the game's first goal. Schenn made it 2-0 in the second. David Perron, who's status was uncertain until pregame due to an undisclosed ailment, scored twice. And after the Avalanche scored two third-period goals to make it a 4-3 contest, captain Ryan O'Reilly sealed the deal with an empty-net goal with just 19.3 seconds left to play.
But it was Schenn's fight that set the tone for the Blues, who won their opener here a season ago 4-1 in a COVID-delayed schedule that didn't start until Jan. 13.
"These guys, they care about each other," coach Craig Berube said. "A pretty close team here. These guys, they just take care of that stuff themselves. But it's great to see that the care is there for your teammate."
Suffice it say Faulk was highly appreciative.
"Schenn's obviously a great teammate, fits the mold exactly of what you want as a teammate," Faulk said. "You couldn't ask for more from him, day in and day out. There's a reason he's a leader on this team. Those things aren't asked of people but he's the type of guy that will take care of his teammates."
Schenn said he thought about it for a while. And he's had nearly five months to think about it since the Kadri hit occurred on May 19.
"Kadri's a guy I've known for a long time," Schenn said. "He's a heck of a guy; he's obviously a hard-nosed player. ... Things happened fast out there and I'm sure he wouldn't want to make that hit again."
Schenn wasn't nearly as magnanimous on the night of May 19. He was incensed.
"The guy can't control himself," Schenn said after the Game 2 loss. "In the playoffs, he's a repeat offender, bad hits, greasy hits, and he's got a guy in a vulnerable position and he picks nothing but the head. ... Hopefully the league takes care of it."
The league took care of it. Kadri got a match penalty and then an eight-game suspension.
In terms of Saturday's final result, who knows what would have happened had a league review of an apparent goal by Tyson Jost was disallowed after it was determined he used a distinct kicking motion to direct the puck into the net past goalie Jordan Binnington.
"It's close," Berube said when asked if it was a kicking motion by Jost. "But it certainly looked like it."
"I don't want to say any more to those," Perron said. "It can go either way. ... All I'm saying is it's tough to know nowadays. If you're asking me and obviously I'm happy we got the result, but all these goals I would count them to be honest.
"We saw one the other night (for Vegas against Seattle). It goes in the net."
And that one counted after a review.
"I feel like we want more goals in this league, but obviously excited to get two points, get the boys going in the right way," Perron continued. "After the week we had, I think it was important to find success right away and now we move on to Arizona and try to get it done there, too."
To Perron's point about the "week we had," the Blues played eight preseason games, then waited around for eight days while the rest of the NHL played hockey games.
So to say the Blues were anxious to get going would be an understatement. It was worth the wait.
The Blues were facing a depleted Avalanche roster, minus stars Nathan MacKinnon (COVID) and Gabriel Landeskog (suspension). But no sympathy from the visitors. Not with memories of getting swept in four games with their own roster depleted by injury and COVID last season in the playoffs against the Avs.
Making their Blues' debuts Saturday were former Avalanche player Brandon Saad, Pavel Buchnevich, James Neal and rookie Jake Neighbours. Among that group, both Saad and Buchnevich had an assist.
All told, only 12 players who were in the Blues' opening-day lineup last season — a 4-1 victory here over the Avalanche on Jan. 13 — were in the lineup Saturday for St. Louis. The new look worked out just fine for Game 1, even though things got hairy down the stretch.
In fact, the Blues probably don't pull out the win without Perron scoring goals No. 3 and 4. He didn't practice Friday in Vail, and then after skating lightly in Saturday's morning skate, waited to test whatever ailed him during pregame warmup before deciding to go.
"He's getting old," Faulk teased. "He needs a couple days off practice once in a while. That old body doesn't hold up maybe as well as it used to or something. We knew he would play and he stepped up big."
Apparently, Faulk wasn't the only teammate to give Perron the business for taking a day off.
"I've never taken so much heat for taking the time I needed to play today," Perron said. "So I had to score one at least for them."