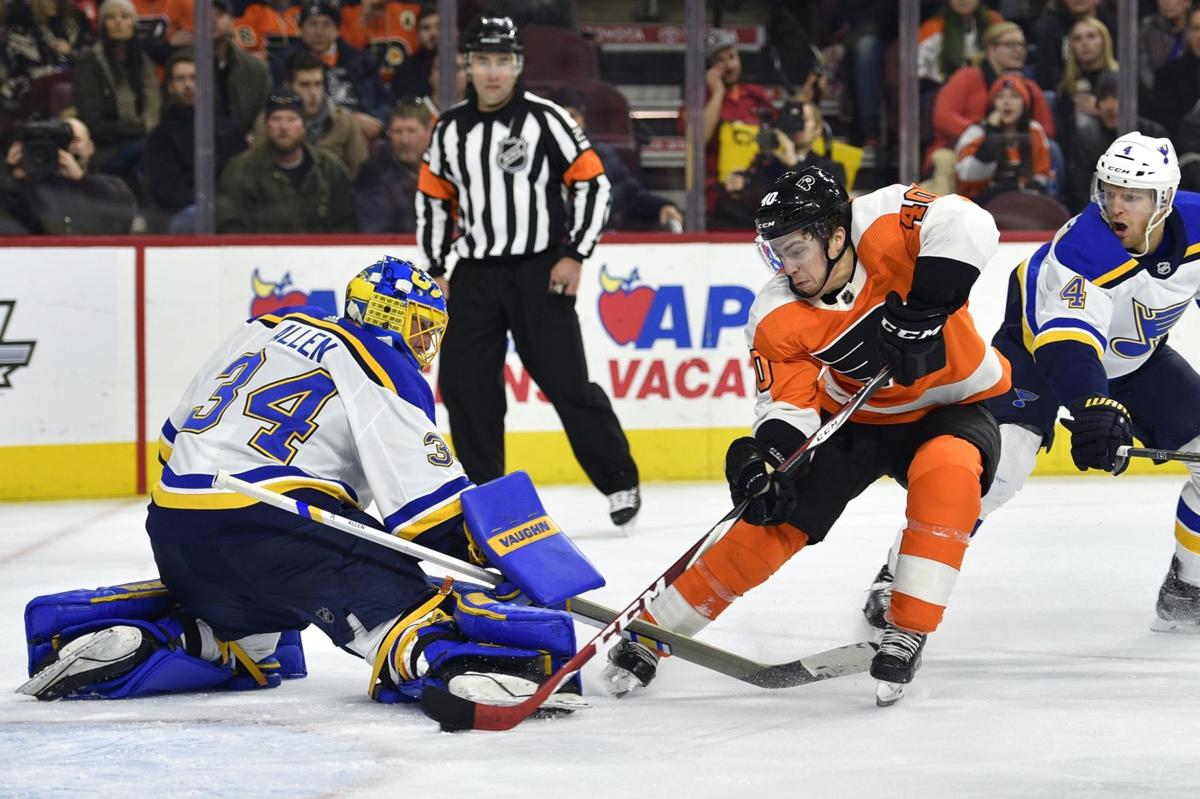 PHILADELPHIA • How best to describe the Blues' afternoon in Philadelphia?
The Flyers had two shots in the net before the Blues even mustered a shot on goal.
Goal No. 2 by Philly deflected in off the, uh, rear end of St. Louis defenseman Colton Parayko.
And if the Blues were hoping to restore any lost confidence in goalie Jake Allen, well, maybe next time.
It was that kind of day in frigid Philly as the Blues fell 6-3 Saturday at Wells Fargo Center, thus getting swept in their season series with the last-place team in the Metropolitan Division.
Afterward, coach Mike Yeo said the Blues (26-16-2) had "too many guys that weren't there. Not playing to make a difference in the game. Just sort of playing the system but not playing it to make a difference.
"It's a hard league to win like that."
He subsequently expounded on that lack of intensity in biting terms.
"We won a few in a row and I think it looked like today that we were a little bit satisfied with that," Yeo said. "You can't do it. We're playing these teams that are desperate right now. We talked about it before the game. This is a (Flyers) team that's just outside of the playoffs. They're playing playoff hockey right now.
"If you don't match that desperation, if you're not ready to match it, then you're putting yourself in a world of hurt."
Sure enough, the Blues played like it was a 2 p.m. Central start Saturday instead of a noon faceoff. It took them about two periods to get going.
"We didn't come out first period, even the first two periods we weren't getting to our game," center Kyle Brodziak said. "You can't be trying to come back from 4-0. It's too good of a league. Yeah, we just waited too long today."
After winning all three games in a just-completed homestand, the Blues were trying to match their season-high winning streak of four games — achieved three times previously. Instead, they were dead on arrival at Wells Fargo.
They had 12 giveaways, the fourth time all season they've been in double figures in that category. They've lost all four of those games. They allowed 39 shots on goal, their sixth-highest total of the season.
They won a season-low 40 percent of their faceoffs — just 20.5 percent in the second and third periods combined. And for much of the day, the Flyers (18-15-8) held and odd-man-rush fest.
"Way too many," Yeo said. "We weren't tight in our game today. When we're on top of our game, we're tight, we're in their face, stop speed before it starts. Today we just let them come at us."
It got ugly early, with both Philadelphia goals scored on unusual plays.
On the first, Philadelphia's Tyrell Goulbourne literally separated Alex Pietrangelo from the puck, knocking the Blues' captain to the ice to the left of the St. Louis net. Scott Laughton pounced on the loose puck and fired it past Allen for a 1-0 Philly lead just 2 minutes, 15 seconds into the contest.
"We just didn't start the way we had to," Pietrangelo said. "It started with me on the first goal, and it kind of rolled on from there."
The second goal was a strange one. Racing down the ice on a two-on-one rush, Claude Giroux of the Flyers tried to pass the puck over a diving Parayko. But the puck hit Parayko in the butt, and deflected into the net for a 2-0 Flyers lead at the 6:42 mark.
When those kind of plays happen, you know it's probably not your day. But the Blues played so poorly in the first period, they couldn't really cry "bad luck" when it came to Giroux's goal.
"We came into the room after the first, we felt like it's not the bounce and one play that makes it (2-0)," Brodziak said. "We definitely deserved to be down at least two at that point."
It wasn't until the 8:04 mark of that opening period that the Blues finally got a shot on goal, a backhander by Magnus Paajarvi that was turned away by Brian Elliott, the former Blues goalie.
Philadelphia added two more goals in the second period for a 4-0 lead, and they were skilled plays, made by a Flyers team that skated a step faster than St. Louis most of the day. Midway through the period, Jordan Weal blasted through the neutral zone, past defender Carl Gunnarsson and beat Allen with a backhand for a 3-0 Flyers lead.
A few minutes later, Giroux burst into the St. Louis zone on an odd-man rush and made a great pass to a charging Sean Couturier who tapped in the puck at full speed for his 20th goal of the season past a disconsolate Allen.
The only questions that remained at this point were how bad would this beatdown be by the team once known as the Broad Street Bullies. And whether Yeo would pull Allen.
"Not his fault," Yeo said of Allen, who was making his first start in eight days. "We gave up so many big-time chances today. He made a lot of saves and certainly that can't be pinned on him."
On this day at least, Yeo said he didn't consider pulling Allen.
"No, I think that's the wrong message," Yeo said.
The Blues averted their fifth shutout of the season when Ivan Barbashev beat Elliott with a backhand shot for his first goal this season with 5:04 left in the second. And they got third-period goals from Paul Stastny and Parayko.
"We got a little bit of life in the third, but overall it's not good enough," Pietrangelo said. "Especially coming off a win like we had against Vegas."