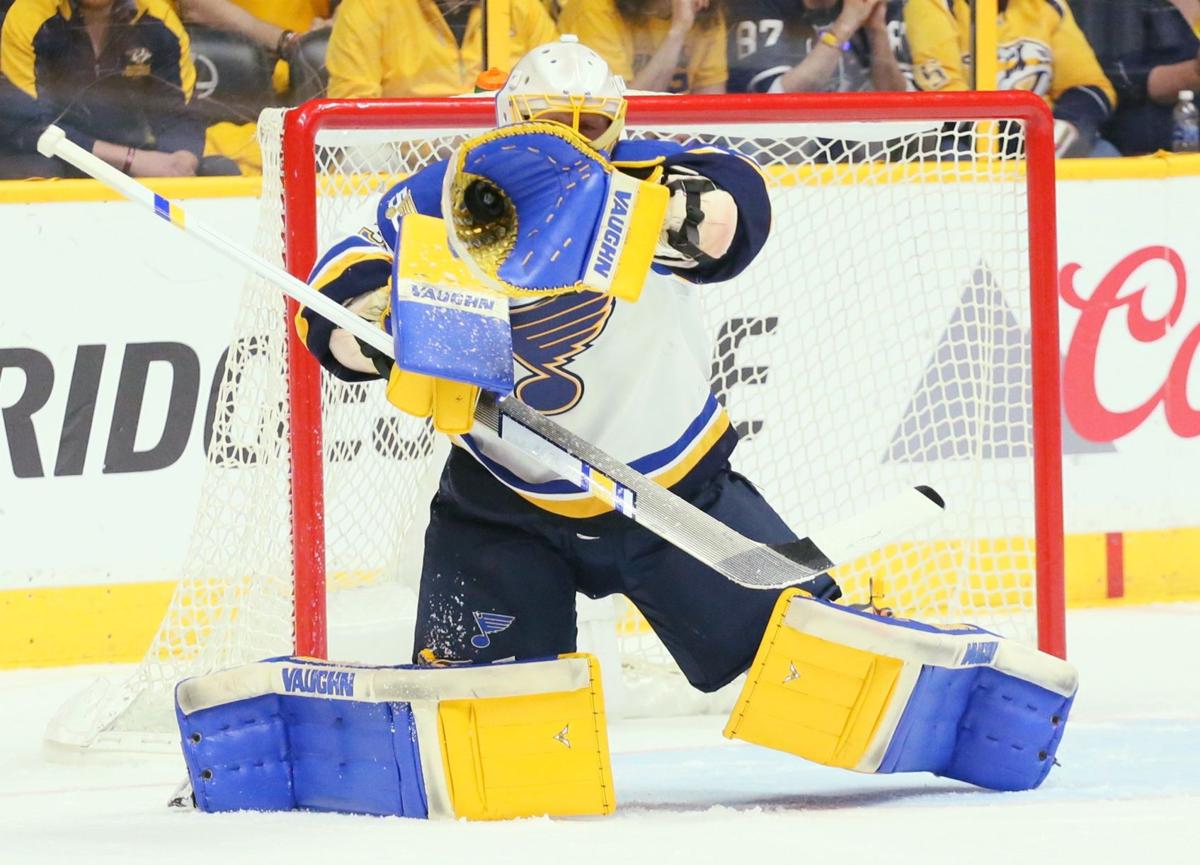 What began with a 51-save performance in Game 1 of the playoffs, against Minnesota, ended with another solid showing Sunday against Nashville.
In between, Blues goalie Jake Allen had a couple of hiccups — an outlet pass that turned into a goal by the Wild's Charlie Coyle in the first round and an ill-fated poke-check that led to a score by the Predators' Vernon Fiddler in the second round. But those were outnumbered by toe stops and timely grabs with his leather.
Allen, 26, might not have everyone convinced that he's a Stanley Cup-winning caliber goaltender, because the Blues' run ended in the Western Conference semifinals. But a 1.96 goals-against average and a .935 save percentage in 11 playoff games has silenced most. His totals rank second in the NHL postseason among netminders with 10 or more starts, trailing only the Predators' Pekka Rinne, whose club ousted the Blues.
"I'm so impressed and so happy for him, if you know him as a person," Blues coach Mike Yeo said. "But for us as an organization, his growth as a goalie ... some of those tough times and what he went through was actually real important for him. I think it's just strengthened him so much. And for him to come in here and play in the playoffs the way that he did, it was incredibly impressive. For him to come on the losing side and play the way that he did, you don't see that very often. He was outstanding."
Allen, whose credentials were called out in some circles after the Blues signed him to a four-year, $17.4 million contract extension last summer, went 6-5 in the postseason. In four of his five losses, however, the offense scored one goal or none, averaging just 1.2 goals per game in defeat.
"It's tough, he was so good, but obviously we've got to give him a little bit more support than that," Yeo said.
The Blues fell 2-0 in Allen's only loss in the first round and netted just one goal in three of his four losses in the second round. 
"He was outstanding, stood on his head (against the Predators)," Blues defenseman Colton Parayko said. "When you do that, you want to try to help him out as much as possible on the offensive side, but they played a good defensive game."
Meanwhile, Allen was a model of consistency most nights in the postseason. He allowed 22 goals on 336 shots, surrendering more than two goals in a game just three times in 11 appearances.
"We had a goaltender who was absolutely incredible," Blues forward Alexander Steen said. "You have the opportunity to win every night with that type of goaltending that he provided us with. That's what's been so incredible about him. He's done it each and every game in the playoffs. You know what I think of him, I've talked about it for years now. I think he's one of the best goaltenders in the league."
Combining the regular season and the playoffs, Allen finished with a record of 39-25-5 in 71 starts after a midseason dip. He was 18-14-3 at one point in early February, meaning he won 21 of his final 34 decisions.
"I'm proud of my efforts, I'm proud of my year," Allen said. "I thought I had a really good year. I had three unfortunate weeks and I thought I played well in the playoffs. I feel like I had good playoffs, but not good enough."
Allen held Nashville to one goal through two periods in Game 6, but the Predators got the winner in the third period on a breakdown by the Blues.
The netminder took the team's exit hard despite his quality performance throughout the series.
"Disappointed, obviously," he said. "It's a tough one to swallow. It's a close series, a hard-fought series. I just think we had such a good opportunity to go back to the Western Conference finals again. They're tough to come by. I wish I could say every single year we're going to get to the second round and have this opportunity. It's tough to swallow."
Three of Allen's losses in the series, including the one Sunday, came in Nashville — where the Predators have won nine in a row, including five this postseason.
"Whoever they play next (Anaheim or Edmonton) is going to have their hands full," Allen said.
The Blues' next game won't be until October, so they returned home ready to reflect on the past few weeks.
"Now starts the process of looking at what we can do differently, what we can do better," Yeo said. "There was a lot of things that I'm very pleased with as a coach with this group. A lot of growth, I felt like, whether it's Jake and the way that he played, the confidence that we have going into big moments now and how he's going to rise up to that. I'm excited about a lot of things here, but now we start evaluating everything and we look at what we do well and what we need to do better and that's our job as coaches."
The goaltender position is one area in which the Blues will have less concern compared to last summer, when they decided to turn the job over to Allen. A contract that had some fans saying midway through the season the club would be stuck with through 2020-21 looks a lot more attractive after a productive postseason.