LAS VEGAS — History ultimately will be the judge. But after just one season with the Blues, the acquisition of Ryan O'Reilly has to rate as one of the best trades in St. Louis sports history.
Put it on the medal stand next to Lou Brock for Ernie Broglio for the Cardinals in 1964. And Marshall Faulk for three draft picks in 1999 for the Rams.
After leading the Blues in scoring during the regular season, last week O'Reilly won the Conn Smythe Trophy as the MVP of the Stanley Cup playoffs, and then added a feather to his trophy case with the Frank J. Selke Trophy as the NHL's best defensive forward. That was presented as part of the annual NHL awards ceremonies Wednesday in Las Vegas.
In between the Cup clincher a week ago in Boston, an epic parade in downtown St. Louis and a weekend of partying in Las Vegas with his teammates, this has been a whirlwind for O'Reilly.
"Gosh, this week has been a lot," O'Reilly said, with not much voice left, in accepting the trophy. "There's been a lot of things going on."
Yes there have, and he even found the time to buy Boston native and Bruins fan John Corrado a guitar at a music store on the eve of Game 7.
"I met a really cool kid who used to play hockey," O'Reilly said. "And he was definitely into guitar. We just got talking. It's the least I could do. . . . I helped him to get a decent guitar. It was just a nice kid that deserved something nice."
Capped by the Selke Trophy, O'Reilly has gotten lots of nice things lately.
In tight voting by the Professional Hockey Writers Association, O'Reilly had 1,001 points to 881 for Mark Stone of the Vegas Golden Knights and 801 for Patrice Bergeron of the Boston Bruins. O'Reilly had 48 first-place votes to 42 for Stone and 31 for Bergeron.
The Blues were up for five awards Wednesday but O'Reilly was the only winner.
He finished second to Aleksander Barkov of the Florida Panthers for Lady Byng Trophy, which recognizes outstanding sportsmanship coupled with outstanding play.
Goaltender Jordan Binnington finished second to Elias Pettersson of the Vancouver Canucks for the Calder Trophy as the NHL's top rookie.
Doug Armstrong finished second to Don Sweeney of the Boston Bruins for the general manager of the year.
And Craig Berube finished third, behind Barry Trotz of the New York Islanders and Jon Cooper of the Tampa Bay Lightning, for the Jack Adams Award as coach of the year.
O'Reilly, Binnington and Berube were hurt by the fact that voting for their awards was completed at the end of the regular season. The outcome might have been much different had the Stanley Cup playoffs been part of the considerations by voters. In addition, neither Binnington nor Berube were on their jobs the entire season for the Blues.
In Armstrong's case, votes for the GM of the Year Award were cast after two rounds of the playoffs. He had 63 points to Sweeney's 80 in voting done by NHL GMs, plus a panel of NHL execs, print and broadcast media. Sweeney and Armstrong both finished with eight first-place votes.
At least O'Reilly avoided a Blues shutout Wednesday.
"Knowing everyone first-hand, I know the hard work and stuff that they did," O'Reilly said, in reference to the other Blues award nominees. "But I don't think any of us are disappointed, no matter if we got shut out tonight. We've got the ultimate trophy and that's the only one that really, truly matters."
So it was fitting that just before the evening ended with the Hart Memorial Trophy going to Tampa Bay's Nikita Kucherov as league MVP, a moment of recognition took place for the Blues as Stanley Cup champions.
Carrying the Cup, Binnington led the charge to the stage accompanied by O'Reilly, Berube, Armstrong, owner Tom Stillman and president and CEO of business operations Chris Zimmerman. They were introduced by actor and Blues fanatic, St. Louisan Jon Hamm. Of course, "Gloria" was played. Confetti fell, and Blues fans in the audience cheered. Not quite a parade down Market Street or a rally under the Arch. But a nice touch.
O'Reilly did the talking here, saying, "We especially want to thank the city and the fans of St. Louis. You guys stuck with us through thick and thin. The celebration has been above and beyond anything I could ever imagine. We all feel the same. ... We did it together. Thank you, St. Louis. It's the coolest thing in the world."
Because he didn't win the Calder, and O'Reilly did the talking during the Stanley Cup recognition moment, Binnington had no speaking parts in the nationally-televised show. But he did have a little moment. In an aisle seat during the show, O'Reilly praised Binnington as the "heart and soul" of the team while accepting the Selke.
The cameras panned over to Binnington, who gave just the slightest of nods and the faintest of smiles in O'Reilly's direction. Yes, once again, he was not nervous.
O'Reilly is only the second Blues player to win the Selke, joining Rick Meagher in 1990.
As for Binnington, he didn't leave the Mandalay Bay resort and casino complex without some recognition. He was named to the NHL's all-rookie team as voted on by the Pro Hockey Writers. St. Louisan Brady Tkachuk of the Ottawa Senators, who finished fifth in the Calder voting, also was named to the all-rookie team.
Binnington is the first Blues player since Colton Parayko (2015-16) to make the all-rookie team and is only the second Blues goaltender — Jake Allen is the other — the earn all-rookie honors.
RYAN O'REILLY, Forward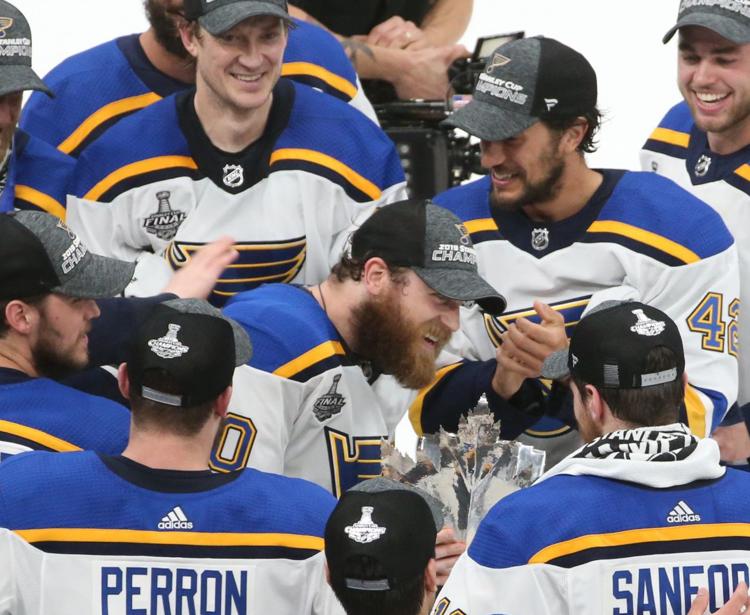 GORDO ON O'REILLY: He followed his tremendous regular season (28 goals, 47 assists) by earning the Conn Smythe Trophy as the NHL's postseason MVP. O'Reilly battled on with broken ribs to score 23 playoff points. He regained some jump against Boston Bruins and got the Blues going in Game 7 of the Stanley Cup Final with one of his trademark deflection goals. During the regular season O'Reilly earned good puck possession metrics (53.6 Corsi For, 54.3 Fenwick For) with his faceoff prowess (56.9 percent success) and sturdy all-around play. Better yet, his day-to-day work ethic raised the bar for a team that had lost its way.
Grade: A-PLUS
OSKAR SUNDQVIST, Forward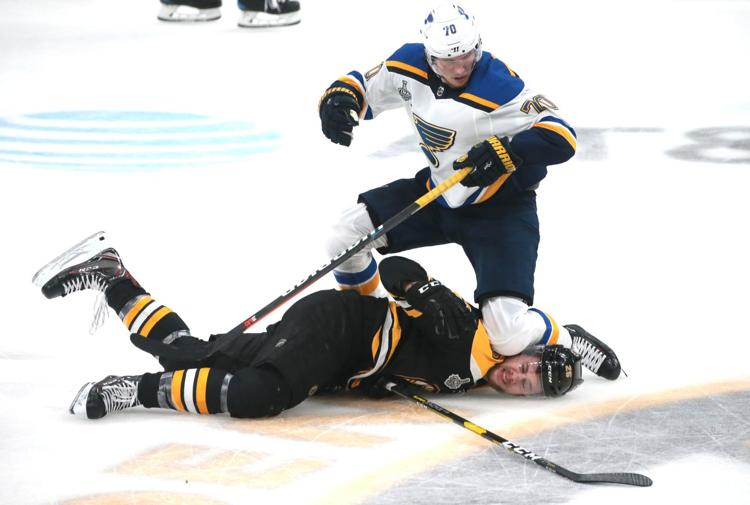 GORDO ON SUNDQVIST: He came to training camp as an afterthought, given all the team's offseason additions and the limited role (one goal in 42 games!) he played in 2017-18. But Sundqvist followed his regular season breakout (14 goals, 17 assists in 74 games) with a brilliant postseason. He, Ivan Barbashev and Alexander Steen became a key shutdown line for coach Craig Berube in 5-on-5 play. Sundqvist averaged more than 16 minutes per game in the playoffs and earned a plus-5 rating despite frequently matching up against scoring lines. He also chipped in with four goals and five assists at even strength.
Grade: A
IVAN BARBASHEV, Forward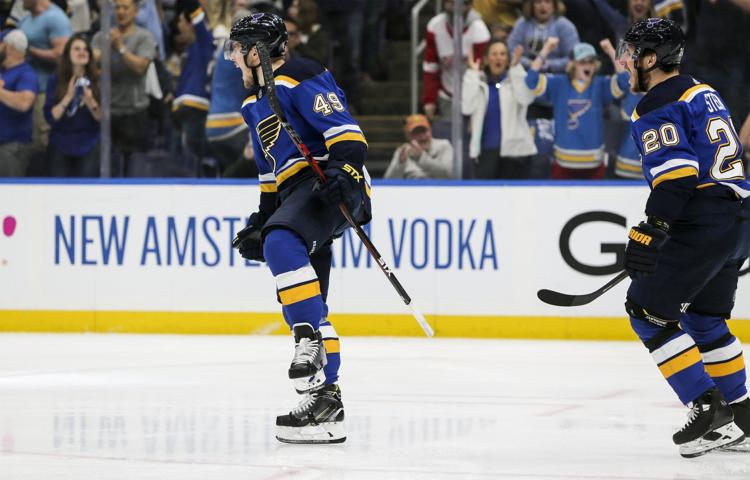 GORDO ON BARBASHEV: He was a human missile during the playoffs, delivering crushing body checks all over the ice to wear down opponents. His 87 hits in 25 games led the NHL playoffs. Like Sundqvist, he earned a one-game league suspension with that rambunctious play during the Cup Final. Like Sundqvist, he enjoyed his breakout regular season (14 goals and 12 assists) and also chipped in some playoff offense (three goals, three assists). At times their so-called fourth line with Steen was actually the Blues' best line at even strength.
Grade: A
DAVID PERRON, Forward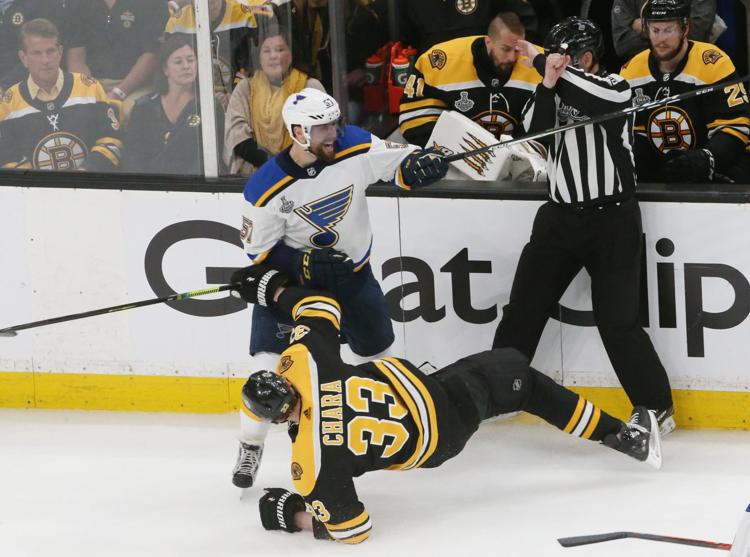 GORDO ON PERRON: He added valuable production (62 points in 83 regular season and playoff games) during his third tour with the Blues, as well as the agitation element. Perron one-upped Bruins pest Brad Marchand, and then some, with his Cup Final antics. He remained recklessly aggressive despite his extensive concussion history, putting himself in harm's way shift after shift. Perron scored 11 points in his last 12 regular season games after coming off injured reserve. Then he helped lead the postseason charge with seven goals, nine assists and a plus-4 rating.
Grade: A
VLADIMIR TARASENKO, Forward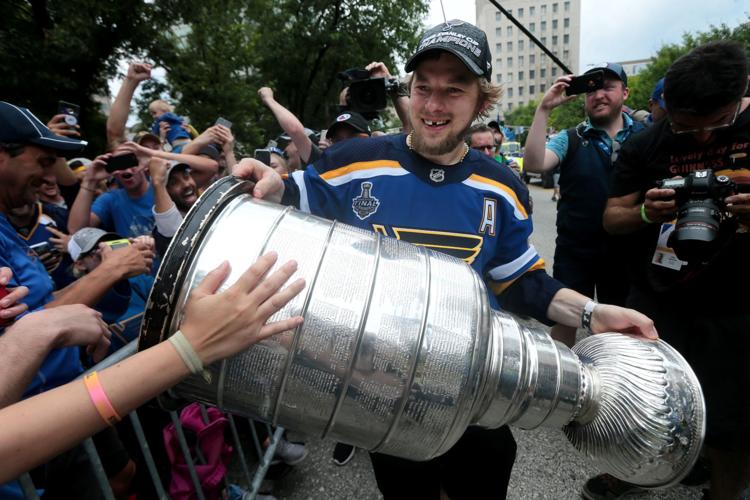 GORDO ON TARASENKO: Like many Blues, he struggled early on this season before elevating his play during the second half. Tarasenko scored 46 points in 39 regular season games during the New Year, then he scored 11 goals in 26 playoff games. He produced 80 fewer shot attempts than during the previous season, but he improved his all-around play. Tarasenko was less sheltered than the season before (58.3 percent offensive zone starts, down from 68.8 percent). He earned his plus-8 rating at even strength with solid possession metrics: 54.3 percent Corsi For and 54.9 percent Fenwick For. On the other hand, he was minus-5 during the playoffs and he had a hand in his team's dismal 1-for-18 power-play showing.
Grade: A-minus
BRAYDEN SCHENN, Forward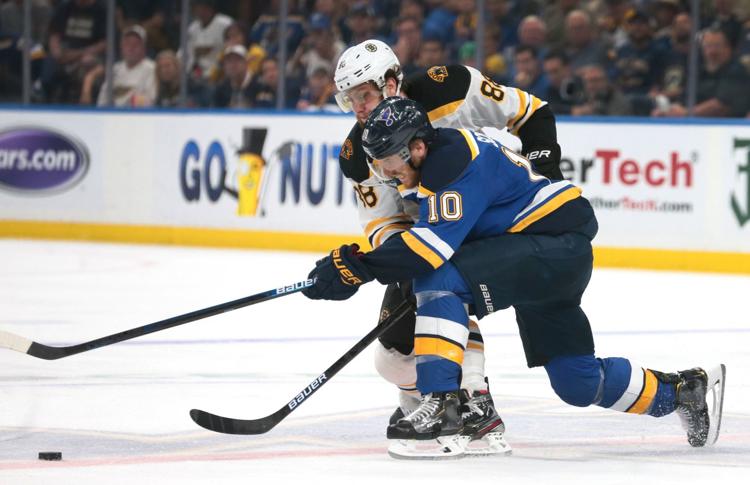 GORDO ON SCHENN: He followed a strong 70-point debut for the Blues with so-so production in the regular season (54 points in 72 games) and playoffs (12 points in 26 games). Like most of his teammates, he got stronger as the regular season progressed -- scoring 30 points in his last 31 games -- and he earned good possession metrics. Schenn scored the critical third goal in Game 7 of the Cup Final and his physical play was a plus during the postseason. His 83 hits were the second-most in the NHL in these playoffs and his 30 takeaways led the league.
Grade: B-PLUS
ROBERT THOMAS, Forward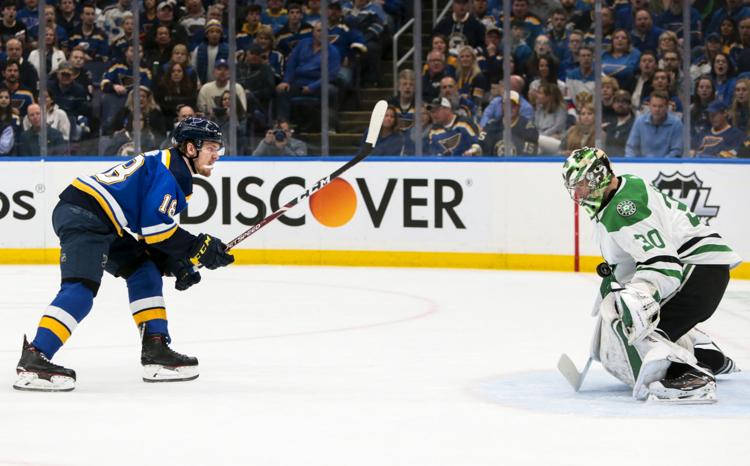 GORDO ON THOMAS: He suffered the usual rookie inconsistencies through much of the year before scoring 12 points in 15 games in March to help drive the strong Blues finish. Thomas played a key role in the Dallas playoff series, too, providing an offensive spark with Tyler Bozak and Pat Maroon. Then a wrist injury reduced his effectiveness before ultimately knocking him out of the lineup. His overall production (39 points in 91 regular season and playoff games) only hinted as his offensive potential.
Grade: B
TYLER BOZAK, Forward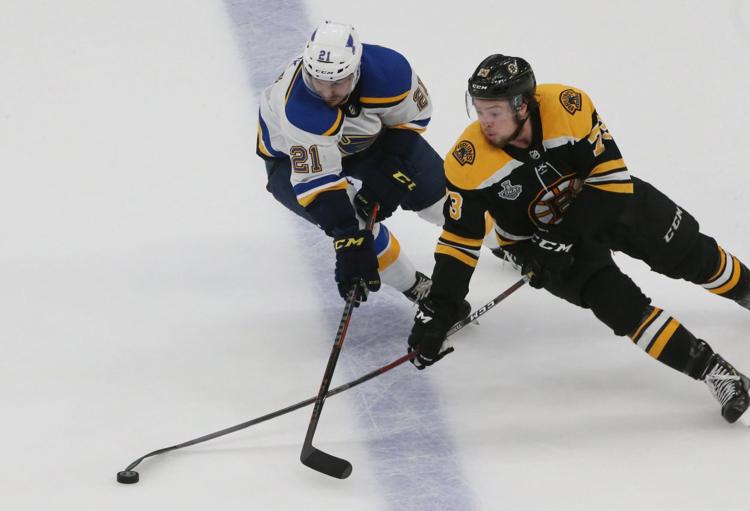 GORDO ON BOZAK: Had the Blues not added O'Reilly with that blockbuster trade with Buffalo, the Bozak addition might have gained unfavorable reviews. His free-agent deal ($15 million over three years) was a bit rich. He is a 40-point-type center and, with O'Reilly on board, the Blues could shelter him in the No. 3 slot. In the more limited role his production (38 points in 72 regular season games, 13 points in 26 playoff games) was fine. He was an asset in the faceoff circle, winning 54.3 percent of his draws during the regular season. He also had some big postseason moments in his supporting role, particularly with Pat Maroon and Robert Thomas during the Dallas series.
Grade: B
JADEN SCHWARTZ, Forward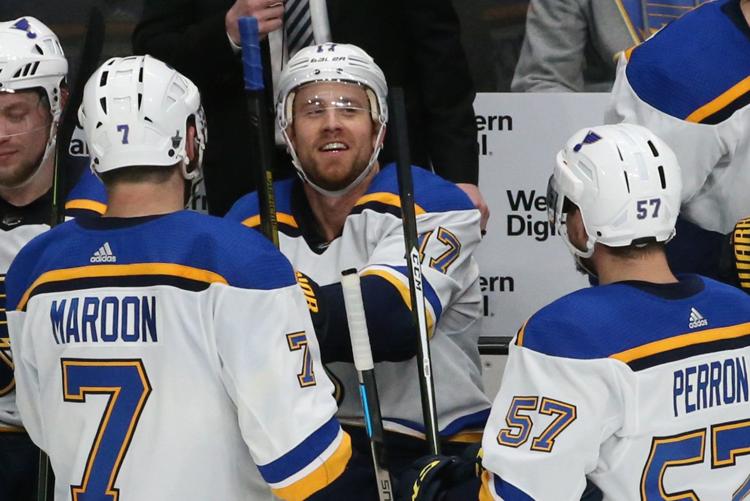 GORDO ON SCHWARTZ: How did opponents limit him to three goals in his first 41 games this season? Schwartz's all-around play was typically outstanding this season as evidenced by his strong possession metrics (55 percent Corsi For, 54.3 Fenwick For). Back in 2017-18 he started fast (35 points, plus-23 rating in his first 30 games) before suffering a broken foot. Schwartz finally picked up his offense down the stretch of this season by scoring eight goals in his last 28 games. Then he scored 12 times during the playoffs, including timely hat tricks in the series-clinching victory over Winnipeg and in the huge 5-0 victory at San Jose.
Grade: B
PAT MAROON, Forward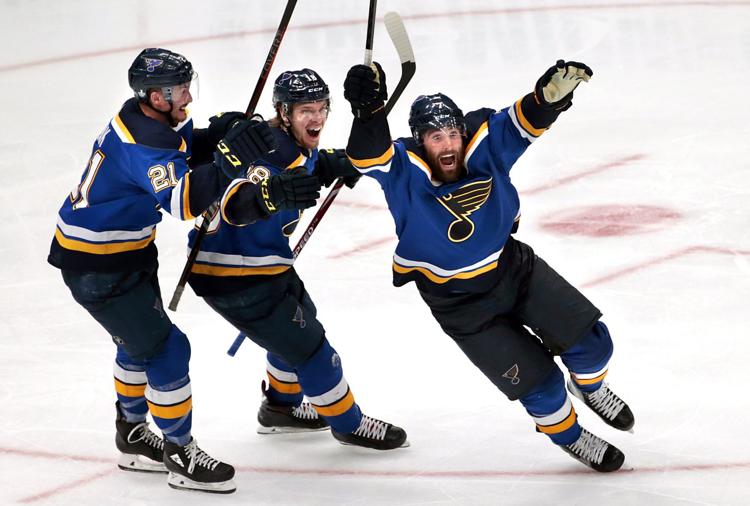 GORDO ON MAROON: After scoring 44 goals the previous two seasons, he scored just 10 in 74 games for his hometown Blues. The Big Rig finally got into gear late in the regular season, producing 12 points in his last 17 games. His physical play (54 playoff hits) and ability to control the puck down low in the offensive zone helped the Blues establish their Cup-winning identity. And Blues fans will never forget his winning goal in double overtime of Game 7 against the Dallas Stars. On balance, he enjoyed a very good homecoming.
Grade: B
ZACH SANFORD, Forward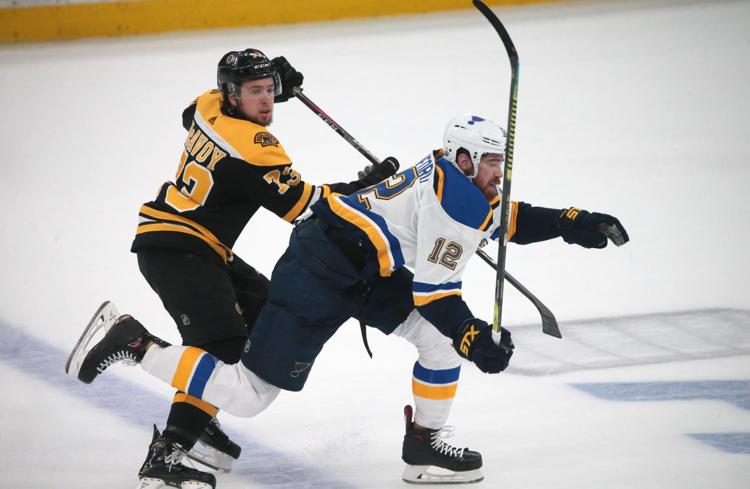 GORDO ON SANFORD: When Berube gave him a second chance in the playoffs, Sanford made the most of it by producing four points in five games during the Cup Final. His ability to blend with O'Reilly and Perron to create another productive scoring line became one of the keys to the Blues' victory. That timely success overshadowed his unremarkable regular season -- eight goals, 12 assists in 60 games -- and his three empty postseason games against Winnipeg. Sanford raised his profile heading into next season.
Grade: B
SAMMY BLAIS, Forward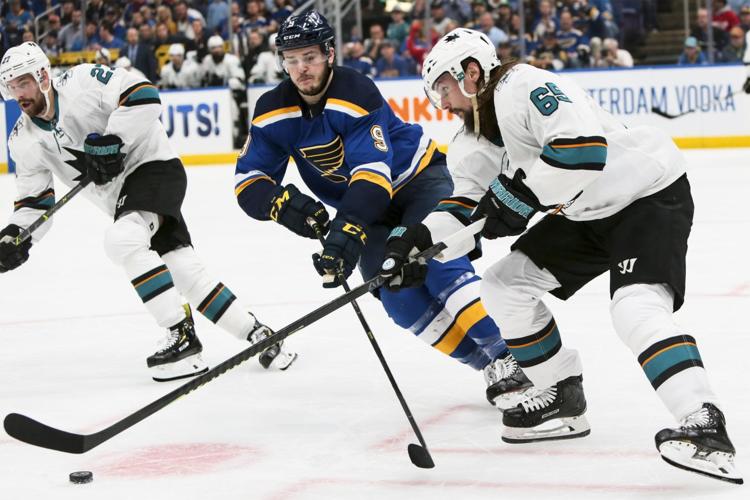 GORDO ON BLAIS: It took several tries at the NHL level, but Blais, 22, finally found his identity as a power forward that can hit with leverage and generate offensive chances as well. He had 93 hits in his 32 regular season games, then 70 more in his 15 playoff games. Blais added a goal and two assists during the postseason while playing nearly 12 minutes per game. He also handled himself like a seasoned pro during the team's post-Cup celebrations.
Grade: B
MACKENZIE MACEACHERN, Forward
GORDO ON MACEACHERN: Don't overlook his impact during the regular season while playing 29 games as a fill-in. MacEachern helped establish the north-south game Berube desired. He is a straight-line player who manages to play hard in limited fourth-line minutes. Despite averaging just 8:02 per game, he delivered 49 hits and chipped in with three goals and two assists.
Grade: B
ALEXANDER STEEN, Forward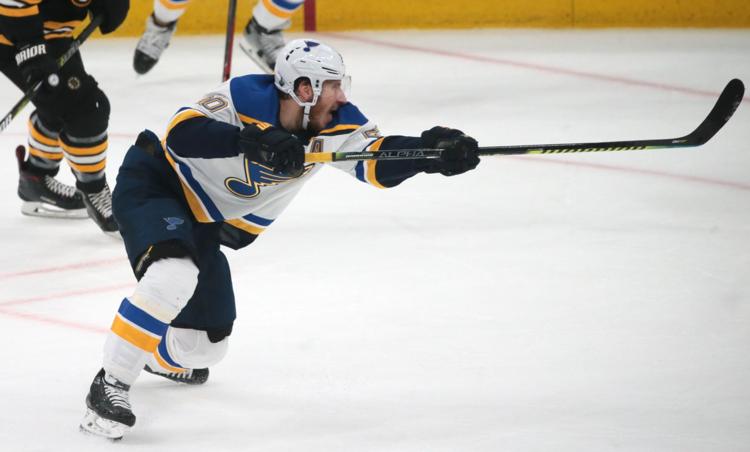 GORDO ON STEEN: He scored just 27 points (10 goals, 17 assists) in 65 games during another injury-plagued regular season. He can no longer play to his compensation level ($5.75 million against the salary cap for two more years). But Steen played a key role on his playoff checking line with Sundqvist and Barbashev. While he didn't contribute much offense (two goals, three assists, plus-2 rating) in the playoffs, his heady play with the two younger forwards gave Berube an excellent matchup line to deploy against top opponents.
Grade: B-MINUS
JORDAN NOLAN, Forward
GORDO ON NOLAN: Remember when the Blues played pond hockey against Winnipeg during an 8-4 loss? Remember how Patrik Laine scored five times in that game? The next time the teams played Nolan earned an elbowing penalty 128 seconds into the game to set the tone in a 1-0 victory. Like MacEachern, he is a straight-line player who came up from the AHL to fill in (two assists in 14 games) and help Berube establish more team toughness. For that he got to celebrate his third Cup after playing for two championship teams in Los Angeles.
Grade: B-MINUS
JORDAN KYROU, Forward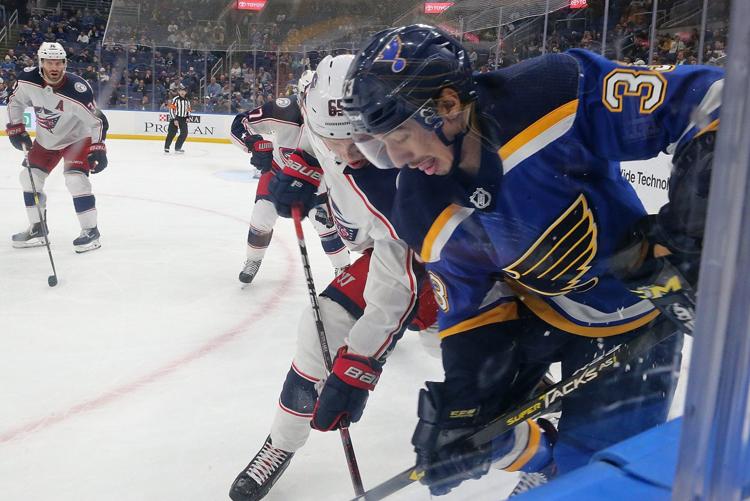 GORDO ON KYROU: He deserves an "A" for his work with the San Antonio Rampage: 43 points in 47 games as a rookie in the American Hockey League. That reaffirmed his standing as a high-end offensive prospect. But Kyrou, 21, was unable to impress Berube during his brief stints with the Blues. He had a goal and two assists while averaging just 9:40 in ice time during his first 16 NHL games.
Grade: B-MINUS
ROBBY FABBRI, Forward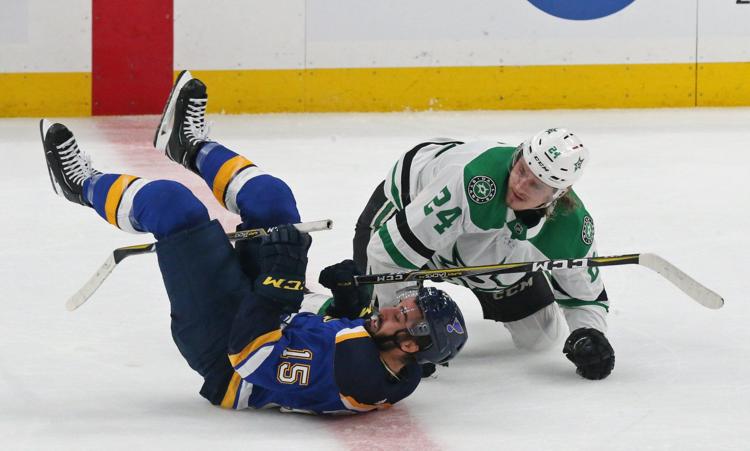 GORDO ON FABBRI: The good news: His twice-reconstructed knee held up this time. The bad news: Fabbri never regained the offensive jump that made him such a promising prospect a few years back. He scored just twice in 32 regular season games and just once in 10 playoff games. Remember, Fabbri scored 66 points in first 123 NHL games from 2015-17 before blowing up the same knee twice.
Grade: C
CHRIS THORBURN, Forward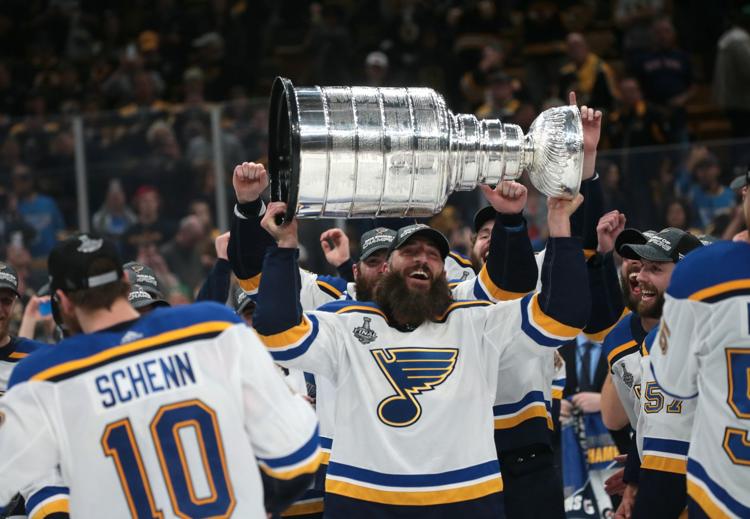 GORDO ON THORBURN: So there he was behind the hospitality area at the Blues' Stanley Cup rally Saturday night, chatting it up with actor/superfan Jon Hamm. Thorburn was a full participant in the team celebration that started on the ice in Boston and continued until . . . well, it is still ongoing actually. This came after he played two regular season shifts (1 minute, 52 seconds) for the Blues all season before spending most of it in the AHL. But he is a respected veteran and a well-liked teammate, so the Blues were glad to have him along for the ride.
Grade: Incomplete
ALEX PIETRANGELO, Defenseman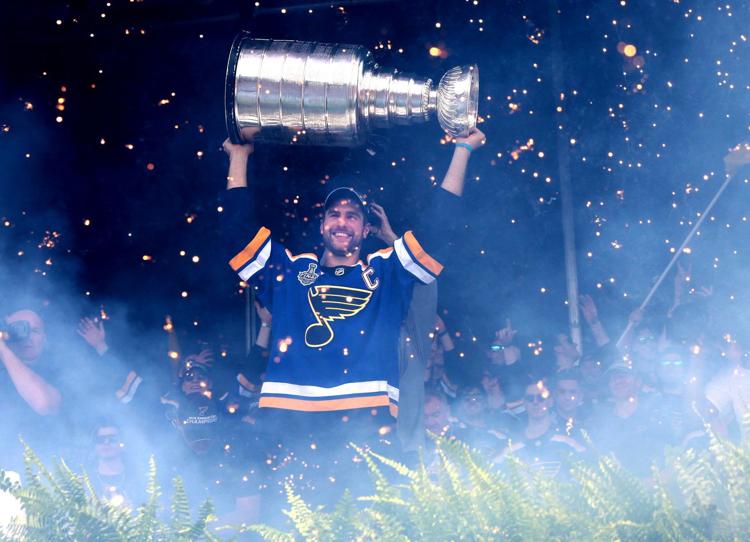 GORDO ON PIETRANGELO: He took a step back with his regular season scoring, slipping from 54 points in 2017-18 to 41 this season. But like many teammates, Pietrangelo became more productive down the stretch (30 points in his last 45 games) and finished with good possession metrics (53.7 Corsi For and Fenwick For). Then he excelled in the postseason with 19 points, a plus-5 rating and a NHL-best 48 blocked shots. He earned a special place in NHL history as the captain of a Stanley Cup-winning team. So Blues fans can quit questioning his leadership ability and demanding his trade.
Grade: A
COLTON PARAYKO, Defenseman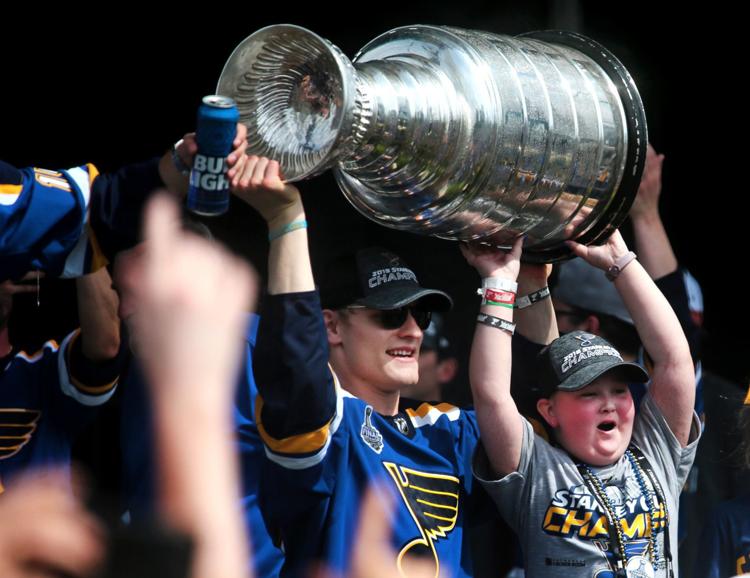 GORDO ON PARAYKO: OK, so you want him to score more with that big slot shot and his ability to rush end to end with the puck. Parayko scored just 13 points in his first 49 games before producing 15 points in his last 31 regular season games and 12 more during the playoffs. You want him to be more physical, too, with his 6-foot-6, 230-pound frame. But Parayko matured into a shutdown defender this season, earning a plus-26 rating and blocking 199 shots through the regular season and playoffs. He and Jay Bouwmeester did the heavy defensive lifting against top offensive lines during the Cup run.
Grade: A
JAY BOUWMEESTER, Defenseman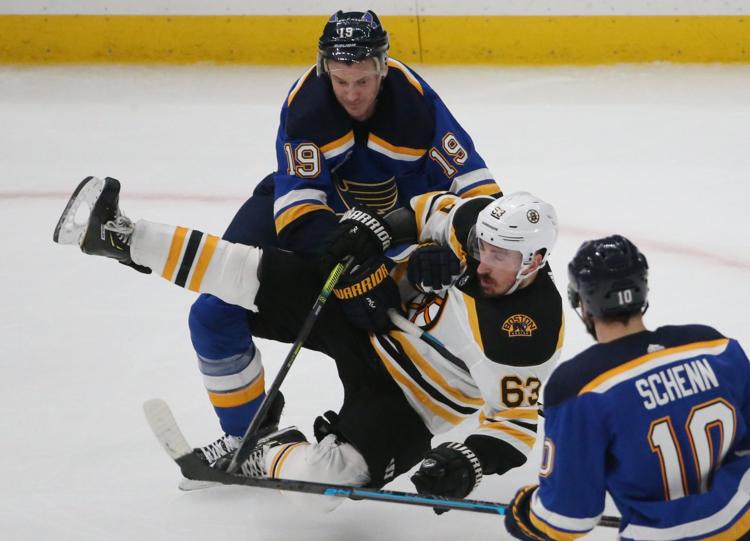 GORDO ON BOUWMEESTER: It took him a while to fully recover from hip surgery. In fact, Bouwmeester, 35, appeared to be skating around with a giant fork stuck in his back during the first few months of the season. Back on Dec. 11 he was lugging around a minus-14 rating. But he and Parayko became a formidable shutdown pairing for the stretch run and Bouwmeester became one of the team's postseason MVPs. He contributed seven assists, earned a plus-9 rating and blocked 46 shots while facing top offensive lines during the postseason. After playing 1,259 regular season and playoff games, Bouwmeester finally got to hoist the Cup.
Grade: A-MINUS
VINCE DUNN, Defenseman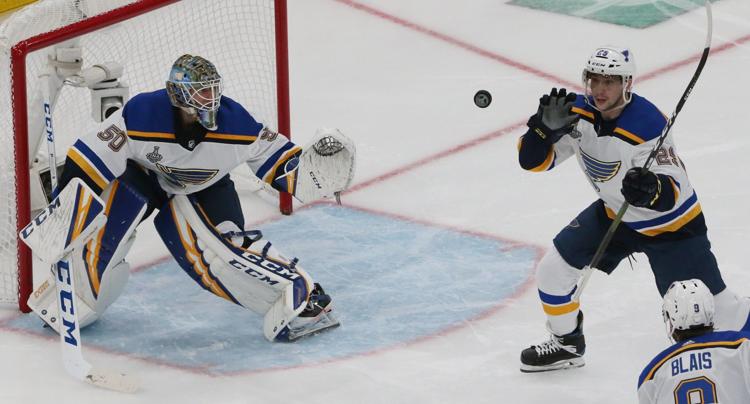 GORDO ON DUNN: He took a big step forward during his second NHL season, scoring 12 goals and adding 23 assists with a plus-14 rating. Dunn, 22, has filled the puck-moving void Kevin Shattenkirk's trade left on the blue line. He is easily the most creative point man on the Blues power play. He proved his toughness by coming back with a broken jaw to help defeat the Bruins in the Cup Final. Dunn contributed eight points in 20 playoff games, but that came with a minus-5 rating and the need to limit his exposure to high-scoring opposing forwards.
Grade: B-PLUS
CARL GUNNARSSON, Defenseman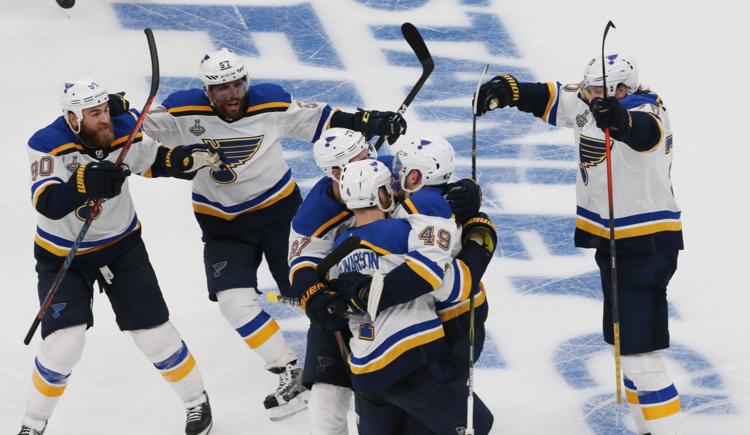 GORDO ON GUNNARSSON: After his injury-abbreviated regular season -- seven points, plus-8 rating in just 25 games -- Gunnarsson played a key role during the playoff run. He earned a plus-6 rating with just six giveaways in 19 games. The steady Gunnarsson even earned some Top 4 duty with Pietrangelo. And he earned his place in Blues lore by scoring the game-winning overtime goal in Game 2 of the Cup Final in Boston. If the Bruins win that game instead . . . well, you don't want to think about that.
Grade: B-PLUS
ROBERT BORTUZZO, Defenseman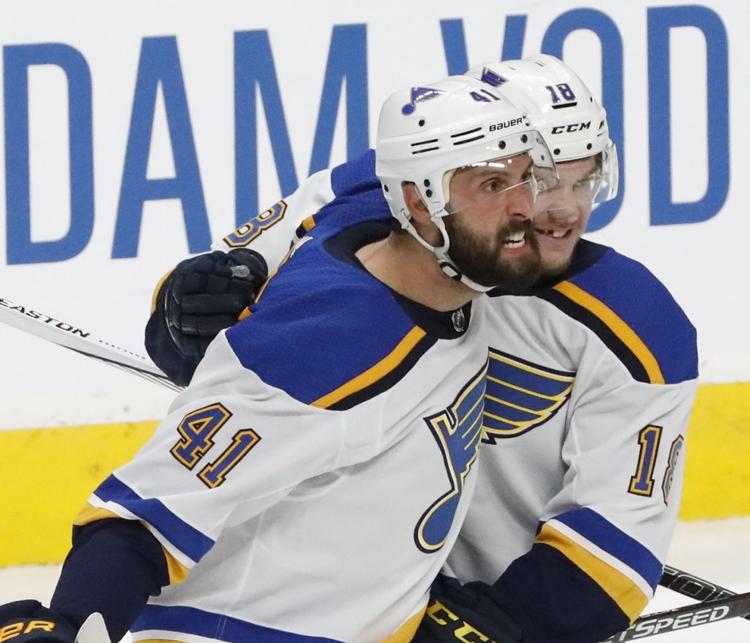 GORDO ON BORTUZZO: He blocked 23 shots, delivered 27 hits and scored a couple goals in 17 playoff games as a reliable third-pairing defenseman. Bortuzzo added an ornery streak to the lineup when called upon, but he played under control. He didn't go way out of his way looking for hits and he picked good times to pinch in. Bortuzzo had solid possession metrics (54.0 Corsi For, 55.1 Fenwick For) during the regular season. And he was plus-12 in 76 regular season and playoff games combined.
Grade: B-PLUS
CHRIS BUTLER, Defenseman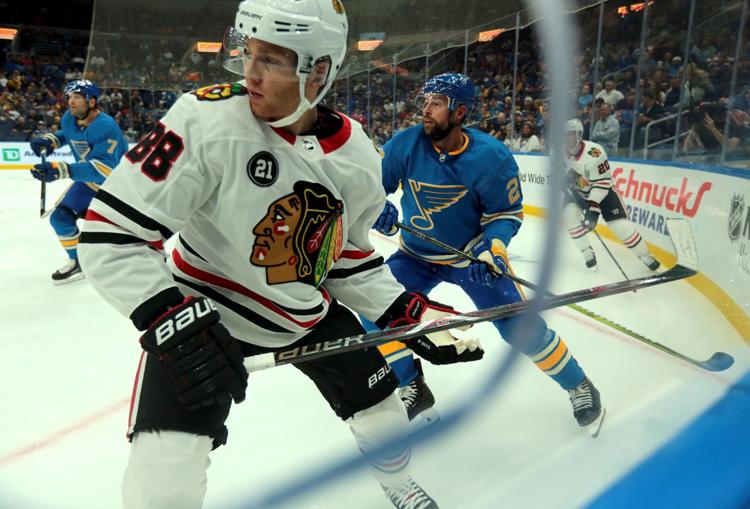 GORDO ON BUTLER:  He spent much of the year serving as captain of the Blues' American Hockey League affiliate in San Antonio, helping shepherd the organization's prospects through their transition to pro hockey. But Butler, 32, also did a solid job during his 13 fill-in games for the Blues. The native St. Louisan filled the stat sheet with one goal, one assist, a plus-3 rating, 17 blocked shots and 17 hits in his limited duty.
Grade: B
JOEL EDMUNDSON, Defenseman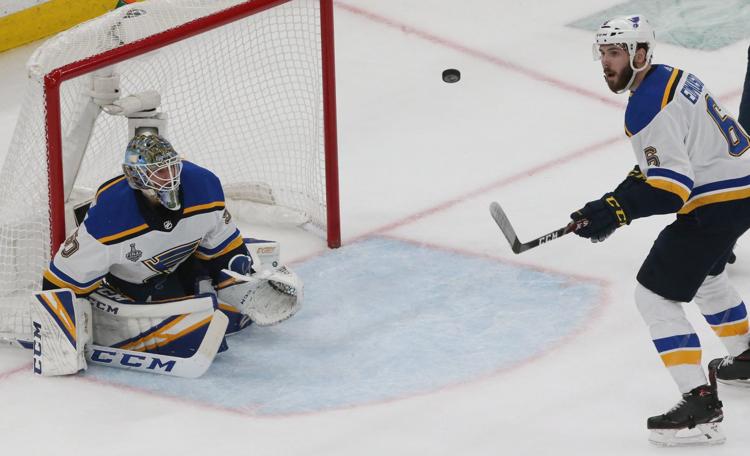 GORDO ON EDMUNDSON: The Blues hoped he would establish himself as a Top 4 defenseman this season, but that didn't happen. Sometimes Edmundson played in the Top 4, sometimes he played on the third pairing and sometimes he was a healthy scratch. He chipped in with some offense (goal, five assists) and blocked 36 shots in 22 playoff games. But his puck management was erratic. Edmundson also suffered 24 giveaways against just four takeaways in the postseason after posting a similarly bad ratio (41/9) during the regular season.
Grade: B-MINUS
MICHAEL DEL ZOTTO, Defenseman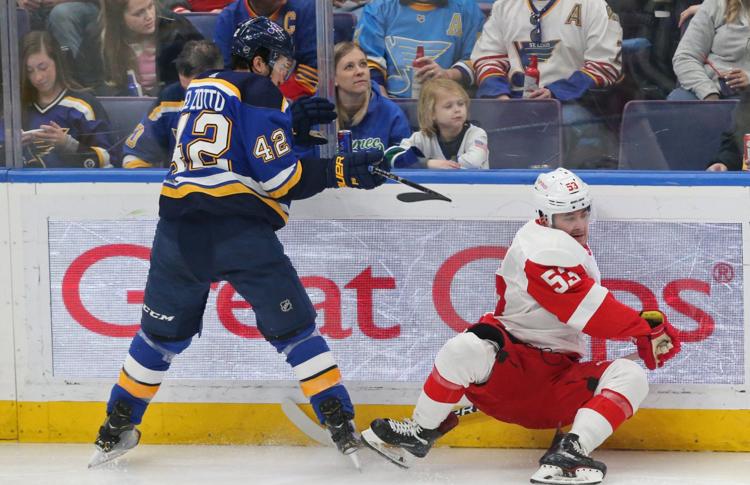 GORDO ON DEL ZOTTO: This veteran offensive defenseman arrived from Anaheim to provide late-season depth. He played for Berube in Philadelphia, so there was trust there. Del Zotto earned three assists and a minus-2 rating during his seven fill-in games as a Blue. He and Butler were among those "Black Aces" enjoying the Cup ride as extra players.
GRADE: C
JORDAN SCHMALTZ, Defenseman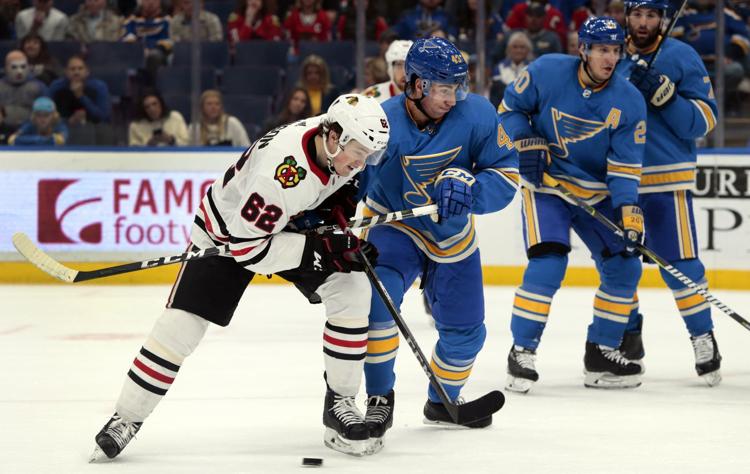 GORDO ON SCHMALTZ: He got one last chance to earn a role with the Blues and failed. Schmaltz played 20 games, earned two assists and a minus-7 rating and once again settled back into the AHL after clearing waivers. That minus-22 rating in 36 games at San Antonio didn't exactly boost his stock with the Blues or any other NHL team seeking a depth defenseman.
Grade: F
JORDAN BINNINGTON, Goalie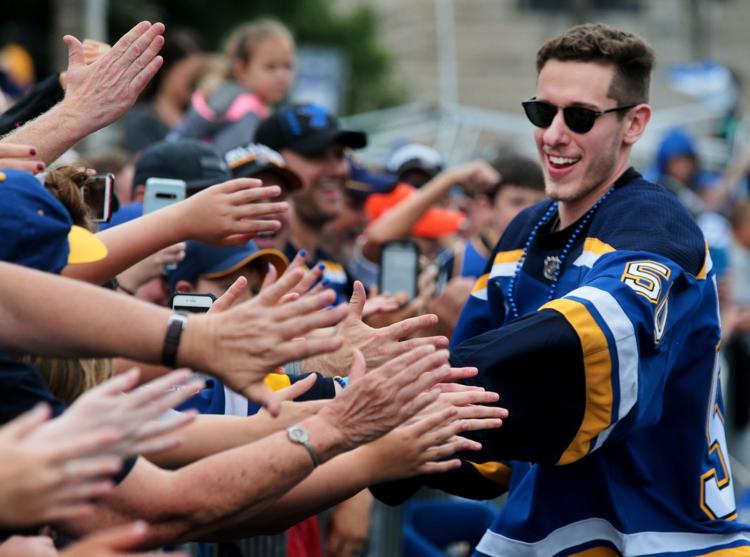 GORDO ON BINNINGTON: You know the story: He came to training camp as the No. 4 Blues goaltender and ended up saving this team's season.
Binnington went 24-5-1 with a 1.89 goal-against average and a .927 save percentage during the regular season. Then he won 16 playoff games en route to the Cup, shaking off some rough outings (six games with four or more goals allowed) along the way. The Blues liked their chances in Game 7 of the Cup Final because of his strong track record (7-2 with a 1.86 GAA and .933 save percentage) after losing the previous playoff game.
Grade: A-PLUS
JAKE ALLEN, Goalie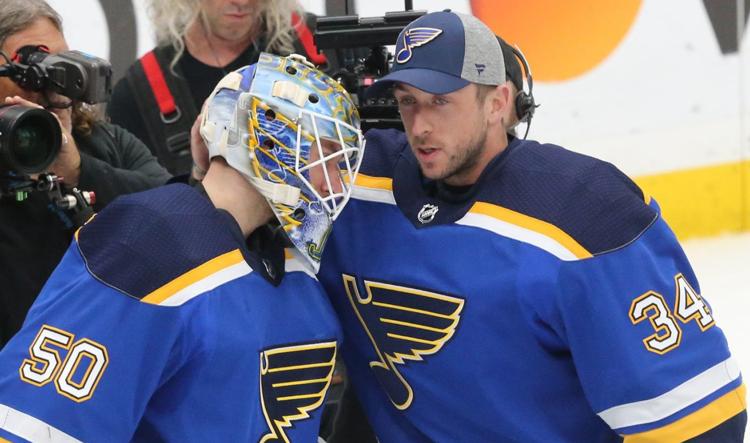 GORDO ON ALLEN: His GAA has climbed over the last five seasons: from 2.28 to 2.35, 2.42, 2.75 and 2.83. His save percentage declined over the last four seasons: from .920 to .915, .906 and .905. That's what you call a trend. This was his make-or-break season, since the team let security blanket Carter Hutton depart as a free agent. Allen broke, going 8-9-2 under the home-ice spotlight with a 3.65 GAA and an .878 save percentage. That struggle and Ville Husso's injury-ruined season at San Antonio gave Binnington his long-awaited NHL chance.
Grade: D
CHAD JOHNSON, Goalie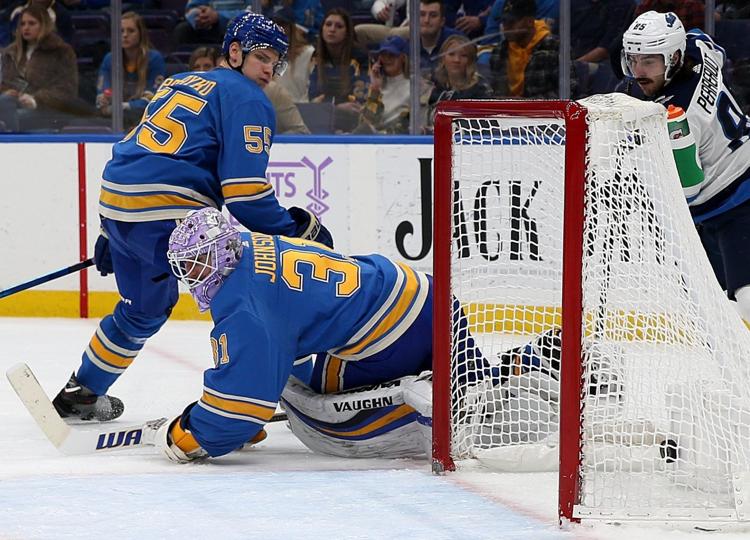 GORDO ON JOHNSON: He arrived as a low-cost free agent to replace Hutton and buy Husso more developmental time. Johnson got his chance to step up when Allen faltered, but he failed too -- thus opening the elevator door for Binnington's ascension. Johnson lasted just 10 games with the Blues before moving on to the Anaheim Ducks. He went 2-6-0 here with ugly ratios (3.55, .884).
Grade: F
TOM STILLMAN, Blues Owner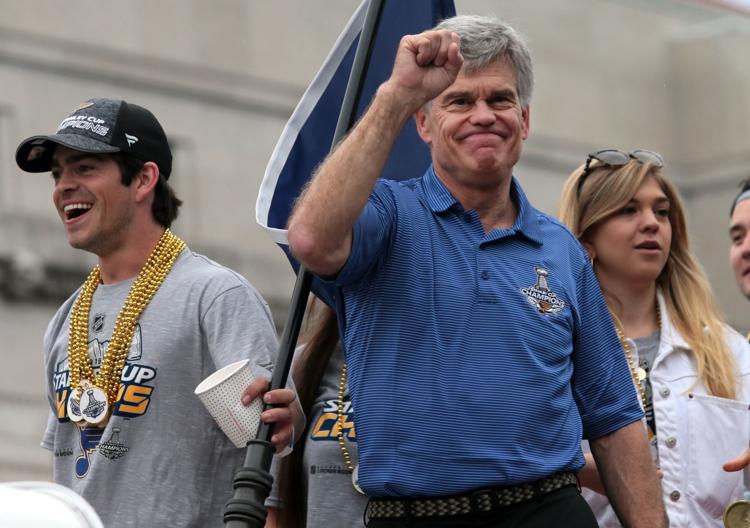 GORDO ON STILLMAN AND TEAM OWNERSHIP: Tom Stillman has provided a steady hand since Day 1, leading a group of local investors who were committed to building a championship organization. That took a heavy financial commitment, since his group had to overcome the long-term damage caused when the previous owners started running out of money. Stillman and Co. made tough decisions on the business side to run a leaner operation.
But on the hockey side, they opted to go for it -- spending to the NHL salary cap again and again. The ownership groups' accomplishments just kept coming: a trip to the Final Four in 2016, hosting the Winter Classic in 2017, getting the NHL All-Star Weekend for 2020 and, of course, the long-awaited Stanley Cup. The value of the franchise has soared and its standing in our sports landscape appears secure.
Grade: A-PLUS
DOUG ARMSTRONG, General Manager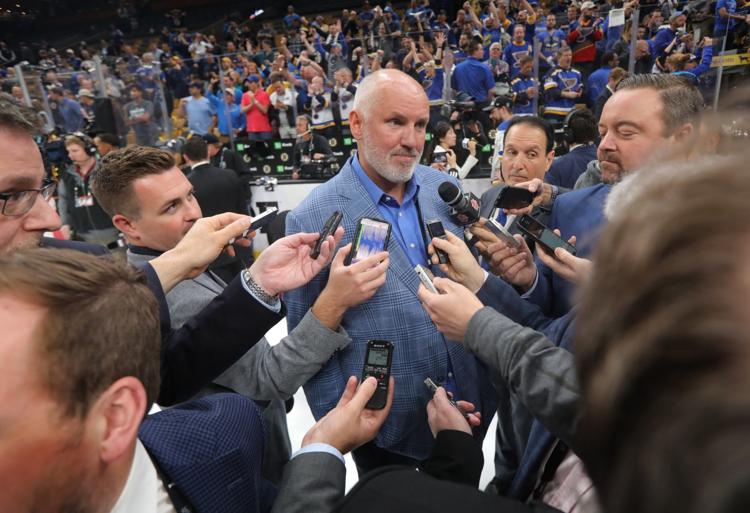 GORDO ON ARMSTRONG: General manager Doug Armstong went "all in" last summer by trading for center Ryan O'Reilly and signing free-agent forwards David Perron, Tyler Bozak and Pat Maroon. When that bolstered offense failed to produce winning hockey, Armstrong fired coach Mike Yeo and promoted assistant coach Craig Berube to replace him on an interim basis. He added consultant Larry Robinson to the coaching staff on an interim basis as well. Those changes eventually worked -- as did Armstrong's decision to ride his core veteran group despite its first-half woes.
The culmination of those moves and others (like the earlier trades for Brayden Schenn, Oskar Sundqvist and Zach Sanford) was the remarkable Cup run.
Grade: A
CRAIG BERUBE, Head Coach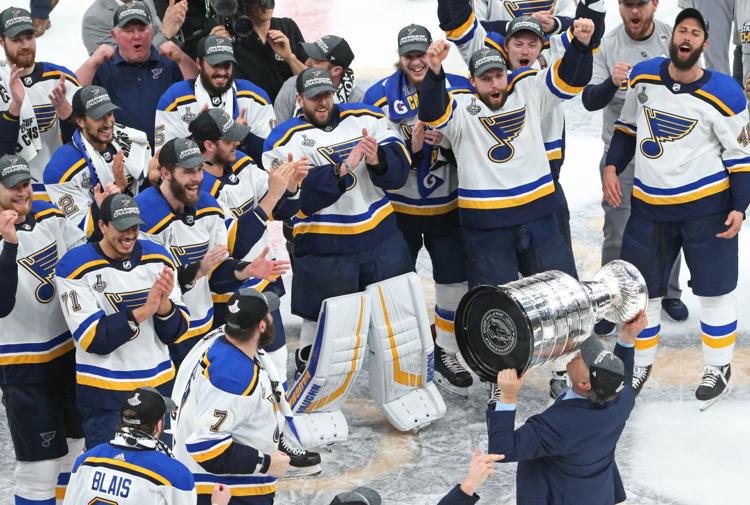 GORDO ON BERUBE AND COACHING STAFF: When he replaced Yeo, Berube said the Blues were a good team that lacked confidence. How would he rebuild that? By making demands, the man known as "Chief" told reporters, starting with his very first practice. It took a while, but it worked. Along with Larry Robinson and holdover assistant coaches Steve Ott and Mike Van Ryn, Berube managed to refocus the Blues and inspire them to play a more cohesive, physical and smothering brand of hockey.
Ott's role increased during the transition and Van Ryn did a masterful job handling the defense, with input from the legendary Robinson.The Blues famously rallied from last place in the NHL to the middle of the Western Conference playoff bracket. Then they kept finding higher levels of play while beating Winnipeg, Dallas, San Jose and Boston en route to the Cup. And along the way, Armstrong quit looking outside the organization for his next coach.
Grade: A
MIKE YEO, Former head coach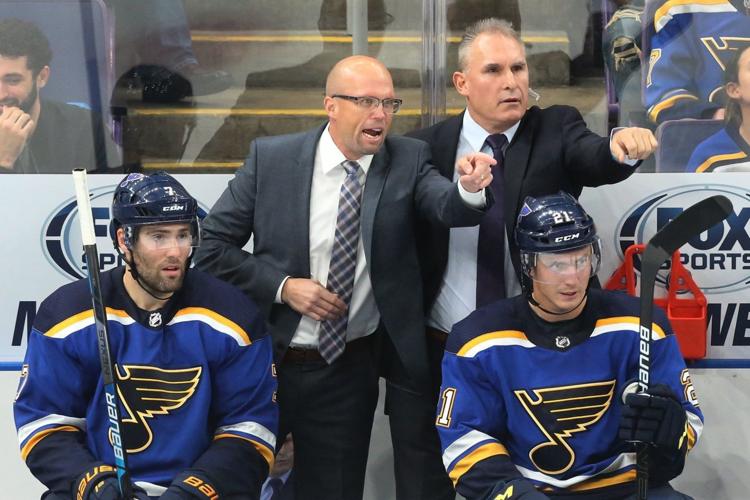 GORDO ON YEO: While the Blues were embarked on their epic Cup run, Yeo quietly joined the Philadelphia Flyers organization as an assistant coach under new head coach Alain Vigneault. Let's hope Yeo didn't torment himself by watching any media coverage of the Blues' raucous celebration. For whatever reason the Blues never came together this season for Yeo. He tried all sorts of player combinations to no avail. He lost command of the group. The Blues were 7-9-3 when Armstrong fired Yeo in November. While Armstrong, the assistant coaches and the players got the chance to redeem themselves this season, Yeo did not.
Grade: F