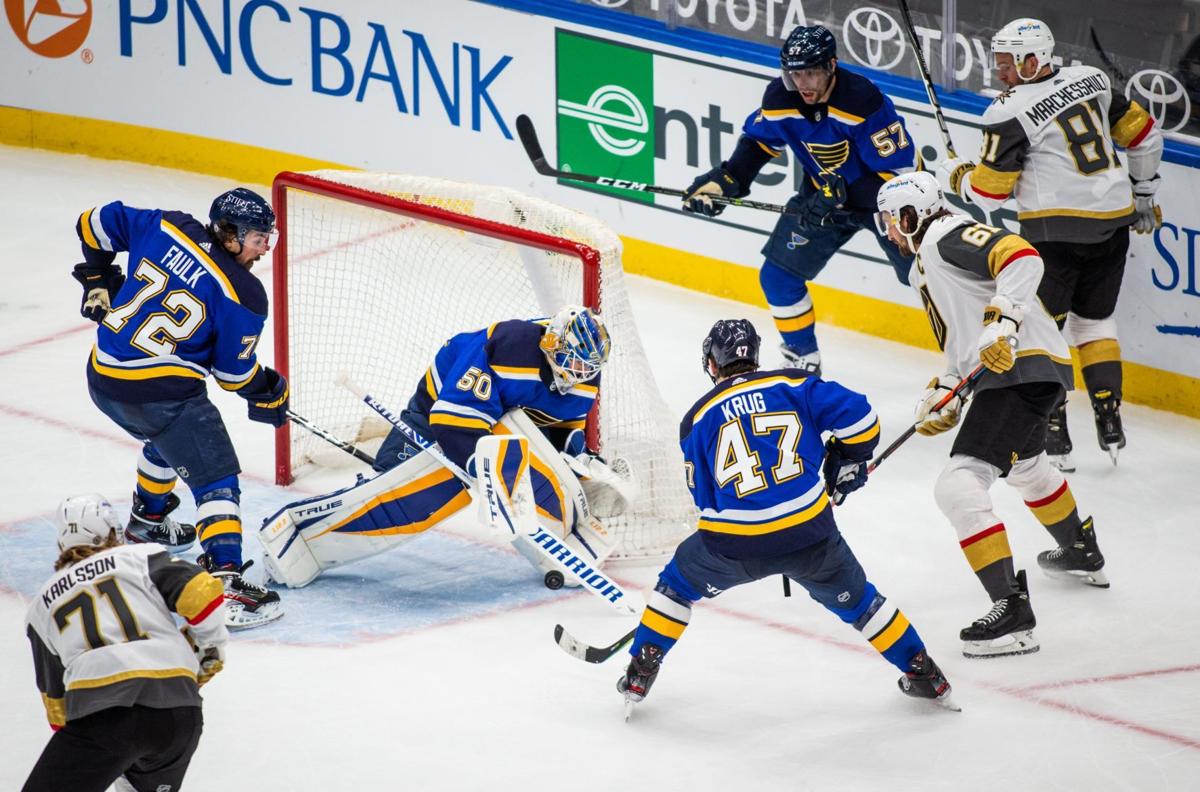 After spending virtually all season playing the bottom half of the West Division, the Blues moved up to the high-rent district Friday at Enterprise Center.
For only the fourth time this season, and the first time since late January, they faced one of the division's elite. Namely the first-place Vegas Golden Knights.
Different foe, same game. The Blues played their eighth straight one-goal game Friday, and their fourth straight overtime affair.
And for the third game in a row, they settled for just one point in the standings with an OT loss. This time is was 5-4, with Vegas' Reilly Smith producing the winner with a power-play goal at the 2-minute, 38-second mark of extra time.
If you subtract empty-net goals, 21 of 27 games have been decided by one goal in what is now a 14-8-5 season for the Blues. It's not the best way to live; not exactly conducive to calm nerves.
"Yeah, that's the way we like to do things," captain Ryan O'Reilly said. "We grind it out. I think we know there's never an easy night, especially when you play teams a couple times in a row. Even (with) that, you get to know each other well, and it makes the games a bit more stingy."
Trouble is, there has been nothing stingy about the Blues' defense this season. For the 12th time this season, the Blues yielded at least four goals. For years one of the NHL's stingiest defenses, the Blues are allowing 3.15 goals per game this season, which ranks 22nd in the league.
If that keeps up, you can forget about a deep playoff run, and coach Craig Berube wasn't happy with the defense played Friday.
"We gotta do a better job defending their rush," Berube said. "We gave 'em some opportunities in all three periods off the rush that there's no need for. We can defend those a lot better than we did. And we took too many penalties tonight, too."
A lot of the difficulties in defending the Vegas transition game — and just defending, period — resulted in relatively easy backdoor goals for the Golden Knights (17-6-1).
"It's awareness," Berube said. "Those are individual mistakes. They're awareness. And we gotta figure it out. Those plays, they shouldn't happen. We gave 'em three goals in my opinion where we have guys that should be on guys and they're not. Or they are right there, but they're not tight enough.
"And so to me, those goals, they shouldn't happen."
Perhaps the most glaring example of a defensive lapse leading to a backdoor goal came after the Blues had scratched and clawed their way into the lead.
Midway through the third period, Dylan Coghlan went off for tripping Niko Mikkola behind the Vegas net. Thirty-seven seconds into the power play, Brayden Schenn came barreling down the slot, lost his balance, and as he was falling to the ice, sent a pinpoint pass to David Perron near the net front.
Perron wasted no time with the shot. His 11th goal of the season extended his personal points streak to eight games and gave the Blues a 4-3 lead with 9:20 to play in the third.
But the Blues enjoyed only 47 seconds with the lead. Alec Martinez got behind Jordan Kyrou, skated down to the net and tied it at 4-4, setting the stage for another tight finish.
"We got beat backdoor," Berube said. "And that shouldn't happen. It's a bit of a lucky bounce, but it doesn't matter. You gotta be on your man. You gotta do your job. And we need more guys to go out there and do their job consistently."
The last of the Blues' four penalties was an all-too-obvious tripping call on Torey Krug 58 seconds into overtime. The Blues were only 20 seconds from killing off the 4-on-3 power play, when Smith scored backdoor on another goal that Berube didn't like.
"Again, to me that play is stoppable," Berube said. "It's not that difficult of a play to stop. We gotta do a better job there."
Even with all their injuries, the Blues have continued to find offense on a fairly consistent basis. After spotting Vegas leads of 2-0 and 3-1, they were able to solve goalie Marc-Andre Fleury, who came off the NHL COVID list to the Golden Knights' lineup because of a false positive test result.
The old reliables in the lineup continue to produce on offense. Perron's goal came on the power play. O'Reilly got his ninth. Zach Sanford his eighth, also on the power play. The Blues' power play has now scored in six consecutive games and is 9-for-18 in the stretch.
And in his third game back from left shoulder surgery, Vladimir Tarasenko scored his first goal of the season. And his first goal since Oct. 21, 2019 against Colorado.
"It's nice to score after that long break," Tarasenko said.
"Sammy (Blais) made a nice play, and I just need to tuck it in. It's a better feeling when I score and the team wins, so I don't want to talk too much about this goal."
Even so, Tarasenko realized the importance of the moment in his long battle back to the ice.
"Being honest here, it's a big game for me," he continued. "First game home. Now my family is able to see me play, my kids and wife. (To) be able to score a goal in front of them, they know it was a tough time."
(They were in the stands Friday at Enterprise.)
So no, scoring isn't really the issue. It's the defense.
"We gave them some good opportunities," O'Reilly said. "Normally when we're doing things our way, we kind of shut that down and limit those chances."