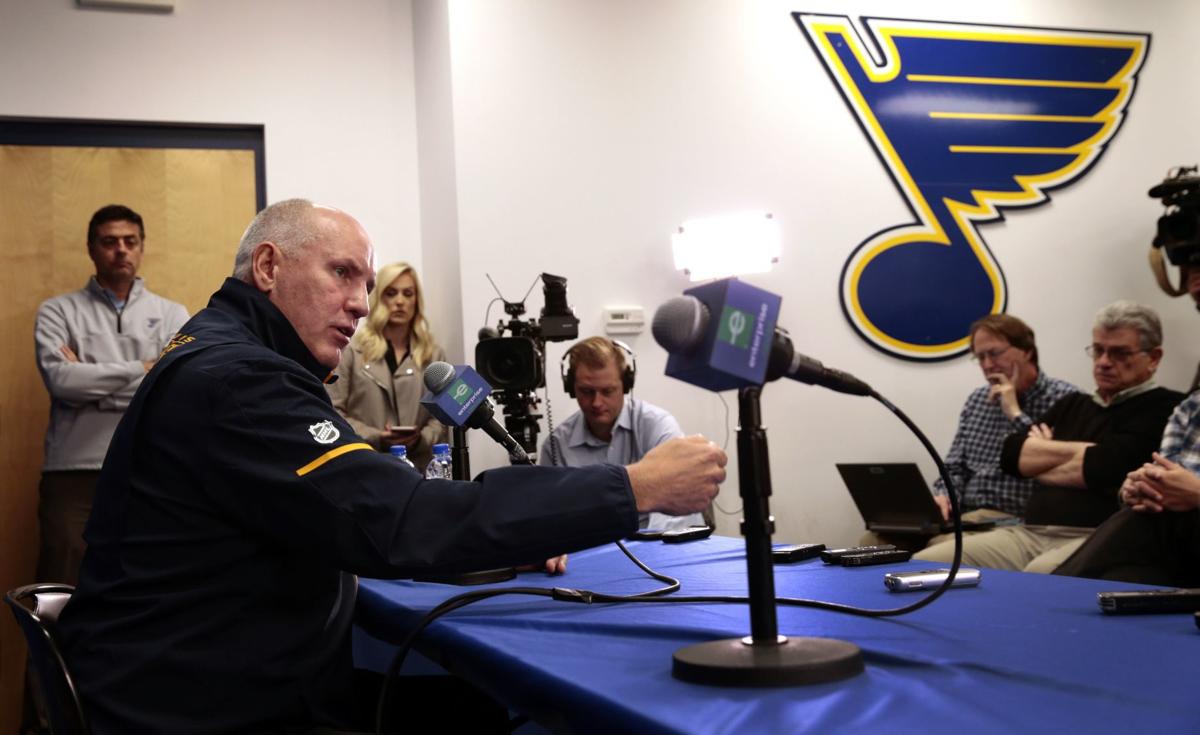 Two years ago at this time, Doug Armstrong was concerned about the direction of the 2017-18 Blues. With the team floundering, he traded veteran forward Paul Stastny to Winnipeg and the Blues missed the playoffs by one point.
Last year at this time, Armstrong was surprisingly optimistic even though the Blues were low in the standings. He said the team's play over the next month would decide whether he was buyer, seller, or stood pat at the trade deadline.
After a franchise-record 11-game winning streak he decided to stand pat, making only a minor depth deal for defenseman Michael Del Zotto. The Blues, of course, went on to win the Stanley Cup.
And now, as the Blues come out of their bye/All-Star break and with the NHL trade deadline one month away, what are Armstrong's views on the team?
"Very complimentary of our coaching staff and our players for what they've been able to perform this year to this date," the Blues' general manager said. "We're on top in the West and (third) in the league" in points. "So they've done a really good job.
"I would say at the trade deadline, you're looking to always add some depth at that certain time. I would think we're not in that group right now. I appreciate the depth right now. I don't think we need to be spending mid-to-late round draft picks on players just in case we have an injury. So I don't think we'll be adding any depth players at this time barring anything that comes up over the next month."
But hold on. That doesn't necessarily mean Armstrong will stay parked in neutral at the trade deadline.
"You're always looking to see if you can improve your team, and if we can improve our team in our top six, I think we can take a look at that," he said. "A lot of that will have to do on the updated medical information I get on Vladi."
How aggressively Armstrong pursues top-six forward help depends on a few factors, most notably the prognosis for Vladimir Tarasenko's return from shoulder surgery.
"My first choice would be to have Vladi playing sooner than later," Armstrong said. "But medically, those shoulders — the surgery he had — it's a fixed timeline of approximately six months. It's not something you can really change."
Tarasenko underwent surgery shortly after suffering the injury, on Oct. 24, with the team saying he would be re-evaluated in five months. If Tarasenko returns in five months, that's late March — or near the end of the regular season.
But if the return is sixth months or so, then you're talking late April or perhaps even into early May. That is playoff time.
"So getting Vladi back is our No. 1 thing, and if we don't do that or we don't believe he'll be back for any regular-season games, we may look at adding some support into our top six," Armstrong said.
Armstrong said he hasn't had much conversation with Tarasenko lately, but did note that Tarasenko has begun skating again.
"I know he's coming along well," Armstrong said.
Also factoring into the top six equation are Sammy Blais and Jordan Kyrou. Blais is on the cusp of returning to action after missing 10 weeks following wrist surgery. As for Kyrou, Armstrong sees him as a young talent with loads of potential.
If either of those players steps up over the next few weeks — or doesn't step up — it could influence Armstrong's decision on whether to pursue top-six help.
"It's a difficult organization for young players right now," Armstrong said. "Our coaching staff believes strongly in the veteran players. It's very difficult for a young player to get ice time."
Armstrong was speaking mainly of Kyrou here, but also players with San Antonio in the American Hockey League, such as forward Klim Kostin and defensemen Niko Mikkola, Jake Walman and Derrick Pouliot.
"But we've seen from a management perspective some really positive things in Kyrou's game that we think can help us moving forward," Armstrong said. "He's probably our best skating player. So there's elements there that when the coaches believe he can help us, he'll get in there. I think he's doing a heck of a job learning the NHL game on a day-to-day basis."
Overall, Armstrong said "there's not a glaring hole that we're looking to fix. But you're always looking to improve your team."
In varying degrees, Armstrong addressed several other topics, including the contract status of Alex Pietrangelo, the work of his goaltenders, the play of Colton Parayko, and the fact that Kyrou was not sent to San Antonio during the break:
On Pietrangelo "This is the best, certainly the best offensive year we've seen out of him since he's been a St. Louis Blue," Armstrong said of the defenseman who has 13 goals and 27 assists. "I think he's transformed his game. A lot of (credit) has to go to (assistant coach) Mike Van Ryn and (coach) Craig Berube allowing him the freedom to play more offensively. As a captain, as a leader, as a player, he's done everything. He's just having a fantastic year.
"On the business side nothing has changed from when we talked I think in September. It is what it is. You know, it only takes one phone call to get it done and we haven't had that phone call yet. So we'll just keep forging ahead and we're not going to talk about it, understanding that he's not talking about it either because it's really not necessary."
On Kyrou
Why wasn't he sent down during the break?
"I told him to get a place here, that he was an NHL player, that he had done what he could do down there" in the AHL," Armstrong said. "Probably didn't want to risk injuries either, you know. But it was discussed and talked about.
"I gave him my word that I wouldn't do it (send him down). In hindsight, going down probably wouldn't have been the worst thing for him. But I told him he didn't need to go down. He's done everything down at the American League that we wanted to see. He just has to continue to work hard off the ice and wait for the opportunity for the coaches to give him that chance to play."
On Parayko
Parayko has taken more of a defensive role this season.
"Colton, he's a great skater," Armstrong said. "I think that there's more offense there that he could express. He's got one of the best shots in the game and I'd love to see him get the opportunity to get that off more often, putting himself in the situation.
"I know Al MacInnis and Larry Robinson have talked to him, not recently but over time about just trying to get the opportunity to get that shot off. But when you're getting no special-teams play it's very difficult to get in those situation, too.
"So I would say he's been a good player. I think there's more there. He has to find a way to push and prod his way into those situations offensively."
On Allen
Goalie Jake Allen has resurged this season after losing the No. 1 job to Jordan Binnington last year.
"Jake's a veteran player and I think in any walk of life if you do anything for a long time, you're gonna have high stretches and low stretches," Armstrong said. "Jake, he was going through a difficult stretch last year but he's still a No. 1 goaltender.
"Binnington came in and took that job (last season). Jake just asked for an opportunity to come back here and compete, and I think he's had a really good season."
On Binnington
The goalie's statistics (2.58 goals-against average, .912 save percentage) are down from last year (1.89 goals-against average, .927 save percentage).
"Well, I look at the wins," Armstrong said. "We love the number of wins (22). I think he's done fine. He set the bar extremely high obviously coming in off of last year. But as a team I think he gives us an opportunity to win most nights, if not all nights.
"Like everyone, he has a bad game here and there. But he makes the big saves when we do have breakdowns. I think he's been really good. And I think he's learning what it takes to have that added pressure of being the No. 1 goaltender. He's handled it very well."
---
Blues grades at the break
DAVID PERRON, Forward
GORDO ON PERRON: With Vladimir Tarasenko shelved by shoulder surgery, Perron stepped up to become the team's top shooter. He leads the Blues with 230 shot attempts and 21 goals, eight of them game-winners. He is the top power-player producer with 25 points. He made the All-Star Game as one of the "Last Men In," as voted by fans, and the honor was well-deserved.
Grade: A
RYAN O'REILLY, Forward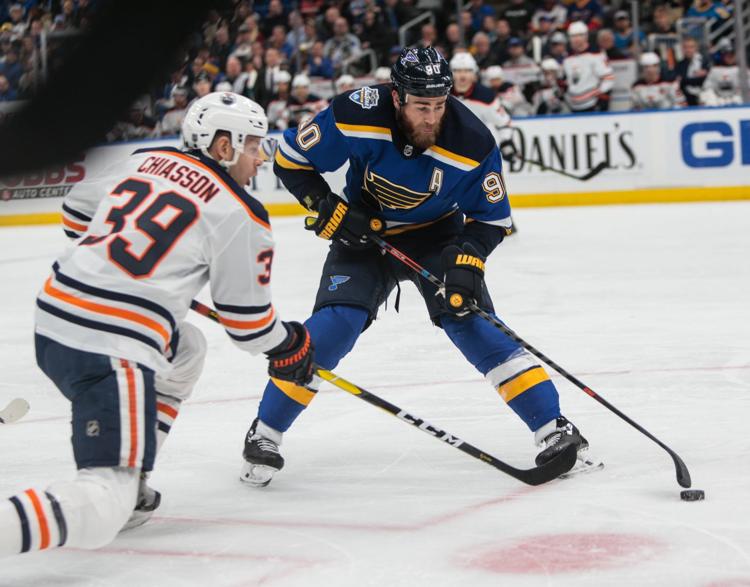 GORDO ON O'REILLY: He has checked most of his boxes this season. Checking? Yes, with his team-high 52 takeaways, 29 blocked shots and positive possession metrics. Face-off wins? Yes, with 56.9 percent success, Playmaking? Yes, 34 assists in 49 games. Scoring goals? Ah, not so much. O'Reilly scored just nine goals overall and just two in 25 home games. But his leadership on and off the ice has kept the Blues atop the Western Conference.
Grade: A
VLADIMIR TARASENKO, Forward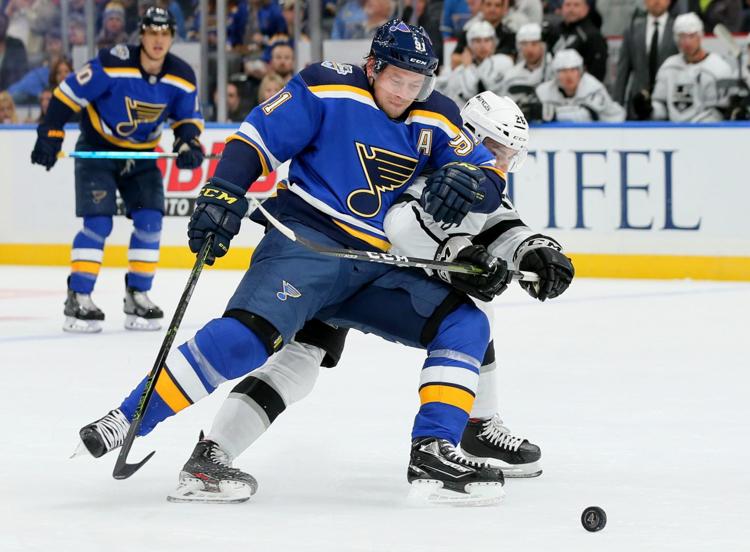 GORDO ON TARASENKO: He played just fine until suffering another shoulder injury. He scored 10 points in 10 games and stayed engaged physically (17 hits, seven blocked shots). Tarasenko earned a minus-2 rating, but good possession metrics in his limited duty. The power-play has clicked well in his absence, so it will be interesting to see how he is deployed if he makes it back from surgical repairs this season.
Grade: A-minus
JADEN SCHWARTZ, Forward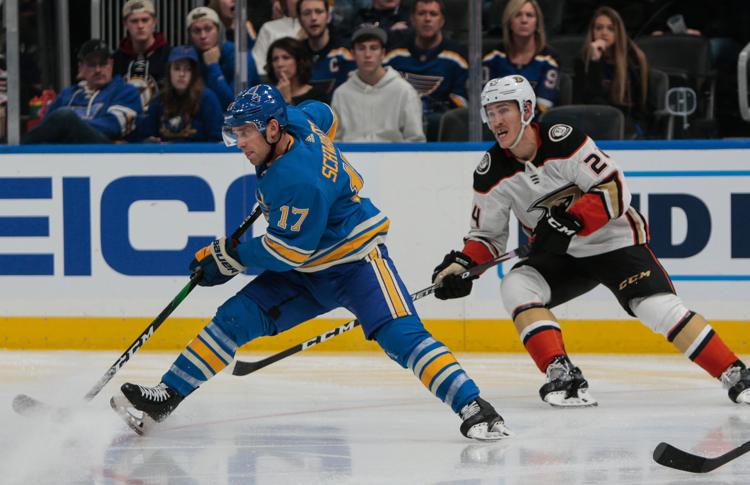 GORDO ON SCHWARTZ: Last season he scored just 11 goals in 69 regular-season games. Schwartz has worked diligently on his net-front finishing skills and gained a nice payoff: 16 goals with a 14.4 percent conversion rate. He has regained his skating jump and become ever more tenacious on the forecheck. His 33 takeaways trail only O'Reilly on this team. But his plus-minus rating of minus-6 is worst among Blues forwards.
Grade: A-minus
OSKAR SUNDQVIST, Forward
GORDO ON SUNDQVIST: It's hard to believe he scored just two goals in his first 70 NHL games. He broke out for 14 last season in his supporting role and he has 11 in 43 games this season despite his 63.3 percent defensive zone starts. Sundqvist plays a physical game (47 hits) and checks tenaciously at both ends of the ice (21 blocked shots, 31 takeaways). He isn't great on faceoffs (44.2 percent), but that is secondary assignment for him on this team.
Grade: A-minus
SAMMY BLAIS, Forward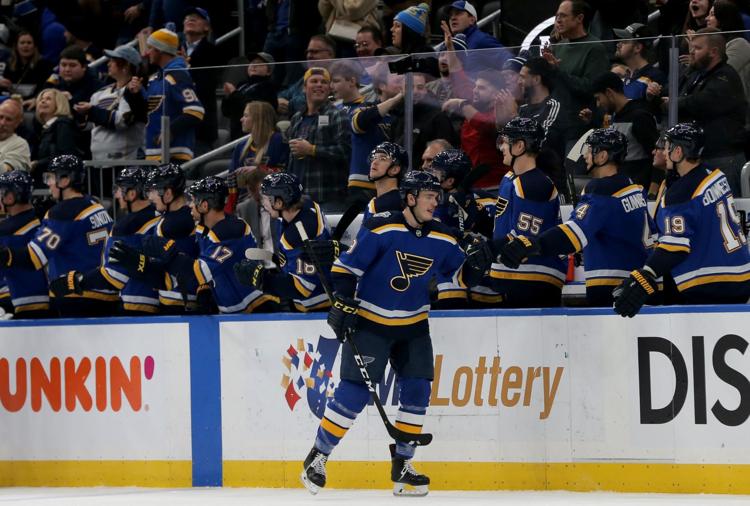 GORDO ON BLAIS: Given his lengthy absence due to wrist surgery, we can forget how impressive he was earlier this season. Blais delivered 70 hits in just 20 games. He scored five goals, all at even strength, and built strong possession metrics. It's no wonder coach Craig Berube is such a fan.
Grade: A-minus
ROBERT THOMAS, Forward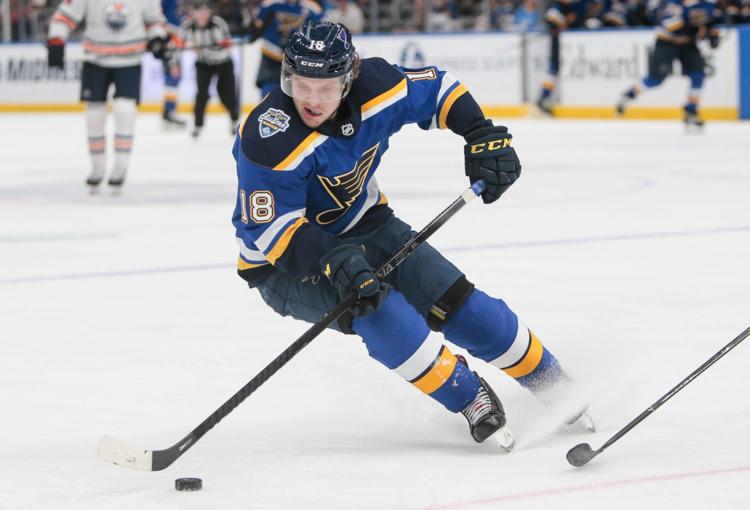 GORDO ON THOMAS: After producing just three goals and one assist in his first 16 games, Thomas emerged as an effective playmaker, producing 23 points in 28 games since then despite averaging just 14 minutes of ice time overall. He has 25 points at even strength and a plus-11 rating. He is at his best playing center, although he struggles on faceoffs with just 42.8 percent success.
Grade: A-minus
BRAYDEN SCHENN, Forward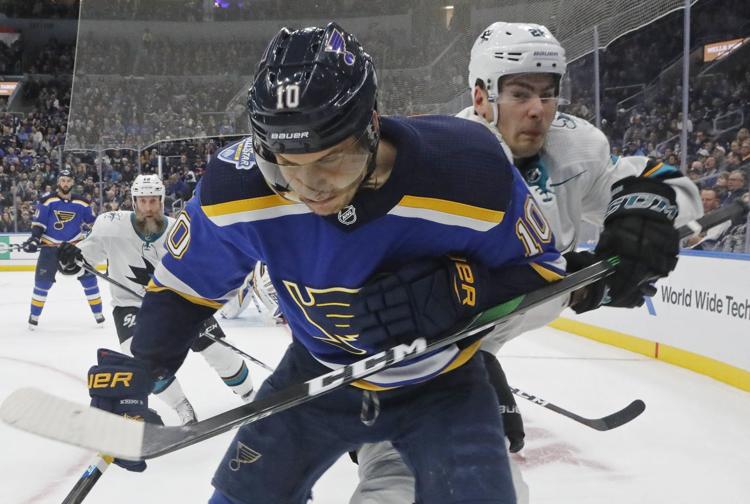 GORDO ON SCHENN: He bounced back from a tough 2018-19 campaign to score 17 goals this season, matching last year's total. His 75 hits rank second on the team. Schenn isn't great in the faceoff circle (49.2 percent success) and he has more giveaways (28) than takeaways (18). His minus-5 rating is second-worst on the team, but he still has positive possession metrics.
Grade: B+
TYLER BOZAK, Forward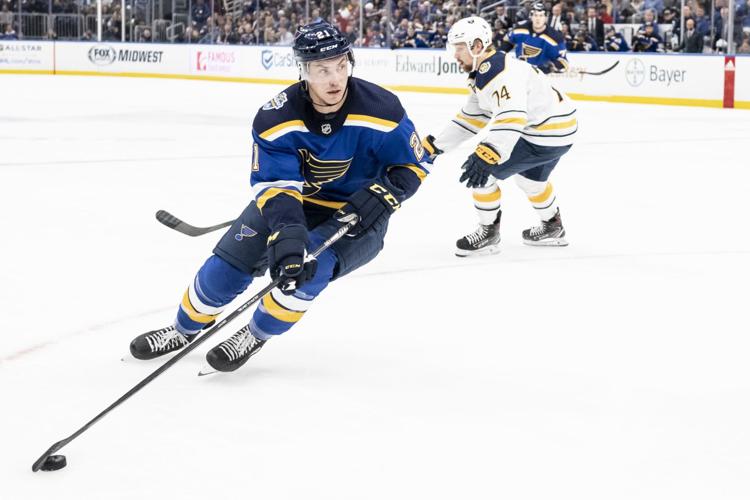 GORDO ON BOZAK: He moved to the wing and found tremendous chemistry with Thomas on the No. 3 forward line. After producing just 11 points in his first 31 games this season, Bozak has 13 points in his last 17 games. He is the team's second-best face-off man (54.7 percent success) and that helps offset Thomas' struggles there. He is plus-8 with 22 takeaways, but his possession metrics are just OK.
Grade: B+
IVAN BARBASHEV, Forward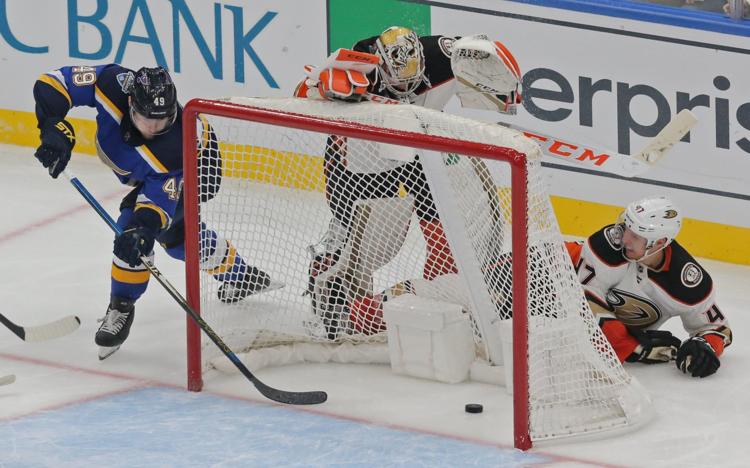 GORDO ON BARBASHEV: First and foremost, he still embraces his role as a human missile. His 102 hits leads the team by a wide margin. He uses his speed to hit with leverage. Barbashev fills mostly a checking role, with 61.7 defensive zone starts, but he chipped in with 20 points with a plus-4 rating in 47 games. He's not great on faceoffs (47.1 percent) and his possession metrics weren't great either.
Grade: B+
MACKENZIE MACEACHERN, Forward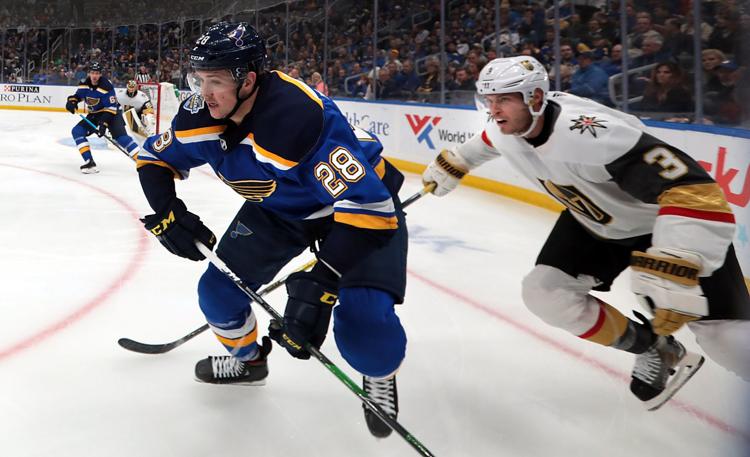 GORDO ON MACEACHERN: Berube savors reliable, energetic straight-line players who play the body and drive the net. Fourth-line forwards have a simple but demanding assignment: get the puck deep, keep the puck deep, then get off the ice. MacEachern has embraced that role and earned regular work over more highly touted prospects. He has 67 hits in 42 games despite averaging just 8:58 in playing time.
Grade: B+
ALEXANDER STEEN, Forward
GORDO ON STEEN: He was invisible offensively until New Year's Eve. He produced no goals and five assists in his first 24 games this season. But since Dec. 31 he has four goals and five assists while moving up into some Top 6 work at forward. He is a terrific penalty killer who has blocked 29 shots in 33 games. His excellent checking at even strength is reflected with his plus-12 rating. And Steen's leadership is highly valued by his teammates and the coaching staff.
Grade: B
JORDAN KYROU, Forward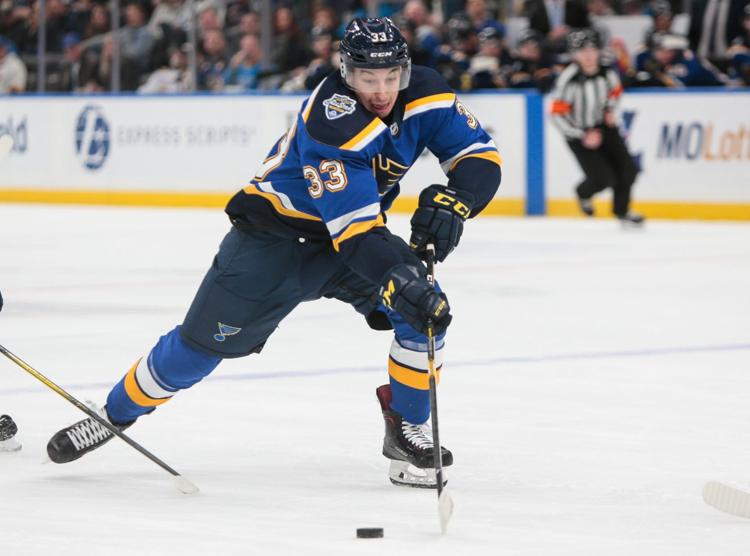 GORDO ON KYROU: It would be fun to see what he could do in a scoring-line role with scoring-line minutes. He produced two goals, two assists and a few highlight reel flourishes in 12 games while shifting between a Top 6 role and a fourth-line assignment. Kyrou is averaging just 12:19 of ice time when he does play — and he hasn't played since Jan, 9. He needs to get stronger on the puck, but he's not going to learn much while sitting around.
Grade: B-minus
ZACH SANFORD, Forward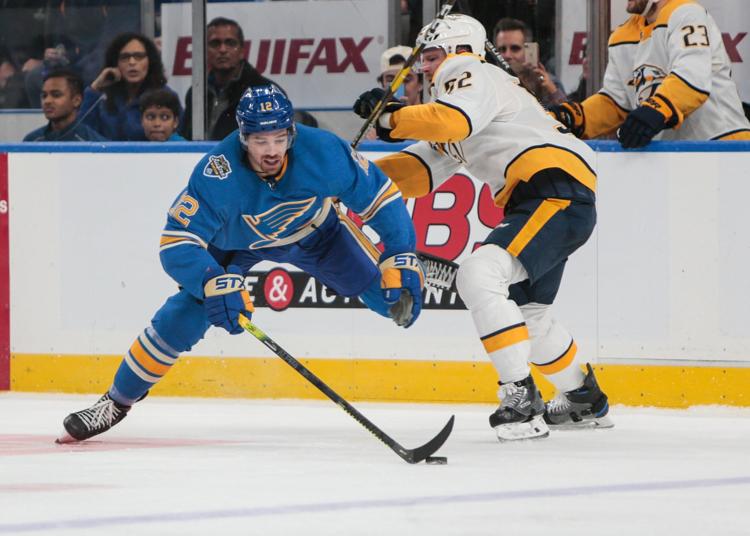 GORDO ON SANFORD: He went into the break on a high note with four points in his last four games. He has been playing a more robust game overall, answering Berube's challenge to use his size. Sanford has 57 hits in 36 games this season after delivering just 48 in 60 games last season. But he is still striving to earn a regular role against firm competition for playing time.
Grade: C+
JACOB DE LA ROSE, Forward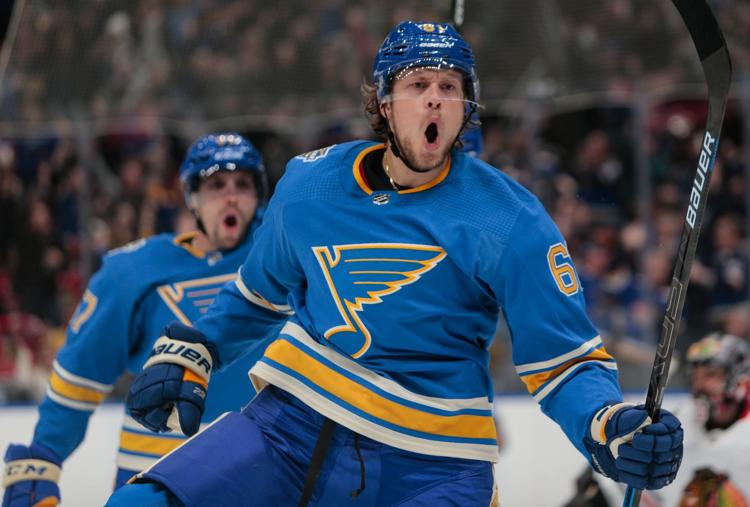 GORDO ON DE LA ROSE: The Blues sent some offensive upside in Robby Fabbri to Detroit to gain another fourth-line soldier in de la Rose. He embraced his role after coming over from the Red Wings, delivering 66 hits in 28 games. De la Rose has chipped in as a penalty killer, but he doesn't add much offense (one goal, four assists) and he isn't good in the faceoff circle (43.8 percent). He isn't as versatile as other Blues forwards and he may not see much action if the Blues get healthier for the stretch run.
Grade: C
TROY BROUWER, Forward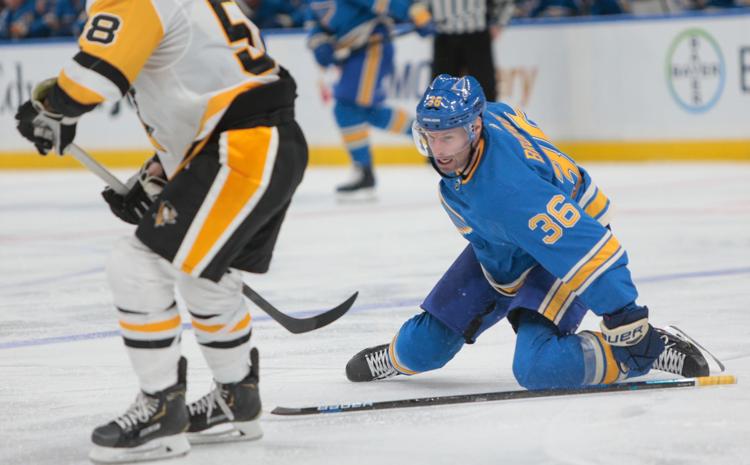 GORDO ON BROUWER: The Blues value his grit and veteran presence, but they haven't had much need to actually deploy him lately. Brouwer hasn't played since Dec. 18. He scored one goal in 10 games and while throwing his body around for 19 hits and five blocked shots.
Grade: C
NATHAN WALKER, Forward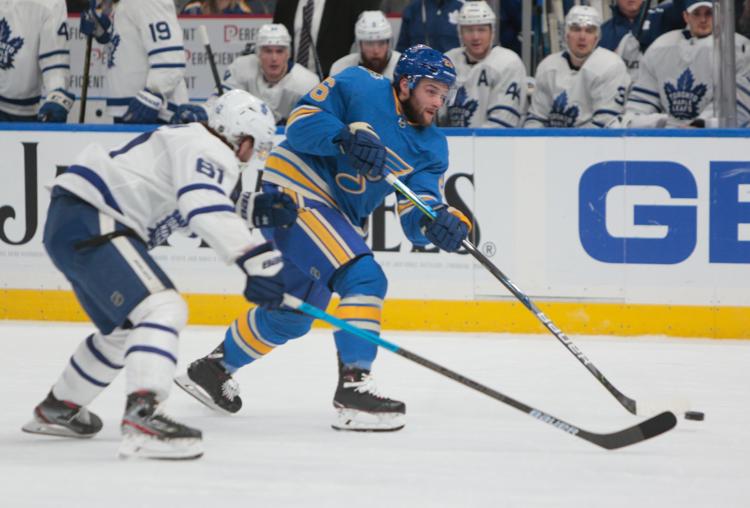 GORDO ON WALKER: He generated a little buzz during his five games filling in. He produced a goal and an assist while playing with the expected energy. Walker is a solid AHL veteran who adds solid depth, but it will take multiple injuries to get him much Blues playing time down the stretch.
Grade: INCOMPLETE
ALEX PIETRANGELO, Defenseman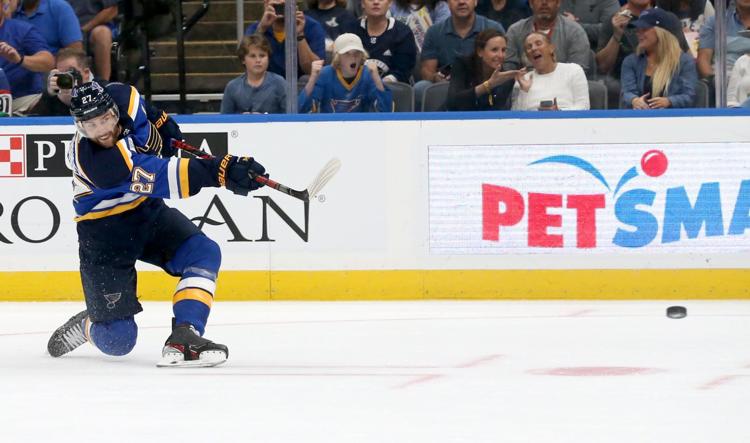 GORDO ON PIETRANGELO: It's hard to imagine a player performing better in the walk year of his contract. Pietrangelo has 13 goals (matching last season's total for 70 games) and 40 points in 49 games. He has a plus-12 rating and excellent possession metrics. He has racked up 20 power-play points, five more than all of last season, while quarterbacking the team's first unit. If the Blues keep winning he should get some Norris Trophy votes. If he wants to chase every last dollar on the open market this summer he could attract some huge offers.
Grade: A+
COLTON PARAYKO, Defenseman
GORDO ON PARAYKO: After flashing considerable offensive promise earlier in his career -- scoring 33 or more points in his first three seasons -- he has settled into more of a defensive role on this deep team. Parayko produced just two goals and 11 assists in 42 games while seeing limited power-play duty. He blocked a team-high 75 shots despite losing time to an upper-body injury. His 55 hits lead all Blues defensemen. While he was a plus-3, he had more giveaways (27) than takeaways (22) and his possession metrics were not great.
Grade: A-minus
VINCE DUNN, Defenseman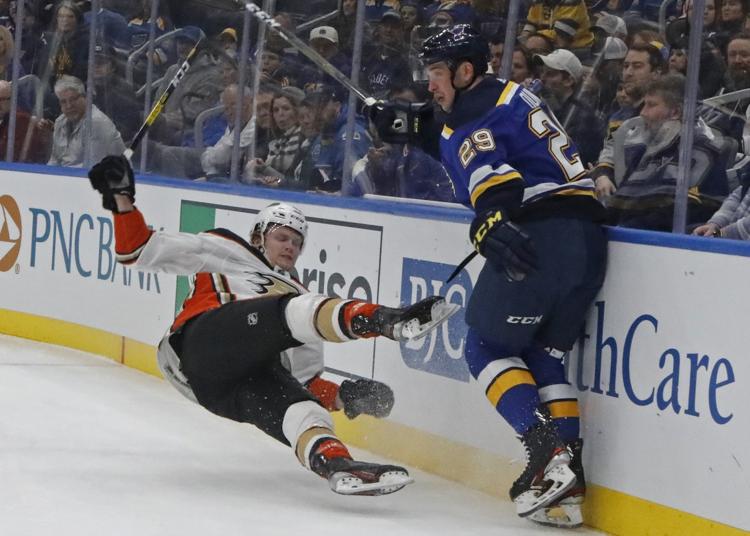 GORDO ON DUNN: He hasn't been as sheltered this season (55.9 percent offensive zone starts) as last season (61.1 percent). In fact, he has moved up to see some Top 4 duty. He is plus-14 with strong possession metrics, due in part to his usage. He has improved his giveaway rate from last season and his point production (seven goals, seven assists) would improve with more power-play time (just 1:28 per game) this season. He is playing a more physical game, at coach Berube's urging, and his fight with Jacob Trouba reminded us he won't won a Lady Byng Award.
Grade: B+
NIKO MIKKOLA, Defenseman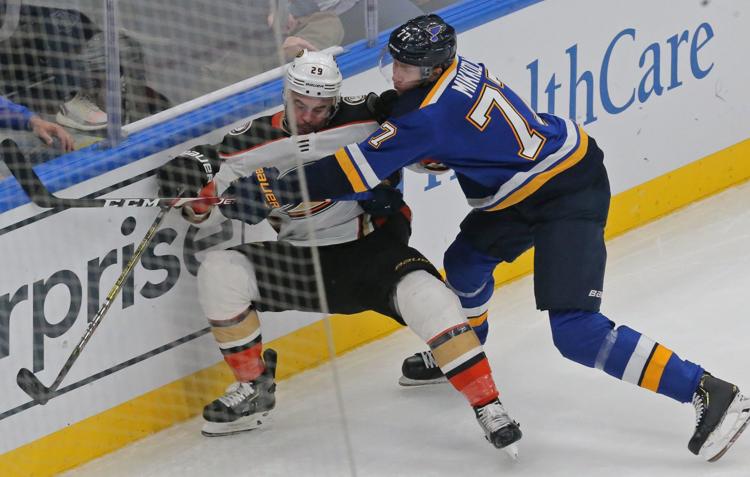 GORDO ON MIKKOLA: His five-game sample was most impressive: one assist, plus-3 rating, just one giveaway and spectacular possession metrics. Mikkola used his big reach well and was very strong on the puck even though he is still growing into his 6-foot-4 frame. He averaged just 14:22 per game in ice time and got sheltered usage (65.9 percent offensive zone starts), but his efficiency went a long way toward offsetting Parayko's recent absence.
Grade: B+
JAY BOUWMEESTER, Defenseman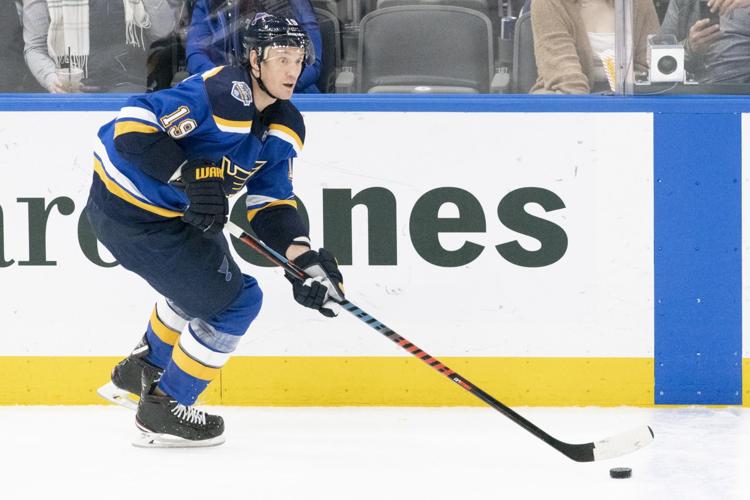 GORDO ON BOUWMEESTER: He struggled through half of last season while coming back from hip surgery. This season Bouwmeester came out flying at the age of 36 and shouldered a slightly bigger workload. He keeps doing the dirty work, with 57.8 percent defensive zone starts a team-high average of 2:43 time on ice shorthanded. Like Parayko, he has more giveaways (28) than takeaways (11) and less-than-stellar possession metrics owing in part to his usage against elite forwards.
Grade: B
JUSTIN FAULK, Defenseman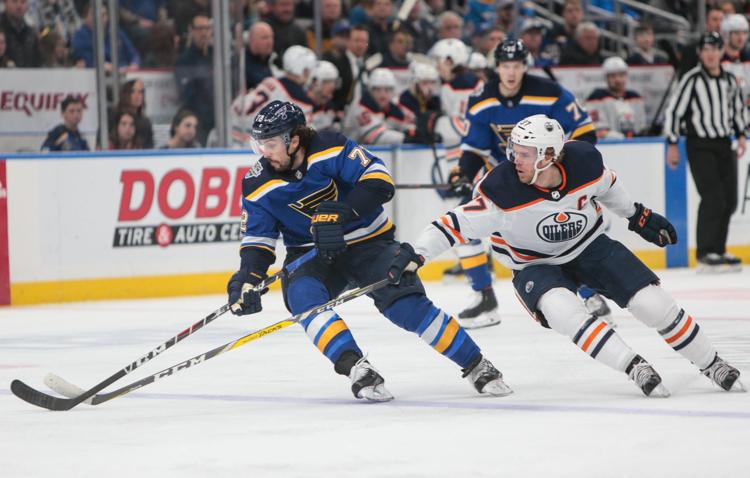 GORDO ON FAULK: After seeing lots of first-unit duty on the Carolina power play, Faulk had to settle for a secondary role here with an average of 1:21 time on ice with the man advantage. After scoring 31 or more points in his previous six years with the Hurricanes, he has produced just 13 so far this season. He has become more offensively assertive during 5-on-5 play and his 194 shot attempts overall rank third on the team. He has added to the team's defensive toughness with 55 hits and 48 blocked shots. But he is minus-6 and his possession metrics are just OK.
Grade: B
ROBERT BORTUZZO, Defenseman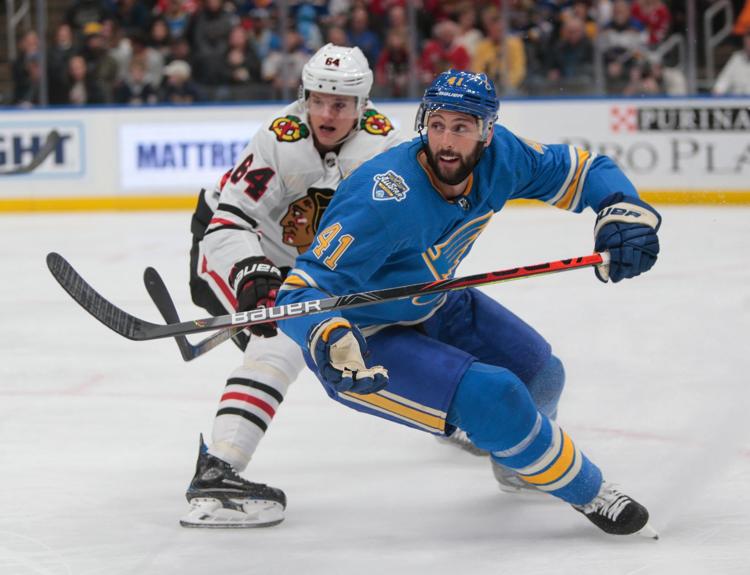 GORDO ON BORTUZZO: He is certainly the nastiest Blues defenseman around the crease, which earned him a four-game NHL suspension for cross-checking Viktor Arvidsson earlier this season. He puts himself in harm's way (40 hits, 30 blocked shots in 30 games), especially while killing penalties. His plus-11 rating is aided by sheltered usage in 5-on-5 scenarios and his possession metrics aren't great.
Grade: B-minus
CARL GUNNARSSON, Defenseman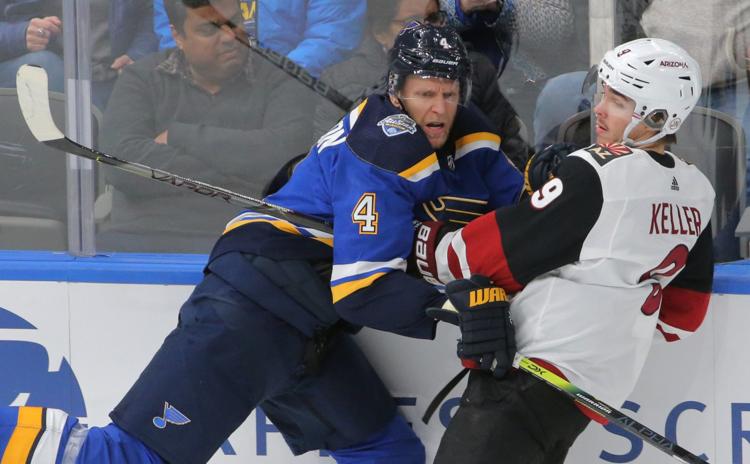 GORDO ON GUNNARSSON: He has fallen to the edge of the playing rotation while continuing to battle injuries. In 18 games, he has nine giveaways and just one takeaway. He blocked 23 shots, but his 54.4 percent defensive zone starts contributed to his mediocre possession metrics.
Grade: C-minus
JAKE ALLEN, Goalie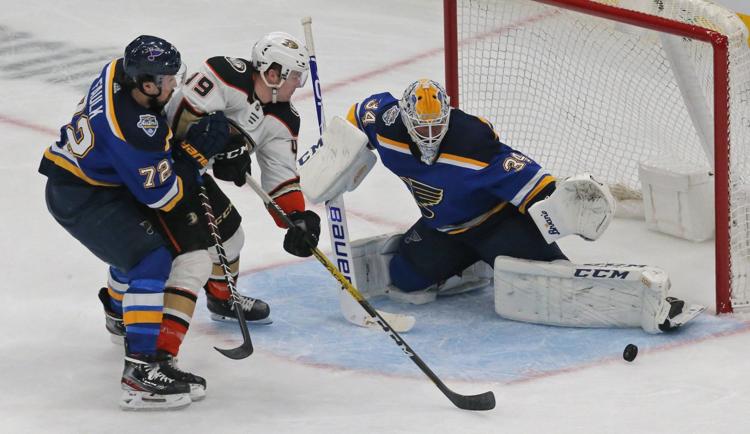 GORDO ON ALLEN: After suffering a full collapse last season, Allen has rebounded to excel in a back-up role. He is 8-3-3 with a.927 save percentage and 2.22 goals-against average. After struggling at home last season with a 3.65 GAA and .878 save percentage, Allen defeated that curse by going 2-1 with a 1.89 GAA in four appearances at Enterprise Center so far this season.
Grade: A-minus
JORDAN BINNINGTON, Goalie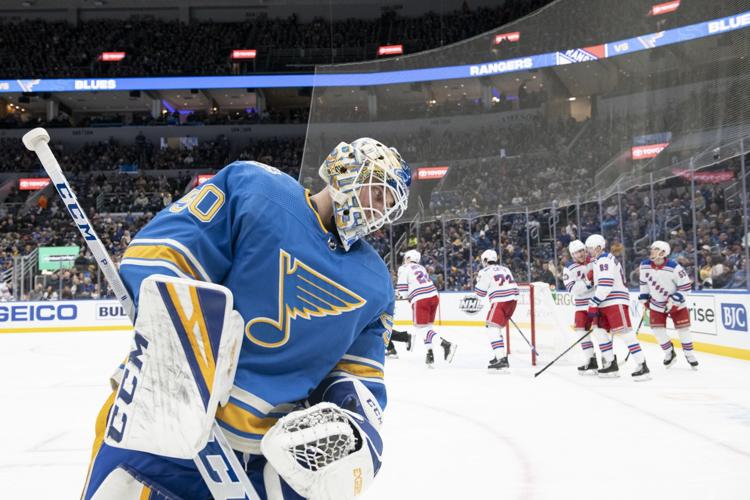 GORDO ON BINNINGTON: You knew he couldn't repeat last year's remarkable regular season performance and he hasn't. His save percentage (.927 to .912) and goals-against average (1.89 to 2.58) have suffered major regression. Binnington is 3-2-1 this month with dismal ratios (3.59, .865). That said, he is still 22-8-5 overall and headed to the All-Star Game with the reputation for clutch performance.
Grade: B
CRAIG BERUBE, Coach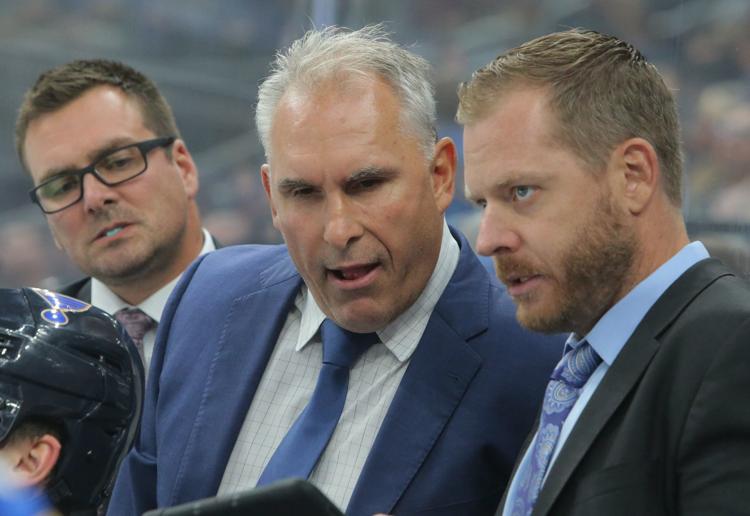 GORDO ON BERUBE AND STAFF: So what's this Stanley Cup hangover we've heard so much about? Head coach Craig Berube and his staff have kept the Blues atop the Western Conference despite taking big injury hits, most notably to top goal-scoring threat Vladimir Tarasenko. The Blues needed to improve their power play and, with the help of new assistant coach Marc Savard, they ranked fourth in the NHL with 25.3 percent efficiency through the weekend. They are allowing just 2.67 goals per game because they remain committed to tight checking at both ends of the ice. They have beaten up their immediate rivals, going 10-3-1 within the Central Division and 21-5-4 against this side of the league.
GRADE: A
DOUG ARMSTRONG, General Manager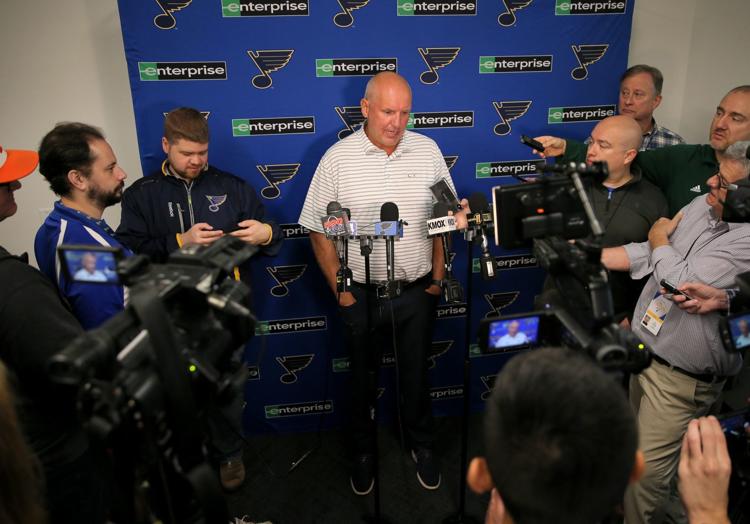 GORDO ON ARMSTRONG: General manager Doug Armstrong made a big move before the season, adding defenseman Justin Faulk in a swap for Joel Edmundson and first-round pick Dominik Bokk. He signed Faulk to a reasonable contract extension, bolstering his long-term team nucleus. He also signed Brayden Schenn to a team-friendly extension, but he hasn't been able to extend captain Alex Pietrangelo to this point. Fans quibbled with the trade that sent Robby Fabbri to the Detroit Red Wings for Jacob de la Rose in a housecleaning move. Fabbri has flashed his Top 6 forward skills in Motown while de la Rose has settled on as a fourth-liner at best for the Blues. While Fabbri had exhausted his opportunities to win over Berube, it's fair to wonder if he should have fetched a bigger trade return. Armstrong will likely revisit his forward corps closer to the NHL trade deadline.
Grade: A-minus