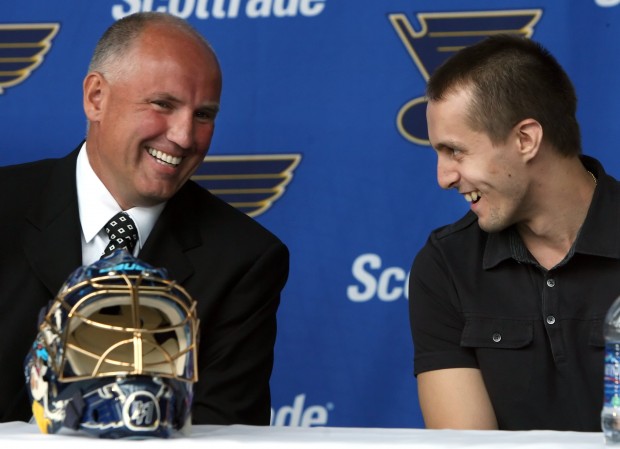 The Blues have locked up the NHL's reigning general manager of the year with a long-term contract.
Doug Armstrong has signed a five-year extension, the Blues announced at a press conference Wednesday at Scottrade Center. The deal will take Armstrong, whose contract was set to expire on June 30, through the 2017-18 season with the club.
"I just thought this was very important to the future of the Blues' franchise," owner Tom Stillman said. "Doug has just been recognized by his peers as the best general manager in the National Hockey League, and that is solidly backed by the work that he has done here for the St. Louis Blues.
"I think the five-year term is important for two reasons. First, he's an outstanding general manager, so we want to make sure he's with us for a longer period. And second, I think you have to give him time to do his work and to develop the team he wants to develop."
The news was first reported at 10:30 p.m. Tuesday on STLtoday.com, the Post-Dispatch's website.
Armstrong, 48, joined the Blues in 2008 as the team's vice president of player personnel, after spending 17 years with the Dallas/Minnesota organization. Following two seasons in St. Louis, Armstrong was named the 11th GM in Blues' history in July 2010, replacing Larry Pleau.
Along with former Blues President John Davidson, Armstrong led a transformation of the team that in 2011-12 resulted in a trip to the second round of the NHL playoffs for the first time in a decade.
The Blues bowed out in the Western Conference semifinals, losing to the Los Angeles Kings, who eventually won the Stanley Cup. The Blues return 22 players from last year's roster and are considered a legitimate playoff contender in the upcoming 48-game season, which opens Saturday night against Detroit at Scottrade Center.
"It's certainly an exciting time for myself and my family," Armstrong said. "I've really only been with two organizations and I'm excited to be here for another five years and hopefully a lot longer than that. We believe that we're on the right track.
"A lot of people have put in a lot of hard work. (Former amateur scouting director) Jarmo Kekalainen and Larry Pleau and John Davidson and now there's a group in here now that are looking to continue what they've started and take it to the next level. It's just an exciting time to be part of this organization."
The finalization of the deal between the Blues and Armstrong could create more momentum for the team heading into the season. Voted in June as the league's GM of the year by his peers, Armstrong could have been an attractive addition for a team such as the Toronto Maple Leafs, who recently fired GM Brian Burke.
But Armstrong, an Ontario native, said that he never entertained the idea of moving elsewhere despite the expiration of his contract in six months. In fact, an agreement with the Blues would have come sooner if not for the NHL's four-month long lockout that ended last week.
"The reality is, this is a very good franchise," Armstrong said. "And one of the reasons when I was looking to join (in 2008), I looked at a team that seemed to have a bright future and some pieces in place that you could go and manipulate and work with, and build a championship-contending team.
"The people before me put those pieces in place and we've added to that and moved some pieces around. But if you're looking at a team on paper that has the nucleus to be competitive for the next five years and beyond, there's not many teams in a better situation with personnel than St. Louis. That doesn't mean anything unless we get it done on the ice. But I know that we have a committed ownership group that's going to give us the resources to continue to push."
Armstrong has developed a strong relationship with new Blues owner Tom Stillman, dating to when Armstrong was director of player personnel and Stillman the team's minority owner. The bond has only strengthened in recent months.
"I have spent a lot of time talking and working with Doug over the last several months," Stillman said. "I just have a very high level of trust in his ability to manage the team and the entire hockey operations side of the franchise."
The long-term commitment with Armstrong represents a big part of Stillman's blueprint for the Blues' management staff, following an offseason of reshuffling.
In late September, the club and Davidson mutually agreed to part ways, buying out the final three years on his contract. A month later, Davidson agreed to become president of hockey operations for the Columbus Blue Jackets.
By that time, Armstrong already had assumed control of the Blues' hockey decisions. He reorganized the front office last June, when he promoted Dave Taylor to vice president of hockey operations. But Davidson's departure cemented Armstrong's role atop the management hierarchy.
Since assuming the GM position in 2010, Armstrong has orchestrated a few of the most memorable Blues' trades in recent history, acquiring Jaroslav Halak, Chris Stewart and Kevin Shattenkirk to name a few. He also signed free agent Brian Elliott. Halak and Elliott won the Jennings Trophy, after allowing the fewest goals in the NHL during the regular season in 2011-12.
The team, meanwhile, produced 109 points (the second most in team history), and with a first-round series win over San Jose, advanced to the conference semifinals for the first time 2002.
The improvement has transpired at the same time the Blues have operated with one of the five-lowest payrolls in the NHL. The team's player salary – not salary cap hit — is approximately $47 million in 2012-13, ranking 26th in the league, according to Capgeek.com.
"It's being able to combine those two – put a strong team on the ice and yet do it in a financially realistic manner," Stillman said. "Doug could be very good at pinching pennies but not have much of a team. But he's been able to do both. You look at our contracts and we don't have a clunker. I think they're all fair to both parties, but we don't have contracts that are going to cause us problems down the line."
Now after proving himself in the minds of many Blues fans, Armstrong has been armed with a fair new deal. Financial terms weren't immediately available.
"I personally have come here to win a Stanley Cup and we haven't done that yet," Armstrong said. "We've made really good strides and I think we're in a good spot. But until we win the ultimate prize then we haven't accomplished what we came here to do yet.
"But from a personal standpoint, a place to have my kids go to high school and graduate from is going to be very important. My wife and I love the atmosphere in the city; you really feel like it is a smaller community, where in the NHL that's sometimes hard to find. We have it here. So from a personal standpoint, we couldn't have asked for anything more than we've gotten."