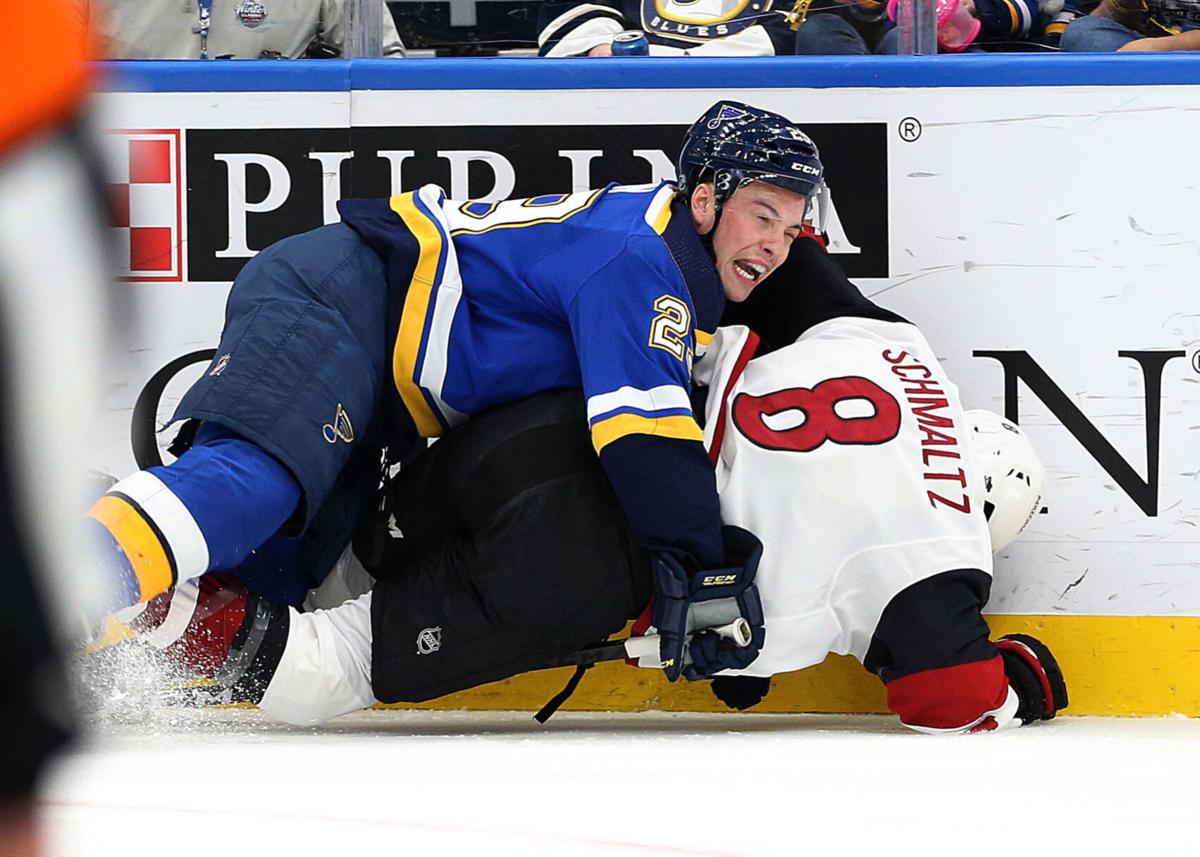 Three weeks into the NHL's free-agency period, Vince Dunn remains an unsigned restricted free agent.
But Blues general manager Doug Armstrong doesn't see any problems in Dunn's contract situation and continues to indicate that the young defenseman fits into the team's plans for next season.
"Usually, if they get signed it happens quickly (in the offseason)," Armstrong said this week. "If not, you wait till you get closer to coming back to work."
With the NHL's calendar and scheduling thrown out of whack by the coronavirus pandemic, Armstrong has likened this current period to what would be August in a normal offseason — namely the heart of the offseason, when there's not much going on.
So perhaps Dunn simply will wait to sign when next season draws near, whenever that is. For now, the NHL is sticking with its plan to start Jan. 1. Through Friday, 48 restricted free agents remained unsigned throughout the NHL according to Capfriendlycom.
As Armstrong mentioned, it is not unheard of for restricted free agents to wait until training camp starts before signing contracts. Last year, for example, Blues forward Ivan Barbashev was a restricted free agent but didn't sign until Sept. 1.
The only other unsigned player on the entire Blues' organizational roster is defenseman Jake Walman, also a restricted free agent. Walman spent almost all of last season in San Antonio in the American Hockey League, but did play in one regular-season game with the Blues.
The Blues made qualifying offers to both players, which means the team gets matching rights on any outside offers Dunn (or theoretically, Walman) might get. But outside offers in restricted free agency rarely happen in the NHL. There have been only four offer sheets signed over the last decade, and all have been matched by the player's existing team.
The Blues currently are about $1.1 million over the $81.5 million salary cap. But signing Dunn should not be a problem, even if he gets an expected raise over his bargain-basement cap hit of $722,500 as a third-year pro this past season.
"With the (Alexander) Steen and (Vladimir) Tarasenko situations we have an abundance of cap space, so we're not concerned about that at all," Armstrong said.
It was Armstrong's strongest indication yet that Steen — with an undisclosed injury — will begin the season on the long-term injured reserve list along with Tarasenko, who's rehabbing from shoulder surgery.
Opening the season with Steen and Tarasenko on long-term injured reserve would at least temporarily free up $13.25 million in cap space. (With the money counting against the cap when or if the players return to the active roster.)
In part because of the trade for Justin Faulk, Dunn saw his playing time drop to 16 minutes 16 seconds per game last season. That was nearly a minute below his career average entering the season. Even with the departure of captain Alex Pietrangelo to Vegas in free agency, the arrival of Torey Krug from Boston means Dunn's ice time might not change next season.
Once again, Dunn might spend most of his time on the third defensive pairing, which was the case much of last season. So it's possible some frustration could be seeping in with Dunn over his role with the team.
Neither Dunn nor his agent could be reached for comment.
"Internal competition is good," Armstrong insisted.
Last season the Blues were heavy on righthanded defensemen, meaning one of them — Pietrangelo, Faulk or Colton Parayko — had to play on the left side occasionally. This year, it's the opposite. The Blues are heavy on lefthanded defensemen.
"(Torey) Krug's there now, and (Marco) Scandella and Dunn and 'Gunny' (Carl Gunnarsson)," Armstrong said. "It's great competition, with (Niko) Mikkola there. That's what you want."
One of those lefties might have to help out on the right side. And at any given time, there figures to be a defensemen or two hurt. So there might be more opportunities for Dunn than meets the eye.
Although he has an occasional hiccup defensively, Dunn is establishing himself as one of the league's better offensive defensemen. Over the past two seasons, he's among the top 20 defensemen in overall goals (21) and power-play goals (seven).
Husso's upGoalie Ville Husso has yet to play in a regular-season NHL game, but the trade of Jake Allen to Montreal should change that. Barring an unexpected move by Armstrong, Husso will begin the season as Jordan Binnington's backup.
"At some point, you have to create space for younger players," Armstrong said. "I had talked to enough teams, knowing that (Husso) wasn't going to clear waivers, so it was either trade him, give him away for nothing or make him part of your team. And we decided to make him part of our team."
Armstrong said Husso isn't doing anything differently in terms of offseason training even with NHL opportunity knocking.
"We've stayed in contact with him," Armstrong said. "Again, you can't over-prepare. For me, you don't want to spook anybody. Do your job. Be ready to do your job, and be ready to play."