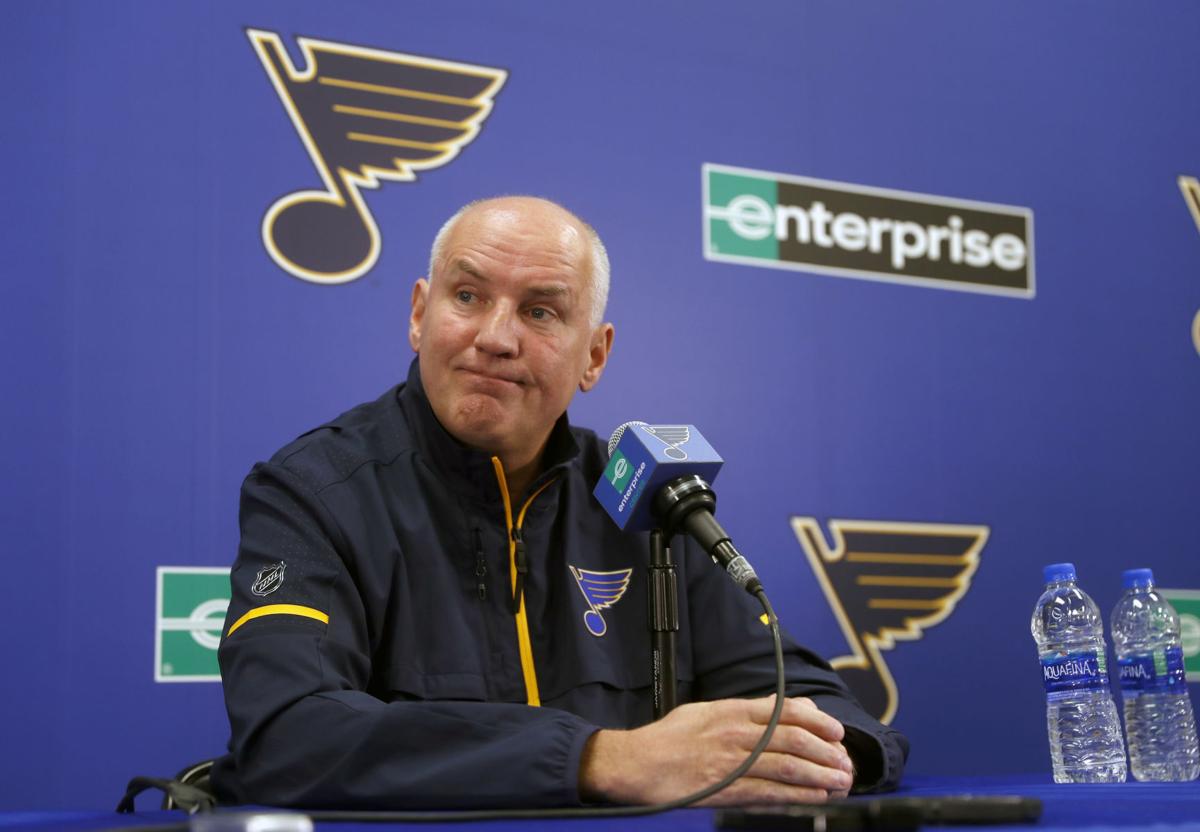 Make of this what you will, but Blues general manager Doug Armstrong said Thursday he can envision a scenario where disgruntled forward Vladimir Tarasenko plays for St. Louis this coming season.
"I see there's certainly an outlook where I envision him putting on the jersey again," Armstrong said during a Zoom call. "There's many players in the NHL that have requested trades. You always try and keep it below the surface.
"But our responsibility is to do what's best for the St. Louis Blues, and if it means that he comes back and plays for us, that's the outlook that it has. But again, my responsibility's to the franchise and to do what's best for the Blues and hopefully best for Vladi."
For Armstrong, those words could be nothing more than posturing. His way of signaling to the Tarasenko camp and the rest of the league that he's not giving the guy away.
Because in the bigger picture, it's difficult to envision Tarasenko walking back into Centene Community Ice Center for practice this fall as if nothing happened after his scorched-earth approach to wanting out of St. Louis.
Although he has said nothing directly, multiple sources have told the Post-Dispatch that Tarasenko was upset over how the first two of his three shoulder surgeries went — both of which were performed by Blues doctors. He was also upset over criticism he allegedly received from Blues trainers during rehab, and additionally, did not like what he felt was a reduced role late in the past season.
"I'm not gonna get into the nuances of the he-said, she-said things that have been reported," Armstrong said. "A lot of the things that are coming out are so factually inaccurate it's shocking. But I'm not gonna get into that."
Armstrong said he was informed by Tarasenko's agent a couple of days after the Blues' playoff series loss to Colorado that Tarasenko wanted to be traded. Armstrong said he was given a list of teams that Tarasenko would be willing to be traded to, thus waiving part of his no-trade clause.
Armstrong said he then notified all 31 other teams that Tarasenko was on the trading block just to see what kind of interest was out there.
"As of today, Vladi's a member of the Blues," Armstrong said. "This is not something I'm gonna be updating after this (Zoom) call today. Whatever we do will be done behind closed doors. Vladi has to prepare like he's coming back to St. Louis. He has to get ready to play.
"He's a 30-year-old. I'm sure he wants to play for a number of years in the NHL. He has to come back and have a great season. Our focus was to do what's best for the St. Louis Blues when I heard (the trade request) and nothing has changed in that fashion."
Tarasenko turns 30 on Dec. 13.
On the free agency front, Armstrong said Jaden Schwartz plans to test the market, and didn't sound overly optimistic either when it came to re-signing Mike Hoffman and Tyler Bozak. All three are scheduled for unrestricted free agency July 28.
"Based on where we are today, there's always a chance that we can get something done," Armstrong said of Schwartz. "But I've been under the understanding that Schwartzy wanted to see what free agency was like. That can change with one phone call."
As far as Hoffman and Bozak, Armstrong said the "lines of communication" will remain open.
"Obviously, I thought Mike came in and once he found some solid footing in our group I thought he was a really good player for us at the end through the playoffs," Armstrong said. "I have a lot of respect for him. If he came back, I'd have no issues with that.
"Certainly, Bozy's been a really good player for us for three years. I would say our depth in that area is probably a little stronger than it is in the top six."
In other words, the Blues feel like they have replacements already on the roster.
In terms of the team's top four restricted free agents, Armstrong said the Blues plan to make qualifying offers to Ivan Barbashev, Jordan Kyrou, Zach Sanford and Robert Thomas. Barbashev and Sanford both are arbitration eligible.
Among players that dealt with injuries last season, Armstrong said defenseman Colton Parayko, who battled back issues, "is doing very well. There's a number of players that have been in and out of the Centene Center. I'm out there each morning and I see guys training and working out. It seems like all systems are ahead on all of our guys."
He said defenseman Justin Faulk and Robert Bortuzzo, who suffered head injuries in the Colorado playoff series, "seem to be 100 percent and ready to go." Defenseman prospect Scott Perunovich, who underwent shoulder surgery following training camp, is healthy and has been training.
Draft days
After his Zoom session with reporters, Armstrong headed back into meetings with his scouting and personnel staff to prepare for the "regular" NHL draft, which begins Friday with the first round and continues Saturday with Rounds 2-7.
The Blues have five picks overall, with one pick apiece in Rounds 1, 3, 5, 6 and 7. Buffalo got the Blues' second-rounder in 2021 as the final piece of the Ryan O'Reilly trade; the pick now belongs to Los Angeles. Montreal gets the Blues' fourth-rounder this year as part of the Marco Scandella trade in 2020.
Barring a trade, the Blues will make the 16th overall pick in the draft, their highest pick since taking Schwartz at No. 14 overall and Tarasenko at No. 16 in the 2010 draft.
"At 16 we think we're going to get a very good player," Armstrong said. "And all indications are that there'll be someone there that we like."
(Technically, the Blues are listed as the 17th pick. Arizona, remains listed at No. 11 overall by the NHL, but forfeited that pick because of violating league rules on pre-Combine testing of draft prospects.)
At No. 16 overall, the Blues have their highest first-round pick in more than a decade. But GM Armstrong has been known to trade picks.