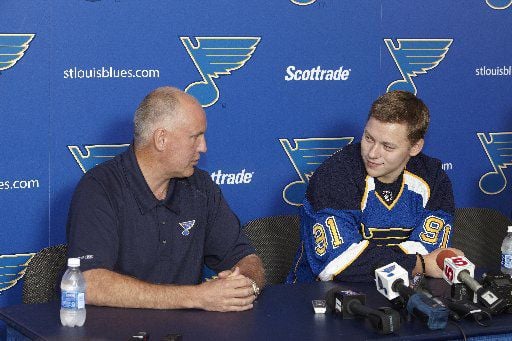 In January 2003, the Dallas Stars traded two players and absorbed another year of a hefty contract to acquire Claude Lemieux from the Phoenix Coyotes.
Lemieux had playoff pedigree, four Stanley Cup rings and a Conn Smythe Trophy. But Lemieux was 37 years old, slowed by injuries, on borrowed time. He had just six goals in 36 games for the Coyotes, eight in 68 games the season before.
Dallas general manager Doug Armstrong made the deal on the come, gambling Lemieux had one more big goal left in him, just one.
Four years earlier, he watched predecessor Bob Gainey take a similar risk. Gainey gave Buffalo a second-round pick for Derek Plante, whose goal in overtime in Game 7 sent the Sabres past the Senators during the 1997 playoffs.
Plante would score only three regular-season goals in a short time with the Stars. But on May 17, 1999, in Game 6 of a playoff series with the Blues, Plante scored late in the third period to force overtime. Dallas won in OT, eliminated the Blues and went on to win a Stanley Cup. The second-round pick had been worth it.
Lemieux didn't produce a Derek Plante moment for Armstrong. Likewise, a trade last spring for celebrated goalie Ryan Miller and the free-agent signing of Derek Roy fell flat. But Armstrong doesn't walk the corridors of Scottrade Center the way Commander Queeg paced the USS Caine. He's not twirling ball bearings and taking ice cream inventory. Paranoia strikes deep, it just doesn't strike Armstrong.
"You have to be prepared for failure to have success," Armstrong said. "When you start managing out of fear, you may as well resign. You can't manage to save your job."
Failure is the risk of doing business, the fortunes of war. As Armstrong demonstrated in 2011, when he dealt defenseman Erik Johnson, the No. 1 overall pick in the 2006 NHL draft, and as he demonstrated more recently when he signed goaltending artifact Martin Brodeur, the only thing he fears is fear itself.
He developed the business model while assisting Bob Clarke in Philadelphia, confirmed it while riding shotgun to Gainey in Dallas. The sum is always more important than the parts. Each fall, the Blues open training camp by preaching the message — every game is important, every point is precious.
In Armstrong's mind, management has an obligation to embrace the same principle. If a Lemieux can score an important goal, if a Brodeur can win you a precious game, you take the chance. The message is reinforced in the offices, in the locker room and in the stands.
Armstrong is the son of Neil "Ironman" Armstrong, a Hall of Fame linesman who appeared in more games (1,744) than Gordie Howe. He once worked three months with a cast on his hand and didn't miss a game. Doug Armstrong comes from the same no-nonsense stock, thick of skin, short of excuses.
"You have to manage by what your beliefs are, and the consequences are what the consequences are," Armstrong said. "Playing it safe, I think, is not something that is going to lead to success long term."
The Blues have been operating since 1967. Over 47 years the franchise has had wonderful moments and memorable personalities. That said, the most cherished event in Blues history is the Monday Night Miracle, a win in Game 6 of a seven-game series lost. That's like Tom Hanks being most proud of his work in Joe Versus the Volcano.
The Blues organization has Hall of Fame players and coaches in its manuscript, people who have won Stanley Cups and people who have one thing in common: They didn't win them here.
Since he assumed the general managership in 2010, the 50-year old Armstrong has been the NHL's most interesting man.
He traded Johnson. He maneuvered to draft Vladimir Tarasenko, even though indications were that the talented forward would stay in Russia. He acquired Jay Bouwmeester, traded David Perron, signed Roy, acquired Miller, signed Paul Stastny, secured Jori Lehtera and now resurrected Brodeur.
He doesn't fear to tread, but he won't rush in either.
"You don't want to play with emotion either," Armstrong said. "Sometimes when the wolves are at the door, there are things you could do, maybe something to throw a little bit of water on a fire. But if it's not going to put the fire out, it's not something you want to do.
"You have to be willing to take risks when they're warranted and be able to absorb criticism for doing nothing when you believe that's the way to go."
Case in point: Vladimir Sobotka. The tenacious Sobotka was a versatile asset for the Blues, a little ball of hate opposing players dreaded facing and teammates loved. But for all of the skill and impetuosity, Sobotka scored 29 goals in 247 games for the Blues, one goal in 21 playoff games.
Armstrong valued Sobotka's intangibles at $2.7 million for one year or slightly more than $6 million over a two-year deal. He wasn't willing to sabotage the sum for one part. He wasn't willing to set a financially destructive precedent. He wasn't putting up three years and $12 million, which is what Sobotka got from Avangard of Russia's Kontinental Hockey League.
"It was disappointing but it was a philosophical decision I would make regardless of how our season turns out," Armstrong explained. "There's a (collective bargaining agreement) in place. I didn't write it, Sobotka didn't write it, but we live by it.
"He wanted to be treated as an unrestricted free agent the year before he was an unrestricted free agent. This wasn't about making a point with Sobotka, it was about making an organizational stand. Once you start capitulating and acting like you're afraid to lose a player, then your cap spirals out of control.
"Sobie is a really good player in the league, but not one the St. Louis Blues felt was generational and you just throw the CBA away."
When Sobotka departed, Armstrong signed Steve Ott to provide attitude and energy. Days before standing firm on Sobotka, Armstrong gambled with a two-year deal worth $5.5 million on Lehtera, a 26-year old Finnish forward who hadn't played a shift in the NHL.
But after seeing Lehtera play in the Olympics, and knowing how much former Blues scouting director Jarmo Kekalainen wanted him for Columbus, Armstrong felt confident in pulling the trigger. Lehtera has been one the team's top players, with eight goals and 25 points in 33 games.
Not everything comes up roses. Armstrong gave up a lot to get Miller, including a first-round pick in the 2015 and a third-rounder in 2016. The all-in move fizzled and Miller now goaltends for Vancouver, where he beat the Blues earlier this season. Roy was a $4 million bust, critics questioned giving Patrick Berglund three years and $11.1 million last summer and juries are still out on the Paul Stastny signing.
Fair enough. The science of winning is not exact. Armstrong is paid handsomely to solve those complexities, to take a franchise where it has never gone. Until he does, he expects nothing less.