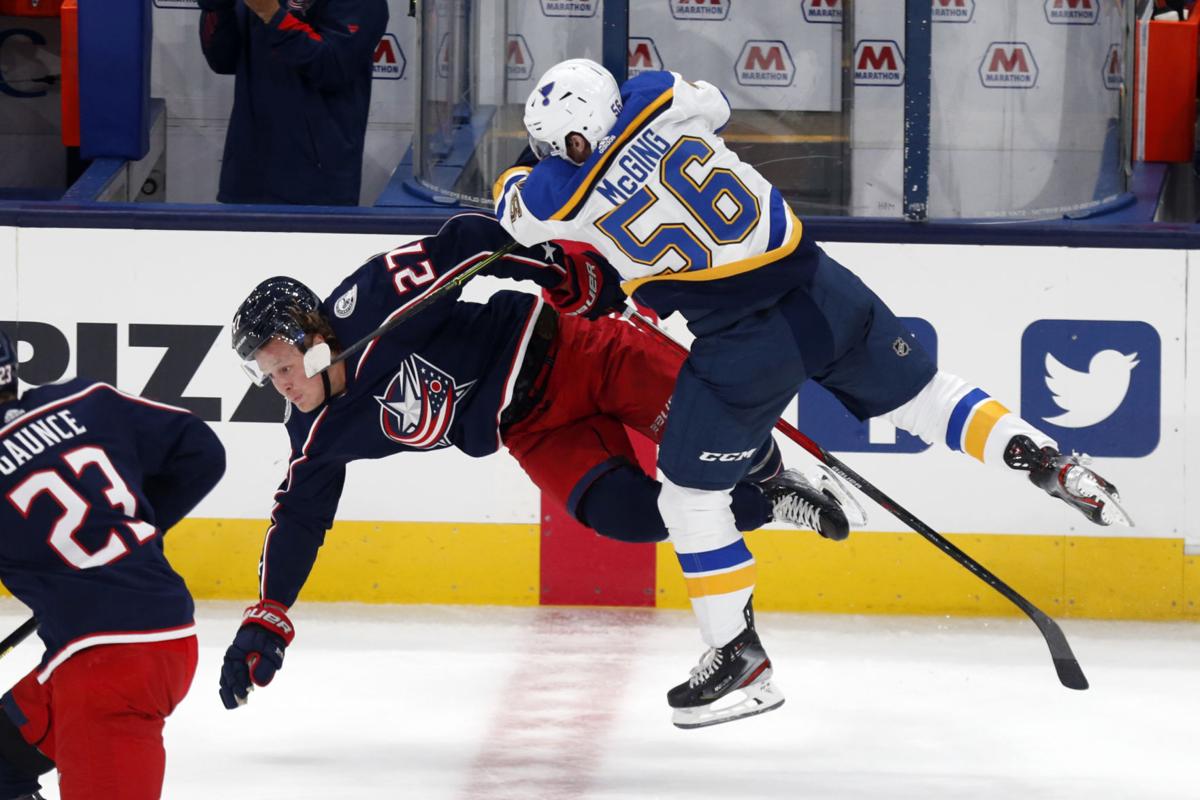 INDEPENDENCE, Mo. — The Blues made the first wholesale reduction of their training camp roster, sending 10 players to their American Hockey League affiliate in Springfield (Mass.) and dispatching three others to junior hockey outposts.
With three preseason games still to be played, following Saturday's contest in the Kansas City area against the Chicago Blackhawks, the 13-player reduction leaves the roster at 39.
Assigned to Springfield were forwards Tanner Kaspick, Mathias Laferriere, Hugh McGing, Mathew Peca, Nolan Stevens, Nathan Todd, Alexei Toropchenko and Keean Washkurak; and defenseman Griffin Luce and Josh Wesley. Technically, Kaspick, Peca and Stevens must clear waivers, but they're not expected to be claimed.
Heading back to juniors are forward Zach Bolduc (Quebec of the QMJHL), defenseman Tyson Galloway (Calgary of the WHL), and goalie Will Cranley (Ottawa of the OHL).
With the exception of Cranley, who was one of six goalies in camp, all of the re-assigned players appeared in at least one preseason game.
Toropchenko, a fourth-round pick in 2017, was the only one of the group to appear in two exhibition games. He logged 15 minutes 33 seconds of ice time in the preseason opener against Minnesota, and played 11:23 with an assist and a team-high five hits in Friday's 6-3 win over the Chicago.
McGing had a goal and an assist in his only game — Wednesday in Columbus. Todd scored Friday night in Chicago, and Bolduc had an assist against the Blackhawks. Luce and Kaspick got in fights Friday against Chicago.
"I think if you watched the game (Friday) night and watched Bolduc, pretty impressive for his first NHL game," coach Craig Berube said. "I thought he did a lot of really good things. He's got some really good ability. But he played with some jam, too, out there. So it was great to see."
Berube also liked the physicality of Toropchenko and Kaspick.
"I think they understand what they gotta do to play up here," Berube said. "Those two guys had good games. They were hard to play against, more than anything.
"They were physical, on top of the puck. They didn't give the Blackhawks any time and space. They took it away. They understand their role. They'll go down (to Springfield) and play that role in the minors and do a good job, and get an opportunity at some point here."
Still on roster
Here are the remaining players on the camp roster as of Saturday:
Forwards (22): Nikita Alexandrov, Sam Anas, Ivan Barbashev, Tyler Bozak, Logan Brown, Pavel Buchnevich, Kyle Clifford, Michael Frolik, Dakota Joshua, Klim Kostin, Jordan Kyrou, Mackenzie MacEachern, James Neal, Jake Neighbours, Ryan O'Reilly, David Perron, Brandon Saad, Brayden Schenn, Oskar Sundqvist (INJ), Vladimir Tarasenko, Robert Thomas, Nathan Walker.
Defensemen (12): Robert Bortuzzo, Tommy Cross, Justin Faulk, Torey Krug, Niko Mikkola, Colton Parayko, Scott Perunovich, Calle Rosen, Steven Santini, Marco Scandella, Tyler Tucker, Jake Walman.
Goalies (5): Jordan Binnington, Colten Ellis, Joel Hofer, Ville Husso, Charlie Lindgren.
For those still battling for roster spots, Berube offered this advice: "Go out and play the game. We're looking at your intelligence. We're looking at your 'compete,' your effort, just how you think (during) the game and things like that.
"Make sure you're competitive and the effort's there. That's a big thing. When the effort's there and players are competitive, that's always intriguing to management, coaches. We're always looking for those type of things."
Binnington capers
Further proof that goalie Jordan Binnington's a little bit out there came immediately after the Blues' win Friday over Chicago at the United Center.
Binnington, who played the first two periods before giving way to Ellis, slipped into Nolan Stevens' jersey in the locker room, put on a skater's helmet — it looked kind of goofy on him — grabbed a skater's stick, and blended into the traditional post-game victory line to congratulate the winning goalie (Ellis).