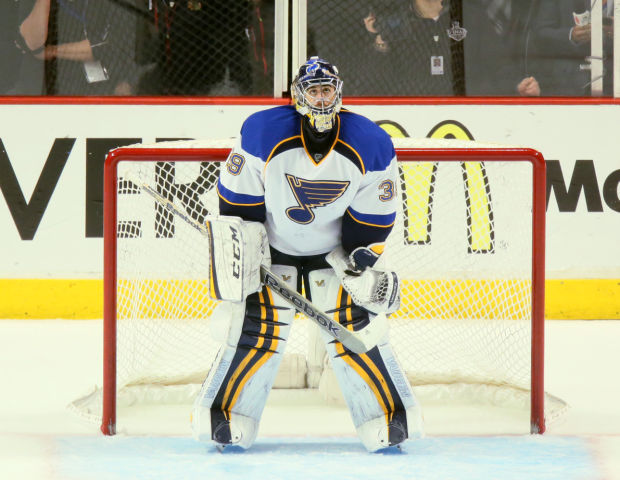 In the last six seasons, the Blues have made four postseason appearances. Each one ended with the team losing four games in a row.
In 2009, the Blues sneaked into the playoffs with a strong second-half surge, but Vancouver dispatched them in four games. In 2012, they won their first series in a decade over San Jose, but then Los Angeles shipped them out in sudden four-game fashion. In 2013 and 2014, the franchise won Games 1 and 2 in the opening round against LA and Chicago, respectively, but couldn't win another contest.
The first of these four postseason trips in 2009 was seen as a surprise, and even the next two could be chalked up as valuable learning experiences. But two days after the Blues' most recent ouster by the Blackhawks, the aftermath is numbing, and in the mind of general manager Doug Armstrong has become only more unbearable since the series ended Sunday.
"It's like going to the dentist," Armstrong said Tuesday. "The freezing is coming out and now it hurts. I'm going through that freezing coming out and it's really painful. Today is a lot harder than it was yesterday, I know that. We got to figure out a way to get better."
In a wide-ranging take on topics impacting the immediate future of the Blues and beyond, Armstrong put on the table his thoughts regarding the team's top players, improving the offense via free agency, the status of pending free-agent goalie Ryan Miller and plans for prospect Jake Allen, and his confidence in the coaching staff.
For the second straight season, the Blues' stars were outplayed by their counterparts. The team's top-four scoring forwards in the regular season — Alexander Steen, David Backes, Jaden Schwartz and T.J. Oshie — combined for four goals in the six games (although Backes missed two games with injury).
Chicago, meanwhile, received six goals from Jonathan Toews and Patrick Kane alone, and those two combined to provide all four game-winners.
Defensively, the Blues' Alex Pietrangelo was a plus-1 and Jay Bouwmeester was even, and they combined for four points. The Hawks' top pair of Duncan Keith and Brent Seabrook was a plus-nine and had nine points (and Seabrook missed three games with his suspension).
"There's a reason they are Stanley Cup champions a couple of times over the last four years," Armstrong said. "We saw that in this series. When the temperature went from a simmer to a boil, their best players elevated their game. ... With all due respect, and not to come off as a smart (aleck), but when Barret Jackman and Chris Porter are tied for third in scoring, you need more from other people."
The Blues' offense missed 92 shots in the series and went two for 29 on the power play, leading to a familiar outcry for outside help. But will it lead to Armstrong delving into free agency or seeking a trade for scoring?
"I look at last year's free-agent pool that was available — what players from that pool are excelling in this year's playoffs ... are they the players that are pushing you over the top?" Armstrong said. "I'm not sure if free agency is the way to go.
"Then it's getting a team to want to move a top-scoring player, and I know the cost of doing that. I haven't found the team that really wants to give us the 50-goal guy yet. But I know the two or three names they're going to ask for and that's robbing Peter to pay Paul. There are good players out there. As I said, most of them usually stay with the teams that they're at."
Armstrong said the direction he takes won't come until he has time to sit down with the coaching staff and re-evaluate the team's personnel and offensive strategy.
In the meantime, the Blues' GM also plans to sit down soon with Miller and see if there is a fit between the club and the goalie.
"It's a two-way street with Ryan at this time," Armstrong said. "I want to get his feelings about our organization, how he felt about coming in, where he thinks we're at ... see if he even has any interest being a St. Louis Blue."
Armstrong didn't seem to be turned off by Miller's mediocre postseason, which produced a 2.70 goals-against average and an .897 save percentage.
"Ryan wasn't the reason that this series ended in six (games)," he said. "The series turned on a couple of things. Obviously the last one was our inability to score power-play goals. That's nothing to do with Ryan Miller. Some of the goals that went in, deflections, breakaways ... as a team we didn't get the job done. He's certainly a part of that, but he's not a scapegoat for this and it would be disingenuous to even go down that path."
Whether or not Miller is re-signed, Allen will be a Blue in 2014-15.
"He's earned the right," Armstrong said. "He will be one of two. I view Jake Allen coming in here next year competing for starts."
Dmitrij Jaskin will also have a spot on the roster entering next season.
"I don't know if I've told the coach that, but you guys can tell him when I leave," Armstrong joked.
To be sure, there is no disconnect between Armstrong and Ken Hitchcock. The Blues and their coach have a mutual option for the 2014-15 season that is expected to be picked up.
But Armstrong said, "We're all accountable. Now is not the time to isolate a person or player or part of the organization and set them adrift and hope that the problem goes away. Ken has done a solid, strong job in his three years here. Is coaching part of it, is playing part of it, is managing part of it? It sure is. Is conditioning part of it? Is every aspect part of it? Yes it is.
"I look at the regular season success this team has had over the last three years. I think our point total is probably in the top three or four in the NHL over that time frame. So, we're doing some things correctly. But we're not doing enough correctly to win in April, May and June. Quite honestly, I got to quit worrying about May. We got to get out of April first, and we're not doing that yet. My job responsibility is to peel back the layers and see if we can work together with this group to get to a new level, or make necessary changes to get to a new level."