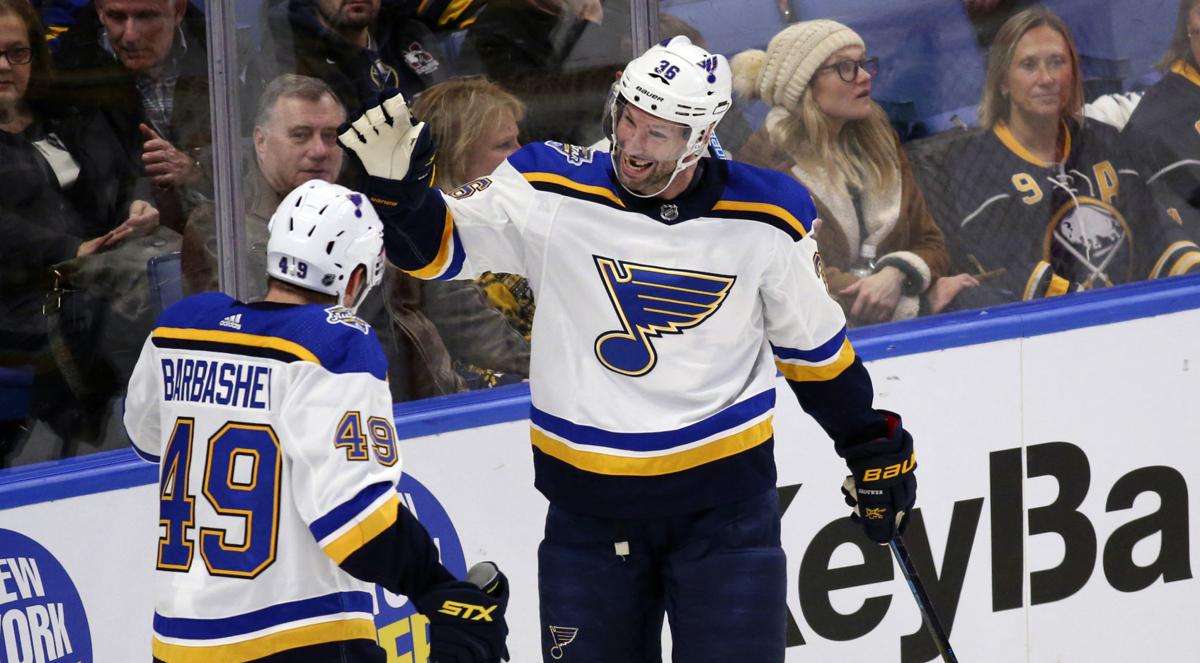 VANCOUVER, B.C. — Veteran forward Troy Brouwer, who spent the past two months on the Blues' roster before being waived Sunday, cleared waivers Monday and has been assigned to the team's American Hockey League affiliate in San Antonio.
Brouwer now must decide, at age 34, if he wants to play for San Antonio or retire.
"I talked to Troy today," Blues general manager Doug Armstrong said Monday. "I told him that I would give him this week to consider his options, and when he and I got back into town we would have a conversation. But he's officially assigned to the American Hockey League today."
When the Blues signed Brouwer on Nov. 20, they were minus forwards Vladimir Tarasenko, Sammy Blais and Alexander Steen because of injuries. A week later, Oskar Sundqvist went down with an ankle injury that cost him six games, and Zach Sanford missed a couple games in the second week of December while in the concussion protocol.
"Obviously, our health improved," Armstrong said. "Blais is very close to playing. . . . I didn't feel it was fair to bring Troy out here and then do this on the road, knowing that we had extra players now."
Brouwer appeared in 10 games for the Blues, scoring one goal. But he was a healthy scratch in 15 of the Blues' 16 games leading into the bye/All-Star break, including the last 13 games in a row.
"Everybody gets back and you have a lot of guys on the roster," coach Craig Berube said. "That's tough. You feel for him. Great veteran guy. We really enjoyed him, and we'll see what happens. He was a great presence in the locker room and still knows how to play the game."
No Blais
After missing 10 weeks following wrist surgery, Blais is on the cusp of returning to action. But after giving some thought to a return against the Canucks on Monday night, he was held out of the lineup.
"Not quite ready," Berube said. "He's gotta just make the decision — both of us. I just want to make sure he's 100 percent ready. I don't want to get him in there if he's not quite sure."
Faceoff showdown
In Ryan O'Reilly of the Blues and Bo Horvat of the Canucks, Monday's contest featured two of the best faceoff men in the NHL. In fact, in terms of total faceoffs won, it was a No. 1 vs. No. 2 matchup.
Coming out of the break, O'Reilly was first in the NHL in faceoff wins (612), while Horvat was second (599).
"He's so strong," O'Reilly said of Horvat. "He's just bears down so hard on every draw. There's never an easy draw against him. You can see obviously why he's the best because he has power and is strong."
'That's St. Louis'
Ivan Barbashev was impressed, but not really surprised to hear that the waiting time to see the Stanley Cup was more than five hours at times during the Fan Fair at Union Station during the NHL All-Star weekend.
"Well, that's St. Louis," Barbashev said. "That's the fans, they've been great. It's been great to play in front of them. For them to see the Stanley Cup once again, it's big. Because from what we did last year, it's been amazing. I guess everybody just wants to see it one more time. So that's a good thing."
Blue notes
• Steen played in his 744th game Monday, tying him for third on the Blues' career list with Brett Hull. Steen is scheduled to play his 1,000th game overall in the NHL on Saturday, in Winnipeg.
• With Colton Paryako returning to the lineup after missing seven games because of an upper-body injury, it was back to the bench for fellow defenseman Carl Gunnarsson. In part because of an arm injury, Gunnarsson has played only one game since Dec. 12. Parayko was removed from IR on Monday.
• Forward Mackenzie MacEachern was a injury scratch against the Canucks. He suffered a lower-body injury Jan. 18 against Colorado, the Blues' last game before the break, and isn't healthy enough yet to play.