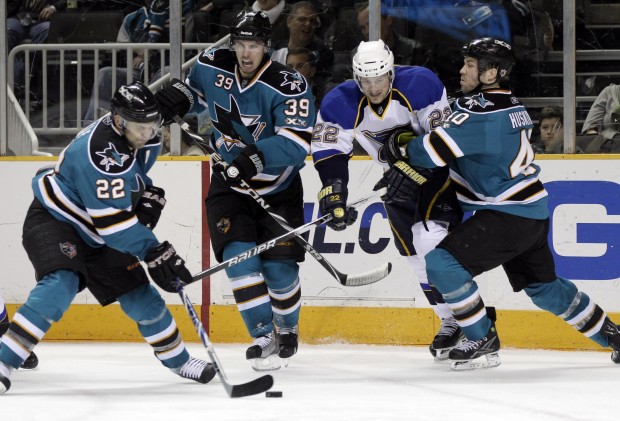 The Blues have signed free-agent defenseman Kent Huskins, a Stanley Cup winner in 2007, to a one-year, $1 million contract.
Huskins, 32, has played 274 games in the NHL with Anaheim and San Jose, the last two season with the Sharks. A lefthanded shot, Huskins has 11 career goals, 49 assists and a plus-minus rating of +40.
"Obviously he's coming from a winning program," Blues general manager Doug Armstrong said. "The last two teams he's played on, he's played deep into the playoffs, won a Stanley Cup. He knows what it's going to take to get a team to the next level."
The Blues were looking for an experienced defenseman in free agency, specifically one who plays on the left side. The team appears to be set on the right side with Alex Pietrangelo, Roman Polak and Kevin Shattenkirk.
On the left side, Barret Jackman and Carlo Colaiacovo have spots cemented, and while the Blues like Nikita Nikitin, he will now have a veteran in Huskins pushing him for ice time.
"I think it will be good competition for all four of those guys on the left side," Armstrong said. "You need seven or eight competent NHL players to get through a season and now we feel very comfortable that we have eight" including prospect Ian Cole.
Huskins (6-foot-4, 205 pounds) won a Stanley Cup with Anaheim in 2007, along with former Duck Andy McDonald. He played 21 games in the postseason that year, posting just one point (an assist) and a +4 rating.
In 2009, Huskins was to San Jose, along with Travis Moen, for Nick Bonino, Timo Pielmeier and a conditional draft selection in 2009. In two seasons with the Sharks, Huskins had five goals and 27 assists in 132 games, along with a +14 rating.
In 2010-11, Huskins played only 50 regular-season because of an upper-body injury. He missed the final 22 regular-season games and 13 playoff games with the injury, but returned for the Sharks' final five playoff games.
Armstrong said the team is not worried about the injury.
"He got back in there and it's not something that we're concerned about," he said.
Huskins was originally drafted by the Chicago Blackhawks in the sixth round (156th overall) of the 1998 NHL draft.