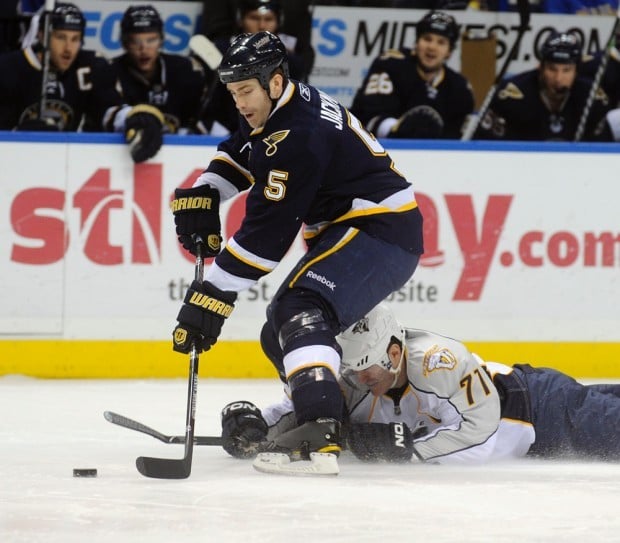 A topic that has taken on a life of its own among Blues fans will finally have a resolution Friday, as the club is set to unveil its captains for the 2011-12 season - and perhaps beyond.
A press conference, which will be closed to the public, is scheduled for 10 a.m. tomorrow at the Blues' practice facility. I will have the announcement posted on STLtoday.com and my Twitter account (@jprutherford) as quickly as possible, so please stay tuned.
We've been through the candidates countless times, so everybody should be familiar with the names: David Backes, Barret Jackman, Alex Steen, Andy McDonald and Alex Pietrangelo.
Backes was the overwhelming favorite to be the Blues' next captain among the fans in a recent poll on STLtoday.com. There were 1,780 responses to the poll and Backes earned 76 percent of the support, followed by Jackman (8%), Pietrangelo (6%), Steen (5%), McDonald (4%) and other (2%).
The question recently has been whether the Blues will single out one captain to wear the "C" or select a group of "A's." Club officials have said the the idea of having multiple "A's" isn't far-fetched. Obviously a decision has been made, the Blues are ready to announce it, and if I had a guess, I'd say the team does in fact name a captain.