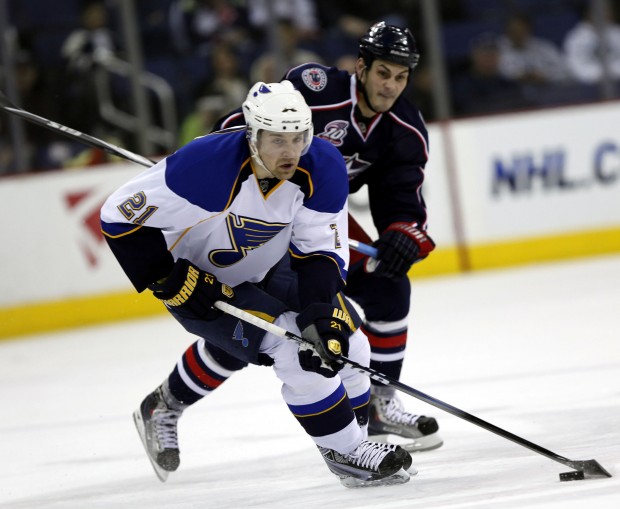 The Blues have re-signed center Patrik Berglund to a new two-year, $4.5 million contract extension.
Berglund, who will turn 23 on Thursday, is coming off a career season, his third in the NHL. He had personal bests in goals (22), assists (30) and points (52).
"Patrik has been with our team for three years now, and we really think that he's starting to mature as a player an come into his own," Blues general manager Doug Armstrong said. "His third season was obviously his best season in our opinion and we think that he's just starting to hit his stride. As our team matures, Patrik matures with it, and we think he's going to be a big piece of our team moving forward."
Berglund, a first-round draft pick of the Blues in 2006, would have been a restricted free agent on July 1. At that point, other teams could have made offers to Berglund, which Blues could have matched, but the two sides didn't let it get to that point.
Berglund is the first of several restricted free agents on the team to ink a new deal. The list also includes T.J. Oshie, Matt D'Agostini, Vladimir Sobotka, B.J. Crombeen, Roman Polak and Ben Bishop.
"There's no real pattern to getting these players signed," Armstrong said. "We have contact with all the players and some negotiations go quicker than others. But I'm very confident that everyone will be signed by training camp and be in here.
"Patrik was just someone, when I was dealing with his representative, the parameters were there for a deal quickly and we just decided to move forward. I think in Patrik's case, he's happy to have the contract signed ... he knows what the situation is. He doesn't have to worry about anything over the summer. He can train and focus on preparing himself. He knows that he has a home for the next two years."
Berglund's two-year deal falls in line with what Armstrong has done in past contracts with young Blues. David Perron and Erik Johnson each signed two-year extensions last summer.
"I believe, coming out of that first contract, the shorter-term deals are both beneficial to the team and the player," Armstrong said. "I think what this does, it allows Patrik to define himself as a player. He'll have five years of NHL experience when this deal is done and he'll be entering that next phase of his career. I think the two-year deal really helps solidify his position not only on our team but in the league." 
Berglund will still be a restricted free agent at the end of his new two-year deal.
When asked about the status of contract talks with Oshie, Armstrong was tight-lipped.
"I don't want to publicly comment on the negotiations," he said. "That's been my platform. Not because I'm trying to be secretive. I don't like playing with the emotions of our fans by misleading them that you're closer or further away than you really are.
"We certainly are in contact with our players and we're trying to move ahead to get players signed. But again, there's no rush on our side and I don't think there's any rush on the players' side. We have a lot of time until training camp."
When asked if Oshie's negotiations were more difficult because he played in only 49 games last season because of injuries, Armstrong said: "I don't think it's any more complicated. I just think it's a matter of both sides coming to an agreement on term and compensation.
"There's great trust that T.J. is going to take his game to the next level. He had an unfortunate injury last year. It's not something you can plan on ... it was a freak injury. I wouldn't say that T.J.'s contract is complicated by any stretch. It's just getting pen to paper and getting something done. But as I said, there's no time constraint. I'm very confident that at the appropriate time, T.J. will get signed and we'll move ahead."
Berglund, meanwhile, is moving ahead. He's proved to the Blues that he's made it through a "sophomore slump." After scoring 21 goals and posting 47 points as a rookie, Berglund dropped to 13 goals and 26 points two years ago. He bounced back in a big way this season, and then performed well at the recent World Championships in Slovakia. In leading Sweden to a silver medal, Berglund finished the tournament second in goals (8) and tied for second in points (10).
"We think that's just the natural maturation of a player," Armstrong said. "Sometimes when you have the success you have in your first year, you believe that the NHL comes easy and then you realize that it's a man's game and you have to be at your best every night. I think Patrik learned the lessons from his second season ... had an outstanding summer last year and then worked that into a very good season.
"Just the progression he made last year, he understands that he has a chance to be a top-six forward on our team. I thought the way he finished his season and then went into the World Championships and continued that, he understands that he's now just starting the prime of his career. The one thing talking to Patrik at the end of the season and over at the World Championships, he wants to not only be a player in the NHL, but he wants to be an important player on a winning franchise. We're excited that he has those goals."