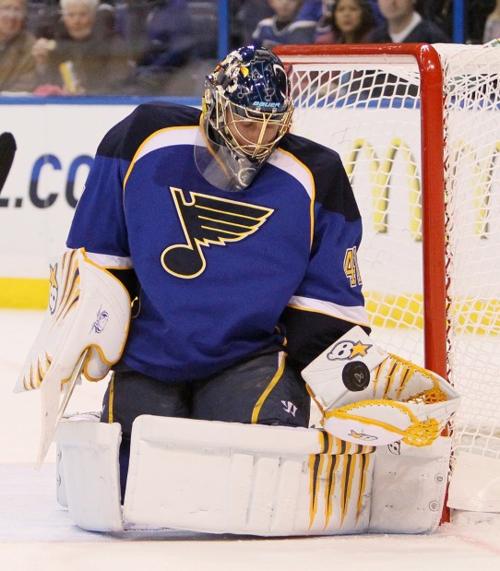 Blues goaltender Jaroslav Halak will not play tonight against the Edmonton Oilers.
The Blues have confirmed that Halak has an upper-body injury and they are listing him as day to day. It's unknown at this point what the injury is, or when it happened. There are unconfirmed rumors that it's hand-related.
Halak was on the ice for today's morning skate. On a typical day, the starting goalie for that night's game comes off the ice first, and the backup stays out until the end of practice. Today, Ty Conklin came off first and Halak quickly followed just a couple of minutes later.
Halak has practiced with the Blues every day since the team returned from the All-Star break. At the end of Thursday's practice, the team went through extra drills and an additional non-NHL goalie was brought on the ice. At the time, that goalie was believed to be an extra body, as to not wear out the Blues' netminders. But now it appears the Blues could have been nursing Halak's injury.
Conklin will get the start tonight against Edmonton, and Ben Bishop, who has been recalled from Peoria, will be the backup.
Andy McDonald-David Backes-Brad Boyes
Alex Steen-Patrik Berglund-T.J. Oshie
Vladimir Sobotka-Jay McClement-Matt D'Agostini
Brad Winchester-B.J. Crombeen-Cam Janssen
Barret Jackman-Alex Pietrangelo
Nikita Nikitin-Roman Polak
With Andy McDonald's return tonight, the line of McDonald-Backes-Boyes will be re-united against Edmonton.
That line has played together at various times, the most recent believed to be in mid-November. In two games against Ottawa and New Jersey, the line combined for seven points.
"When we were playing together, we were playing real well," Boyes said. "You get a high-end skill guy like Andy coming back to a team that needs scoring, it's important. It's going to be exciting for us to get back to where we were before, playing hard and producing offensively."
While attending All-Star weekend, David Backes took part in the "Hardest shot" competition. Al MacInnis he is not, but Backes didn't embarrass himself at all with a blast of 96.9 mph.
Before the contest, Backes had no clue how hard he could shoot. "It's nice to have a reference point," he said.
But now Backes would like to use the shot in a game. He said he needs his teammates to set him up.
"I told the guys that if we can design a play where I start at the red line, get a few strides into one at the top of the circles, and block everyone else out, that would be great," Backes joked. "But I don't know if I could score from there anyway." 
- The Blues will play 14 of their final 33 regular-season games against the Northwest Division, which they have a record of 1-4-1 against this season. The Blues have games against Minnesota (4), Edmonton (3), Calgary (3), Vancouver (2), Colorado (2). Nine of the 14 games are at Scottrade Center.
- The Blues are 3-0-0 at home on Friday's this season.
- Alex Steen has six points (2 goals, 4 assists) in his last four games against Edmonton.