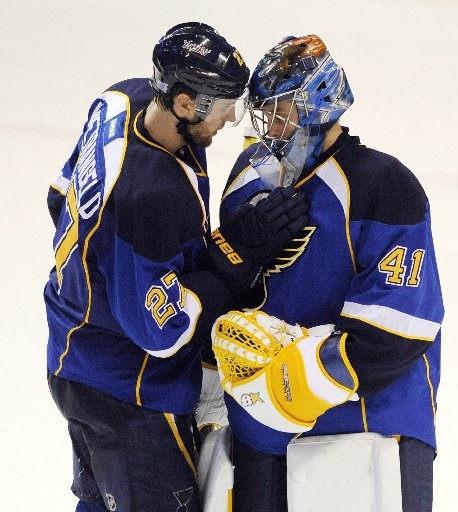 VANCOUVER -- Jaroslav Halak will be on the bench for the third straight game tonight when the Blues visit the Canucks.
Halak, who is 1-4 with a 3.47 goals-against average and an .835 save-percentage, hasn't said much about his dissappointing start this season, but opened up a bit today after the Blues' morning practice at Rogers Arena.
"Obviously, it's not the start that I was hoping for, but here we are," Halak said. "I've played five games and I'm 1-4. Obviously I need to work on my game. But it's a long season. It's only October. We've got so many games coming up. You just need to stay positive and work hard in practice.
"It's always better to have a slow start than a slow finish. It's not a sprint, it's a marathon. We played 82 games. Good thing we don't play 10 games a season."
Asked if he could pinpoint his own troubles, Halak said: "If I knew the answer, I would be 4-1, not 1-4, so we'll see. Like I said, just stay positive, work hard in practice and try to have fun out there. I'm not panicking. We need two goalies and it's always good when you have two goalies that can play."
Backup Brian Elliott will be making his third straight start tonight. He is 3-0 with a 2.06 GAA and .935 save-percentage this season, and since replacing Halak in the third period of the Blues' 5-0 loss to L.A. on Oct. 18, he has allowed just five goals on 71 shots.
Halak said that he understands why the Blues are sticking with Elliott.
"Obviously I would love to play, but Brian has been playing good," Halak said. "We get a hot goalie, so he deserves to play. He's won some games and obviously coach wants to ride the goalie that won the game for him.
"We are in a situation that I didn't have a good start and the coach feels more confident with Brian. So here we are. I understand and I just need to stay sharp in practice, and when the game comes, we'll see how it goes."
Halak is expected to get the nod Friday night against Calgary. His one victory this season is over the Flames, a 5-2 win on Oct. 10. I've have more on this story tomorrow on STLtoday.com and in the Post-Dispatch.
Vladimir Sobotka-David Backes-Chris Stewart
Matt D'Agostini-Patrik Berglund-T.J. Oshie
Alex Steen-Jason Arnott-Jamie Langenbrunner
Evgeny Grachev-Scott Nichol-Chris Porter
Kent Huskins-Alex Pietrangelo
Barret Jackman-Kevin Shattenkirk
Carlo Colaiacovo-Roman Polak
OSHIE SPEAKS ABOUT BENCHING
Blues forward T.J. Oshie talked about the play that led to his benching in Saturday's 4-2 win over Philadelphia and acknowledged that it took him a day to get over sitting out the entire second period.
"I made a decision at a key point in the game and unfortunately turned the puck over," Oshie said. "There was a little bit of a message sent there to the team and to myself that that's unacceptable. I got the message. I knew I made a mistake right away.
"I was obviously mad at the time (about the benching). I was mad after the game and the next day. But I've learned from it, I'm over it and hopefully I won't be turning over any more pucks at the blueline."
CHORNEY WAITING PATIENTLY
It's been two weeks since the Blues plucked Taylor Chorney off waivers from Edmonton on Oct. 11. The team has played six games, but the defenseman has yet to suit up.
"This is a new experience for me, getting picked up on waivers and coming to a new team," Chorney said. "They've got a good group of guys here and I feel fortunate just to be picked up by such a good squad. I'm just going to keep doing whatever I can to try and show that I can get in there and help out. Everybody's healthy and I'm still here, so that's a good thing."
With Chorney the Blues are carrying eight healthy defensemen, which is highly unsual, especially for a team watching its budget. The obvious speculation is that the club doesn't want to risk losing Chorney on waivers by attempting to send him to Peoria. The club has simply said there's no reason not to keep eight defensemen since its permitted a 23-man roster.
Blues coach Davis Payne complimented Chorney for his patience.
"When we brought him in, he was right there with a chance to get in the lineup," Payne said. "Now all of the sudden, guys get healthy and he's kind of on the outside. His attitude has been great. His work has been great. He's supported his teammates. That's all you can do in his position."
- Vancouver backup Corey Schneider will get the start over Roberto Luongo in goal tonight for the Cancucks. Schneider is 2-1 with a 1.68 GAA and .935 save-percentage.
- Blues forward Matt D'Agostini is tied for the NHL lead in plus-minus with a plus-7 rating. "Am I tied for the league lead?" D'Agostini asked. "It's my new favorite stat ... always has been."
- On this day in Blues' history in 1969, the Blues and Flyers tied 0-0 at the Spectrum, with Jacques Plante and Bernie Parent each pitching shutouts. It was the 69th shutout in Plante's career.